Articles

"In Defeat—Defiance." The Java POWs and a Work of Art and Resistance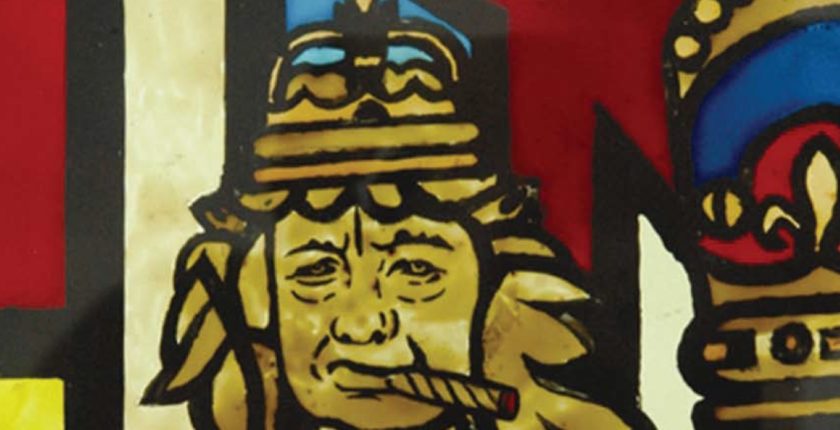 Known to some POWs but never mentioned, even in memoirs, was Lt. Cdr. Upton's defiant alteration of the chapel window's British Coat of Arms: Churchill's head, complete with cigar, on the lion rampant. Artist David Hillhouse, recreating this image for the Java Memorial Windows in the FEPOW Memorial Building at the National Memorial Arboretum, noticed the detail. The artist took appropriate liberties in making the Churchill image slightly more obvious than the original. (Photo courtesy of Meg Parkes)
---
Introduction

Many captive peoples produced patriotic symbols during the Second World War, but these are unique. National symbols painted on glass, they symbolized native pride and hope for victory. The authors are both descendants of Java POWs. Frank Williams' father, Lieutenant Ronald Williams, Royal Artillery; and Meg Parkes's father, Captain Andrew Atholl Duncan, Argyll and Sutherland Highlanders, were imprisoned on Java after the Japanese invasion.
Ronald Williams and Atholl Duncan
In January 1942, Lt. Ronald Williams RA was on a convoy to Basra when Japan invaded southeast Asia. Half the convoy went to Singapore, only to be lost in its mid-February surrender. Churchill called that "the worst disaster and largest capitulation in British history." The other half, including Williams, sailed for Batavia (now Jakarta), Dutch East Indies.
Captain Atholl Duncan A&SH was at the British headquarters near Bandung when Japan invaded Java on 1 March. The Allied commander was General Hein ter Poorten, Royal Netherlands East Indies Army. His forces included Indonesian, Dutch, Australian, American and troops. Considerable fighting ensued, but on March 8th, without consulting his allies, ter Poorten capitulated. The British, Australians and Americans surrendered five days later. The Battle of Java receives rather scant attention, but it had its heroes. Many soldiers felt bitter that they did not put up a better fight. While Japan held the coastal ports, the centre of Java would have been ideal for a sustained rear-guard action.
Private John Baxter REME, a plumber and heating engineer, was among the first British to occupy the Tandjong Priok prison camp outside Jakarta. "Our spirits fell," he wrote when he saw it. On a tract of reclaimed swampland were about a dozen 30×120-foot shelters with "dilapidated tiled roofs supported on posts." The place was indescribable, said Baxter, "with excrement, putrefying food and other unmentionable rubbish." A single nine-inch drainage pipe ran from the camp to the sea. "One of our first tasks was to erect a perimeter fence of barbed wire to keep ourselves in."
Jungle Journal
Tandjong Priok camp initially contained over 4000 British, Australian, American and Dutch prisoners. The last three groups were moved in May 1942 to make room for more British. Lt. Williams soon became ill with malaria, sending him to the camp hospital. Luckily, medicines like quinine were still available. Ronald was soon well enough to become editor of a camp newspaper, Jungle Journal, produced by permission of his captors. At first the Japanese freely allowed POWs to engage in sport, recreation, painting and writing. Contributors were careful not to annoy them, but the censor's black lines are seen on some surviving copies. As time went on, activities were restricted, and Jungle Journal ceased after Christmas 1942. Keeping a diary was especially risky, Ronald recalled. One POW was badly beaten for complaining in his diary about the food.
The newspaper was a memorial to those whose courage and fortitude were tested under the tropical sun. The ordeal is recalled in a book by the same title. Jungle Journal tells the story of Tandjong Priok through the diaries of Ronald Williams and other POWs. A moving account of the alternate horror and banality of daily life, it include many extracts from the original publication. Droll contributions from the original journal illustrate the grim humour that helped POWs survive beatings, deprivation and death of comrades. (At roll-call, prisoners asked to count themselves off by number would follow "eight, nine, ten" with "Jack, Queen, King." One received a fist in the face by a Japanese guard who understood English.)
A place of worship
Captain Duncan's billet was teaming with cockroaches, bed-bugs, crickets and rats. The latrines were "indescribably filthy." Water was drawn from a single hydrant twice daily in a two-pint army water bottle—"not much scope for washing or bathing." The 4000 troops were crammed together, "just out from home with no idea of tropical hygiene…. It is a wonder that an epidemic did not occur in those early days…."
As the camp became semi-habitable, prisoners began to wish for a chapel. Here occurred a remarkable act. A Japanese guard, a Christian, conveyed their request to the camp commandant. His approval came as a surprise. State Shinto was Japan's mandatory religion and Japanese forces couldn't have contained many Christians. Fortunately, one of them was at Tandjong Priok. Lt. Cdr. Herbert C. Upton, RNVR, one of the chapel architects, wrote that the guard and commandant "were the only two Japanese gentlemen we met during our three-year stay."
St. George's Chapel
Australian engineers led the chapel design team and construction began in April 1942. The walls were "reinforced concrete with the north side left open in the shape of a gothic arch, whilst the south wall had two windows." The teakwood altar, polished with talcum powder, was "covered with sarong cloth. Carved wood candlesticks were on each side of the crucifix. Brown boot polish colored the altar and its fittings. The chapel was adorned by appointments made by technicians of nearly every unit in camp. Outside was a concrete pulpit, surrounded by shrubs, palms and flowers. To create so faithfully an English parish church in such a setting was truly remarkable.
American, Dutch and Australian prisoners transferred to Jakarta in mid-May. More British prisoners took their place and finished the job. The chapel was a weekly respite, Captain Duncan remembered:
Locust trees with their scarlet blossoms and overhanging shady foliage provided shelter from the blazing heat. Every Sunday, weather permitting, service was held at 10am and the congregation led by a choir sang popular psalms and hymns. [Next came] a short sermon by either of our two padres, the Rev. Harper-Holcroft and the Rev. Phillips…. Communion was held every Sunday at 8am and a Toc H group held meetings in the evening. There was a serene charm about the whole of the chapel area which was not to be found anywhere else in the camp and I used to look forward to the service each week as a great source of spiritual comfort.
"In Defeat—Defiance"
Commander Upton painted narrow windows behind the altar, each 9×30 inches. "Two of these windows consisted of the draped flags of Britain and Australia and the USA and Holland, with a representative badge of each superimposed." (There may have been a third, incorporating the image of St. George and the dragon, but it is lost to history.) Upton had no access to stained glass, but the Japanese let POWs search nearby abandoned Dutch bungalows for paint. The paint was thick, Upton recalled: "To make them more realistic [I] painted with the ball of my thumb to get a semi-transparent effect….
Here Upton added a tiny gesture of defiance, the size of a thumbnail. It was well that he kept this small:
The British [symbol was] the Royal Coat of Arms, the Lion of which was shown with the face of Churchill (with apologies) in whose mouth was a very large cigar. The Nips never caught on, I dread to think what would have happened if they had. It afforded considerable amusement to the troops as they passed by or held services there.
Herbert Upton's secret never leaked. During and long after their captivity, POWs either didn't reveal or forgot the Churchill-headed lion. The Nippon Times, an English-language propaganda newspaper for POWs, praised the chapel as evidence of Japan's magnanimity. On 27 June 1943, the paper published the only known photo of St. George's: its consecration a year earlier. Captain Duncan had been transferred to a Zentsuji camp in Japan. Seeing the article, he removed and pocketed the page.
Abandonment and survival
The Japanese abandoned Tandjong Priok camp in November 1943. After Japan's surrender, civil unrest ensued until the Dutch recognized Indonesian independence in 1949. The local Christian community feared that the chapel would be destroyed, as indeed it was. For safekeeping, they removed two Upton paintings to All Saints Anglican Church. They remain there to this day, framed and displayed on the church's rear wall. Beside them is a brass plaque:
These windows were in a chapel at Tandjong Priok built by prisoners of war in 1942. They were painted by Lieutenant Commander H.C. Upton, RNVR now chief architect of Cable and Wireless Limited, London. This plaque has been presented by Cable and Wireless in memory of Allied servicemen who died in Java.
In 1997, a deeply moved Atholl Duncan learned that the windows had survived, a lasting memorial to his fellow captives. He died a month later. Ronald Williams remained on Java until late September. Recuperating in Singapore, he gratefully arrived home on 30 October 1945. He always regretted being unable to vote in the 1945 general election. Atypical of the "army vote" allegedly so opposed to Churchill, he was angry over the Prime Minister's defeat.
The secret rediscovered
The 60th anniversary of the fall of Singapore, 15 February 2002, was also the fifth anniversary of Atholl Duncan's death. That day a British charity, COFEPOW (Children of Far East Prisoners of War) launched a national fundraising appeal. The goal was a FEPOW Memorial and Cultural Building at the National Arboretum in Alrewas, Staffordshire. In 2004, The Times (London) launched a separate appeal to commission reproductions of the Tandjong Priok windows. Recreated by Merseyside artist David Hillhouse, they were set into the south wall of the memorial building.
David Hillhouse worked with photographs sent to Meg Parkes by Matthew Tregale, a young British architect then working in Jakarta. Hillhouse closely viewed each image under a magnifying glass before transferring it to glass. Examining the British image, he discovered the rampant lion looking straight ahead and bearing a human face chomping a large cigar!
None of the prisoners, even long afterward, had ever mentioned the Churchill-headed lion. Commander Upton, the original artist, noted it only a postwar report to the Royal Navy. David Hillhouse thought it represented "the spirit and determination of the prisoners."
The FEPOW Memorial Building opened on 15 August 2005, 60th Anniversary of victory over Japan.
The authors and their books
Frank Williams, son of Ronald Williams is a retired hospital consultant with the National Health Service with an interest in British Military History. He and his father's book, Jungle Journal (2013), is available from Amazon. He is grateful to Rod Suddaby, archivist at the Imperial War Museum, who preserved several issues of the Jungle Journal at the Museum.
Meg Parkes, daughter of Atholl Duncan, is Honorary Research Fellow of the Liverpool School of Tropical Medicine. She conducted an oral history project concerned with FEPOWs. In 2002-03 she published two volumes of her father's diaries: 'Notify Alec Rattray'…A Story of Survival During WWII; and '…A.A. Duncan is OK': A Story of One War and Two Captivities. She is also co-author with Geoff Gill of Captive Memories: Far East Prisoners of War (2015), Burma Railway Medicine (2017) and Captive Artists: The Unseen Art of British Far East Prisoners of War (2019). See: www.captivememories.org.uk.
Further reading
Winston S. Churchill, "The Onslaught of Japan," Book One in The Hinge of Fate, 1951.
Far East Prisoners of War History Group blogsite: posting through Victory over Japan, 1945.
Martin Gilbert, "The Fall of Singapore" and "Nothing but Disaster to Show," in Winston S. Churchill, vol. 7 Road to Victory (Hillsdale College Press, 2013).
Martin Gilbert ed., The Churchill Documents, vol. 17, Testing Times: 1942 (Hillsdale College Press, 2013).
Tokihisa Sumimoto, "Religious Freedom Problems in Japan: Background and Current Prospects," George Mason University, International Journal of Peace Studies, Vol. 5, No. 2, Autumn/Winter 2000.
Churchill Project Articles
Stay In Touch With Us
Subscribe now and receive weekly newsletters with educational materials, new courses, interesting posts, popular books, and much more!