Articles
Churchill's Sovereigns: King George V (1910-1936)
By

FRED GLUECKSTEIN

|

December 11, 2017

Category:

Explore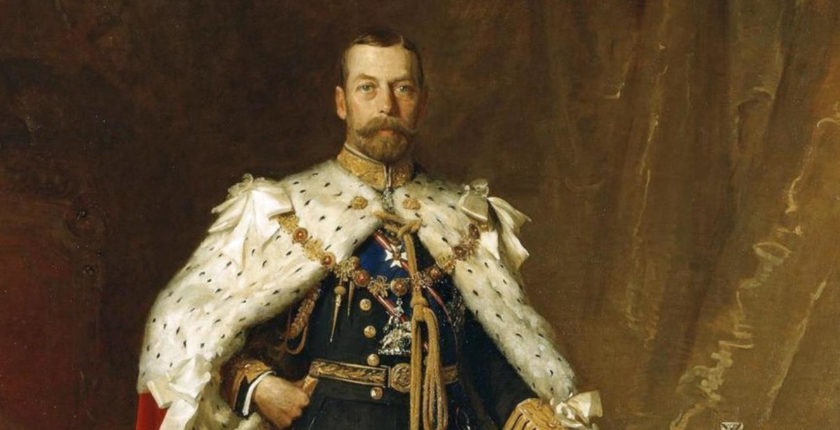 Featured Image: George V in coronation robes, from a full-length portrait by Luke Fildes, circa 1911. (Wikimedia Commons).
---
King George V succeeded to the throne upon the death of his father, Edward VII, in May 1910. In February that year, Winston Churchill became Home Secretary. To this day he remains the youngest such since Sir Robert Peel in 1822. Roy Jenkins described the Home Office as a "plank of wood" from which many other departments have since been carved. In 1910, however, the Home Office held vast authority over domestic affairs.1 Among these was the prison system, where Churchill supported reform and reduction of sentences. (Prisons have since devolved to the Ministry of Justice.)
Six months in office, Churchill assisted the new King on a case of libel that had circulated for years. As Prince of Wales, George V was said to have married secretly in 1890, when he was a Navy midshipman. His alleged wife was the elder daughter of the Mediterranean Fleet's Commander-in-Chief, Admiral Sir Michael Culme-Seymour.2 The charge was denounced by the Dean of Norwich Cathedral in July 1910.
Early allies
Lord Stamfordham, the King's private secretary, defended the monarch in Reynold's Newspaper in October. But journalist Edward F. Mylius revived the scandal in November in the anarchist newspaper The Liberator. Mylius asserted that Mary Culme-Seymour had borne two children between 1890 and 1893. George V's 1893 marriage to Queen Mary, he wrote, was a "sham, shameful and bigamous."3 It was also illegal, since it violated the Royal Marriages Act of 1772.
Churchill reacted to Mylius's charges in his periodic reports to the King—part of his duties. They can be traced in Hillsdale's Document Volumes. On 24 November 1910 a furious Churchill wrote:
Mr. Secretary Churchill with his humble duty…proposes now to ask them more precisely whether a double prosecution could not be simultaneously instituted: first—action by the Culme-Seymour family from which no conviction might follow but wh[ich] would conclusively demonstrate the falsity of the libel: & secondly prosecution for a seditious libel on Your Majesty which would effectively secure the punishment of the offender. He will put this to them today.4
Knowing that Prime Minister Asquith was about to visit the King at Windsor, Churchill sought Asquith's support on the libel proposal. Churchill enclosed a note that "discussed the present position, and recommended some successive steps: "I am strongly of opinion that action should be taken and The King's good name cleared from such cruel & widely circulated aspersions."5
Churchill's defense of George V
Churchill summoned to a conference the Law Officers of the Crown, including the Director of Public Prosecutions and the Commissioner of Police, and coordinated their opinions and actions. He also organized the accumulation of evidence. His Majesty's advisors were split over taking action. Sir Frederick Ponsonby, assistant private secretary to George V's father, was reluctant, believing that the unfavorable publicity would be worse than the long-dismissed rumor. Lord Stamfordham was strongly in favor.
Churchill, characteristically, wanted action. He urged the King "to strike at the libel and sweep the falsehood out of existence once and for all." Mylius, he said, was "a person not quite of the lowest class."6 By Christmas 1910, Churchill was ready to "move at any time." Subsequently, Stamfordham told him that the King "wishes you to proceed as previously settled…."7
On December 26, 1910, Mylius was arrested. Ponsonby wrote Churchill: "The King desires me to thank you for the telegram. His Majesty is pleased to hear that action has been taken."8 Churchill did warn against the King appearing as a witness. It was decided that George V would not appear, on the grounds of "constitutional usage." In February Mylius was found guilty and sentenced to the maximum twelve months imprisonment. King George wrote Churchill: "I desire to express my most grateful thanks to you for your valuable assistance in your position  as Home Secretary, in carrying out my wishes to prove to the world at large the baseness of this cruel & abominable libel."9
Not quite a gentleman
King George V's judgment of Churchill dropped in 1912 when the now-First Lord of the Admiralty tactlessly pressed to name a battleship HMS Oliver Cromwell. They went back and forth on this for weeks. Churchill insisted that Cromwell was historically entitled. George V saw no reason to honor someone who had cut off a British sovereign's head. The King, of course, prevailed.
Two years later the King began to distrust his naval minister. "Believing Churchill was a gentleman," he had told the Liberal politician Lord Esher that Prime Minister Asquith did not meet that description. "It was a damned stupid thing to say," the King said; "but Winston repeated it to Asquith, which was a monstrous thing to do, and it made great mischief."10
Thereafter, wrote Martin Gilbert, "the King never abandoned his view of Churchill as irresponsible and unreliable."11
World War I
George V did support Churchill's 1914 naval spending increases but deplored his threat to resign if they weren't approved. Then came World War I. At first the German High Seas Fleet remained in port, refusing to venture into the North Sea. On 21 September a frustrated Churchill declared: "…if they do not come out and fight in time of war they will be dug out like rats in a hole."12 The Germans responded the next day by sinking the British cruisers Aboukir, Cressy and Hogue with the loss of about 1,450 officers and men.
"His Majesty did not quite like the tone of Winston Churchill's speech especially the reference to "Rats in a Hole!" Lord Stamfordham wrote Asquith's private secretary. "Indeed seeing what alas! happened today, when the rats came out of their own accord and to our cost, the threat was unfortunate and the King feels it was hardly dignified for a Cabinet Minister."13
Further tension arose over promoting Admirals to the rank "Admiral of the Fleet." The King wanted these appointments to be made by seniority. Churchill insisted they be made selectively. An Admiral of the Fleet, he said, should had served either as First Sea Lord or commanded a principal Fleet for a year. The King approved reluctantly. "These regulations were forced upon me by Churchill," he wrote in 1916.14
"The King is well—but ageing…"
After Churchill left the Admiralty, his relations with the King matured amicably. When he helped pass the Irish Free State Bill in March 1922, the King congratulated him for accomplishing "a difficult and responsible task thanks to your skill, patience and tact which you have displayed in handling it and for which you have earned universal gratitude."15
As Chancellor of the Exchequer, Churchill advised the King on the controversial decision to return to the Gold Standard. Following a January 1926 speech in Leeds, Stamfordham asked if the King "could incorporate the last paragraph in a speech of his own." The paragraph read: "And I, for my part, knowing something of the deep sagacity and fundamental good will that underline our British national life, will never be in a hurry to assume that we shall be found incapable as a people of reaching a successful and practical conclusion of our difficulties."16
On 9 September 1927, Churchill was George V's guest at Balmoral Castle. There he painted the highland scene from his window. After "a particularly pleasant luncheon," he and the King had a "good talk about all sorts of things. I am very glad that he did not disapprove of my using the Ministerial room as a studio… I took particular care to leave no spots on the Victorian tartans."17
The following September he was back, writing to Clementine: "There is no one here at all except the family, the Household & Princess Elizabeth—aged 2. The last is a character. She has an air of authority & reflectiveness astonishing in an infant….The King is well—but ageing. He no longer stalks but goes out on the hill where the deer are 'moved about for him,' & it may be that some loyal stag will do his duty."18
"Cheers of his faithful people"
The 1929 brought an end to Churchill's tenure as Chancellor of the Exchequer. He held no further cabinet office under George V. In May 1935, Britain celebrated the King's Silver Jubilee. Churchill wrote a series of seven commemorative articles in the Evening Standard. His final words were heartfelt, transcending all the upheaval and drama of those fateful years:
His reign has seen enormous perils and a triumph the like of which the annals of war cannot equal. It has seen moral, social, political and scientific changes in the life of all countries and of all classes so decisive that we, borne along upon the still hurrying torrent, cannot even attempt to measure them. The means of locomotion, the art of flying, the position of women, the map of Europe, the aims and ideals of all nations—East and West, white and black, brown and yellow—have undergone a prodigious transformation. But here at the centre and summit of the British Empire, in what is the freest society yet achieved in human record, a King who has done his duty will be reverenced by the ceremonial of his ancestors and acclaimed by the cheers of his faithful people.
On 20 January 1936, the King died at Sandringham. Churchill, in Morocco, received a telegram from Sir Emsley Carr, proprietor of News of the World. The newspaper needed a tribute by following Sunday, January 26. Churchill was preparing to leave Marrakesh for Tangier. Yet he began at once, dictating to his private secretary, Violet Pearman. She typed it on the train traveling to the coast. In Tangier, Churchill telegraphed the piece to London. It arrived on January 24th, four days after the George V's death.19 It was Churchill's final salute to a sovereign he had served, not without contention, but with devotion and esteem.
Endnotes 
1 Roy Jenkins, Churchill: A Biography (New York: Plume, 2002), 170.
2 Randolph S. Churchill, ed., The Churchill Documents, Vol. 4, Minister Of The Crown 1907-1911. (Hillsdale, Mich.: Hillsdale College Press, 2008), 1216.
3 Ibid., 1217.
4 Ibid.
5 Randolph S. Churchill, Winston S. Churchill, Vol. 2., Young Statesman 1901– 1914. (Hillsdale, Mich.: Hillsdale College Press, 2007), 419.
6 R. Churchill, Minister of the Crown, 1221. Churchill's effort to accumulate evidence was by his private secretary, Edward Marsh: "A police officer can prove than an envelope containing about 100 copies of the November number of The Liberator, & addressed by Mylius to a Communist Club in Charlotte St., was opened by the police officer & its contents seen by him. The officer closed the envelope and marked it with a private mark, & on the same evening saw Mylius post it. Next morning the officer saw & examined the same envelope, which he identified by his own private mark, & its contents, at the Paddington district sorting office, where it now remains."
7 R. Churchill, Minister of the Crown, 1220.
8 Ibid., 1223.
9 Ibid., 1224.
10 Martin Gilbert, Winston S. Churchill, Vol. 3, The Challenge of War 1914–1916 (Hillsdale, Mich.: Hillsdale College Press, 2008), 87.
11 Ibid., 87.
12 Ibid., 86-87.
13 Ibid., 87.
14 Ibid.
15 Martin Gilbert, Winston S. Churchill, Vol.4, World In Torment 1916-1922 (Hillsdale, Mich.: Hillsdale College Press, 2008), 702.
16 Martin Gilbert, Winston S. Churchill, Vol. 5, The Prophet Of Truth 1922–1939 (Hillsdale, Mich.: Hillsdale College Press, 2008), 143.
17 Ibid., 244.
18 Ibid., 303.
19 Richard M. Langworth, ed., Churchill in His Own Words (London: Ebury Press, 2012) 352.
About the Author
Mr. Glueckstein (fredglueckstein@msn.com), of Kings Park, New York, is freelance writer and a world traveler in search of Churchill.