Articles

Churchill's Cookbook – by Georgina Landemare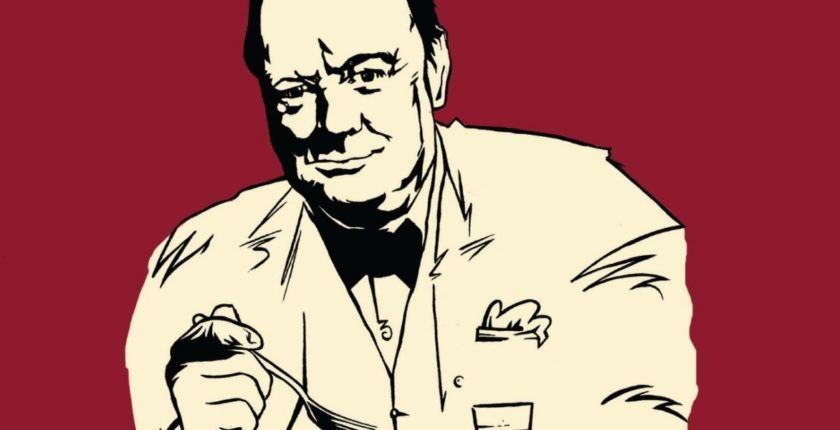 Georgina Landemare, Churchill's Cookbook. London: Imperial War Museum, 2015, 176 pp., $15.
---
In 1958 with the encouragement of Lady Churchill, Georgina Landemare, the family's faithful cook from 1939 through 1954, published Recipes from No. 10—a delightful assortment of 360 starters, entrées and desserts that pleased the palate of Sir Winston and his family. The book sold well but was soon out of print and has since acquired the status of a collector's item. Originals are priced up to $300 by antiquarian booksellers.
Our knowledge in this field was abetted in 2013 by Cita Stelzer's Dinner with Churchill, with valuable observations on "aspects of his character and personality revealed at the dinner table." Mrs. Stelzer discusses a wide number of Churchillian meals, from key summit meetings like Teheran and Yalta to private repasts in railroad dining cars, and even picnics. She reveals what Churchill liked to eat, drink and smoke, how he conducted business at dinner, and how he (or rather Mrs. Landemare) coped with wartime rationing. With these two books in hand, the reader has a through, authoritative culinary picture—but until now the Landemare volume has been elusive.
Now the Imperial War Museum reintroduces Mrs. Landemare with this
compilation of about 250 of her original recipes. Read alongside Stelzer, it reestablishes our knowledge of the culinary side of Churchill's later years. Unfortunately, the new volume does not reproduce the original, whimsical drawings by Selma Nankivell that accompanied the first edition, and the new ones are distinctly underwhelming. One of the originals, picturing Landemare herself, is reproduced here.
From 1997 to 2002 my wife Barbara, with the help of Lady Soames, edited a series of the family's favorite Landemare recipes for the Churchill Centre journal Finest Hour. Discussing the book, they quickly realized how much had changed: prepared foods now available that were simply unobtainable for Mrs. Landemare. Certain of her measurements, like oven temperatures, might confuse modern cooks. Old-fashioned implements may be unrecognizable, not to mention certain ingredients—not everybody will know what a "blade of mace" is, let alone "two sets of brains."
Having been the guinea pig on whom these modernized Landemare recipes were tested before publication, I found myself like Churchill "quite easily satisfied with the best of everything." I wish Barbara had been consulted to help update some of the best recipes with modern measurements, ingredients and equipment. But the Internet comes to the rescue: those old issues are posted on the Churchill Centre website. You only have download pdfs of issues #95 through #115 to see how easy it is to recreate the best of Georgina Landemare's wonderful dishes.
Churchill Project Articles
Stay In Touch With Us
Subscribe now and receive weekly newsletters with educational materials, new courses, interesting posts, popular books, and much more!