Articles

Churchill's Character: Sense of Duty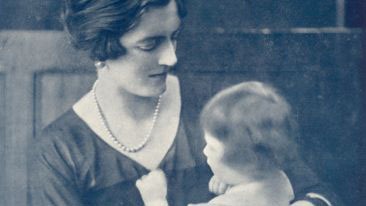 Nineteen twenty-one was an annus horribilis for Winston and Clementine Churchill. In April, Clementine's brother Bill shot himself in a hotel bedroom in Paris. Winston had helped Bill out of his gambling debts and made him promise never to gamble again. There was no sign that he had broken his promise, but he was severely depressed. Then, at the end of June, Winston's mother died of a sudden hemorrhage before Winston could reach her bedside. More shocks were in store.
On 23 August 1921, Winston and Clementine lost their 2 1/2-year-old daughter Marigold to septicemia, which antibiotics would quickly conquer nowadays. Immediately after the funeral, they left to visit the Duke of Westminster at his palatial mansion at Lochmore, Scotland. After a fortnight Clementine returned with the children to London for the new school term while Winston remained in Scotland—"on holiday," some said.
A recent author, writing from the cocoon of 21st century sensitivity, questioned Churchill's "abandonment" of his wife and family. This is an example of what William Manchester used to call "generational chauvinism." Churchill's actions actually show how his sense of duty outweighed everything, and how his wife and family understood this.
Churchill was as distraught as we would be now over his family's losses and his wife's grief. World affairs then intruded. Ireland was threatening to erupt into Civil War, as Eamon de Valera demanded nothing short of independence. Iraq was a mess (then as now). Churchill's constituency of Dundee, Scotland, was plagued by serious unemployment. Prime Minister Lloyd George had called an urgent cabinet meeting at Inverness on September 8th, since many cabinet members were in Scotland for the summer. Churchill himself had to speak twice in his constituency of Dundee on the 23rd and 24th.
On or about September 5th, Churchill traveled to the Duke of Sutherland's home at Dunrobin, where, according to one writer, he "joined a young and lively set"—the implication being clear. In fact, he had gone there to prepare for the cabinet meeting. He traveled on the 7th to join Lloyd George at Brahan Castle and at the meeting the next day. On the 9th he returned to Dunrobin to prepare for his upcoming visit to Dundee.
On the 19th he wrote Clementine: "Many tender thoughts my darling one of you and yr sweet kittens. Alas I keep on feeling the hurt of the Duckadilly [Marigold]—I expect you will all have made a pilgrimage [to her grave] yesterday [Sunday]."
Scarcely had his letter gone off than another blow struck. On the 21st the banker Sir Ernest Cassel, Churchill's lifetime friend, who had mentored and encouraged him when he was young, died suddenly at the age of 69. Clementine wrote her husband with the sad news:
"I went round to Brook House [Cassel's London home] this afternoon & took some flowers from us both. They took me up to his great empty bed-room—There he lay, already in his coffin—he looked serene & as tho' only lightly asleep—I feel the poorer becos' he is gone—He was a true & loyal friend & a good man."
Cassel was buried at Kensal Green Cemetery, where Marigold had been laid to rest only weeks before. "I took the children on Sunday to Marigold's grave," Clementine continued, "and as we knelt round it…a little white butterfly…fluttered down & settled on the flowers which are now growing on it—We took some little bunches. The children were very silent on the way home."
In Dundee on the 23rd, Churchill had to meet with Dundee's Town Council, Parish Council and Education Authority. Local unemployment was rampant; one speaker complained that the government had failed to do anything to help, behaving in the most "brutal, callous and thorough manner." It was not fair, Churchill replied calmly, to believe that the government had done nothing: "So far as I am concerned I had done, and will continue to do, my best to secure wise measures being taken, but it is quite clear that there is a special difficulty in Scotland."
The very next day he had to confront the Irish situation in his constituency address. Applauding the interest shown in a settlement by the United States, he reverted to a theme he would adopt with increasing frequency in the 1920s and 1930s: the Anglo-American relationship. Churchill rejoiced that America was "once more assuming the position which is at once her duty and her due. I look forward confidently to an ever closer association between the United States and the British Empire, for it is in the unity of the English-speaking peoples that the brightest hopes for the progress of mankind will be found to reside."
On Ireland, despite the difficulties in negotiating with de Valera, he spoke words of optimism: "…we must cheer ourselves by remembering that a lasting settlement with Ireland—a healing of the old quarrel, a reconciliation between the two races—would not only be a blessing in itself inestimable, but with it would also be removed the greatest obstacle which has ever existed to Anglo-American unity, and that far across the Atlantic Ocean we should reap a harvest sown in the Emerald Isle." By the end of the year he had helped engineer the Irish Treaty.
Received with loud cheers—possibly the last he would receive in Dundee, which hurled him from office the following year—Churchill returned to Dunrobin and then to London and his family. A few weeks later, he and Clementine disposed of the finest car they would ever own, a Rolls-Royce Silver Ghost, which they had acquired just before their child had died. Alas, the car had only reminded them of Marigold.
Featured Image: Clementine and Marigold Churchill.

Further reading:
Mary Soames, Speaking for Themselves: The Personal Letters of Winston and Clementine Churchill (1999).
Robert Rhodes James, ed., Winston S. Churchill: His Complete Speeches 1897-1963 (8 vols. (1974), volume III, 1914-1922.
Martin Gilbert, ed., The Churchill Documents, vol. 10, Conciliation and Reconstruction, April 1921-November 1922 (2008).
Churchill Project Articles
Stay In Touch With Us
Subscribe now and receive weekly newsletters with educational materials, new courses, interesting posts, popular books, and much more!