Articles

"Churchill: The Wilderness Years": Winston is Back, 1939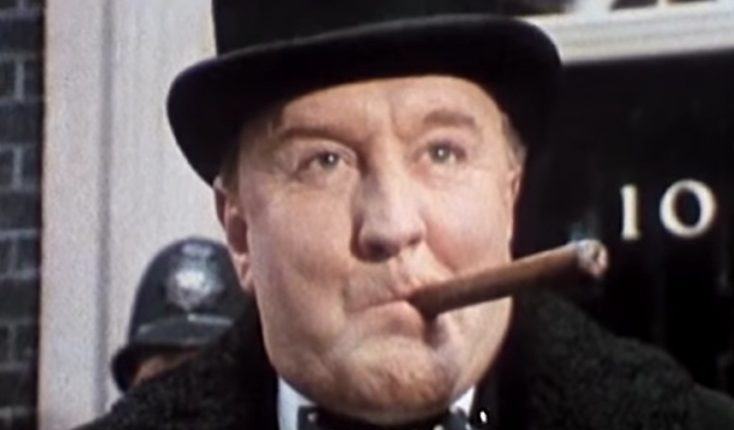 In "The Wilderness Years" television documentary (1981) actor Robert Hardy faithfully captures Martin Gilbert's image of Churchill in the Thirties: politically frustrated, less than effective as a father and a husband, worried over ominous developments in Germany—yet also enjoying his most productive decade as a writer and historian.
In October 2015, Hillsdale College's Center for Collective Alternatives presented four key episodes from the famous "Wilderness Years" television drama featuring Robert Hardy as Winston Churchill during the momentous 1930s. Realizing we were risking taking these excerpts considerably out of context, we introduced each with a background discussion, and followed up with remarks by Robert Hardy himself.
---
From episode 8, "What Price Churchill?" September 1939
The last painting Churchill actually made in peacetime was in France, but it is convenient here to place it at Chartwell—a prelude to the German invasion of Poland on September 1st, 1939, and Britain's declaration of war, which at last brought Churchill into the government. The price he had paid over the years was to be ostracized from power—but also, he was unable to be blamed for the terrible situation into which his country had fallen. The price Mr. Chamberlain would pay had yet to be played out—but would be, in May 1940.
At Number Ten we find Sir Horace Wilson (skillfully played by Clive Swift), the arch-appeaser and civil servant that Chamberlain has promoted, well above his pay grade, as his chief adviser. As German troops pour into Poland on September 1st, the devious Wilson urges Chamberlain to muzzle Churchill by appearing to give him the Cabinet seat he wants….but then Churchill hears nothing further, nor is he told what office he might hold.
The film accurately presents Chamberlain's reasons for resisting an ultimatum to Germany. They were threefold: first, he had been led to believe from his ambassador in Berlin that Hitler would welcome another summit meeting; second, Mussolini had offered to chair a peace conference; and third, which is the most valid: the French were pleading for a forty-eight hour delay while they mobilized. Chamberlain put great store in not going to war without the French; more than he should have. Everyone knew they would follow Britain—as they probably would have had Britain resisted the Rhineland occupation three years earlier.
Chamberlain's thin hopes to save the peace are swept away by a Cabinet revolt in which the Home Secretary, Sir Samuel Hoare (played by Edward Woodward), is the messenger. Hoare appears throughout the Wilderness Years series as a fierce enemy of Churchill, one who has made every effort to disparage him, even to drive him out of Parliament. But Hoare now finally realizes that appeasement has failed, and that Hitler must be resisted. In a dramatic confrontation at Number Ten, Hoare delivers the message: either the PM sends an ultimatum, or he will be forced out by his own Cabinet.
Whether that was actually possible is debatable. The Conservatives had a huge majority, and Chamberlain could have survived a vote of confidence—after all, he did so eight months later, when things were far worse, though not by enough votes to convince him it was possible to remain in office. But this question is not the film's mission. Instead, it illustrates Churchill's refusal to criticize Chamberlain, who after all had promised him a role in the government. When Bracken urges Churchill to go to the House, break Chamberlain and take his place, Churchill replies that he has no desire to become Prime Minister. This was probably his view at the time. Churchill knew the extent of Chamberlain's support, and his main hope now was for national unity against a mighty enemy.
Eric Porter does a superb job portraying Chamberlain, grasping at straws that somehow might save the peace, and ultimately having to face reality, with words I hope some U.S. President may not some day have to say again: "The country has done all it could for peace….The enemy could not be trusted….We are now resolved to finish it."
The film captures a dramatic scene from Churchill's memoirs. Chamberlain, he wrote, "had scarcely ceased speaking when a strange, prolonged, wailing noise, afterwards to become familiar, broke upon the ear. My wife came into the room braced by the crisis [and] we made our way to the shelter assigned to us, armed with a bottle of brandy and other appropriate medical comforts." There, to his astonishment, Churchill is cheered by Londoners.
Horace Wilson incidentally lived to 90, forever defending the role he had played. But his career ended the day after Churchill became Prime Minister. On May 11th, 1940, Wilson left his office for lunch. When he returned, he found his sofa occupied by Brendan Bracken and Randolph Churchill, each smoking a huge cigar and glaring at him. Nothing was said. Wilson turned around and left. He never returned.
Featured Image: Churchill (played by Robert Hardy) emerges from Number Ten as First Lord of the Admiralty, 3 September 1939.
Churchill Project Articles
Stay In Touch With Us
Subscribe now and receive weekly newsletters with educational materials, new courses, interesting posts, popular books, and much more!