Articles

"Churchill, Kitchener and Lloyd George" – by Steve Cliffe
Steve Cliffe, Churchill, Kitchener and Lloyd George: First World Warlords. Oxford and Charleston: Fonthill Media, 2015, 144 pages, paperback $24.95, Kindle $9.99.
---
Journalist Stephen Cliffe has assembled a small volume that surveys the lives and careers of three World War I British leaders. Churchill may have been given pride of place in the book title because of his later prominence, or for alphabetic order; but in fact their relative importance in World War I was exactly the opposite.
To be clear, the three never functioned as a true triumvirate. Kitchener, who served as Minister of War, died in June 1916 at sea on a diplomatic mission to Russia. Churchill was in and out of wartime governments; after the failure of the Dardanelles expedition in 1915, he never recovered his influence on grand strategy. But Lloyd George became prime minister in December 1916, following service as Chancellor of the Exchequer, Minister of Munitions and Minister of War. After struggling to overcome party and political differences, the resistance of much of the professional military, and conflicts among allies, the fiery Welshman was able to inject energy and coherence into Britain's war effort.
Cliffe details the obvious differences in the three men's background but perceives certain key similarities. Each of them had phenomenal energy, compulsive social interactors at the top level, seizing opportunities to exercise their talents and gratify their colossal ambitions. Each was realistic but romantic, pragmatic but idealistic. Each did what few politicians today seem to do—they looked unpleasant facts in the face and acted. Without them, the world we live in today would be a rather different place. For Churchill, the Great War was his apprenticeship in military management, which proved a great advantage to him and his country in the re-run a quarter century years later.
Their contemporaries likely would not have lumped them quite into the same box, particularly the enigmatic Kitchener, military icon of the late British imperial age. His public prestige was such that his presence in the government was deemed essential to the war effort. Neither Churchill nor Lloyd George felt he was up to his official responsibilities. They resented Kitchener's keeping them in the dark on the grounds of military secrecy. Both suspected this was a cover for administrative incompetence, especially when it came to the production of munitions. They were not alone in thinking this. Rarely has the death of a revered national figure been the subject of such quiet, private, official relief.
Back in 1898, of course, Kitchener had famously tried to keep the young soldier-journalist Churchill from joining his campaign in the Sudan. (There is no suggestion that this greatly affected their World War I relationship.) Lloyd George and Churchill shared a political affinity that had begun in 1904, when Churchill had crossed the floor to sit next to the Welshman on the Liberal benches. Together they had spearheaded efforts at social reform; both were initially skeptical of increased military spending—especially naval—to offset the perceived rise of German power.
They finally came around on that point, and supported Britain's entry into the war in 1914. On strategy they held similar views: the deadlock in the trenches could be broken only by some novel expedient of maneuver or of weaponry. To rely solely upon the courage of the soldiers, the weight of their numbers, or the ravages of the trenches would bring stalemate and disaster. From this premise they drew similar conclusions: Both were early advocates of the search for an alternative front (although they differed on the details). Both voiced early demands for greater munitions production.
They did not have an equal effect on war strategy. Lloyd George apparently did not support Churchill during the political crisis over the Dardanelles, which ended with Churchill's ouster from Admiralty. In December 1916, when he became Prime Minister, he did not immediately rehabilitate Churchill. He finally made Churchill Minister of Munitions in July 1917, but did not insist on his incusion in the War Cabinet, which set the strategic direction of the war. (Undoubtedly, however, he benefited privately from the flood of memos that Churchill sent his way, and he recognized Churchill's exemplary performance as a minister).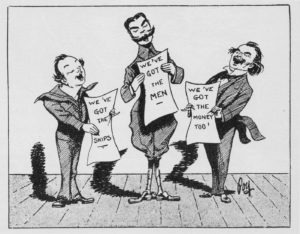 Lloyd George's careful behavior toward Churchill was partly ordinary political calculation—the younger man had simply made too many enemies. But it also reflected Lloyd George's assessment of Churchill's character. On the positive side, Churchill's energy and drive was an enormous asset. Frances Stephenson (Lloyd George's secretary and mistress) wrote that Lloyd Geroge wanted "someone who will cheer him up and help & encourage him & who will not be continually coming to him with a long face and telling him that everything is going wrong. At present he says he has to carry the whole of his colleagues on his back….He has an intense admiration for his cleverness, & at any rate he is energetic and forceful."
But Cliffe also marshals a series of Lloyd George quotes on the negative side: "Winston is like a chauffeur who drives for months without trouble, then suddenly takes you over a cliff….A brilliant fellow without judgment which is adequate to his fiery impulse. His steering gear is too weak for his horsepower….Winston has acted too impetuously regarding the Dardanelles. Things out there are not going well….He is an able fellow but very dangerous. He will not look at arguments on the other side." Years later Lloyd George had not changed his opinion: "His mind was a powerful machine, but there lay hidden in its material or make up some obscure defect which prevented it always running true…when the mechanism went wrong, its very power made the action disastrous, not only to himself but to the causes in which he was engaged and the men with whom he was co-operating."
Churchill often felt he deserved better from his old colleague. Lloyd George, he said, "never hesitates to sacrifice a friend if he stands in the way of his game….[but] he has the war-making quality. I do not intend to allow any personal feelings to prevent my working with him. But distrust based on experience is a terrible barrier." Yet, reflecting on the near-disasters of 1917, Churchill left this remarkable portrait of the Welsh Lion:
"It was in facing with unquailing eye these awful contingencies during the opening months of his prime responsibility, that Mr. Lloyd George's greatest service to his countrymen will be found to reside. Not only undaunted in the face of peril, but roused by each deepening manifestation to fresh energy, he drove the engine of State forward at increasing speed. The new Prime Minister possessed two characteristics which were in harmony with this period of convulsion. First, a power of living in the present, without taking short views. Every day for him was filled with the hope and the impulse of a fresh beginning. He surveyed the problems of each morning with an eye unobstructed by preconceived opinions, past utterances, or previous disappointments and defeats…his intuition fitted the crisis better than the logical reasoning of more rigid minds. Mr. Lloyd George in this period seemed to have a peculiar power of drawing from misfortune itself the means of future success….All parts of the task of government claimed his attention and interest. He lived solely for his work and was never oppressed by it. He gave every decision when it was required. He scarcely ever seemed to bend under the burden. To his native adroitness in managing men and committees he now added a high sense of proportion in war policy and a power of delving to the root of unfamiliar things."
For readers well-steeped in Churchill lore, Cliffe's book will not provide much that is new, especially since it lacks footnotes and (at least in the Kindle edition) an index. It is necessarily selective in the events it highlights. Still, we are well reminded of the challenges of political-military command at the highest level, and the difficulties that it presents for even like-minded colleagues to pull together in harness.
---
Patrick J. Garrity is Senior Fellow in Grand Strategy Studies, Ryan Center for the Study of Free Institutions and the Public Good, Villanova University.
Churchill Project Articles
Stay In Touch With Us
Subscribe now and receive weekly newsletters with educational materials, new courses, interesting posts, popular books, and much more!