Articles

William Courtenay Filmed the Fall of Japan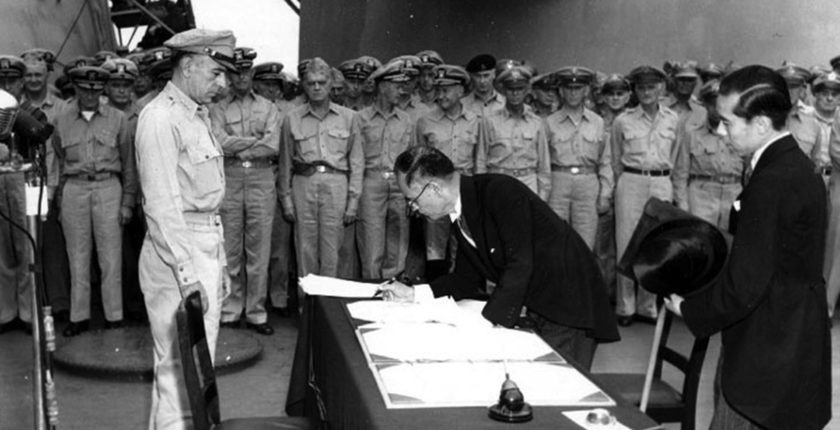 ---
William Courtenay, of "the Greatest Generation," compellingly recorded the fall of Japan in World War II in a video narrated by The Smithsonian. 
Winston Churchill, like many western friends of Japan, his ally in World War I, viewed with regret the possibility of war with Japan as World War II expanded. Speaking at Mansion House, London, on 10 November 1941, he said: "I must admit that, having voted for the Japanese alliance nearly forty years ago, in 1902, and having always done my very best to promote good relations with the island Empire of Japan, and always having been a sentimental well-wisher to the Japanese and an admirer of their many gifts and qualities, I should view with keen sorrow the opening of a conflict between Japan and the English-speaking world."
Less than a month later, Churchill had to write Japan's ambassador to London: "In view of these wanton acts of unprovoked aggression, committed in flagrant violation of international law…His Majesty's Ambassador at Tokyo has been instructed to inform the Imperial Japanese Government in the name of His Majesty's Government in the United Kingdom that a state of war exists between our two countries. I have the honour to be, with high consideration, Sir, Your obedient servant, Winston S. Churchill."1
"No Substitute for Victory"
Churchill admired America's drive across the Pacific in the years that followed. Of the eve of victory he wrote later: "There was no greater exhibition of power in history than that of the American army fighting the battle of the Ardennes with its left hand and advancing from island to island towards Japan with its right."2
Of the recapture of Guadalcanal in October 1942, Churchill wrote: "…the United States Marines were undaunted. In spite of ceaseless air attack they held and improved their position, while a supply service by sea was improvised and the captured airfield was brought into use. From this moment fighters and dive-bombers manned by the Marines worked from Guadalcanal itself and gave instant relief.…For ten days from October 19, 1942, the Marines in close jungle fighting held all their positions and beat the Japanese to a standstill."3
William Courtenay was present at many of those key campaigns, and he was on board the Missouri, as General MacArthur's guest, at the hour of victory in September 1945. As supreme commander of occupied Japan, MacArthur rendered further service, building trust with the former enemy as it evolved into a free state. Churchill applauded those events. "We must strive," he said in 1946, "to redeem and to reincorporate the German and the Japanese peoples in a world system of free and civilized democracy. The idea of keeping scores of millions of people hanging about in a sub-human state between earth and hell, until they are worn down to a slave condition or embrace Communism, or die off from hunger, will only, if it is pursued, breed at least a moral pestilence and probably an actual war."4
Courtenay, as the Smithsonian video explains, returned to Japan in 1947, to record Emperor Hirohito's transition from a wartime divine to a man who rallied his people, first to "accept the unacceptable" and surrender, then to develop a representative democracy.
William Courtenay achieved immortality with these films of living history. In the wake of recent events in Paris and Brussels, they are a timely tonic for the English-speaking peoples and the great democracies: a reminder of MacArthur's words: "In war, there is no substitute for victory."
William Courtenay OBE MM (1896-1960)
by Paul H. Courtenay
William Courtenay was born and grew up in Cheshire. At the age of seventeen he joined the 4th Battalion, Cheshire Regiment of the Territorial Army, a large body of part-time reservists. When the First World War began a year later, the TA was mobilised and 4th Cheshire was sent to the Middle East. Thus Courtenay came to be at Gallipoli and Gaza, where he was awarded the Military Medal (MM). Recommended for a commission, he elected to take it in the Royal Flying Corps. In April 1918, the RFC merged with the Royal Naval Air Service to become the Royal Air Force.
After World War I Courtenay became an aviation journalist. He focused on the early development of British civil aviation, which led him to meet many of the well-known early record-breaking long-distance flyers, notably Amy Johnson, whose mentor and minder he became. (In 1934, Amy became godmother to his only son, this writer.)
As a RAF reservist William was recalled when war threatened during the Munich crisis of 1938, but was thought to be too old for operational flying:  now nearly forty-three, he was stood down after two weeks in London's Balloon Barrage. By then he was air correspondent for the Sunday Times and Kemsley newspapers. In 1940, early in the Second World War, he became an officer in the Home Guard.
When Winston Churchill became prime minister in May 1940, one of his principal long-range policy objectives was to work as closely with the Americans as possible, in the hope that they would one day be able to become co-belligerents. As part of that policy, in July 1941, the British government sent Courtenay to the United States, to undertake a six-month coast-to-coast lecture tour, telling American audiences about the Battle of Britain.
William had reached the west coast at Seattle, where he was due to address 8000 factory workers at the Boeing aircraft plant, when Pearl Harbor was attacked by Japan. The Sunday Times then sent him to the Pacific as its accredited war correspondent. He travelled with the first large-scale U.S. reinforcements from San Francisco to Australia in February 1942. Before leaving he bought a 16 mm cine camera and a large quantity of colour film. Though he had no previous experience in making movies, he wished to have a personal record of events.
On reaching Australia, Courtenay met General MacArthur, with whose armies he spent the next three-and-a-half years, advancing through New Guinea, the Pacific islands, the Philippines, and into Japan on the first day of the occupation in August 1945. Wherever he went he took large quantities of color footage, including the surrender ceremony aboard USS Missouri and the two atom-bombed cities about two weeks after their destruction.
After the war he resumed his work as air correspondent on the Sunday Times. He revisited Japan, and later was at the Korean war front for several weeks each year as a war correspondent;  he also made good use of his wartime films to illustrate numerous lecture programmes. In 1950 he was appointed an Officer of the Most Excellent Order of the British Empire (OBE) in recognition of his work on behalf of Anglo-American relations.
Paul H. Courtenay, a faithful Churchill historian and researcher, served for many years as secretary of the International Churchill Society (UK), and was co-editor of new editions of Churchill's Thoughts and Adventures and Great Contemporaries.
Featured Image: Foreign Minister Shigemitsu signs the surrender document before Lt. Gen. Richard K. Sutherland, Gen. MacArthur's chief of staff (National Archives).
---
1 Winston S. Churchill, The Grand Alliance (London: Cassell, 1950), 542-43. Churchill added: "Some people did not like this ceremonial style. But after all when you have to kill a man it costs nothing to be polite." Ambassador Mamoru Shigemitsu (1887–1957) was not killed, later became Japan's minister of foreign affairs, and (filmed by William Courtenay) signed the instrument of surrender aboard USS Missouri in Tokyo Bay on 2 September 1945. Convicted of war crimes, he was imprisoned in 1945, paroled in 1950, and served as foreign minister in 1954-56.
2 Churchill on 6 April 1945, in John Colville, The Fringes of Power: Downing Street Diaries 1940-1955, 2 vol. edition (Sevenoaks, Kent: Sceptre, 1986-87), II 227.
3 Winston S. Churchill, Closing the Ring (London: Cassell, 1951), 17.
4 Churchill in the House of Commons, 5 June 1946, in Richard M. Langworth, ed., Churchill in His Own Words (London: Ebury Press, 2012), 138.
Churchill Project Articles
Stay In Touch With Us
Subscribe now and receive weekly newsletters with educational materials, new courses, interesting posts, popular books, and much more!