Articles

Great Contemporaries: Churchill and H. G. Wells, the Two Futurists
By

FRED GLUECKSTEIN

|

May 23, 2018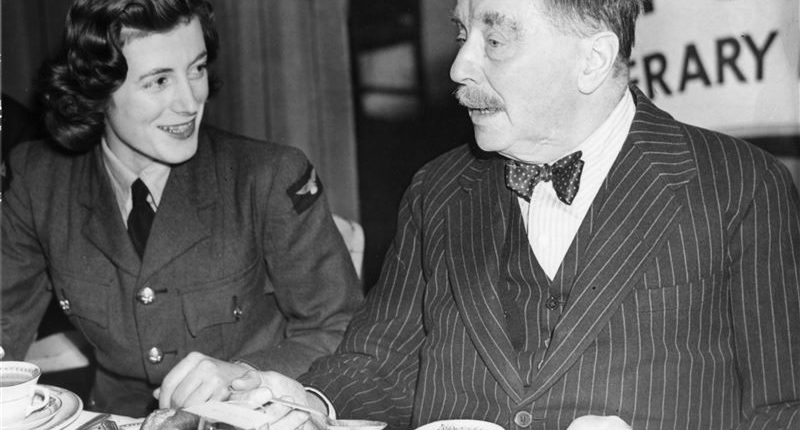 Featured Image: Sarah Churchill with H.G. Wells at a celebratory luncheon for theatrical manager C.B. Cochran, Grosvenor House, London, 17 December 1941. Cochran produced several Cole Porter musicals in London and was closely associated with Noël Coward's productions. (Associated Press)
---
The latest and best edition of Churchill's book of biographical sketches, Great Contemporaries, added several important essays to the 1938 revised and extended edition. One concerns the imaginative English writer who, with Jules Verne and Hugo Gernsback, was among the fathers of science fiction. "I am a great reader of Wells," Churchill wrote:
It must be more than thirty years ago that I first discovered his "Select Conversations with An Uncle" or read in the pages of the "Strand Magazine" his "Queer Side of Things." I responded at once to his intellectual stimulus and literary dexterity when I came upon "The Time Machine," that marvelous philosophical romance, not unworthy to follow at some distance, but nevertheless less in the train of Gulliver's Travels, I shouted with joy. Then I read all his books. I have read them all over since. I could pass an examination in them. One whole long shelf in my small library is filled with a complete edition. Here is entertainment and frolic. Here are suggestions of order and design. Here are shrewd ideas of peace and war. Here are prophecies of the future, not a few of which we have lived to verify and endure.1
The Time Machine, Wells's first novel, was published in 1895, when Churchill was stationed in Bangalore, avidly devouring everything he could read during the long, hot Indian afternoons. Whether he read it first there or back in London, one can envision how Churchill's imagination was stirred:
The Time Traveller (for so it will be convenient to speak of him) was expounding a recondite matter to us. His grey eyes shone and twinkled, and his usually pale face was flushed and animated. The fire burned brightly, and the soft radiance of the incandescent lights in the lilies of silver caught the bubbles that flashed and passed in our glasses.2
Later Churchill would delve into Wells's short stories, works of social commentary, satire, biography, autobiography and, as they came, his novels. Yet for Churchill it was always The Time Machine that inspired his personal journey into Wellsiana.
Wells Encountered
The first personal contact between Churchill and Wells occurred in 1901. Wells's publisher had sent the young statesman a copy of Wells's futurological predictions, Anticipations of the Reaction of Mechanical and Scientific Progress upon Human Life and Thought. Churchill, recently elected as a Conservative Member of Parliament, sent Wells a long letter in response. "I read everything you write," Churchill told him, adding that the book held much with which he agreed, although he felt that Wells put too much faith in government by experts. Churchill argued that society would not change as quickly as Wells supposed.3
Wells thanked Churchill and added: "I really do not think that you people who gather in great country houses realize the pace of things."4 Churchill and Wells exchanged further correspondence. In late 1901 Wells wrote:
It will interest me tremendously to make your acquaintance. To me you are a particularly interesting & rather amiable figure. Believing as I do that big sliders & new fissures are bound to come in the next few years, I fancy at times that you are a little too inclined towards the Old Game. More than anything else I speculate whether you anticipate that when you are sixty you will be in or upon a Conservative Party with a Liberal opposition & an Irish Corner in a British or Imperial parliament & if not – where you expect to be.5
Wells's prediction was interesting. He was right about coming "sliders and fissures." The vast Liberal victory of 1906 swept Churchill into office. The Irish Home Rule and women's suffrage movements rose to a crescendo. Then came the horrors of World War I. Wells would have been surprised to know by the time he did reach sixty, Churchill would have served as a Conservative, Liberal, Constitutionalist and Conservative again, and had stood in an "Irish Corner" by helping to craft the Irish Free State Bill in Parliament.
At the House of Commons in early 1902, Wells and Churchill met personally. In the years that followed they developed a friendship.  Typical of Churchill, the association prospered despite political differences. At first they seemed to see eye to eye. In 1905, Wells's novel A Modern Utopia championed the then-radical idea of basic state support for the needy; Churchill adopted that platform as early as a crusading Liberal. Wells was a convinced socialist, yet he backed Churchill in 1908, when a Cabinet appointment as President of the Board of Trade required WSC to submit to re-election as MP for Manchester North-West. Wells acted partly out of friendship, wrote David C. Smith. But more importantly, Churchill was the only viable option to the Conservative William Joynson-Hicks ["Jix"]. There was a socialist also-ran, Daniel Irving, but Wells considered him  a "narrow theoretician, who appealed to almost no one."6 (Indeed Irving captured only 276 votes, but "Jix" trounced Churchill, who was forced to stand for a new constituency in Dundee, Scotland.)
Wells was a well-known womanizer, notorious for his extra-marital affairs. From Dundee in 1909, Churchill urged his wife to read Wells's latest novel, Ann Veronica, about a "new" woman seeking free love, which was creating a stir. Wrote Churchill: "Massingham [the writer and poet] tells me (this is most secret) that Wells has been behaving very badly with a young Girton girl of the new emancipated school -& that v[er]y serious consequences have followed. The book apparently is suggested by the intrigue. These literary gents!!"7
Two Futurists
Churchill and Wells shared a fascination with dreams of  the future. During World War I, Wells offered his futurist ideas in support of the Allied war effort. In his memoir, Experiment in Autobiography, Wells recalled Churchill's support for his concepts, the first of which Churchill would make famous:
An old notion of mine, the Land Ironclads (published in the Strand Magazine in 1903), was being worked out at the time in the form of Tanks, and it is absurd that my imagination was not mobilized in scheming the structure and use of these contrivances."8
These obvious weapons were forced upon the army by Winston Churchill against all the conservative instincts of the army; Kitchener had turned them down as "mechanical toys," and when at length they were put into action, it was done so timidly and experimentally and with so inadequate an estimate of their possibilities that their immense value as a major surprise that might have ended the war, was altogether wasted."9
Wells also conceived of a plan for a mobile telpherage system for soldiers in the trenches, in which message containers are suspended from or run on wire cables, powered by electricity:
I met Winston Churchill at lunch in Clare Sheridan's studio in St. John's Wood. I was able to get going with him about this telpherage project forthwith. He saw my points and put me in touch with capable men to supplement my technical insufficiency. Upon his instructions, E.V. Haigh, who was at the Ministry of Munitions, set the Trench Warfare Department in motion, and a temporary lieutenant Leeming worked out the apparatus with a group of men and made a reality of my dream."10
Politics Diverge, Friendship Remains
Wells publicly collided with Churchill in 1920, after Wells returned from a friendly visit to Bolshevik Russia. Wells called for the great powers, America in particular, to give the Soviets assistance in order to help them establish "a new social order." Churchill, then Secretary of State for War in the Lloyd George coalition, advocated military intervention on behalf of the anti-Bolshevik "White Russians."  Nothing was more likely to spark his response:
We see the Bolshevik cancer eating into the flesh of the wretched being; we see the monstrous growth swelling and thriving upon the emaciated body of its victim. And now Mr. Wells, that philosophical romancer, comes forward with the proposition that the cancer is the only thing that can pull the body round; that we must feed that and cultivate that. After all, it is another form of life. It is "a new social order." Why be so narrow-minded as to draw the line between health and disease, still less between right and wrong? Adopt an impartial attitude. Put your money on the disease if you think it is going to win…. Communism applied by ruthless force to any society, will result in the destruction and death of that society…. There has never been any work more diabolical in the whole history of the world than that which the Bolsheviks have wrought in Russia.11
Wells wrote a fierce rebuttal. In later articles he described Churchill as "the running sore of waste in our Government…. He has smeared his vision with human blood, and we are implicated in the things he abets."12 In lesser men with narrower views, that might have been the end to a relationship, but the two remained friends. In 1934 Wells joined The Other Club, and he also visited Chartwell. In December 1937, anticipating an American lecture tour which the crisis over Hitler would prevent, Churchill enquired about a U.S. agent, asking Wells "whether you were satisfied with the way you were managed, and looked after…." To his American lawyer the following month, Churchill cited Wells's favorable recommendation and referred to him as "an old friend of mine."13
In the years that followed, Wells wrote regular columns on politics and other subjects, first for the Westminster Gazette, and later for The New York Times. For his own part, Churchill in their relationship stayed away from politics. Wells biographer David Smith wrote: "At the suggestion of Winston Churchill and Brendan Bracken [Wells] wrote a long and detailed article in which he discussed the future of the British Empire, especially in a world in which communication and transportation were changing so rapidly."14  This piece is remindful of Churchill's own futurist essays such as "Fifty Years Hence."
Literary Parallels: The Gathering Storm
While researching a book on Churchill, Professor Richard Toye came across a famous phrase, "The Gathering Storm," in H.G. Wells's 1898 novel The War of the Worlds, which describes an invasion of Britain by a fleet of Martian rocket ships: "I saw that the driving clouds had been pierced as it were by a thread of green fire….. Close on its apparition, and blindingly violet by contrast, danced out the first lightning of the gathering storm, and the thunder burst like a rocket overhead."15 Wells used the phase twice in his novel.
Churchill had a capacious memory for felicitous phrases, and was not above borrowing them. A 1900 novel by G.A. Henty, A Roving Commission, provided the title for Chapter I in Churchill's Ian Hamilton's March, and the alternate title for his autobiography, My Early Life.16 Why not The Gathering Storm for his first volume of war memoirs?
But the evidence is contrary. In Command of History, Professor David Reynolds' book on the writing of The Second World War, states that Churchill first proposed The Downward Path, or Towards Catastrophe as titles for his first volume. But the publishers were lukewarm, and his literary agent, Emery Reves, suggested The Gathering Storm. Reynolds speculates that Reves took the words from a prominent 1946 review of Keith Feiling's Life of Neville Chamberlain.17
Professor Paul Alkon admirably summarizes Churchill's view of H.G. Wells: "Despite their political disputes, Churchill lavishly praised Wells as an 'unquestionably great English writer.' This magnanimous phrase [invited] appreciation of 'the gifted being to whose gay and daring fancy and to whose penetrating vision so many of us owe so much.'"18 For Churchill, Wells's vivid imagination and forecasts of the future were far more important than their divergent politics. They continued to correspond until Wells's death in 1946.
Endnotes
1 Winston S. Churchill, Great Contemporaries: Churchill Reflects on FDR, Hitler, Kipling, Chaplin, Balfour, and Other Giants of His Age, New Edition, James W. Muller, ed. (Wilmington: ISI Books, 2012), 376-77. Originally published in the Sunday Pictorial, 23 August 1931 (Cohen C356.5), it was reprinted in Michael Wolff, ed., The Collected Essays of Sir Winston Churchill, 4 vols. (London: Library of Imperial History, 1975), III, 50-54.
2 H.G. Wells, The Time Machine (1895; New York: Dover Publications, 1995), 3.
3 Richard Toye, "H.G. Wells and Winston Churchill: A Reassessment," in Steven McLean, ed., H.G. Wells: Interdisciplinary Essays. (Cambridge: Cambridge Scholars Publishing, 2008), 147.
4 Ibid.
5 Wells to Churchill, 1 November 1901, in Randolph S. Churchill, The Churchill Documents, vol. 3, Early Years in Politics 1901-1907 (Hillsdale College Press, 2007), 98-99.
6 David C. Smith, H.G. Wells: Desperately Mortal (New Haven: Yale University Press, 1986), 120-21.
7 Randolph S. Churchill, ed., The Churchill Documents, vol. 4, Minister of the Crown 1907-1911 (Hillsdale College Press, 2007), 32-33.
8 H.G. Wells, Experiment in Autobiography: Discoveries and Conclusions of a Very Ordinary Brain -Since 1866 (Philadelphia: Lippincott, 1967), 583-84.
9 Ibid.
10 Ibid., 584-85.
11 Winston S. Churchill, "Mr. Wells and Bolshevism," Sunday Express, 5 December 1920, in The Collected Essays of Sir Winston Churchill, II, 81-82.
12 Toye, "H.G. Wells and Winston Churchill," 147.
13 Martin Gilbert, ed., The Churchill Documents, vol. 13, The Coming of War 1936-1939 (Hillsdale College Press, 2009), 870-71, 899.
14 Smith, H.G. Wells, 280.
15 H.G. Wells, The War of the Worlds (1898; New York: Scholastic Classics, 2007), 44.
16 Richard M. Langworth, A Connoisseur's Guide to the Books of Sir Winston Churchill (London: Brasseys, 1998, rep. 2001), 58.
17 David Reynolds, In Command of History: Churchill Fighting and Writing The Second World War (London: Allen Lane, 2004), 85, 93.
18 Paul K. Alkon, Winston Churchill's Imagination (Lewisburg: Bucknell University Press, 2006), p. 173.
The Author
Mr. Glueckstein, of Kings Park, New York, is regular contributor to the Churchill Project and travels frequently in search of Churchill. The author thanks Professor Richard Toye, University of Exeter, and Richard Langworth, Hillsdale College Churchill Project, for kind assistance in research.
Churchill Project Articles
Stay In Touch With Us
Subscribe now and receive weekly newsletters with educational materials, new courses, interesting posts, popular books, and much more!