Articles

Rachel Trethewey ponders the lives of Diana, Sarah, and Mary Churchill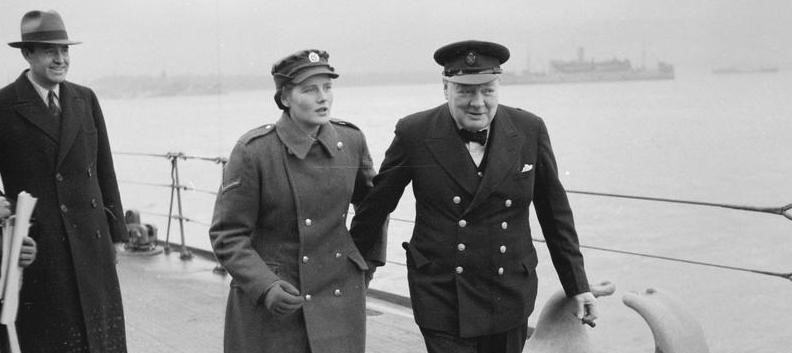 Rachel Trethewey, The Churchill Girls: The Story of Winston's Daughters. Cheltenham, Glos.: The History Press, 2021, 320 pages, £20, Amazon UK £13.99.
---
A serious family history
It can at times seem as if every conceivable facet of Churchill's career has been explored. His illnesses, finances, writing career—all have been the subject of interesting recent books. Even his cook and his bodyguards have found coverage. His wife Clementine is the subject of four biographies, the best of which is by her daughter Mary. His son Randolph inspired six books. The three Churchill daughters are represented by two volumes of reminiscences by Sarah, and Mary Churchills' own charming memoirs. Can there be yet more to say about his family?
It turns out that there is. Rachel Trethewey's study of the three Churchill daughters could easily have been a potboiler, rehashing old newspaper gossip columns. Instead it is a serious work based on the copious archived deposits in the Churchill Archives Centre at Churchill College, Cambridge. The Trethewey style is light and readable, and she provides new perspectives on the family life that was the background to Churchill's inimitable career and achievements.
Takeaways from Trethewey
Winston Churchill himself was often a trial to Clementine, who often needed extensive breaks to recover from the stress of living with him. But she in turn was a difficult mother, especially to her eldest daughter Diana. Clementine and she had difficulty understanding and connecting to one another. Diana and Sarah had multiple marriages.
Sarah was, by postwar years, clearly an alcoholic and was once rather messily arrested in Santa Monica. Diana died of suicide before her parents in 1963; Sarah died of cirrhosis. Only Mary, the youngest, had a long life devoid of spectacular crashes or disappointments.
Mary was the only daughter fortunate in marriage. She married Christopher Soames, who proved important support to her father as parliamentary private secretary during the illnesses that shadowed him part of the time in his 1951-55 government. When Christopher subsequently became Ambassador to Paris and then the last British governor of Southern Rhodesia, Mary smoothly moved into the world of diplomacy's complicated social dimension and then amid the turbulent last act of empire in Africa turned in an admirable performance. Possessed of a sunny, outgoing personality, she wrote several important works of biography and became a scion of the Churchill family. To this day she has a leading place in the hearts of friends and acquaintances alike.
What do the lives of Churchill's daughters have to tell us about Churchill himself? Focused as he was on his career, he still managed to be a devoted father. This was reflected in his daughters' devotion to him. It helped to create a domestic background that was clearly very important to him. The devotion of his family, the refuge, comfort and support they provided helped to keep his batteries charged.
They also served
It is interesting to reflect on a quality all three daughters displayed abundantly: a commitment to public service. When the war broke out, each sought war work. Sarah became an RAF photo interpreter whose efforts contributed to British aerial intelligence. Mary joined the ATS, the women's branch of the British Army, and became an officer. She served with anti-aircraft batteries around London before deploying overseas, ending her war in Germany.
At various times both Sarah and Mary were swept away from their duties to act as aides to their father on his overseas journeys, Mary made trans-Atlantic voyages with her father and was aide-de-camp to him at the July 1945 Potsdam conference. Sarah was with him at Yalta in February 1945, with Cairo and Teheran in between. Diana, with two small children, could not follow her sisters into the uniformed services but was an air raid warden, by no means a safe billet in wartime London. In a time when the children of power and privilege are more apt to feel entitlement than obligation, the picture of these three young women of rank choosing service is inspiring to contemplate.
This book can be recommended to anyone wishing to know more about Churchill's female progeny, and stands alongside two important biographies of his son Randolph: His Father's Son by Winston Churchill and, very recently, Josh Ireland's Churchill & Son. A parallel to Trethewey's book is Catherine Katz's Daughters of Yalta.
The author
Dr. Callahan is Professor Emeritus of History at the University of Delaware and a leading scholar of the Indian Army in the two World Wars. He taught at the University for thirty-eight years and was director of the Master of Arts in Liberal Studies program, where an annual student prize bears his name. He is the author of Churchill and His Generals (2007) and Churchill: Retreat from Empire (1997).
Churchill Project Articles
Stay In Touch With Us
Subscribe now and receive weekly newsletters with educational materials, new courses, interesting posts, popular books, and much more!