Articles

The Todman Duology: Plus ça Change, The Churchill Narrative Survives
---
Daniel Todman, Britain's War 1942-1947: A New World. Oxford University Press, 2020, 994 pages, $39.95, Amazon $27.82, Kindle $26.43.
Daniel Todman chronicles the Empire's last war
We have recently marked the 75th anniversary of VE Day amid a global pandemic, with only muted remembrances. While public commemorations were few and quiet, however, historians have been taking long second looks at the Second World War. Early on, that narrative was influenced, in the case of Britain, by Churchill's memoirs. It is now deeply entrenched in the popular mind. Films like Darkest Hour embody that view of 1940.
The war, however, lasted nearly six years, global in scope and transformative everywhere.
In their patient way, historians have worked away at all of this, adding highlights to shadows, nuance to simplicity. Their perspectives could not have been expected from those who fought the war, or grew up under its shadow. Time lengthens and archives open, scholarly books and articles pile up, perspectives change. The moment arrives thus for a new synthesis to be offered. That is what Danial Todman has given us in Britain's War, whose second and concluding volume has just appeared.
The book is massive but clearly written, thoroughly grounded in the now enormous literature on the subject. Todman has tried to paint a picture of not only Britain but of Britain's global empire at war. One the most interesting things about Todman's account is how much of the traditional narrative survives—if sometimes heavily qualified.
Churchill's strategy vindicated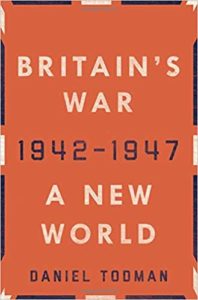 As an example, Churchill made the case in his memoirs for his long-fought Mediterranean orientation of Allied strategy. Various historians, mostly (but not exclusively) American, weighed in with criticism. Many reflected American wartime suspicions about Churchill's "imperial" objectives in the Balkans and the Levant. Yet precisely what these were, the Americans never specified. In the end, it was another American historian, Douglas Porch, who pointed out that the strategy shaped by Churchill and Brooke in 1942-43 really was, as they argued at the time, an essential preliminary to a successful invasion of France in 1944.
This is where Todman, summarizing Anglo-American arguments about Mediterranean strategy, also comes down. And despite the near-canonization of George Marshall by American writers, he seems to have been what Churchill and Brooke concluded. They considered him a limited strategist, but a military administrator of genius.
Churchill often used colorful—or extravagant—language in strategic arguments with his own chiefs of staff and the Americans. But it is now clear that Churchill's and Brooke's argument was absolutely correct. Only in the Mediterranean could the Allies engage the Axis successfully in 1942-43. That allowed their new armies to gain experience, while grinding down German strength. Perhaps Todman's balanced assessment and conclusions will lay this hoary controversy to rest . And perhaps not.
A war of peoples and societies
One of the best features of Todman's two volumes is the integration of Home Front with theaters of military activity. Many accounts of Britain's war focus on one or the other. Angus Calder's classic The People's War (1969) and Paul Addison's pathbreaking The Road to 1945 (1975) both treated the actual fighting as distant sounds of battle. Yet the Second World War was a single, all-encompassing entity. Virtually every adult man and woman in Britain was involved, in some way, in a massive total war effort. The British Army's performance in particular was conditioned not only by operational realities and tactical circumstances. It also depended on the quality of weaponry British designers and manufacturers could supply. Critical too were the calculations of its leadership, civil and military. They had to judge what could be asked of a citizen soldiers and the civilians who supported them.
It is sometimes overlooked that Britain fought the war under severe demographic constraints. Compared to its allies and enemies, its manpower pool (to which womanpower was added in ever increasing numbers) was simply not deep enough for the war it was waging. Hence the concern about casualties evident in Britain's commanders. Hence the felt need to end the war in 1944, while the British contribution was still substantial in the alliance. Meanwhile, as the European war was ending, the British dominated South East Asia Command (SEAC). Churchill yearned for SEAC's Operation Zipper, the reconquest of Singapore, to redeem the disaster of 1942.
Changing Priorities, 1945
The European war was over when the great coalition government dissolved. The War Cabinet in Churchill's "Caretaker Government" (23 May to 26 July 1945) had changed priorities. British troops with long service in the East could not be asked to carry on there indefinitely. Neither they nor their families in Britain would stand for it (and there was an election impending). The result was an accelerated repatriation scheme that virtually stripped SEAC of British units. "Zipper" occurred, but only after the atomic bomb had forced Japan's surrender. An opposed landing would have been carried out by the Indian Army—a splendid force about which the PM sadly had mixed feelings.
Britain's huge war effort produced victory, along with bankruptcy and the beginnings of an imperial unraveling. The process is hard to grasp in its entirety and even Todman's 2000 pages (in two volumes) barely manage to do so. The Todman volumes ably summarize what we now know. As an assessment of the last astounding act in Britain's imperial era, it cannot be recommended too strongly.
The author
Dr. Callahan is Professor Emeritus of History at the University of Delaware and a leading scholar of the Indian Army in the two World Wars. He taught at the University for thirty-eight years and was director of the Master of Arts in Liberal Studies program, where an annual student prize bears his name. He is the author of Churchill and His Generals (2007) and Churchill: Retreat from Empire (1997)
Churchill Project Articles
Stay In Touch With Us
Subscribe now and receive weekly newsletters with educational materials, new courses, interesting posts, popular books, and much more!