Articles

How Many Assassination Attempts on Churchill? Ask Walter Thompson.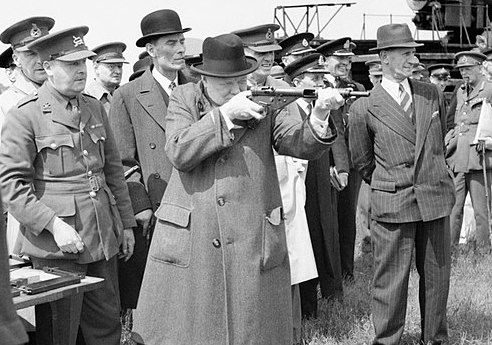 ---
Not with a Sten gun, but the PM was frequently armed and ready to shoot back, and Thompson says he was a crack shot. Here on a visit to the Royal Artillery experimental station at Shoeburyness, Essex, 13 June 1941, Churchill aims as Walter Thompson (right, in dark suit) looks on. (Imperial War Museum/Wikimedia)
---
Q: A relative of Walter Thompson, Churchill's longtime bodyguard, recently claimed there were thirteen assassination attempts made on WSC. Were there that many, and when?
​A: Based on the recollections of Thompson himself, as opposed to later elaborations or exaggerations, there were not that many specific attempts. But this does not minimize the key role Thompson played by remaining vigilant.
Walter Thompson
Walter Thompson was Churchill's protection officer and detective on and off between 1921 and 1945. They had many adventures together, and Thompson wrote four books about his experiences. The first, Guard from the Yard (1938, now very rare) involved Churchill and others whom Thompson protected. After World War II, Thompson published I Was Churchill's Shadow (1951), Sixty Minutes with Winston Churchill (1953) and Assignment: Churchill (1956).
Thompson's tall, angular features are frequently seen in Churchill photos during World War II (such as the image above). From 1939, when recalled to guard duty, he was rarely absent during the Prime Minister's travels.
The Thompson videos
In 2005, Thompson's experiences were posted in thirteen episodes on YouTube. The great strength of these posts is visual. Some photos are not chronologically accurate, but most are little-known and fascinating. The producers cleverly applied the right poses to go with the dialogue, presenting what is almost a motion picture. "Doubles" for Churchill and Thompson are the right shapes and cleverly fuzzed out  just enough to disguise that they are replicas. Excellent graphics supplement actual film footage to dramatize key moments.
Sadly, all but three of these videos have since been taken down—so watch the survivors now, because they may disappear any time.
Recent writings about Thompson contain so many howlers that we feared they would reappear in the videos. The episodes avoid this—and any hindsight, moralizing thought so necessary by producers today. Instead they offer straight reporting from Thompson's published memoirs. While put off by his steady references to his boss as "Winston," we found no serious errors.
Assassination attempts (or precautions)
1/ Middle East, 1921. Thompson's first challenge was keeping his boss alive during Churchill's visit to the Middle East; Churchill was attempting to mediate between contending Arabs, while also insisting on a Jewish homeland. All of this made him a natural target, and it is reasonable to believe Thompson's precautions were warranted, but no specific plot was uncovered.
2/ The 1920s: Eire, England, America: the first of three surviving Thompson videos. The bodyguard is alerted when Sinn Feiners trail him and Churchill across the Channel. He also takes special precautions during the 1926 General Strike. Thompson's first stint as bodyguard ends when Churchill leaves office in 1929, but resumes when he is rehired to accompany WSC on his 1931-32 American lecture tour.
3/ North America, 1931-32. In England Churchill is powerfully opposing the India Act. Rehiring Thompson, he travels to lecture in America, amid rumors of plots from Indian nationalists. Thompson again takes precautions, though no specific plot is known. Of course Churchill was nearly killed by a car crossing Fifth Avenue, but that accident was not intentional.
4/ Lone gunman, Virginia, 1942. The second surviving Thompson video logs Churchill's visits to America in December 1941 and June 1942. The latter, aboard a Flying Boat, was Churchill's first U.S. round trip by air. Curiously unmentioned by Thompson, a deranged gunman was thwarted from shooting Churchill as he boarded his plane for the return journey. Credit also belongs to Mike Riley of the U.S. Secret Service for stopping this attempt.
5/ Lisbon, June 1943. No longer on YouTube, another Thompson episode involves the actor Leslie Howard, "Ashley Wilkes" in one of Churchill's favorite films, Gone with the Wind. Howard had a business manager, Alfred Chenhalls, who closely resembled Churchill, affecting similar clothing and a homburg hat. German spies in Lisbon, observing Chenhalls and Howard boarding a commercial flight to London, mistook them for Churchill and Thompson. They informed the Luftwaffe, who shot down the plane, killing thirteen. The plot was real enough, but as Churchill wrote in his war memoirs:
The brutality of the Germans was only matched by the stupidity of their agents. It is difficult to understand how anyone could imagine that with all the resources of Great Britain at my disposal I should have booked a passage in an unarmed and unescorted plane from Lisbon and flown home in broad daylight.
6/ Teheran, November 1943: The third surviving Thompson video. After two Atlantic crossings and two trips across the Mediterranean, Churchill grows increasingly frustrated and suspicious of Stalin. When the Big Three meet in Tehran in 1943, the Germans launch Operation Longjump, in which commandos plan to parachute into the city. This was a plot against Stalin and Roosevelt, as well as Churchill.
Summary: how many?
Thompson's duties ended at the close of the war, but Scotland Yard continued to assign bodyguards to Churchill. Even when out of office (1945-51) he rated protection. Among his postwar detectives were Ronald Golding and, from 1950 to his death, Detective Sergeant Edmund Murray. Like Thompson, both took special precautions when they deemed their charge at risk. But in my interviews with them, neither related any specific assassination plots.
Thompson's eighteen perilous years are really the key. His accounts tend to suggest that he saved Churchill's life at every juncture. Undoubtedly, many potential threats did exist, and to his credit, he disregarded no possibility. We are left however with six particular episodes, only three of which involve known assassination plots. (Of course we leave out the fiction, the best of which is The Eagle Has Landed.)
These are tentative conclusions and may have missed something that needs to be added. The views of readers are welcome; please email [email protected].
The author
Mr. Langworth's latest book, Winston Churchill, Myth and Reality: What He Actually Did and Said, is available from the Hillsdale College Bookstore.
Churchill Project Articles
Stay In Touch With Us
Subscribe now and receive weekly newsletters with educational materials, new courses, interesting posts, popular books, and much more!