Articles

The Making of "Their Finest Hour": Part I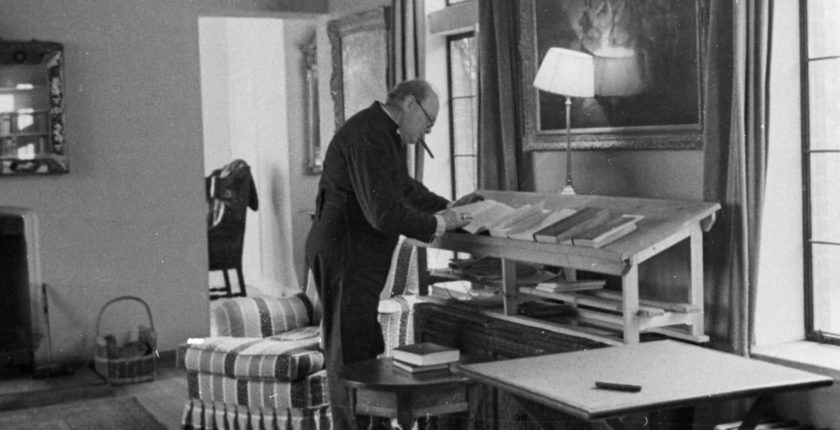 How Churchill Wrote His Best-Known Speech
18 June 1940
Background: "The Scaffolding of Rhetoric"
Winston Churchill was not a natural orator. Born with a lisp, he tried to overcome it by rehearsing the phrase, "The Spanish ships I cannot see for they are out of sight." It kept coming out, "Schpanish schips" and "schight." He gave up and turned his problem to an asset by accentuating it—as in his famous pronunciation of "Nazis" as "Narzhees," a long, guttural growl.
Another prop was the loaded pause. Some thought it a stutter, as if Churchill were searching for a word; but it was his way of holding an audience. "Those pauses are just part of my trade," he once told an editor friend. "I always—well, most of the time—know exactly what I am going to say, but I make believe, by hesitating a little, that a word or phrase has just come to me. I think the effect is improved."
The novelist A.P. Herbert, who admired Churchill's speeches, said Churchill wrote his texts so carefully that the pauses were natural: "Read this, or any other passage [of the Finest Hour speech] aloud, and mark how easily it runs. The pauses make themselves."
In 1940, Members of Parliament and BBC listeners heard quite a lot of those unmistakable lisps and pauses from their new Prime Minister—accompanied by a quality of sincerity which was distinctly Churchill's. At the age of 23, in an unpublished essay, The Scaffolding of Rhetoric, he stressed the importance of emotion and sincerity: "Before the orator can inspire with an emotion, he must be swayed by it himself. When he would rouse [people's] indignation, his heart is filled with anger. Before he can move their tears, his own must flow. To convince them, he must himself believe….Every orator means what he says at the moment he says it. He may be often inconsistent. He is never consciously insincere."
No speechwriters attended him. Until old age Churchill wrote every speech himself. To emotion, sincerity, and his distinct speaking style, he brought his photographic memory, borrowing freely from Greek and Renaissance philosophers, the Bible, Shakespeare, Victorian poets, 19th century classics.
As a young man he had read every important book on science, philosophy, humanity, government, democracy: "I approached it with an empty, hungry mind, and with fairly strong jaws," he wrote in his autobiography, My Early Life—and what I got I bit." Chewed, digested, pondered and stored in his memory, it was all there like a sort of prehistoric Google, on standby in his mind.
At the age of 20 he read the Parliamentary Debates (Annual Register) for the past quarter century, deciding what side he would take on each important issue. He committed to memory Bartlett's Familiar Quotations, which he used with devastating efficiency. "They that can give up essential liberty to obtain a little temporary safety deserve neither liberty nor safety" is often ascribed to Churchill, because he used it; but Bartlett's records that the first to use this phrase was Benjamin Franklin in 1755.
In his most famous speech Churchill is largely original: "finest hour" and "broad, sunlit uplands" are distinctly his own expressions. But he did deploy lines from the 17th century writer, Andrew Marvell:
He nothing common did or mean,
Upon that memorable scene.

His Private Secretary John Colville wrote that Churchill had been repeating this verse to all and sundry since early June.
By June 1940, Western liberty seemed close to extinction. The historian Marc Bloch thought that a worldwide "psychological adjustment" was taking place. Hitler's German Reich had absorbed most of Western Europe. What he hadn't absorbed were other dictatorships allied to him, like Italy, Hungary and the Soviet Union. Far away America seemed indifferent, lost in an isolationist dream. Only Great Britain and her Prime Minister stood across Hitler's line of march.
Churchill the orator now took charge. With the Nazis gazing at Dover's cliffs from twenty miles across the English Channel, he "mobilized the English language," as the journalist Ed Murrow remarked, "and sent it into battle."
With all of his background and props, Churchill had not always delivered riveting speeches. In the late 1920s and early 1930s, as he droned on in the Commons over the national budget or the future of India, he often spoke to an empty chamber. But in June 1940, people were hanging on his words.
He had the ability of rising to great occasions. "There must be character, personality, delivery, and occasion," he wrote in The Scaffolding of Rhetoric. "The wrong man can make the finest phrase ineffective." The war speeches of Churchill's predecessor, Neville Chamberlain, were "like a faint air played on a pipe and lost on the wind," as A.P. Herbert said. Churchill's speeches were "like fine tunes, once they are heard; but they were not heard before."
His purpose on June 18th was to confront the doubters who believed, in the words of one French general, that "in three weeks Britain will have her neck wrung like a chicken." Churchill said: Perhaps not. His voice, Herbert recalled, was "like an organ filling the church, and we all went out refreshed and resolute to do or die."
Since 1904 Churchill had always written his speeches down, no matter how well he knew hem. Then, as a 30-year-old addressing the House of Commons, relying only on memory, he had lost his thread; never again did he speak without a text in hand. "The processes of memory and composition are entirely separate in the brain," he wrote in The Scaffolding of Rhetoric, "and it is not easy to change from one gear to the other."
As extraordinary as his stock of words were his methods of preparation: "one hour of prep," he once told his grandson and namesake, "for each minute of delivery."
Yet Their Finest Hour, the twenty-minute speech that won him lasting fame, was dictated between Monday evening, June 17th, and noon on the 18th. By rights it should have taken him twenty hours to compose. Clearly it did not, though he had already been composing some of the lines in his mind—as Colville said for a fortnight—mouthing the words to himself, his wife, his associates, even "Nelson" the resident cat, as news of the frightening events unfolded.
__________
This article was originally written as an introduction to The Making of The Finest Hour, a book containing the speech (Delray Beach, Fla.: Levenger Press, 2006).
Featured Image: Prime Minister Winston Churchill addresses an audience of more than 20,000 at Walthamstow Stadium, London in 1945. Credit: PA/PA Archive/Press Association Images
Churchill Project Articles
Stay In Touch With Us
Subscribe now and receive weekly newsletters with educational materials, new courses, interesting posts, popular books, and much more!