Articles

In Defense of Graham Sutherland and his "Infamous" Churchill Portrait
The short-lived Sutherland portrait, 1954. (Wikimedia).
---
30 November 1954
The scene is familiar to students of Churchill's life. It is his eightieth birthday. In London, both Houses of Parliament have assembled in Westminster Hall to celebrate the occasion. They present him with the gift of a portrait, paid for by parliamentary subscription. They intend it to remain with him for his lifetime, and then to hang in the Palace of Westminster.
Churchill looks at the portrait and remarks, with a combination of presence, timing and a successful masking of emotion: "The portrait is a remarkable example of modern art. It certainly combines force and candour. These are qualities which no active Member of either House can do without or should fear to meet."1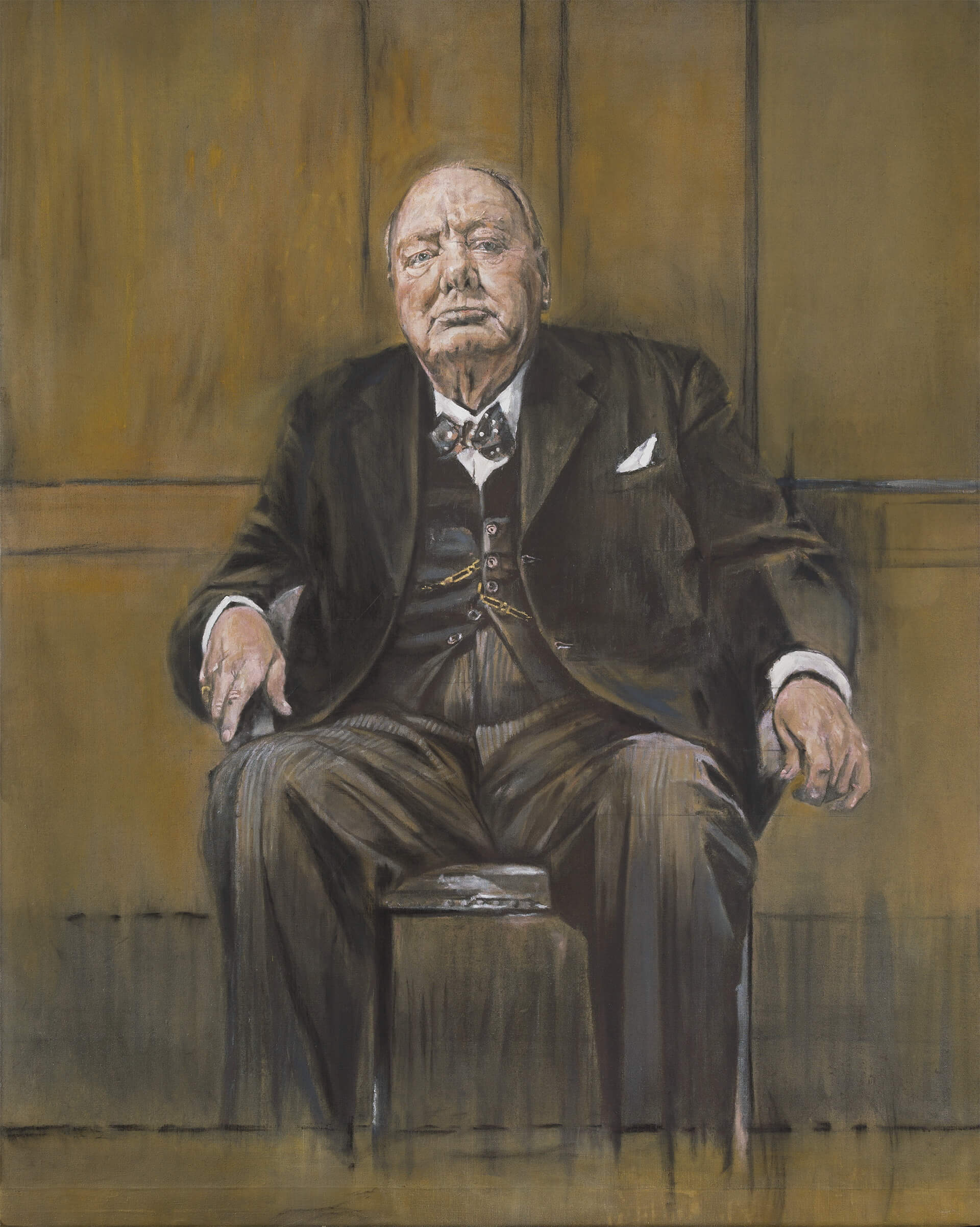 Sir Winston had seen a photograph of the portrait privately a week before—and hated it. He almost refused to attend the presentation, and had written to tell the artist it would not feature in the ceremony. It was, as Mary Soames later wrote, "a great and emotional upset behind the scenes in the days prior to the presentation."
Finally, under pressure, Churchill conceded. At the ceremony he displayed the attributes of a consummate politician and gentleman, covering his distaste with humour rather than invective.
How did we get here?
In June 1954 the cumbersomely named "Churchill Joint Houses of Parliament Gift Committee" decided on the presentation of a portrait and who should receive the commission. Their first choice of Sir Herbert Gunn was rejected because he was too expensive. Gunn's portrait of King George VI suggests a work by him would have been more conventional, and flattering.
Jennie Lee, wife of Churchill's long-time adversary Aneurin Bevan, then suggested Graham Sutherland, who was establishing a reputation as a portraitist. Sutherland who had already painted Churchill's long-time friend and sometime goad, Lord Beaverbrook. Cynics might think the recommendation, by one of Churchill's greatest political enemies, something of a preemptive strike on WSC's legacy. Of course they would be cynics.
Sutherland, with some trepidation, accepted the commission, and a fee of 1,000 guineas (£33,000 in today's money). The Gift Committee laid down the strict requirement that Churchill appear in normal parliamentary dress.
Sitting for Sutherland
Things started off hopefully enough. On 1 September Clementine Churchill wrote her daughter Mary: "Mr. Graham Sutherland is a 'Wow'… [One] can hardly believe that the savage cruel designs which he exhibits come from his brush. Papa has given him 3 sittings & no one has seen the beginnings of the portrait except Papa & he is much struck by the power of his drawing."2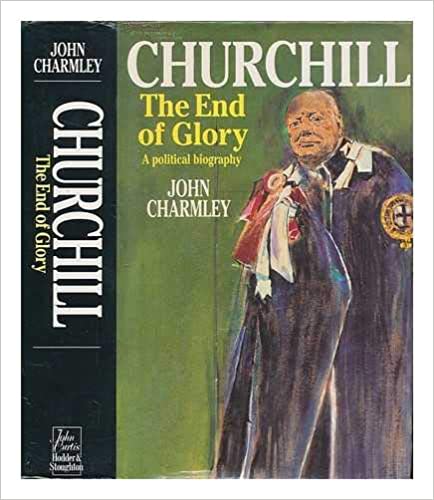 Churchill enjoyed Sutherland's company, suggesting they paint each other and take a sketching trip together in the south of France. He suggested posing in his Garter robes, but the Gift Committee instructions precluded that. In the event, Sutherland did produce a relatively complete study for such a portrait, having another sitter model the Garter robes. This study found print on the British dust jacket of John Charmley's Churchill: The End of Glory.
The Beaverbrook Art Gallery acquired the more important detail studies for the painting, along with the Garter robe study. In examining these, it is rather easy to understand how Churchill may have been lulled by Sutherland's advance sketches. There were six studies of the head. It is impossible to be entirely sure which ones Churchill saw, but none were particularly egregious. Only one featured the legendary cigar, which Churchill immediately rejected, saying it made him look like a "toffee-apple." Sutherland sketches of Churchill's fine, delicate hands seemed fully to do them justice.
For Sutherland the hardest part of the portrait was capturing the correct expression. He had noted Churchill's expression was mercurial as each passing emotion registered quickly and deeply. And at the best of times as other artists, including WSC's sculptor cousin Clare Sheridan, had noted he was a notoriously restless sitter.
"Mortal affront"
Churchill's doctor Lord Moran worried that Sutherland would give up and "paint the legend." Sir Winston, Moran said, "is always acting. Try to see h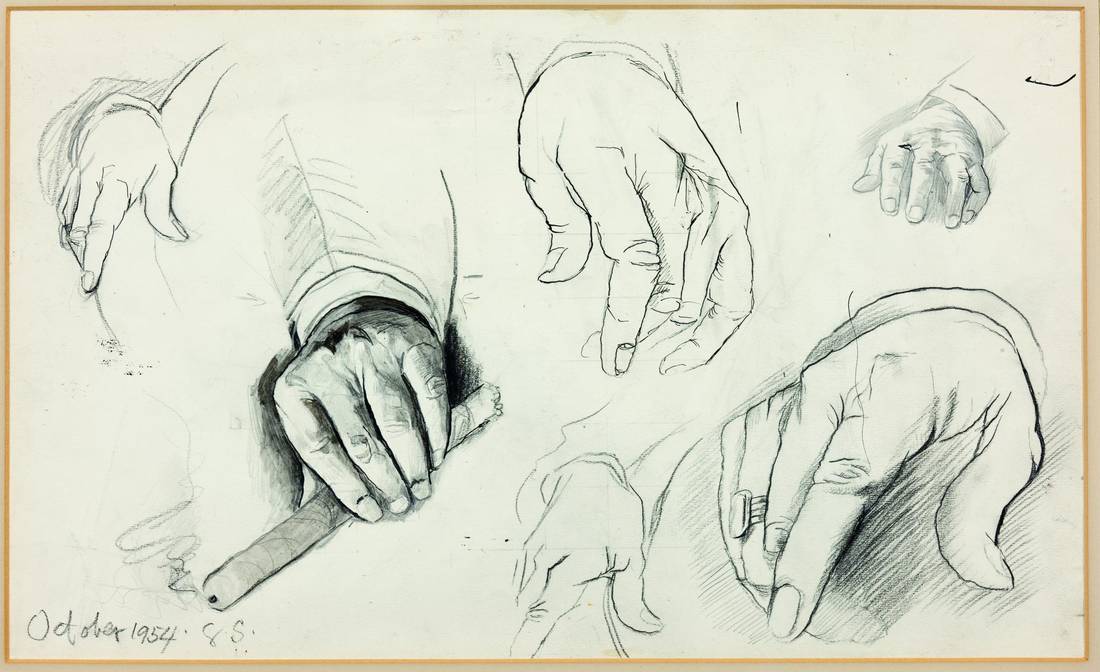 im when he has got the greasepaint off his face."3 Sutherland felt he had solved the problem after he was able to observe and sketch Churchill playing a combative game of bezique, his guard temporarily dropped.
On 20 November Lady Churchill previewed the portrait. She gave every indication of liking it. Churchill and Sutherland friend Somerset Maugham was present at the viewing. Clementine "liked the portrait very much," he said; "she was very moved and full of praise for it."4 She left with a black and white photograph to show her husband.
Sir Winston loathed it. As Mary Soames wrote, "He felt he had been betrayed by the artist, whom he had liked, and with whom he had felt at ease, and he found in the portrait causes for mortal affront."5
Over the years Graham Sutherland's portrait has entered the canon of Churchillian legend. His partisans call it the "infamous portrait," the "daub," the "outrage." Better, they said, to present him with something he really liked. But it should also be kept in mind that the occasion itself was an unprecedented mark of respect from Parliament and from the nation. As well as the portrait, Winston had been presented with a book signed by almost every member of both houses, and a cheque for £140,000. Those gifts he certainly appreciated. "The care and thought which has been devoted to this beautiful volume," he said, "and the fact that it bears the signatures of nearly all my fellow Members deeply touches my heart."6
"Something I never expected to see"
Sutherland had an explanation. In 1961 he would tell Lord Beaverbrook: "For better or worse, I am the kind of painter who is governed entirely by what he sees. I am at the mercy of my sitter. What he feels, or shows at the time, I try to record."7 And 1954 was a bad time to have Churchill as a sitter. Four years later David McFall, working on Sir Winston's bust, may have summarized what Sutherland felt: "[I was] struck by something in him I had not expected to see. Tragedy. His age is a matter of great sorrow to him and I caught him at a very tragic moment of his life."8
Undoubtedly, Sir Winston was deeply depressed by the current political situation, raging mightily against the dying of the light. He had rallied his country at a time of mortal peril. Wielding immense power, he led it to ultimate and complete victory. Then suddenly the rules changed. Britain was now a junior player, and a former ally was a looming threat. The ex-subaltern, who had charged with Victoria's hussars at Omdurman, was navigating the politics of the hydrogen bomb.
He had, in June, made a somewhat clumsy attempt to convene Eisenhower, Malenkov and himself in a three-power nuclear containment summit and had been quite soundly rebuffed. Sir Winston saw his political and personal powers fading. He could not bear the thought of himself as "an exhausted volcano of the front bench"—a taunt with which Disraeli had so cruelly mocked Gladstone and his ministers the year Churchill was born.
The fate of the Sutherland
The public never saw the portrait again. That is not to say that there was no demand for it. On 4 May 1960 the bursar of Churchill College wrote asking for various items they might display, including the Sutherland. There came a prompt and chilly response from Anthony Montague Browne, Churchill's private secretary. "The suggestion about Graham Sutherland was not smiled on at all. Neither Sir Winston nor Lady Churchill ever liked it…. In addition to this, it is a singularly disagreeable sepia colour, and I would not call it an ornament to any wall."9
In June 1962 Churchill's cousin, Shane Leslie, resumed the quest for Churchill College. "[T]heir great desire is a central portrait of Winston. Of course as a scientific college they most want Graham Sutherland's strange portrait."10
Though it was not then known, Churchill College had, in Neville Chamberlain's ill-judged phrase, "missed the bus." In anticipation of requests such as these (to which a later generation might accede), Clementine Churchill had taken action. In the mid-1950s Grace Hamblin, longtime Churchill and Chartwell stalwart, aided by her brother, took the portrait several miles from Chartwell and committed it to the flames of a huge bonfire. In October 1957 Clementine had written to Lord Beaverbrook: "[It] will never see the light of day."11 By then the ashes were long cold. Lady Soames revealed its fate publicly in her 1979 biography of her mother.
Conclusion
It is unrealistic to hold Sutherland culpable for Churchill's disappointment. He delivered his commission. A painter, not a photographer, he worked within his brief and certainly within his style. Everyone knew Sutherland's work at the time. It should have been clear, especially given his 1951 portrayal of Lord Beaverbrook, that he was no purveyor of legends.
Beaverbrook called his own Sutherland portrait both an "outrage" and a "masterpiece." One senses "outrage" pronounced with impish glee. Of his own portrait, Churchill wrote to Lord Moran ,"I think it is malignant." Times change. Had Churchill ever seen the caricature Gerald Scarfe did of him during his last appearance in the House of Commons, he might have reconsidered his definition of "malignant."
In the end Churchill feared little on the face of the earth. He defied danger and death all his life—stood up to moral battles which would have crushed a lesser man. But he did fear old age and irrelevance. Sutherland captured him at a time he hated, when he knew almost all was behind him. Clementine was profoundly aware of all this. She had vehemently fought her husband's corner for almost half a century, and was not going to ease up as the shades began to close in.
Was she right to destroy the portrait? Technically, no. It was not hers to destroy. It had been a gift for Sir Winston's lifetime, and was to revert to the nation upon his death. But we have to accept, and perhaps understand, the action of Clementine in destroying the original. Today, we need never flinch from the image. Sutherland saw a man behind the legend, reached deep, and in the end, gave us the man. The legend needed no portrait.
The author
Mr. Turrell has recently retired from a lifetime career in Information Technology. A longtime Churchill bibliophile and collector, he was formerly associate editor of Finest Hour.
Endnotes and further reading
1 Robert Rhodes James, ed., Winston S. Churchill, His Complete Speeches, 1897-1963, 8 vols. (New York: Bowker, 1974), VIII, 8608.
2 Mary Soames, Clementine Churchill: The Biography of a Marriage (Boston: Houghton Mifflin, 1970, 587.
3 Roger Berthoud, Graham Sutherland: A Biography (London: Faber & Faber, 1982), 189.
4 Jonathan Black, Winston Churchill in Modern Art: 1900 to the Present Day (London: Bloomsbury Academic, 2017), 166.
5 Soames, Clementine Churchill, 589.
6 Rhodes James, Complete Speeches, VIII, 8608.
7 Graham Sutherland to Lord Beaverbrook, 21 March 1961. Archives, Beaverbrook Art Gallery.
8 Black, Winston Churchill in Modern Art, 189.
9 Martin Gilbert & Larry Arnn, eds., The Churchill Documents, vol. 23, Never Flinch, Never Weary November 1951-February 1965 (Hillsdale, Mich.: Hillsdale College Press, 2020), 2283.
10 Ibid., 2327.
11 Martin Gilbert, Winston S. Churchill, vol. 8, Never Despair 1945-1965 (Hillsdale College Press, 2013), 1253.
Churchill Project Articles
Stay In Touch With Us
Subscribe now and receive weekly newsletters with educational materials, new courses, interesting posts, popular books, and much more!