Articles

A Needed Tribute to Churchill's Most Devoted Staff, by Cita Stelzer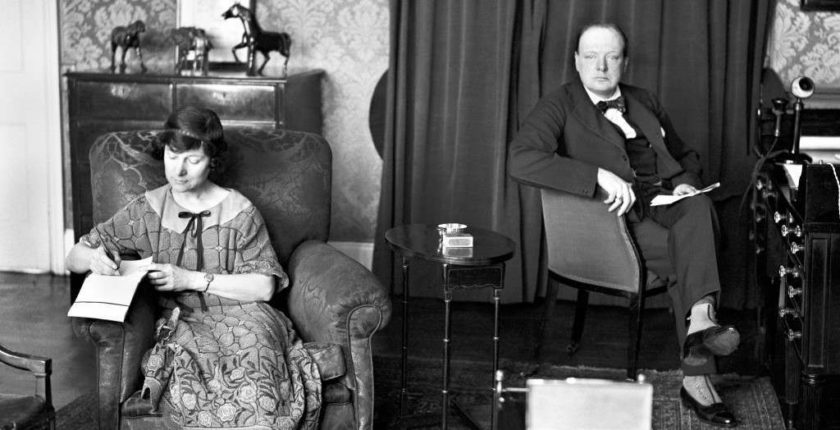 ---
From 1900 on, all of Churchill's writings and speeches were dictated to secretaries (here at Sussex Square, London, 1923—note the period footwear). Cita Stelzer concentrates on those who served at the pinnacle of his career, from the late Thirties through the Second World War and afterward.
---
Cita Stelzer, Working with Winston: The Unsung Women Behind Britain's Greatest Statesman. New York, Pegasus Books, 2019, 400 pages, $28.95, Amazon $19.35, Kindle $14.99.
Grace Hamblin came to Chartwell in 1932 and served as secretary to both Churchills. After Sir Winston's death she became Chartwell's first National Trust administrator. Always happy to help those in search of the truth, she was a severe taskmaster, careful to note any error, any misrepresentation. In an age before it was commonplace to publish books about "my life with the great," she vowed "never to write." She used to tell me how Sir Winston would fix her with a steely eye after some amusing but private episode. "You're not going to write, are you, my dear?"
But she never "wrote." Nor, with one exception, did his other office secretaries (including one male, Patrick Kinna). The exception was Elizabeth Layton Nel. Her lovely book, originally  Mr. Churchill's Secretary, was written with Churchill's approval, and in the kindest terms. (Joan Bright Astley, General Ismay's secretary, also wrote, on wider topics, in The War at the Top)
Miss Hamblin finally agreed to speak for the first time publicly at a 1987 Churchill Conference. What she didn't say—because she was a very private person—was that the gist of her remarks was also on tape at the Churchill Archives Centre. There her memories belonged, she said, because they were an adjunct to history.
Archival depth
That is where Cita Stelzer first went in search of her untold story. True to their skill and special calling, the Archives set out to record as many oral histories as they could while the principals lived. They succeeded admirably. But Mrs. Stelzer did not stop there: her nine-page bibliography testifies to the countless sources she consulted for supplementary and background notes. Her accounts are not simply transcriptions off tapes. They are carefully honed with "connecting tissue" where the author places remarks in the context of history.
Nothing like this has been attempted before. There are many compilations by and about those who knew and worked with Churchill. René Kraus's The Men Around Churchill was the first, in 1941. Charles Eade's Churchill by His Contemporaries (1953), John Wheeler-Bennett's Action This Day (1968) and Jock Colville's The Churchillians (1981) added greatly to our knowledge. But all those involved "the good and the great." Cita Stelzer instead offers the unsung heroines (and one hero) who spent their prime in the daily routine of Churchill's "private office."
The author is mindful of the vast cultural gulf between their time and ours. Today, she notes, "women of equal talent and willingness to work would have grander titles." Not least among their duties was organizing summit conferences "in often-inaccessible places," providing VIPs with "thousands of documents, secure communications facilities, food and, inevitably in those days, alcoholic refreshment." Today they'd be called—at the very least—"executive assistants."
The Noblest Romans
The first three chapters cover the most stellar and important of Churchill's secretaries: Violet Pearman, Grace Hamblin and Kathleen Hill. Between them they piled up forty years of experience. They set the stage and the standards for those who followed.
Pearman, the imperturbable "Mrs. P.," served from 1929 to 1938. She took ill, but continued to serve part-time from her home until she died of a stroke in 1941. Grace Hamblin "broke in" at Chartwell under Mrs. P. "She worked like a Trojan," Grace remembered, "fast and furious, without stopping…. She ran up and down stairs… She was devoted to him, and very loyal. She seemed to be in charge of every single thing—not anything special—just everything!"
Hamblin herself has been often mentioned in Churchill lore. Though she served longer as Clementine's secretary than Winston's, she too was involved in every aspect of his affairs. There was no difference in priority, she said, between vital and the trivial matters. Stopping at Westerham Post Office for the latest page proofs for A History of the English-Speaking Peoples was no more important than fetching the latest shipment of maggots for Churchill's golden orfe. She often fondly remembered how she would rush off in the little Morris, Chartwell's all-purpose staff car, to a phone call from the postmaster. "Is that the secretary? Yer maggots are 'ere, Miss!"
Kathleen Hill arrived in July 1937 to assist Grace and Mrs. P. as the European scene darkened and Churchill's political and literary work built. "Hill would work for Mrs. Churchill in the mornings, rest during the afternoon, and then work for Churchill at nights, sometimes until 2 or 3 a.m.," Cita Stelzer writes.
Like other staffers, Mrs. Hill plunged in at the deep end. She wasn't on the job a day when Churchill commanded: "Fetch me Klop." She remembered seeing a lengthy study of the Stuarts by the German historian Onno Klopp. Proudly she staggered down two flights of stairs with fourteen volumes of Der Fall des Hauses Stuart und die Succession des Houses Hannover. "God Almighty!" Churchill roared. "He looked at me in amazement. 'Good try, very well done but not what I wanted,' he said."
"Klop" was a "Churchillism"—a word invented "for reasons of onomatopoeia." It was a metal hole-punch that allowed a "Treasury tag" (a length of yarn with metal "Ts" at its ends) to secure pages together. He detested staples and paper clips, because, he said, "they are very dangerous as they pick up and hold together wrong papers." Realizing his explosion had hurt Mrs. Hill's feelings, Stelzer writes, "he complimented her on her handwriting."
Their value was beyond their station
Space is running out here, but there are nine further chapters on these remarkable characters. The above examples give a flavor of them all: the warm humanity, the humor and affection. The book shows the importance he attached to everything, from routine domestic matters to the terror of imminent extinction. This book is essential to understand the rounded picture.
"Secretaries" or "shorthand typists" is what they were called in their day, belying their importance and the breadth of their duties. Cita Stelzer uses that term throughout, because that was what The Boss called them. Sometimes with a new one he'd forget her name, and refer to "Miss" or "the secretary" or "young woman." Not one of them ever felt demeaned by this. They certainly were distressed when Churchill, deep in thought, flew into a brief rage over some minor mistake. But their loyalty and love for "the old man" never diminished. That none ever tried to profit by careless revelations, or by leaking privileged gossip, shows how they respected Churchill. As he, in the end, did them.
Reading Cita Stelzer's pages bring to mind what Churchill said when the local gypsy, "Mrs. Donkey Jack," was hospitalized. Churchill paid for her care and sent a gardener to feed her dogs. One of them, small and fierce, stood watch over her caravan in the Chartwell Wood. "He allows Arnold to bring food at a respectable distance, and consents to eat it," Churchill wrote his wife. "But otherwise he remains like the seraph Abdiel in Paradise Lost. 'Among innumerable false, unmoved, Unshaken, unseduced, unterrified; His loyalty he kept, his love, his zeal.' A fine moral lesson to the baser breed of man!"
Churchill Project Articles
Stay In Touch With Us
Subscribe now and receive weekly newsletters with educational materials, new courses, interesting posts, popular books, and much more!