Articles

Winston Churchill's Stand-up Desk: Vital Equipment at his "Factory"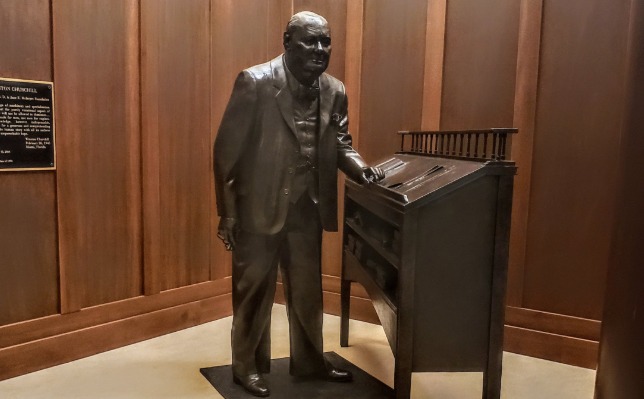 Hillsdale College proudly displays Heather Tritchka's bronze of Churchill at his stand-up desk in the foyer of the William and Berniece Grewcock Student Union building. (Hillsdale College)
---
We are asked: "I have been to the study at Chartwell and noticed the remarkable stand-up desk, but this seems to differ from a similar piece in old photographs. What are their origins, and how did he use them?"
The first stand-up desk
Stefan Buczacki, in his excellent book Churchill and Chartwell, provides details on the original stand-up desk. Churchill's architect, Philip Tilden, chose Alec and Harold Brown of Henley-on-Thames for the heavy structural work. But
almost all the secondary work, fitting out and finishing was undertaken by William Wallace of Prospect House, Westerham, a true jack of all trades. He could turn his hand to everything from carpentry, painting and decorating to laying carpets, hanging pictures, wiring Clementine's electric hair drier, "cutting a hole in the garden wall for flowers" and adjusting the maids' lavatories. He worked however not for Brown or Tilden but directly for Churchill and invoiced him for everything he did. Wallace in turn, sub-contracted some tasks, especially in the estate cottages, to other local firms. All Wallace 's invoices were made out to Clementine and are sometimes annotated with comments in Churchill's hand; and sometimes, no doubt much to Wallace 's relief, with the word "Pay."
"This is my factory"
It is probable that the original, fairly basic stand-up desk was built by Wallace for Churchill in the late 1920s or 1930s. Solid and practical but certainly ordinary, it quickly became a "machine" in what Churchill called his literary "factory." Barry Singer writes in Churchill Style:
Although Churchill dictated his speeches, books articles and letters while striding around his study at Chartwell, during the Wilderness Years he corrected the proofs at a crude stand-up desk made by a local carpenter. The flooring of Churchill's second-floor study deliberately resembled the timbers of a ship's quarterdeck. Here was the engine room of his literary output, the nerve center where he paced, dictating, until late at night. "Do come and see my factory," Churchill announced to visitors. "Once I was there alone," a new resident secretary, Grace Hamblin, would later remember, "and he brought someone in and said, 'This is my factory. This is my secretary.' Then a pause. 'And to think I once commanded the Fleet.'"
Wallace's rough and ready stand-up desk is no longer in Chartwell's collection, says the National Trust Administrator, Katherine Carter. "We have no record of its fate, nor when it first arrived at Chartwell. The older one is certainly in the 1939 photos of the study but we have nothing to confirm the date of its arrival."
The second stand-up desk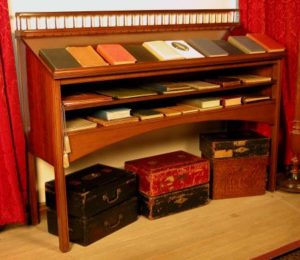 The current desk, given by his children and their spouses, was a full-height affair. It was finely crafted by White's of Bedford, a well-known furniture builder. It has been in Churchill's study since 1949. Katherine Carter kindly sends the catalogue description….
A mahogany standing desk, English, circa 1949, the sloping top with molded book rest to its lower edge, the flat top section with three-quarter spindle gallery; below the sloped surface are two shelves with molded fronts, arced apron below…. on four square-section legs, the front legs incised. The underside of the desk on the left side stamped WHITES OF BEDFORD / FEC in a chamfered rectangle. The desk has an engraved silver plaque at the centre top. It reads, "Diana Randolph Sarah Mary / Duncan June Antony Christopher / Christmas 1949."
The first four names are Churchill's children. The last four their spouses at the time: Duncan Sandys, June Osborne Churchill, Antony Beauchamp and Christopher Soames.
The Hillsdale Statue
Heather Tritchka graduated from Hillsdale College in 1998 with a degree in biology and chemistry, but her true passion is sculpting. Commissioned to sculpt Churchill in 2001, she travelled to London to study other statuary, and spent time at Chartwell. Her work offers remarkable detail: his cigar, zipper shoes, chain links on his pocket watch, even his round reading glasses. Hillsdale President Larry Arnn selected the pose, depicting Churchill at the second stand​-​up desk. It is the only sculpture we know of which includes the desk.
On 15 October 2005, Hillsdale College dedicated the new statue. Sir Martin Gilbert was among the dignitaries delivering remarks. Heather Tritchka's work was originally intended for Liberty Walk, which includes George Washington, the Alpha Kappa Phi Civil War Soldier's monument, Thomas Jefferson, Margaret Thatcher, Ronald Reagan, Abraham Lincoln and Frederick Douglass. James Madison and Hillsdale's "Grand Old Man," Ransom Dunn, are to be added. Ultimately the Churchill bronze ​was ​housed indoors at the ​Grewcock Student Union, where it greets each visitor.
Hillsdale's founding was thirty years before Churchill's birth. Its mission was to spread "sound learning" so as to help preserve "the blessings of civil and religious liberty" and "intelligent piety."
We believe Churchill's life's work shared and typified these sentiments.
Churchill Project Articles
Stay In Touch With Us
Subscribe now and receive weekly newsletters with educational materials, new courses, interesting posts, popular books, and much more!