Articles

"Then Out Spake Brave Horatius": A Review of "Darkest Hour"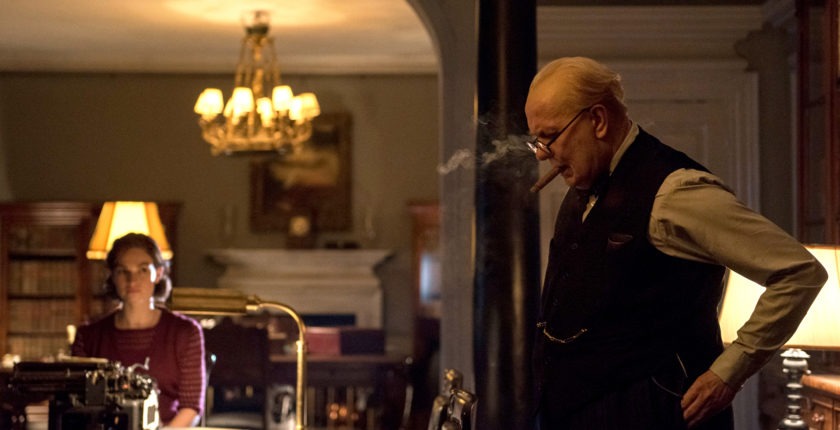 The Prime Minister at work, with secretary Elizabeth Layton, who actually did not join Churchill until 1941, but she is nicely played by Lily James. (Focus Features)
---
Lightest and Darkest
Darkest Hour, a film by Focus Features, directed by Joe Wright, script by Anthony McCarten, starring Gary Oldman as Winston Churchill, and Kristin Scott Thomas as Clementine Churchill, 2hrs 5 min, December 2017.
Then out spake brave Horatius,
The Captain of the gate:
"To every man upon this earth
Death cometh soon or late.
And how can man die better
Than facing fearful odds
For the ashes of his fathers
And the temples of his gods…"
—Thomas Babington Macaulay
 I finally saw Darkest Hour on February 16th. The delay had not stopped me from cheekily pontificating to The Australian, weeks earlier when they asked about certain scenarios. I have no changes to make, but an important elaboration. Unexpectedly, I found the fictitious scene of Churchill in the London Underground tremendously moving.
Star of the show is Gary Oldman, who deserves every accolade. Heretofore I thought Robert Hardy unmatchable as a Churchill actor. I believe now there is a tie. Robert himself was confident, before he died, that Oldman would make a superb WSC. He was right. Equal praise to the ingenious make-up artist Kazuhiro Tsuji, who came out of retirement to bring Churchill back to life. And Kristin Scott Thomas plays an excellent Clementine.
The script adds depth to the character by weaving in quips. ("All babies look like me" … "stop interrupting me when I am interrupting" … "I can boil an egg. I've seen it done"). The rest of the cast is fine. I feel sure Lord Halifax, "The Holy Fox," was not the lowlife portrayed by talented Stephen Dillane. The scenes of wartime London are convincing (though by 1940 vehicles had blinkered headlights).
The late Elizabeth Layton, a faithful wartime secretary, would love her portrayal by Lily James. A Minor clanger: Elizabeth was not present in May 1940. She did not join Churchill's staff until May 1941. I feel sure she was selected because of her vivid impressions of WSC, repeated in the movie, from her book, Winston Churchill by  His Personal Secretary.
Grand climacteric
In Darkest Hour the action builds like a symphony. As the situation grows ever more desperate, the Prime Minister falls into lassitude (as in fact he did), thinking he may have to seek peace with "That Man." King George VI tells him to ask the people, and take his cue accordingly. So he does—abandoning his limousine and darting into the London Underground!
In reality, of course, while Churchill had respect for the people, he needed no prompting. If he had led a government of one he would have gone down fighting. Nevertheless, Darkest Hour takes us into the Underground. The result is electric. Tears come to the eye. Churchill would call it "a grand climacteric."
In a rushing subway car, the Prime Minister confronts his public. One of them, "Marcus Peters" (Ade Haastrup), might be from the Caribbean. Churchill begins to recite Macaulay (top of this article). He hesitates, and Peters completes the stanza: "…For the ashes of his fathers, And the temples of his gods…"
What stunned me was the thought of Churchill's Macaulay being known to and memorized by a man from the distant reaches of the Empire—a shared heritage, from an education British subjects of all stations once received. It's akin to Churchill's broadcast reply to Roosevelt in 1941, quoting a poet he didn't have to name, since every English schoolchild knew: "Westward Look, the Land is Bright."
Cynics have a different take. "It was just political correctness, since there are no other minorities in the film…. Dunkirk was criticized for its lack of minorities or women. Darkest Hour is avoiding that mistake." Well, if that was Darkest Hour's intent, it is all right. The tube scene is marvelous fiction. It perfectly symbolizes the courage of Londoners, as Churchill described them later…. " Their will was resolute and remorseless and, as it proved, unconquerable…. It was a nation and race dwelling all round the globe that had the lion heart. I had the luck to be called upon to give the roar. "
"Genius exacts its high price"
My impression continued through the theatrical but effective way Churchill scribbles the tube people's names on a matchbook, and blends them into his May 28th speech to the outer cabinet . That oration clinched his support to fight on, whatever the outcome. It was not recorded; nobody knows exactly what he said. It leads us to Darkest Hour's final scene, in the House of Commons six days later—the greatest speech of his life, until then…. "Fight on the beaches…fight in the fields, and in the streets…Never surrender."
In an introduction to a volume of Churchill's 1931 speeches on India, the scholar Manfred Weidhorn captured the message Darkest Hour in its own way conveys:
If Churchill had been amenable to prudence in 1931, he would have spared everyone embarrassment, but that same prudence would have dictated in 1940 negotiations with Hitler. Only the pugnacious mule of 1931 could see his way through the impossibilities of 1940. A more civilized, common-sensical soul like Halifax did negotiate with Gandhi. And, had Halifax rather than Churchill been made prime minister on 10 May 1940, he would have certainly negotiated with Hitler. Genius exacts its high price. If we like the way 1940 turned out, we have to comprehend 1931.
After more than our share of historical clangers recently, Churchill admirers can welcome all this movie offers. Unlike any recent production, it genuinely honors the heroic memory. And that's a special thing these days. Give Gary Oldman, the cast and producers a tip of the hat.
---
To watch a video review of Darkest Hour by Hillsdale College President Larry P. Arnn, click here.
Churchill Project Articles
Stay In Touch With Us
Subscribe now and receive weekly newsletters with educational materials, new courses, interesting posts, popular books, and much more!