Articles

The Parliamentary Watershed that Changed the Course of History
Featured Image: "I have friends…" – Neville Chamberlain at the Despatch Box, House of Commons, 7 May 1940. Because photographs were then illegal, this surreptitious snapshot, taken with a Minox spy camera by Conservative MP John Moore-Brabazon, may be the first-ever of the House in session. Loss of definition is from repeated copying. On the front bench to Chamberlain's right are Chancellor of the Exchequer John Simon and First Lord of the Admiralty Churchill. (Daily Telegraph/House of Commons Library)
---
Nicholas Shakespeare, Six Minutes in May: How Churchill Unexpectedly Became Prime Minister. London: Harvill Seeker, 2017, 458pp., $23.94 (Amazon).
The intrigue that put Churchill in power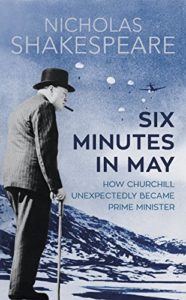 This is a fascinating book, accurately summarized by Andrew Roberts' back cover blurb: "A coherent and revelatory explanation about how Churchill became Prime Minister at the exact time of Hitler's onslaught in the West…totally captivating."
The title is a tad misleading for so long a book. The "Six Minutes" were the time it took to record votes on a motion of no-confidence in Neville Chamberlain. It was 8 May 1940, after two days of debate on the British defeat in Norway. The government prevailed, but by a much narrower margin than expected. Two days later, Chamberlain resigned and Churchill became prime minister. None of this was foreordained. As Sir Martin Gilbert once observed, it was "a close thing." Really close. Shakespeare provides a good textual accompaniment to the new movie, Darkest Hour.
Without the disastrous Norway campaign in April 1940, Shakespeare explains, Chamberlain might not have been unseated. The author mainly blames Churchill, whose idea was to mine Norwegian waters and seize the northern port of Narvik, depriving the Germans of Swedish iron ore during the winter months. True enough—but the British army was woefully unprepared and ill-supplied to face the Germans, who had caught the British by surprise, invading Norway before they could act. Shakespeare takes 132 pages to cover Norway. So if you want to get to the "good stuff"—the intrigue which put Churchill in power—skip it and go straight to the Appendix for the Cliff Notes summary of the Norway campaign.
Norway fiasco
Here you will find the "Lindsay Memorandum," which Shakespeare discovered after he had delivered the first draft of his manuscript to his publisher. It was by two intelligence officers: Captain Martin Lindsay, Royal Scots Fusiliers; and Ian Fleming's older brother Peter. The first two British officers to land in Norway, they remained there for the duration. The memo details the shocking incompetence of the British army in planning and implementing the Norwegian campaign. Lindsay gave the memorandum to Clement Attlee, " "aware that for an officer to write as I have written is against the regulations, but I consider that the truth should be made known in the public interest and not buried."
The memorandum, only 2½ pages long, tells all one needs to know about, per Lindsay, "one of the most complete disasters in our military history." By contrast, Lindsay only had praise for Churchill's Royal Navy, whose efficiency, he wrote, "stands out. To them, those of us who got back owe our lives." With the navy, Lindsay continued, one was "immediately conscious that every officer and man knew his job and did it in keeping with the highest traditions of that great service." It bears noting that Churchill ran the navy, not the army.
Key answers by Shakespeare
Mr. Shakespeare covers two major questions in great detail: (1) Why did Halifax turn down Chamberlain's offer to recommend him to the King as his successor? (2) What really happened at the 9 May meeting of Chamberlain, Lord Halifax, Churchill and the Conservative Chief Whip, David Margesson? If you've read histories or biographies that cover these topics, you may think you know the answers. You might be surprised, as I was.
Shakespeare offers five reasons why Halifax said no. Some are obscure, such as Halifax's rumored affair with the promiscuous Lady Alexandra Metcalfe, youngest daughter of the late Lord Curzon. Halifax, the "Holy Fox"? Apparently, judging by his passionate letters to his "beloved Baba." No one can be certain it was a full-fledged affair, but Halifax's daughter-in-law thought so. And his most recent biographer, Andrew Roberts, says that if it wasn't, "then it was as good as."
Although there were only four present at the 9 May afternoon meeting, there were far more than four versions of it. Halifax alone gave three accounts at various times. Shakespeare goes through all the many versions from multiple sources—finding Churchill's memoirs the least persuasive. He concludes that one of Halifax's scenarios is probably close to the truth.
Notes of interest
Several other little-known aspects of the story, in no particular order:
The Chamberlains and Churchills dined alone for the first time in October 1939 at Churchill's apartment in the Admiralty. Stimulated by champagne, which Chamberlain rarely drank, he told Churchill of the six years he had spent as a young man living on his own in The Bahamas, attempting to grow sisal for his father. Churchill was unaware of this and his daughter wrote, "my father was gripped." Thus Churchill characterized Chamberlain in The Gathering Storm as "a hard-bitten pioneer from the outer marches of the British Empire." (See addendum below.)

Chamberlain extensively used MI-5 and the Special Branch to wiretap phone lines of his political opponents, including Churchill. It's the kind of conduct that, if known, would get an American President impeached. A silver lining is that Chamberlain had first thought to place all the blame for Norway on Churchill—but changed his mind when the wiretaps convinced him of Churchill's loyalty.

In the 1930s, Chamberlain rented his London residence at 27 Eaton Square to Nazi Ambassador Joachim von Ribbentrop. This seems extraordinary. It would be like Donald Trump leasing a Trump Tower condo to the Russian Ambassador.

Despite the vote of 8 May, Churchill urged Chamberlain not to resign. At one point early the next morning, Chamberlain was told by the Labour Party's Attlee and the Liberals' Archibald Sinclair that they would serve under him in a coalition government provided he dumped Samuel Hoare and John Simon. By late morning, their offer was withdrawn.

Sir Alexander Cadogan, Permanent Under-Secretary at the Foreign Office, who worked with Halifax every day, did not think him qualified to be prime minister. "I think he is not the stuff of which a P.M. is made in such a crisis," Cadogan explained.

Clementine Churchill was not at her husband's side on May 8-10th. She was attending the funeral of her sister's husband, Bertram Romilly. Churchill felt her absence at this critical time. As Martin Gilbert wrote, "Churchill was lonely and felt he had no ally with whom to share his deepest worries and concerns."
Myth and fable
I have two minor quibbles involving Churchill myths. 1. Churchill did not "send troops to Northern Wales to resolve a mining dispute" in 1910. In that instance, only police were used. When rioting in Tonypandy continued, 400 troops were dispatched as a standby for police, but none came in contact with striking miners or rioters (See Langworth, Winston Churchill, Myth and Reality, pages 39-40.) 2. Churchill was not "drinking too much" during the Norway campaign. Nor had his "excessive drinking…become damaging to his constitution."  Churchill was under enormous strain and pressure over Narvik, but Shakespeare offers no evidence that his alcohol consumption at this time was anything other than normal. You can look that up, too (Langworth, pages 85-90). Dubious sources cited for this include Adolf Hitler, who called him a "superannuated drunkard"; and Franklin Roosevelt, who told Canadian Prime Minister Mackenzie King that Churchill "was tight most of the time." Of course, Hitler never met Churchill, and FDR had yet begun his wartime meetings with Churchill. Quibbles aside, it's still a fine book.
About the Author
Michael McMenamin is the co-author with Curt Zoller of Becoming Winston Churchill, the Untold Story of Young Winston and His American Mentor. For the past nineteen years, he has written a column in Finest Hour entitled "Action This Day," chronicling Churchill's life at 25-year intervals.
---
Addendum: dining with the Chamberlains, October 1939
Churchill's experience in The Bahamas (1932) stood him in good stead when, in 1939, he needed to lay aside disagreements after becoming Neville Chamberlain's colleague. This remarkable, little-cited passage from The Gathering Storm says much about Churchill's magnanimity, as it does his appreciation of Neville Chamberlain's finer qualities. (Churchill was wrong about the size of Chamberlain's island: Andros is the largest of the 700 Bahamian islands.)
On Friday, November 13 [1939], my relations with Mr. Chamberlain had so far ripened that he and Mrs. Chamberlain came to dine with us at Admiralty House….By happy chance I turned the conversation on to his life in The Bahamas, and I was delighted to find my guest expand in personal reminiscence to a degree I had not noticed before. He told us the whole story, of which I knew only the barest outline, of his six years' struggle to grow sisal on a barren West Indian islet near Nassau.
His father, the great "Joe," was firmly convinced that here was an opportunity at once to develop an Empire industry and fortify the family fortunes. His father and half-brother Austen had summoned him in 1890 from Birmingham to Canada, where they had long examined the project. About forty miles from Nassau in the Caribbean Gulf there was a small desert island, almost uninhabited, where the soil was reported to be suitable for growing sisal. After careful reconnaissance by his two sons, Mr. Joseph Chamberlain had acquired a tract on the island of Andros, and assigned the capital required to develop it. All that remained was to grow the sisal. Austen was dedicated to the House of Commons. The task therefore fell to Neville.
Not only in filial duty but with conviction and alacrity he obeyed, and the next five years of his life were spent in trying to grow sisal in this lonely spot, swept by hurricanes from time to time, living nearly naked, struggling with labour difficulties and every other kind of obstacle, and with the town of Nassau as the only gleam of civilisation.
Mr. Chamberlain had insisted, he told us, on three months' leave in England each year. He built a small harbour and landing-stage and a short railroad or tramway. He used all the processes of fertilisation which were judged suitable to the soil and generally led a completely primitive, open-air existence. But no sisal! Or at any rate no sisal that would face the market. At the end of five years he was convinced that the plan could not succeed. He came home and faced his formidable parent, who was by no means contented with the result. I gathered that in the family the feeling was that though they loved him dearly they were sorry to have lost £50,000.
I was fascinated by the way Mr. Chamberlain warmed as he talked, and by the tale itself, which was one of gallant endeavour. I thought to myself, "What a pity Hitler did not know when he met this sober English politician with his umbrella at Berchtesgaden, Godesberg, and Munich, that he was actually talking to a hard-bitten pioneer from the outer marches of the British Empire!" This was really the only intimate social conversation that I can remember with Neville Chamberlain amid all the business we did together over nearly twenty years.
—Winston S. Churchill
Churchill Project Articles
Stay In Touch With Us
Subscribe now and receive weekly newsletters with educational materials, new courses, interesting posts, popular books, and much more!