Articles

Great Contemporaries: Rudyard Kipling, "Unique and Irreplaceable"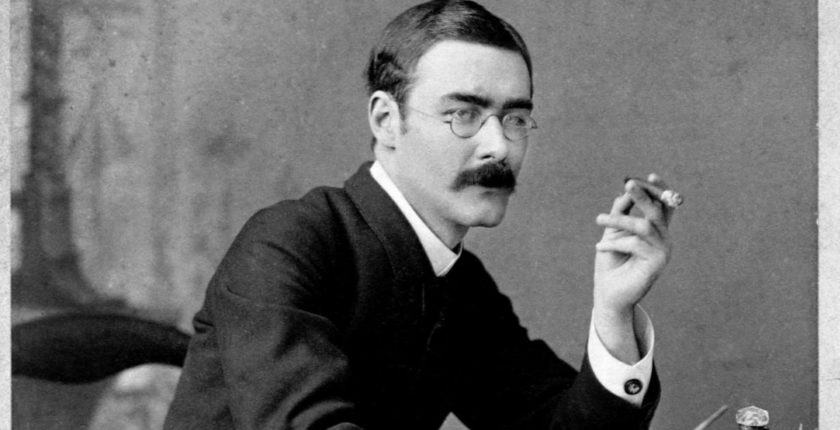 Churchill was a devotee of Joseph Rudyard Kipling (1865-1936), the English poet, short-story writer, and novelist, who in 1907 won the Nobel Prize in Literature. Kipling's majestic novels of the old Empire struck a romantic chord in the young Winston. Later they studded his books and speeches. There had been "greater poets and sages…more orthodox stylists," Churchill wrote. But "no one has ever written like Kipling before and his work, with all its characteristics and idiosyncrasies…has been successfully imitated by none."1 This essay can be read in full in the ISI edition of Churchill's Great Contemporaries.
Darrell Holley's Churchill's Literary Allusions cites twenty allusions to Kipling. They span over sixty years. Churchill's first book, The Story of the Malakand Field Force (1897), was studded with them. ("Strike hard who cares. Shoot straight who can." —RK's Barrack Room Ballads) The Unwritten Alliance, his last volume of speeches (1961), led off with a restoration fundraiser for Westminster Abbey and wrapped two other frequent favorites: "…in the words of Kipling, 'The Abbey makes us one.' I speak in the Jerusalem Chamber, where, as Shakespeare tells us, Henry V tried on the Crown while his dying father slept, and where the Star Chamber achieved its variegated reputation." At Churchill's apogee, in that ringing speech on Anglo-American Unity at Harvard, came another glorious Kipling phrase:
Law, language, literature—these are considerable factors. Common conceptions of what is right and decent, a marked regard for fair play, especially to the weak and poor, a stern sentiment of impartial justice, and above all the love of personal freedom, or as Kipling put it: "Leave to live by no man's leave underneath the law"—these are common conceptions on both sides of the ocean among the English-speaking peoples.2
At Harrow
On 29 October 1941, Prime Minister Churchill visited his old school at Harrow. "Another lesson I think we may take," he told students, "is that appearances are often very deceptive, and as Kipling well says, we must 'meet with Triumph and Disaster. And treat those two impostors just the same.'"3
Churchill was quoting Kipling's famous poem If. Written around 1895, it is often cited as Britain's favorite poem. Kipling wrote it for his son John, but its words, especially the first and last verses, are evergreen:
                                    If you can keep your head when all about you
                                                Are losing theirs and blaming it on you,
                                    If you can trust yourself when all men doubt you,
                                                But make allowance for their doubting too:
                                    If you can wait and not be tired by waiting,
                                                Or being lied about, don't deal in lies,
                                    Or being hated, don't give way to hating,
                                                And yet don't look too good, nor talk too wise….
                                    If you can talk with crowds and keep your virtue,
                                                Or walk with Kings – nor lose the common touch,
                                    If neither foes nor loving friends can hurt you,
                                                If all men count with you, but none too much;
                                    If you can fill the unforgiving minute
                                                With sixty seconds' worth of distance run,
                                    Yours is the Earth and everything that's in it.
                                                And – which is more – you'll be a Man, my son!4
In 1914, at the outset of the Great War, Churchill admired another Kipling poem written for the occasion. A copy signed by Kipling is in the Churchill Archives:
For all we have and are,
For all our children's fate,
Stand up and take the war.
The Hun is at the gate!
Our world has passed away,
In wantonness o'erthrown.
There is nothing left today
But steel and fire and stone!
Though all we knew depart,
The old Commandments stand: –
'In courage keep your heart,
In strength lift up your hand'…. 5
Kipling's other well-known poems included Mandalay (1890), Gunga Din (1890), and The Gods of the Copybook Headings (1919). He also wrote famous works of fiction, such as The Jungle Book (1894) and Kim (1901) and short stories, including The Man Who Would Be King (1888). Today, Kipling is regarded as a major innovator of the short story.
Conflict and Resolution
Before the war, Rudyard Kipling had opposed the Liberal government's Home Rule Bill, to grant self-government and autonomy to Ireland. Churchill was one of the government's chief advocates. Kipling hoped that the government might back down and strongly distrusted Churchill's intentions. From Switzerland, wrote Andrew Lycett, Kipling peppered Max Aitken [later Lord Beaverbrook] with a theory. Churchill had left the Conservatives for the Liberals in 1904, ostensibly over free trade. He might very well return, Kipling suggested, if the politics suited him: "I believe you can cure a woman of being a personal prostitute—sometimes—but it is impossible to cure a political prostitute from whoring." The Tories would "probably accept Winston when it suits him to come over. We are a Great Party!"6
Kipling and Churchill came together after the war as members of the Imperial War Graves Commission. Established by Royal Charter in 1917, the commission was charged with burying and commemorating dead and missing soldiers. As Minister of War in 1919-21, Churchill was its chairman. Kipling joined the commission mourning the loss of his 18-year-old son John,  missing in action at the Battle of Loos in September 1915. Lt. Kipling was last seen stumbling blindly through the mud with a possible facial injury. His body was never found during Kipling's lifetime.
While chairman, Churchill attended one commission meeting, on 21 January 1919.  Among its attendees was Rudyard Kipling. The poet wrote publicity for the commission and chose or composed inscriptions for its memorials. Headstones of the unidentified included the words, "A Soldier of the Great War—Known unto God."7 Churchill was fine with that.
Coming Together
In the years that followed, Churchill and Kipling corresponded over their mutual interest in literature. In 1928, they were both guests at the annual general meeting of Fellows of the Royal Society of Medicine in London. It fell to Churchill, then Chancellor of the Exchequer, to deliver the Loyal Toast, and in it, he expressed his admiration for the poet:
My Lords, Gentlemen, and Fellows: It is a great honor to me to be your guest, and to be called upon to propose this toast. Also it is a great honor to be a fellow-guest with Mr. Rudyard Kipling. I have always been one of his greatest admirers, but he has not always been one of mine! Still, we find ourselves both lapped in your comprehensive hospitality, and it adds greatly to my pleasure and to the honor which you have conferred upon me."8
In 1933, Churchill sent Kipling the first volume of Marlborough, which discusses the early career and rise to fortune of his illustrious ancestor John Churchill, First Duke of Marlborough. Kipling responded favorably. His words are remindful of the views of another conservative friend of Churchill, Hilarie Belloc, who believed British civilization had peaked long before:
What I can see already is the immense joy that it must have been to you to do it; and to lay out, as you have done, the approaches and foundations. That's the real part of the work. The rest comes of itself (like a jig-saw) after a certain point. The impression I'm, so far, picking up as I go along, is that that age was a heap more democratic than everything we've evolved now. Anybody could be anything quicker, even than at present and the really monumental whores of the Epoch managed to do good work. (Maybe, this view comes because I've been reading Tom Jones again-though the periods overlap a bit.) Some day I hope we'll meet again and can be able to "go over things viva voce"…. Meantime, most sincerely on the literary side, Yours always, Rudyard Kipling.9
Forever Kipling
Churchill quoted Kipling in the Malakand Field Force, Thoughts and Adventures, Great Contemporaries, and his memoirs of both World Wars.10 His letters too invoked Kipling. To his wife, away on a Pacific cruise, he wrote on New Year's Eve 1934: "So now I suppose you right in the middle of the Indian Ocean, 'so bright, so calm, so blooming blue' as Kipling has it; & paddling along, chug, chug, chug, through its placid waters."11 By 1939, Churchill was researching his History of the English-Speaking Peoples. Thanking the historian Alan Bullock for notes on Australia, Churchill remarked, "Kipling wrote some fine verses about Australia." Again he had remembered perfectly: Kipling's poem The Young Queen was written to celebrate the inauguration of the Commonwealth of Australia in 1901.12
Rudyard Kipling died on 18 January 1937. A memorial dinner, to raise a scholarship endowment for the Imperial Service College, Windsor, for the sons of persons in the public service throughout the Empire. Addressing the throng, Churchill called Kipling "unique and irreplaceable….
The light of genius expressed in Literature does not fail with the death of the author. His galleries are still displayed for our instruction and enjoyment. But the magic key which could have opened new ones to our eager desire has gone forever. Let us, then, guard the treasures which he has bequeathed…. Although in my political actions I was often fiercely opposed to him, yet there never was a moment when I did not feel the surge of his appeal upon the great verities of our race and State. But what has always thrilled me most in Kipling was the occult power which he had to roll back the Time Curtain and bring the past to life again. We read a few pages in Puck of Pook's Hill of unpretentious prose, and then suddenly with a gasp we are on the Roman Wall….
To read with faithful eyes Kipling's Indian stories, short or long, is to gain a truer knowledge of that general episode, the British contact with India, than will be found in many ponderous Blue-books [government publications], or in much of the glib, smooth patter which is now in fashion…. We serve the Queen with Soldiers Three. We see the life of the young officer, of the lonely collector. We satirize the bureaucracy of Viceregal society. We share the domestic troubles of the Anglo-Indian official, we shed bitter tears with Wee Willie Winkie. On the hard frontier we follow The Drums of the Fore and Aft. We play polo with the Maltese Cat. We fight for dear life in the skin of the mongoose Riki against the poison cobra. We roam the jungles with Mowgli, and we walk with Kim among the vast multitudes of Hindustan.13
Neither did Churchill forget the poet's loss of his son: "He bore his grief with stoic fortitude. He was never the same again. Victory came, the victory in which he had believed, and to which he had conspicuously contributed. It came in all its fullness and all its disillusion. The Old World had passed away."14
As Kipling had done in 1907, Churchill won the Nobel Prize for Literature in 1953. Speaking with reporters at Downing Street, he recalled that Kipling was the first Englishman to receive the Prize, and another was George Bernard Shaw:  "I cannot attempt to compete with either of those. But I knew them both quite well and my thought was more in accord with Mr. Rudyard Kipling than with Mr. Bernard Shaw. On the other hand, Mr. Rudyard Kipling never thought much of me, whereas Mr. Bernard Shaw often expressed himself in the most flattering terms."15 But the Old World was indeed passing away, and political differences were forgotten in Churchill's veneration for a great writer.
Endnotes
1 Winston S. Churchill, Great Contemporaries: Churchill Reflects on FDR, Hitler, Kipling, Chaplin, Balfour, and Other Giants of His Age. (Wilmington, Intercollegiate Studies Institute, 2012), 420.
2 Richard M. Langworth, ed., Churchill by Himself: The Definitive Collection of Quotations. (New York: Rosetta Books, 2013), 9.
3 Winston S. Churchill [grandson], ed., Never Give In!: The Best of Winston Churchill's Speeches (New York: Hyperion, 2003), 307.
4 Rudyard Kipling, The Collected Poems (Hertfordshire: Wordsworth Poetry Library, 1994), 605. If was first published as part of Kipling's Rewards and Fairies in 1910, and published as a single poem in 1914. That year, to encourage Churchill, Violet Asquith quoted some of it to him: "I have just been reading 'If.' It's a great poem, isn't it?" See Martin Gilbert, ed., The Churchill Documents, vol. 7, The Escaped Scapegoat, May 1915-December 1916 (Hillsdale, Mich.: Hillsdale College Press, 2008), 1255 n.1.
5 Kipling, Collected Poems, 341-42. Churchill Archives, CHAR 28/125/30.
6 Andrew Lycett, Rudyard Kipling (London: Weidenfeld and Nicolson, 2015), 595.
7 The author thanks Andrew Fetherston, Archivist, Commonwealth War Graves Commission, furnished a copy of the minutes and other information on Churchill's role, 21 May 2018.
8 Royal Society of Medicine Official Bulletin No. 49. Remarks by Churchill, 16-19; and Kipling, 25-26. Library of Congress.
9 Martin Gilbert, The Churchill Documents, vol. 12, The Wilderness Years 1929-1935 (Hillsdale College Press, 2009), 664.
10 Darrell Holley, Churchill's Literary Allusions: An Index to the Education of a Soldier, Statesman and Litterateur (North Carolina, McFarland, 1987) 128-32.
11 Mary Soames, ed., Winston and Clementine: The Personal Letters of the Churchills (Boston: Houghton Mifflin, 1998), 368. The Kipling quote is from "For to Admire," first published in Pall Mall Magazine, June 1894. See also Kipling, Collected Poems, 473-74.
12 Martin Gilbert, The Churchill Documents, vol. 13, The Coming of War 1936-1939 (Hillsdale College Press, 2009), 1512, n.1.
13 The Kipling Journal (Kipling Society, London) 60: 237, March 1986, 8-10.
14 Winston S. Churchill, Great Contemporaries (Wilmington: ISI Books, 2012), 420-24. Martin Gilbert, ed., The Coming of War 1936-1939, 845, n.1.
15 "Churchill Wins Nobel Prize, Puts Kipling and Shaw Higher," The New York Times, 16 October 1953, 1.
The Author
Mr. Glueckstein, of Kings Park, New York, is a writer and traveler in search of Churchill.
Churchill Project Articles
Stay In Touch With Us
Subscribe now and receive weekly newsletters with educational materials, new courses, interesting posts, popular books, and much more!