Articles

Great Contemporaries: Ralph Wigram and His Death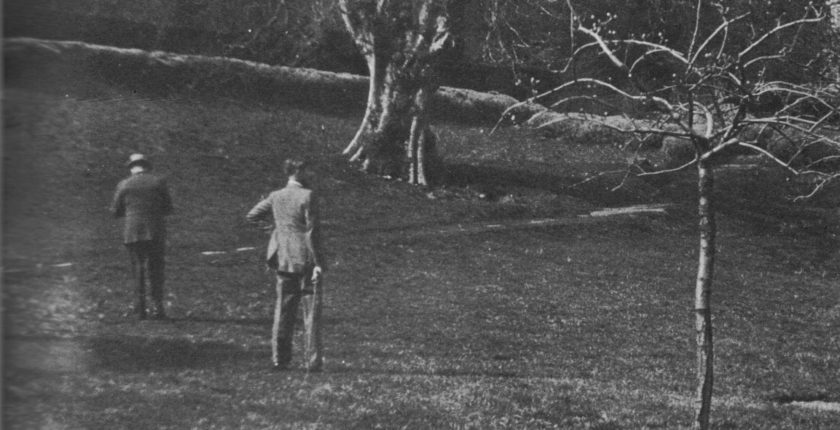 ---
Above: Churchill and Wigram walking at Chartwell, ca. 1935 (Hillsdale College Press)
How did Wigram die?
Q: Can you confirm a statement by Churchill biographer William Manchester? He writes that Churchill's key informant on Germany, Ralph Wigram, committed suicide. I can find no evidence, except for conjecture. — M.F., Dallas
---
A: The producers of "The Wilderness Years" television documentary (1982) took liberties by suggesting that Wigram was a suicide. Ever since it has been broadly accepted as fact. Indeed recently another myth was layered on to this one. Allegedly, Wigram's parents didn't attend his funeral in Sussex because suicide was proscribed by the Church.
Without foundation
Hugh Axton, a Wigram researcher in England, put that canard to rest in 2014: "On the morning of his funeral Wigram's parents were attending a memorial service for him at Landkey Parish Church near Barnstaple, Devon. Ralph was brought up in the area. Many family friends attended who could not have journeyed to Sussex on short notice in winter."
William Manchester was a peerless stylist but had an unfortunate tendency to emphasize the seamy or judgmental. (There is nothing to suggest that Churchill was, as Manchester wrote, "less than generous" toward Wigram, in fact quite the opposite). And his footnotes are often, as in this case, a mare's nest.
On Wigram in The Last Lion, vol. 2, Alone 1932-1940 (UK title The Caged Lion) Manchester (193) quotes the biographer Henry Pelling: "depression overtook him and he committed suicide." But Manchester's footnote leads not to Pelling's Churchill (1974) but to Robert Vansittart's The Mist Procession, Churchill's The Gathering Storm, and Gilbert's The Wilderness Years—none of which contain any reference to suicide.
In Pelling's book the comment is footnoted "The Gathering Storm, 73, 178" (English edition 1948). But Wigram is not mentioned there. Churchill does recount Wigram's death (155) but does not call it a suicide. Indeed in Gilbert's document volume we find Churchill saying to his wife that Ralph "died in his wife's arms," which doesn't strike one as likely in the case of suicides.
So the question is, where did Henry Pelling get this impression? Until a valid source is offered, the answer to anyone spouting this old story is the tried and true one: "Prove it."
Churchill Project Articles
Stay In Touch With Us
Subscribe now and receive weekly newsletters with educational materials, new courses, interesting posts, popular books, and much more!