Articles

Missing the Mark: Purnell's Life of Clementine Churchill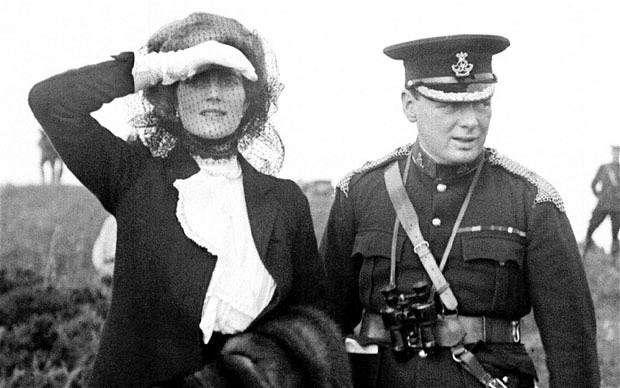 Clementine: The Life of Mrs. Winston Churchill (UK title: First Lady: The Life and Wars of Clementine Churchill), by Sonia Purnell. Viking (US), Aurum Press (UK), 448 pages, $18.21, Kindle $14.99.
---
Ms. Purnell: "Perhaps Not!"
One of the few times I ever saw Sir Martin Gilbert upset was when an author "discovered" that Churchill employed a ghost writer to draft a few articles—a fact Sir Martin himself had revealed thirty years earlier. I felt the same during the media kerfuffle over this book's "revelation" that Clementine Churchill destroyed the infamous Sutherland painting of her husband. The burning of the Sutherland, presented by Parliament on Churchill's 80th birthday in 1954—was reported in 1979 by Lady Soames in her biography, Clementine Churchill. And let me start with an Amazon link to that book, a true picture of a great woman: Clementine Churchill: The Biography of a Marriage.
I read this biography expecting something new, since its author writes off Soames's work as "the family's viewpoint, with conspicuous gaps." Yet when a book covers the last twenty years of the Churchills' lives in thirty pages, missing almost every event of significance, it can hardly be deemed comprehensive.
Though it's been thirty-six years since Mary Soames's biography, I was hardpressed to find significant new material—aside from a very good review of Lady Churchill's important work and influence during World War II—unless we count investigations into loves and lovers, with implications backed by hearsay. Two of my favorites: Lady Randolph with her "supposed collection of 200 lovers" (26) advises Winston on his wedding night (39); Chartwell Farm in the late Forties is kept awake by the inhabitants' "noisy lovemaking" (330).
Failing on the basics
One can't examine the Churchills without an understanding of military and political history, yet this book tries. The Purnell analyses repeatedly shows unfamiliarity with facts. Young Winston supports Free Trade because "it would keep food prices low" (26). He rallies the defense of Antwerp because he "could not resist the call of romantic heroism" (70). The 1915 Dardanelles and Gallipoli operations, which so gravely affected Clementine and Winston, are an unfathomable soup. For example, we are told the landings at Gallipoli were repulsed because the Turks had ammunition left over from the Dardanelles (73).
Churchill's reaction to the 1936 death of Ralph Wigram, his key informant on German rearmament, is "single-minded," leaving Clementine to comfort "a brave man's grieving widow" (199). Come on! Churchill mourned Wigram all his life, forever solicitous toward his wife Ava. In 1958 he rang to console her on the death of her second husband, ending by shedding tears for Ralph.
Descriptions of Churchill's bad moods in WW2 rely overmuch on negative vantage points, such as Alanbrooke's cranky diaries (307). Never do we find a consideration of what it's like to lead a nation with its back to the wall. Churchill's December 1944 flight to wage peace in Greece is treated as spoiling Christmas for his family. Off he goes, taking "his two most attractive typists"—this means what, exactly?—yet he earns "supportive cables from Clementine," her composure, the author assures us, somehow "rapidly restored" (307).
Assertions off the mark
In World War I, Churchill thinks the Czar a "tragic hero" (121)—a misunderstanding of what he really thought. In June 1941 with Germans pouring into Russia, Churchill tells Stalin that invading France is "unworkable"—well, duh! (259). Before the 1945 election, Churchill's warning of "a kind of Gestapo" should socialism prevail is labeled "patently absurd" (320). A London friend, lifetime Labour voter, told me the behavior of certain Labour councils reminded her very much of the Gestapo.
Whenever someone would say that "perhaps" Churchill was acting for some imagined reason, Sir Martin Gilbert would always reply: "Perhaps not!" No such rule applies here. "Perhaps," we are told, Clementine was WSC's only loyal follower after Gallipoli (86). Clementine "perhaps" came back to him in 1938 (199). "Perhaps, after all that he had endured at Roosevelt's hands," Churchill skipped FDR's funeral (317). The facts: Germany was about to surrender; Churchill's colleagues insisted he remain in London.
Many assertions are just plain wrong: Winston had "somewhat Oedipal feelings" for his mother (41). He regarded the Gold Standard as his "greatest mistake" (173). He bullied Ronald Tree to lend him Ditchley for wartime weekends (238). Flying "frightened him" (276), as did sea voyages (277). We are parting company with reality. In 1941 he paced the deck of HMS Duke of York amid mountainous seas on the way to America, and delighted in piloting a Flying Boat on the way back. FDR's lifetime love Lucy Rutherford had not been "Lucy Mercer" since 1920; John Winant lived in New Hampshire not Massachusetts. And so on.
Some errors and misinterpretations may be due to relying on one of the most scurrilous books ever published on the Churchill family, which I will not dignify by identifying. This is the author's source for the allegation that Clementine wanted a divorce in 1936 (194), and that Diana Churchill threatened to kill her mother with a carving knife (339). A book is as good as its sources.
***
In Clementine Churchill, Mary Soames wrote "a complete and personal record of how Winston had felt, and of how [Clementine] herself had come to feel," about a marriage which endured the worst storms that have rocked civilization. Amid those storms, to expect a marriage to last fifty-seven years without bumps would be naïve. Yet their daughter told the story with prize-winning excellence, explaining why Churchill was able to say of his wife: "Here firm, though all be drifting."
Whenever she read long-established facts republished as new revelations, insensitive portrayals of her parents, or the elevation of trivia over facts that matter, Mary Soames would just sadly shake her head. Perhaps we should, too.
Churchill Project Articles
Stay In Touch With Us
Subscribe now and receive weekly newsletters with educational materials, new courses, interesting posts, popular books, and much more!