Articles

Churchill and the Presidents: John F. Kennedy – Grave and Urgent Times
By

FRED GLUECKSTEIN

|

June 18, 2021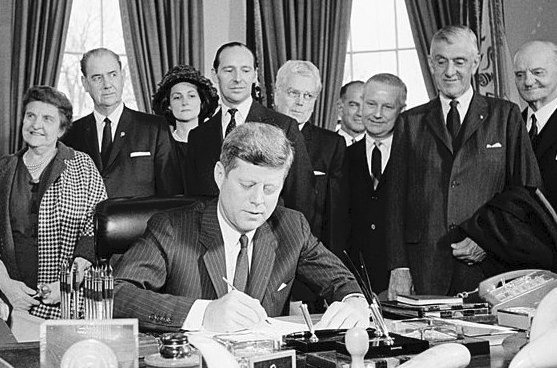 ---
On 15 July 1960, Senator John Kennedy accepted the Democratic Party's nomination for President at Memorial Coliseum in Los Angeles. In his speech, Kennedy included words by the statesman and writer he admired most:
The times are too grave, the challenge too urgent, and the stakes too high, to permit the customary passions of political debate. We are not here to curse the darkness, but to light the candle that can guide us through that darkness to a safe and sane future. As Winston Churchill said on taking office some twenty years ago: If we open a quarrel between the present and past, we shall be in danger of losing the future.1
As a youngster, John Kennedy had an interest in history and was introduced to Churchill's writings. In 1932 the American socialite Kay Halle, a Kennedy and Churchill family friend, visited 15-year-old Jack in the hospital. At his bedside was a volume of The World Crisis, Churchill's memoir of the First World War. Years later, when Life magazine asked then President Kennedy to name his favorite books, Churchill made the list. Kennedy cited WSC's biography of his ancestor John Churchill, First Duke of Marlborough.
Aged 20 in 1937, Kennedy and a friend, Lem Billings, traveled throughout Europe. Fascinated by the dynamics of European politics and the threat of war, Jack returned to London in 1938 to work with his father, Joseph P. Kennedy, who had been appointed U.S. Ambassador by President Franklin Roosevelt. In that role Kennedy met many high-level U.S. officials as a courtesy to his father. Of independent mind, the young man developed rather different attitudes toward Appeasement than his father, who saw it as expedient. The younger Kennedy thought it would lead to war.
The storm breaks
On leave from Harvard University to work on his thesis, Kennedy spent most of 1939 in London. When Hitler invaded Poland in September, Britain and France declared war. On September 3rd, together with his parents, brother Joe and sister Kathleen, Jack was seated in the gallery at Parliament. They listened intently to the Prime Minister, and others including Churchill. The latter spoke briefly, but his words were galvanizing:
In this solemn hour it is a consolation to recall and to dwell upon are efforts for peace. All have been ill-starred, but all have been faithful and sincere…. Outside the storms of war may blow and the lands may be lashed with the fury of its gales. But in our own hearts this Sunday morning there is peace….
This is not a question of fighting for Danzig or fighting for Poland. We are fighting to save the whole world from the pestilence of Nazi tyranny and in defense of all that is most sacred to man…. Surely and confidently we look forward to the day when our liberties and rights will be restored to us, and when we shall be able to share them with the peoples to whom such blessings are unknown.
Churchill's powerful oratory "left an indelible impression on Jack," wrote Robert Dallek.2 Mesmerized by his words, Kennedy, approached Arthur Krock, a family friend and New York Times columnist. Together they turned Jack's senior thesis, "Appeasement at Munich," into a best-seller titled Why England Slept. When it was published in 1940, Kennedy explained that the title was inspired by Churchill's 1938 speech volume While England Slept. It was not his last Churchill title inspiration. Kennedy's 1956 book Profiles in Courage was considered by some along the lines of Churchill's Great Contemporaries.
Kennedy and the war
Young Jack served honorably in the Second World War, surviving a close call when his PT boat was rammed by a Japanese destroyer. He was discharged from the Navy in 1945 and elected to Congress in 1946. But Kennedy did not meet Churchill until 1958. Now retired, Churchill and his wife were cruising the Mediterranean with the shipping magnate Aristotle Onassis on his yacht Christina.
Despite their disagreements during the war, Churchill had remained friendly with Jack's father. He sent condolences and a wreath following the death of Kathleen Kennedy in 1948, but apparently did not meet Jack. The opportunity arose in 1958, when Churchill was cruising with Onassis. When the ship arrived in Monte Carlo, Jack and Jacqueline Kennedy were at their house in Cannes. Willi Frischauer, an Austrian-British journalist and friend of Onassis, describes the encounter:
Ari, who had known Senator Kennedy for some time and had dined with him in New York and Washington, wanted to see him again. Since Tina [Onassis's wife] was giving a cocktail party on the deck of the Christina, he asked Kennedy to come along.3 When Kennedy arrived, Onassis told Sir Winston: "Young Kennedy is here, would you like to meet him?" Sir Winston's face lit up. Kennedy was presidential timber. "Indeed, I should like to talk to young Kennedy," he replied, and Onassis took the Senator to the corner where Churchill was sitting and pulled up a chair at the side of the old man.4
"You can always change your religion…"
Churchill brought up politics immediately and asked Kennedy about his chances in the upcoming election. Kennedy said he thought it would not be easy: "I am a Catholic, you know." Churchill responded: "If that's the only difficulty, you can always change your religion and still remain a good Christian."5 Kennedy laughed, no doubt imagining how his devout Catholic mother would respond to that. The conversation went on to discuss more politics.
Jacqueline [Jackie] Kennedy had a slightly different take on the meeting. Churchill was by then quite deaf, and she believed their conversation was "hard going." Also, she kidded her husband, Churchill at first didn't know who Kennedy was. JFK had taken the trouble of wearing a starched white dinner jacket for the occasion. Jackie quipped, "I think he thought you were the waiter."6
On 8 November 1960, without changing his religion, John F. Kennedy was elected President. Churchill followed the election closely. He wrote to Consuelo Balsan, formerly Duchess of Marlborough: "Kennedy certainly has tremendous tasks before him. I had a friendly exchange of messages with him after his election."7 Alas Churchill was aging, as he himself realized more than anyone, and their exchanges were perfunctory.
Last contacts
When Churchill visited America for the last time in April 1961, Kennedy telephoned and invited him to Washington. Churchill's private secretary, Anthony Montague Browne, took the call and on his own responsibility declined the invitation. Sir Winston, now 86 and in frail health, could no longer undertake the journey. Kennedy's charm was legendary, wrote Montague Browne, "and it was very evident in what he said. 'I understand your reasons, and I feared that this would be the case. Please give him my warmest and most admiring good wishes. And I think your decision does you credit.'"8
On 16 August 1961, Kay Halle visited Winston and Randolph Churchill at Chartwell. "During lunch," she wrote "I sat next to the Great Man, at his right, and he rose with his glass of hock and turning to me he said, 'Kay, let us drink to your great President, and—and ours.' I think it was his delicate way of expressing his fervent wish for a union of Great Britain and the United States as a beginning for a union of all the Democracies."9
April 1962 found Churchill again in the Mediterranean aboard Christina. On 28 June came a press release: "Sir Winston had a fall this morning and suffered a fracture of the neck of the femur. He is in Monaco Hospital and it is not yet certain whether he will remain there or be flown back to England."10 But Churchill wanted to return home. Among his well-wishers were  President Kennedy: "We have been encouraged by the reports of the progress you have made and heartened again by your display of indomitable courage in the face of adversity. The wishes of all our peoples as well as those of Mrs. Kennedy and I go to you.11
"We're all going to be blown up…"
In October 1962, an international crisis occurred when the United States discovered Soviet nuclear missiles in Cuba. President Kennedy demanded their removal and announced a naval blockade of the island. The confrontation was the closest approach to nuclear war between the U.S. and Soviet Union. "I call upon Chairman Khrushchev to halt and eliminate this clandestine, reckless, and provocative threat to world peace and to stable relations between our two nations," Kennedy said in a television broadcast:
I call upon him further to abandon this course of world domination, and to join in an historic effort to end the perilous arms race and to transform the history of man. Our goal is not the victory of might, but the vindication of right—not peace at the expense of freedom, but both peace and freedom, here in this hemisphere, and we hope, around the world. God willing, that goal will be achieved.12
As Wellington said of Waterloo, it was a very close-run thing. Churchill, out of office since 1955, followed developments closely. The old statesman, who had long feared a global conflagration, was not sanguine. He was heard to remark: "We're all going to be blown up, you know."13 A week later after some crucial back-channel communications, Khrushchev acceded to Kennedy's request.
Honorary Citizen
As a senator in 1959, Kennedy had supported naming Sir Winston Churchill an honorary U.S. citizen. However, it wasn't until a joint resolution by Congress four years later, on 9 April 1963, that he was able to confer the distinct honor.
Too frail to come to Washington, Churchill watched the ceremonies on television. His son Randolph and grandson Winston appeared on his behalf at the White House. Jacqueline Onassis wrote movingly of Randolph at that occasion:
We met in [the President's] office. Randolph was ashen, his voice a whisper. "All that this ceremony means to the two principals" I thought, "is the gift they wish it to be to Randolph's father—and they are both so nervous it will be a disaster…." Jack spoke first but I couldn't listen. Then the presentation. Randolph stepped forward to respond: "Mr. President." His voice was strong. He spoke on, with almost the voice of Winston Churchill. He sent his words across the afternoon, that most brilliant, loving son—speaking for his father. Always for his father. But that afternoon the world stopped and looked at Randolph. And many saw what they had missed…. I will forever remember that as Randolph's Day.14
"A monstrous act…"
Seven months later, on 22 November 1963 at 12:30 pm, President Kennedy was assassinated while riding in a motorcade in Dallas, Texas. Churchill watched the television reports of the assassination and wept.15 From London the United Press reported:
Sir Winston Churchill, former prime minister of Britain and the first honorary citizen of the United States, tonight called the assassination of President Kennedy a "monstrous act. The loss to the United States and to the world is incalculable," he said. "Those who come after Mr. Kennedy must strive the more to achieve the ideals of world peace and human happiness and dignity to which his presidency was dedicated."16
That evening, Churchill sat in front of the fire and thought about a man he never expected would precede him in death. His thoughts might have returned to their first meeting on Onassis's yacht seven years before, and the qualities he had recognized then. Their friendship was brief, but polished until it glowed.
Endnotes
1 Theodore C. Sorenson, "Let The Word Go Forth": The Speeches, Statements, and Writings of John F. Kennedy (New York: Delacorte Press, 1988), 96.
2 Robert Dallek, An Unfinished Life: John F. Kennedy 1917-1963 (New York: Little, Brown, 2003), 58.
3 Willi Frischauer, Onassis (New York: Meredith Press, 1968), 229.
4 Ibid.
5 Ibid.
6 Christopher Matthews, Kennedy & Nixon, The Rivalry That Shaped Postwar America (New York: Simon & Schuster, 1996), 130. Jacqueline had actually met Churchill ten years earlier, at a Buckingham Palace garden party. Then only 19, Jacqueline Bouvier "stood in the reception line twice for the repeated thrill of shaking the great man's hand." —Sarah Bradford, America's Queen: The Life of Jacqueline Kennedy Onassis (New York, Penguin, 2000), 40.
7 Arthur M, Schlesinger, Jr., A Thousand Days: John F. Kennedy in the White House (Boston: Houghton Mifflin, 1965), 69. Martin Gilbert, Winston S. Churchill, vol. 8, Never Despair 1945-1965 (Hillsdale, Mich.: Hillsdale College Press, 1988), 1318.
8 Martin Gilbert and Larry P. Arnn, eds., The Churchill Documents, Volume 23, Never Flinch, Never Weary, November 1951 to February 1965 (Hillsdale, Mich.: Hillsdale College Press, 2019), 2301.
9 Martin Gilbert, Winston S. Churchill, vol. 8, Never Despair: 1945-1965 (Hillsdale, Mich.: Hillsdale College Press, 1988), 1327.
10 Gilbert & Arnn, Never Flinch, Never Weary, 2328.
11 Ibid., 2331.
12 John F. Kennedy, Address During the Cuban Missile Crisis, 22 October 1962, transcript from television broadcast (Boston: John F. Kennedy Presidential Library and Museum).
13 Roy Howells, Simply Churchill (London: Robert Hale, 1965), 131.
14 Quoted in Richard M. Langworth, "Randolph, Hope and Glory," Hillsdale College Churchill Project, 2016, accessed April 2021.
15 Andrew Roberts, Churchill: Walking With Destiny (New York: Viking, 2018), 960.
16 Press notice, United Press International, London, 22 November 1963.
The author
Mr. Glueckstein, of Kings Park, New York is a Churchill writer who has traveled widely seeking people and places related to the Churchill saga.
Churchill Project Articles
Stay In Touch With Us
Subscribe now and receive weekly newsletters with educational materials, new courses, interesting posts, popular books, and much more!