Articles

Churchill and Polo: The Hot Pursuit of His Favorite Team Sport, Part 1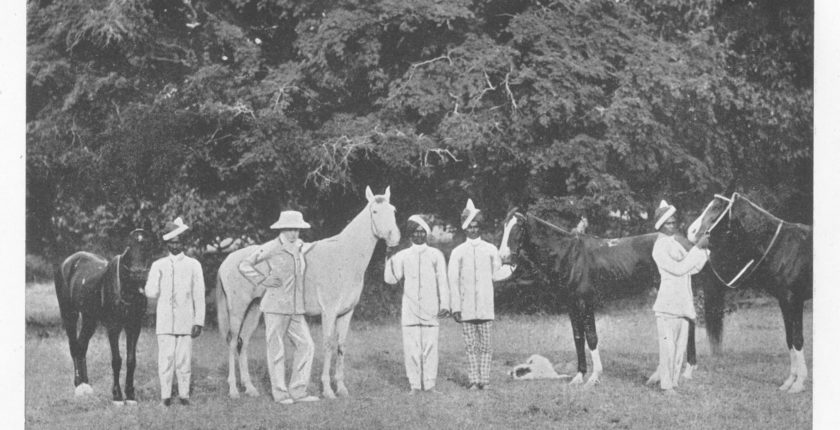 Featured Image: Young Winston with his polo ponies in India, circa 1896. (Winston S. Churchill MP)
---
From obscure beginnings in Asia, the modern version of polo was developed in 1863 by British army officers stationed in Punjab, India. They had learned the game from the Manipuri, an Indian border tribe. Six years later, polo was introduced in England.1
Churchill loved polo, which he called "The Emperor of Games." A contemporary writer's description of his polo tactics is remindful of much else in the statesmen's approach to life and politics:
He rides in the game like heavy cavalry getting into position for the assault. He trots about, keenly watchful, biding his time, a matter of tactics and strategy. Abruptly he sees his chance, and he gathers his pony and charges in, neither deft nor graceful, but full of tearing physical energy—and skillful with it too. He bears down opposition by the weight of his dash, and strikes the ball. Did I say strike? He slashes the ball.
Sandhurst
Churchill first mentions polo in a letter to his father, seeking permission to ride in September 1893, shortly after young Winston had arrived at the Royal Military College at Sandhurst. He wrote to his mother: "I find that you do not have to obtain permission from home to ride—but only to play polo—so the Infantry cadet will be allowed to ride for amusement until next term when all are taught."3 This suggests that he was not planning to play at that time, despite the option. Randolph Churchill in the official biography states that his father "started to play. . .whilst still a cadet at Sandhurst."4 But no subsequent Churchill letters discuss polo until February 1894, when he mentions it only in an aside: "There are many alterations this term which do not tend to make this place very pleasant. Besides the crusade against extravagance they have stopped hunting polo and owning horses."5
Churchill took the entrance exam for Sandhurst three times before he passed. His final test score was too low for him to be accepted in the infantry and qualified him only for the Cavalry —a great disappointment to his father, who was troubled by the expense: "In the infantry one has to keep a man; in the cavalry a man and a horse as well." "Little did he foresee not only one horse, but two official chargers and one or two hunters besides," Winston recalled later, "to say nothing of the string of polo ponies!"6
In August 1891, Lord Randolph Churchill wrote to his mother Frances, Duchess of Marlborough: "I shall try & get Brabazon, who has a regiment of hussars [cavalry] to take him & after 2 or 3 years shall exchange him with the infantry."7 Simultaneously he promised Winston, "As soon as possible I shall arrange your exchange into an infantry regiment of the line."8
When several of the proffered infantry cadetships were not accepted, Winston moved up on the list. Lord Randolph wrote to the Duchess in September, "…I am very glad that Winston has got an infantry cadetship. It will save me £200 a year. I shall see the Duke of Cambridge [commander-in-chief of the Army] when I get back & remind him about the 60th Rifles."9 But Winston, who rather fancied the cavalry and horses, had other ideas.
In the spring of 1894 Winston visited with Colonel J.P. Brabazon in Aldershot. "Brab" was an old family friend and Winston was charmed by his attentions. When Brabazon expressed interest in having Winston join a hussars regiment, the young man took the matter up with his mother, Lady Randolph: "How I wish I were going into the 4th [Hussars] instead of those old [60th] Rifles. It would not cost a penny more & the regiment goes to India in 3 years which is just right for me. I hate the infantry—in which physical weaknesses will render me nearly useless on service & the only thing I am showing an aptitude for athletically—riding—will be no good to me."10
Following Lord Randolph's death in January 1895, Winston succeeded in his campaign for the cavalry, pressuring his mother to secure his admittance to the 4th Hussars through her friends, Brabazon and Cambridge. The Duke, who had previously arranged for Winston to be a candidate for the 60th Rifles, quickly agreed to Lady Randolph's request.11 Col. Brabazon said, mistakenly, that the appointment would "fulfill one of Randolph's last wishes."12 On 12 February 1895 Churchill received his commission as a second lieutenant.13
Polo at Aldershot
Churchill joined the 4th Hussars in Aldershot the same month. There he began intensive training as a cavalry officer in preparation for his assignment in India in September, 1896. As his father had feared, finances were a problem. As a schoolboy Winston had constantly begged his parents for money and was admonished by them for extravagance. No change in habit occurred at Aldershot, but family income was more limited after Randolph's death. It was a stretch for their mother to maintain Jack, Winston and herself in the way they would all like. Winston kept asking, because his tastes were well above his modest Army pay scale.
By now young Winston had discovered polo. In April 1895 he wrote his mother, "Everyone here is beginning to play as the season is just commencing. I have practised on other people's ponies for 10 days and am improving very fast. If therefore, as I imagine—you have some ready money do lend me a hundred pounds—even if you do not think you will be able to give it to me as you said. The sooner the better—as ponies rise in price every day—and also I cannot go on without any for more than a few days unless I give up the game, which would be dreadful."14
By May he was well immersed: "Polo progresses steadily and I am I think improving fast. It is the finest game in the world and I should almost be content to give up any ambition to play it well and often. But that will no doubt cease to be my view in a short time."15
Churchill played regularly during his eighteen months at Aldershot. By May 1896 he was hoping to make the regimental team. "I am making extraordinary progress at Polo," he wrote his mother, "but I want very much to buy another pony, I wish you would lend me £200 as I could then buy a really first class animal which would always fetch his price. When we sell the ponies at the end of August he would fetch at least 170 and the odd thirty I would make good out of the money obtained by selling the others. You see I am so near now to the regimental team that it might just make the difference and I don't think that there would be a difference of £20 between buying and selling….If I had not been so foolish as to pay a lot of bills I should have the money now."16
On this occasion his mother helped. Churchill added to his stable which, owing to the vigor of the game, required more than one pony. "I had now five quite good ponies, and was considered to show promise," he recalled in My Early Life.17 For six months he lived at home in London and played polo at Hurlingham in Essex and Ranelagh.
As summer ended the 4th Hussars marched to Hounslow and Hampton Court, gave up their cavalry chargers to a returning regiment, and sailed for India. During the voyage the regiment decided to support its polo team by "subscriptions" (regular payments). Because it took so much time to train polo ponies, new regiments were not expected to do very well. But the 4th Hussars were determined to defy tradition.
India
Stationed in Bombay, where the Hussars would first land, was a native regiment with British officers, the Poona Light Horse. Most of the horse trading occurred in Bombay, and the Poona were thought to have the best ponies. In what Churchill called an "audacious and colossal undertaking," the 4th Hussars bought a complete polo stud of twenty-five horses from the Poona. This gave them a huge advantage of well-trained ponies immediately upon arrival at their duty station, Bangalore in the south of India.
The Hussars were out to win, and Winston's letters home were full of the sport. "The polo here is very bad and I expect our subaltern's team will easily beat the whole Bangalore garrison," he wrote his mother. "I have only played 3 times but have made many goals."18 "I get up here at 5 o'clock every morning…ride off to parade at 6. At 8 o'clock breakfast and bath and such papers as there are: 9.15 to 10.45 Stables—and no other engagement till Polo at 4.15″19
A polo game lasts an hour and is divided into periods or chukkas of seven minutes each, with short intervals in between. Churchill played in every chukka he could get into, usually ten or twelve. His prodigious efforts soon came to the notice of the Aga Khan. "It was at Poona in the late summer of 1896 that our paths first crossed, the Khan wrote later. "A group of officers of the Fourth Hussars, then stationed at Bangalore, called on me. I was ill at the time, but my cousin showed them my horses. He later told me that among them none had a keener, more discriminating eye, none was a better judge of a horse, than a young subaltern by the name of Winston Spencer Churchill. He was a little over twenty, eager, irrepressible, and already an enthusiastic, courageous, and promising polo player."20
In November 1896 Churchill's team went to a tournament at Hyderabad, a 24-hour, 700-mile train journey. The prize was a silver cup worth 1000 rupees (£60). Winston told his mother that the entire population turned out to watch, not infrequently betting thousands of rupees:
This performance is a record: no English regiment ever having won a first-class tournament within a month of their arrival in India. The Indian papers express surprise and admiration. I will send you by the next mail some interesting instantaneous photographs of the match — in which you will remark me—fiercely struggling with turbaned warriors….Our final match against the Native contingent was witnessed by 8 or 9 thousand natives who wildly cheered every goal or stroke made by their countrymen—and were terribly disappointed.21
Climax of the year was the Inter-Regimental Polo Tournament at Meerut, a thousand miles north of Bangalore, in March 1897. The reigning champion at that time was the veteran Durham Light Infantry. Churchill's letters are filled with prospects for the match. But to the Hussars' disappointment the Madras Governor-General, Sir Mansfield Clarke, refused them leave to attend the tournament. In the official biography Sir Winston's son suggested that "he simply thought the 4th Hussars did not stand a chance."22
Churchill was fond of other horse sports; he participated in steeplechases, point-to-points and pleasure riding. In a letter to Jack in November 1896, he proudly noted that their father's racing colors, chocolate and pink, would appear on Indian soil for the first time at a pony race meeting. In his 1930 autobiography Churchill would advise parents:
Don't give your son money. As far as you can afford it give him horses. No one ever came to grief— except honourable grief—through riding horses. No hour of life is lost that is spent in the saddle. Young men have often been ruined through owning horses, or through backing horses, but never through riding them; unless of course they break their necks, which, taken at a gallop, is a very good death to die.23
Expanding horizons
During his two and one-half months' leave in 1897, Churchill traveled in Europe and then went home to England. He made his first political speech to the Primose League (an organization co-founded by his father, which provided volunteer Conservative Party canvassers) in Bath in July. By September he was back in India—Nowshera in the northwest, 2700 miles from Bangalore—chasing fame and notoriety as a war correspondent with Sir Bindon Blood and the Malakand Field Force. From Nowshera he wrote polo team-mate Reginald Barnes, "Best luck at Poona. It is bloody hot."24
Lt. Churchill returned to Bangalore—"to polo and my friends"—in October 1897. But the success of his writing, and the realization that it could be a serious source of income, had taken the edge off his consumption with polo. "I am off to Hyderabad on Sat for a polo tournament," he wrote his mother. "It is a nuisance having to go when I am so busy."25 He referred to the writing of his first book, The Story of the Malakand Field Force. In January 1898 he added, "We are all thinking of the Big Polo Tournament now—but it fills a v[er]y different position in my mind to what it did last year."26
On 17 February, Churchill left for the tournament at Meerut. "We shall definitely find out what place in Indian Polo the regiment can aspire to," he wrote home. "The team is as follows: 1. self, 2. [Albert] Savory, 3. [Major Reginald] Hoare, 4. [Reginald] Barnes. We are altogether equipped with 24 ponies and I have some hopes that we may do well." But on March 3rd "the polo tournament ended as I expected in our defeat by the famous Durham Light Infantry, though after a gallant fight. We made hay of the 5th Dragoon Guards in the first round and escaped without disgrace."27
In March Churchill wangled an appointment to Tirah Expeditionary Force for war reporting, but was disappointed when no fighting occurred. Hoping for more action in the Sudan, where General Kitchener had been appointed to reconquer that territory on behalf of Britain and Egypt, he engaged in mighty efforts for a similar appointment. After much correspondence he succeeded, being attached to the 21st Lancers. This took him to the Nile valley and provided material for his second book, The River War.
Before he left India he corresponded with his mother regarding the usual subject: finances. He was finding it very difficult trying to sell his ponies in a country where there wasn't much of a horse market. On 31 March he proposed spending a month in England before going to the Nile and was "getting rid of every polo pony I possess and shall have settled up all Indian matters."28 "I hope to get rid of them all soon," he wrote in May. "They eat."29
Churchill would not return to India again, and would soon leave the army. He found it extremely expensive to be a subaltern of hussars, whereas writing could be very lucrative. His Malakand Field Force "earned me in a few months two years' pay as a subaltern."30 He was about to publish his novel Savrola (first entitled Affairs of State) and had offers to write biographies of his father and his ancestor the First Duke of Marlborough.
Above all, however, Churchill hungered for a seat in Parliament. Here too he had received encouragement—a good response to speeches he'd made while on leave in England. An important friend, the Prince of Wales, told him, "Parliamentary and literary life is what would suit you best as the monotony of military life in an Indian station can have no attraction for you."31
The author
Barbara Langworth is a New Hampshire publisher and editor. "Churchill and Polo" was first published in 1991. This updated, amended version is published by kind permission of the author in response to reader requests for more information on Churchill's and polo. The article incidentally demonstrates the rich store of material available in The Churchill Documents, published by Hillsdale College Press.
Endnotes
1 Joseph Laffan Morse, ed., The New Funk & Wagnalls Encyclopedia  (New York: Unicorn Publishers Inc., 1949), 9746.
2 Patrick Thompson quoted in Lord Butler, fwd., The Churchill Years 1874-1965 (New York: The Viking Press, 1965), 70.
3 Randolph S. Churchill, ed., The Churchill Documents, vol. 1, Youth 1874-1896 (Hillsdale, Mich., Hillsdale College Press, 2006), 413-14.
4 Randolph S. Churchill, Winston S. Churchill, vol. 1 Youth 1874-1900 (Hillsdale College Press, 2006), 305.
5 The Churchill Documents, vol. 1, 440.
6 Winston S. Churchill, My Early Life (London: Thornton Butterworth, 1930), 50.
7 The Churchill Documents,vol. 1, 386.
8 Ibid., 390.
9 Ibid., 404.
10 Ibid., 478.
11 Ibid., 554.
12 Ibid., 553.
13 Ibid., 557-58.
14 Ibid., 570.
15 Ibid., 572.
16 Ibid., 672.
17 My Early Life, 103.
18 Winston S. Churchill, vol. 1, 305.
19 The Churchill Documents,vol. 1, 693.
20 The Aga Khan, "A Promising Polo Player," quoted in Henry Anatole Grunwald, ed. Churchill: The Life Triumphant (New York: American Heritage Press, 1965), 130.
21 Randolph S. Churchill, ed., The Churchill Documents, vol. 2, Young Soldier 1896-1901 (Hillsdale, Mich.: Hillsdale College Press, 2006), 701.
22 Winston S. Churchill, vol. 1, 306.
23 My Early Life, 59.
24 Randolph S. Churchill, ed., The Churchill Documents, vol. 2, Young Soldier 1896-1901 (Hillsdale, Mich.: Hillsdale College Press, 2006), 788.
25 Ibid., 829.
26 Ibid., 865.
27 Ibid., 885.
28 Ibid., 902.
29 Ibid., 933.
30 My Early Life, 170.
31 The Churchill Documents,vol. 2, 984-85.
Churchill Project Articles
Stay In Touch With Us
Subscribe now and receive weekly newsletters with educational materials, new courses, interesting posts, popular books, and much more!