Articles

Celebrating the completion of the Official Biography of Winston Churchill
By

THE CHURCHILL PROJECT

|

October 30, 2019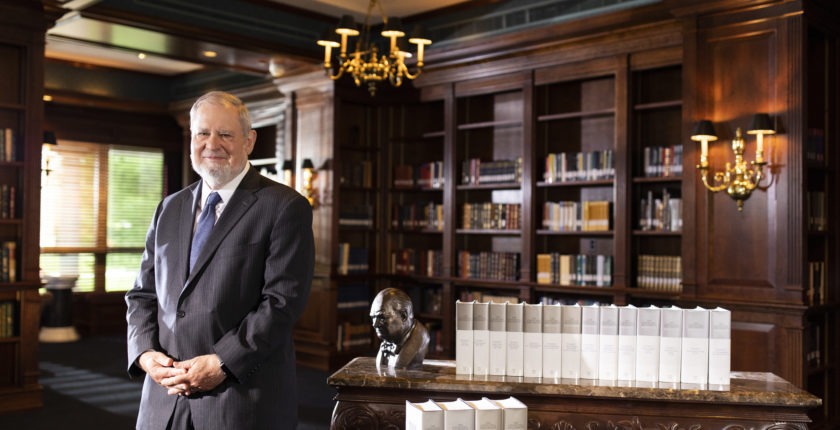 ---
Larry P. Arnn, president of Hillsdale College and editor of the Official Biography of Winston Churchill, with volumes 1-22 of The Churchill Documents, the companion series to the official biography. Volume 23, the final volume, will be published in November, 2019.
---
Sir Winston Remembered
Celia Sandys and Lady Williams

Sir Winston's granddaughter chats with the former Jane Portal about her days in Churchill's private office, at Downing Street, Chartwell and Hyde Park Gate. Lady Williams recalls the great man from his return to office in 1951 to the end of his life. They tell of his humor and sense of fun, his eloquence and romanticism. Their memories extend from King George VI and his daughter Queen Elizabeth II, to Sir Winston's 1953 stroke and rapid recovery, to cruises on the Onassis yacht, to his final days.
Whitehall, London: The Heart of It All
Dr. Larry P. Arnn
Horseguards Parade: The center of Churchill's career for half a century. Hillsdale College's president describes what we are about to see on a walking tour of the most vital venues in his life. Including Churchill contemporaries: Prince Louis of Battenberg and his son Lord Mountbatten; the World War II Labour Party leaders, Bevan and Attlee—Churchill's collegial relations with them, no matter how they disagreed; repaid by their personal generosity toward him.
The Great Work at Its End
Dr. Larry Arnn, Lady Gilbert, Lord Dobbs, Randolph Churchill
Celebrating completion of the official biography of Winston Churchill, 57 years since it began. Dr. Arnn introduces Lady Gilbert, who looks back on the colossal contribution of her late husband, Sir Martin; and Michael Dobbs, Churchill novelist, Lord Temporal in the House of Lords: "When it comes to an unquenchable commitment to freedom, we keep coming back to Winston."
Churchill: Walking with Destiny
Andrew Roberts
Introduction by Dr. Arnn: "Who has written a good biography of Churchill in manageable scale? One person. It's a biography that can be relied on, that captures the parts of it: solemnity and fun, ceremony and adventure, aggressiveness and restraint, consistency and change. It's a drama, a huge drama….And he's prepared all his life to write it. Long ago I believed that someday this man will write a great book about Winston Churchill. Now he's done it."
Churchill Project Articles
Stay In Touch With Us
Subscribe now and receive weekly newsletters with educational materials, new courses, interesting posts, popular books, and much more!