Articles

Moulders of Greatness: Winston Churchill and Oscar Nemon
---
The Churchill Arch, House of Commons, with Oscar Nemon's classic statue of WSC at left. The Lloyd George status is by Uli Nimptsch. The practice of MPs rubbing the toes of both statues for luck, which caused great erosion of the bronze, has lately been discountined. (Photo: Parliament UK)
---
The Members' Lobby in the Palace of Westminster is a gathering place for members of the House of Commons when not on the floor. Next to the main doors on either end of the Lobby are four bronze statues. They portray four prime ministers, including David Lloyd George, Clement Attlee and Margaret Thatcher. The fourth and most prominent is Sir Winston Churchill, sculpted by Oscar Nemon. This life-size bronze portrays the Prime Minister striding through the rubble of war-damaged London, hands on hips.
Oscar Nemon (1906–1985) was born of a Jewish family in Osijek, Croatia. A prolific sculptor, he came to Britain in 1938 to escape the Nazis. Nemon's statue in the Members' Lobby, unveiled on 1 December 1969, is one of more than two dozen Churchill statues by Nemon which are found around the world. 
Finding Nemon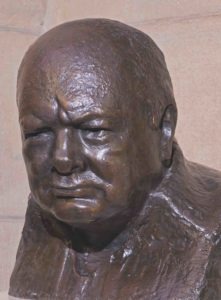 In December 1950, the French psychoanalyst René Laforgue invited Nemon to join him and his wife at La Mamounia, the luxury hotel in Marrakesh, Morocco. Laforgue acted knowing that Churchill would also be there, and that Nemon had long admired the statesman.
At a breakfast early in January, Nemon realized that Laforgue had reserved a table near the Churchills. Instinctively Nemon wished to portray the great man. Embarrassed to make sketches in public, he made mental notes. Afterwards, he returned to his room and began a small  Churchill bust. Later he encountered Sylvia Henley, a Churchill cousin, whom he had met during the London Blitz. When she learned Nemon had made a bust, she pleaded he show it to Mrs. Churchill. A few hours later, Nemon received a note from Clementine:
* * *
My dear Monsieur Némon
I should like to possess the little bust you have made of my husband in terra cotta. Would you be kind and let me know your fee?
Would you allow me to say that I like it so much just as it is, and I think there is an element of risk in altering it. I have seen so many portraits and busts spoilt by attempting to get an exact likeness. Your bust represents to me my husband as I see him and as I think of him, and I would like to have it just as it is. It will be a great joy for me to possess it.
Yours sincerely
Clementine Churchill1
Nemon promised to make no changes and presented the little bust as a gift. He did ask Clementine if he might do other studies of Churchill, "possibly while he was busy painting." Clementine agreed and a lifetime friendship sprang up between the Churchills and Oscar Nemon.
Royal Commission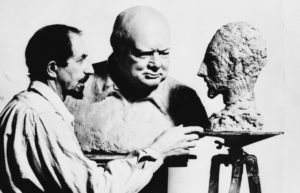 After the Churchills returned to England, Oscar Nemon was honored with a royal commission. Before her coronation, HM The Queen conveyed a desire for a marble bust of Churchill, her first prime minister, to place in the armory at Windsor, beside one of his ancestors, the First Duke of Marlborough.
The young Queen asked Churchill to select the sculptor. Churchill chose Nemon and, in November 1952, gave the sculptor two separate sittings. He was, however, an unpredictable sitter. Nemon's daughter Aurelia, Lady Young, wrote that "sculpting him was never an easy or relaxed task."2
Artist to Artist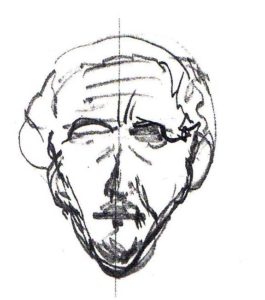 While Nemon was sculpting Churchill, the PM decided to sculpt the sculptor. Today, a small sculpted head of Oscar Nemon is in Churchill's studio at Chartwell. A curious Martin Gilbert asked Nemon how this had happened. "He told me that while he was sculpting Churchill, his sitter had said that he would do the same," Gilbert wrote, "and then produced his only known piece of sculpture."3
Nemon also recalled his difficult subject: "We had not been at work long when he became excited about the difficulties in which he found himself. His cigar began to come to pieces in his mouth and soon he was roaring like a lion over his prey. (It was after two o'clock in the morning, and Churchill had consumed his usual quantity of alcohol.) He shouted at me, 'How on earth can I work when you keep moving?' In the interest of continuing peace between us I kept still after that and, by doing so, lost an opportunity of making a real study of him."4
* * *
But Nemon was impressed by Churchill's sculpting talent. After the PM's bust of him was cast in bronze he wrote to WSC: "I beg you not to underrate the artistic value of this work, which could be considered by any expert as outstanding for a first attempt."5
Churchill was fascinated by Nemon's distinctive features, and the little bust was not his last such effort. At Chequers, late in his final term as prime minister, Nemon found the PM making "sketches in my direction," and duly posed. "I could see that he had made five or six sketches on small paper. He felt very shy of his work and tore them up, but one fell to the floor." The sketch later found its way to the famous Churchill collection of the late F. Bartlett Watt in Ontario.
Churchill's Praise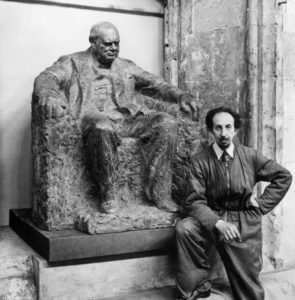 In 1954, Nemon was commissioned to create a statute of Churchill for Guildhall, the center of government for the City of London. The Prime Minister himself unveiled the statute on 21 June 1955, praising the sculptor with sincere admiration and humor: "I greatly admire the art of Mr Oscar Nemon whose prowess in the ancient realm of sculpture has won such remarkable modern appreciation. I also admire this particular example, which you, my Lord Mayor, have just unveiled, because it seems to be such a very good likeness."6
In addition to Churchill, Nemon sculpted many other notables beginning with Sigmund Freud in 1931. Among his British subjects were Queen Elizabeth II, Queen Elizabeth the Queen Mother, Field Marshall Montgomery of Alamein, Earl Alexander of Tunis, Lieutenant-General Lord Freyberg, Chief of Air Staff Charles Portal, Lord Beaverbrook, Lady Violet Bonham Carter, Harold Macmillan, Margaret Thatcher, and the founder of the Glyndebourne Opera, John Christie.
Oscar Nemon died on 13 April 1985. His good friend and neighbor, Albi Rosenthal, paid a moving tribute at the funeral. "For Nemon," Rosenthal said, "Winston Churchill symbolized greatness of character as a bulwark against inhumanity. This was the mainspring of Nemon's message, as expressed in the numerous busts and statutes of Churchill now in many lands."7
Nemon sculpture worldwide
Oscar Nemon's bronzes of Sir Winston Churchill are located all over the world. They may be seen at Windsor Palace, Bletchley Park, Chartwell, Churchill College Cambridge, Westerham Green in Kent, and St. Margaret's Bay in Dover. In London, Nemon's works are at the Churchill War Rooms, the Guildhall, and the Houses of Parliament. Abroad, Canada contains the most, in Quebec, Toronto, Edmonton, Fredericton and Halifax. Nemon Churchills are also in Brussels, Copenhagen, Luxembourg, Monte Carlo, Moscow, Paris, Quito, Zagreb, Jerusalem, Kansas City, Hyde Park, Canberra and Mexico City.8
While Nemon's works are an enduring tribute to Churchill, they also represent an everlasting gift from the extraordinary talented and prominent sculptor. Oscar Nemon's remarkable life story can be read in Aurelia Young's outstanding biography of her father, Finding Nemon: The Extraordinary Life of the Outsider Who Sculpted the Famous.
Endnotes
1 Aurelia Young with Julian Hale, Finding Nemon: The Extraordinary Life of the Outsider Who Sculpted the Famous (London: Peter Owen, 2018), p. 144.
2  Ibid., p. 148.
3 Martin Gilbert, In Search of Churchill: A Historian's Journey (New York: Wiley, 1994), 314. This Nemon bust of Churchill is in the Queen's Guard Center at Windsor Castle.
4 Young, 148.
5 Ibid., 149.
6 Ibid., 159.
7 Ibid., 213.
8 Oscar Nemon Official Site. This website offers a fine selection of Nemon's signed, hand-cast portraiture of Churchill for view or purchase.
The author
Mr. Glueckstein, of Kings Park, New York, travels frequently in search of Churchill. The author thanks Lady Young for the loan of photographs and kind assistance in research.
Churchill Project Articles
Stay In Touch With Us
Subscribe now and receive weekly newsletters with educational materials, new courses, interesting posts, popular books, and much more!