Articles

The Biographers: William Manchester and Martin Gilbert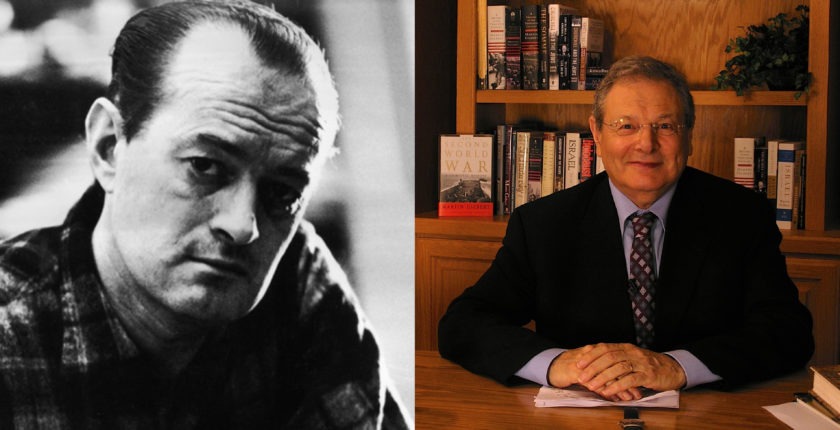 William Manchester (l.); Martin Gilbert (r.). Late in his life Sir Martin generously wrote to Manchester: "Our work proceeds along parallel tracks."
---
Q: I've been slogging through the William Manchester Churchill trilogy, The Last Lion. How is Hillsdale's eight-volume Winston S. Churchill by Randolph Churchill and Martin Gilbert different? —M.A., Breaux Bridge, Louisiana.
A: For me that is a beach ball of a pitch, because I am well acquainted with both. But if you are "slogging" through Manchester, you may find Gilbert a tougher challenge. There is a vast difference between the two, but Gilbert is the source on which most scholars rely.
William Manchester
Manchester was a lyrical, beautiful writer. (Simon Schama, below, calls it "rhinestone studded prose," but that prose in the 1980s brought more people to Churchill than anyone.) I suspect though that he loved his prose even more than his readers did. The Death of a President, his book on the assassination of John Kennedy, is tremendously moving; his memoir of the Pacific war, Goodbye Darkness, was his personal favorite, and is widely acclaimed, though critics have said it is somewhat inventive. American Caesar, his biography of Douglas MacArthur, is along the same lines—especially the passages on MacArthur's last speech at West Point. His prologues to Volumes 1 and 2 of  The Last Lion are works of art. (Volume 3 was written by friend Paul Reid, and is more analytical).
The problem was that Manchester tended to make many detail errors, and sometimes his footnotes lead in circles, or nowhere. I hosted him at several Churchill events beginning in 1986. After I published a respectful review of his volume 1, noting the many errors, he hired me to vet volume 2. I found 600 nits to pick, and he did not correct them all. For instance, his account of the crucial East Fulham bi-election of 1933, treats the vote as a Labour upset which pushed the Tories toward appeasing Hitler. In fact, East Fulham was marginal in most previous elections and was not the harbinger Manchester says it was.
Sir Martin Gilbert
Randolph Churchill, who wrote the first two volumes of the official biography, could be in parts as lyrical as Manchester, but he too made his share of mistakes and omissions. A contemporary historian called those volumes "the case for the defense," complaining that Churchill himself had already published his defenses through his memoirs of the two World Wars. Martin Gilbert is virtually error-free, but he takes an entirely different approach: a chronological, day by day account, which puts you at Churchill's shoulder as events unfold. Gilbert refrains from expressing his opinion, but reviewers (including Schama, below) make too much of this. His opinion is clear through his selection of material. It is mainly positive, but he does not overlook Churchill's faults. As a literary work it is thought by some to be almost too thorough. As a reference—particularly with the accompanying document volumes (up to twenty-one now, with two more until Hillsdale finishes the job this year)—it is unsurpassed.
A very fine review of Gilbert was by Professor Simon Schama in 1983. Ostensibly a review of VOlume 6, it really applies applies to all the Gilbert volumes (3-8). For a sample of Sir Martin's work, Volume 6 the place to start. As Churchill said: "Nothing surpasses 1940." (See also Larry Arnn, "In Memory of Martin Gilbert," herein.)
Readers interested in how Sir Martin researched and built his volumes should also read his book, In Search of Churchill. This is an account of he found his sources, whom he interviewed, and what they said—much of which he did not publish.
Schama on Gilbert: "The Churchilliad"
Simon Schama is University Professor of Art History and History at Columbia University. I quote from his review of Martin Gilbert's Winston S. Churchill, volume 6, Finest Hour 1941-1945, quoted from The New Republic, 1983. The full article should be sought out. It is as fine an appreciation of Sir Martin as anything else published. – Richard M. Langworth
---
Gilbert wrote as if Tacitus and Gibbon had never penned a line. There are no judgments, not the merest hint of a cavil. Nor are there the conventional literary framings—no fanfare at the outset, nor drum roll at the conclusion. The narrative of Volume 6 simply begins: "At eleven o'clock on the morning of September 3rd 1939…" and goes on like that for another 1274 pages. It is a Churchilliad, and Gilbert is its Bard.
What is it like to read? Reading is not really what one does with a Gilbert Churchill, any more than with say, Pepys' diary. Confronted with this mighty ocean of narrative the only possible response is total immersion. The great tidal wave of detail plunges the reader almost involuntarily into Churchill's life during the first two grim years of the war. One does not so much read the life, one accompanies it, as if peering over Churchill's burly shoulder. By contrast Manchester's slapdash study, with its cartoon-strip account of British politics and culture and its rhinestone-studded prose, looked particularly gaudy alongside the Churchilliad.
Gilbert has been faithful to Randolph Churchill's injunction—"he shall be his own biographer"—and allowed his subject to tell much of the story through speeches, conversations and letters, as well as official documents. There are unforgettable vignettes: receiving an assistant during the Blitz "wrapped only in a huge bath towel looking like one of the later Roman Emperors": singing "Ol' Man River" in his car after speaking in Parliament of the Anglo-American relationship that "like the Mississippi just keeps rolling along"; pressing the revolting concoction of Bovril and sardines on a politely amenable aide; rapping on a front door and greeting the butler with a cheery "Goebbels and Goering here to report"; and dictating to his secretary from his flower-chintzed four-poster, chewing a cigar, sipping soda water and fidgeting his toes beneath the bedclothes.
The history, though, is not just chatty gossip. Against all odds, it succeeds in conveying the frightening bleakness of the spring of 1940, when Hitler seemed unstoppable and European democracy appeared to be closing down for the season.
The first indispensable component of Churchill's leadership was staggeringly and indefatigably hard work. The second was his impressively detailed grasp of military strategy. It is easy to overlook the obvious fact that, more than any of the other war leaders, and certainly more than either Stalin or the warlords in Berlin and Rome, Churchill was in his own right a great commander. This is not to say that he did not commit blunders during the war. But he had an unerring nose for fine commanders, and he stuck by them even when they were drawing flack from their staff.
Churchill embodied, without ever meaning to, a glorious illusion about British history: that at its heart lay a family bond that transcended all divisions of class and party. It was typical that although he loathed his schooldays at Harrow, he consented to visit it on condition that the boys sang the school songs; he went away watery-eyed, with the feeling that he had touched the national spirit once more.
The terror of imminent extinction flickers intermittently through Martin Gilbert's crowded narrative. But whenever it begins to rise with the tempo of accumulating disasters, Churchill's presence, too, rises above the panic, like a great granite cliff. I suppose that is what our forebears felt and what sustained them in the nightmare of 1940. This is a rare thing then: a vast biography in which the stature of its subject is enhanced rather than diminished with every page and every document. The only somber reflection on putting it down is the certainty that we shall not look upon his like again.
Churchill Project Articles
Stay In Touch With Us
Subscribe now and receive weekly newsletters with educational materials, new courses, interesting posts, popular books, and much more!