Articles

What did Winston Churchill mean when he said, "Man is Spirit"?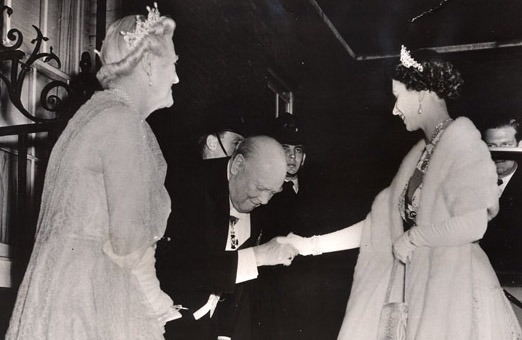 Churchill welcomes HM The Queen in an unprecedented visit to Downing Street the night before he retired, 4 April 1955. (Library of Congress; Hillsdale College Press)
---
Introduction
A professor teaching a course on Churchill's statesmanship writes: "Before retiring as prime minister, Churchill gave two messages to his non-cabinet ministers: 'Man is Spirit,' and 'Never be separated from the Americans.' The latter is easy to understand. But my students and I are debating what he meant by the former. Any thoughts?"
The question occupied us for several days. "I believe that man is an immortal spirit," Churchill said. This led Anthony Montague Browne, his last private secretary, to declare him "an optimistic agnostic." Churchill continued: "Whether you believe or disbelieve, it is a wicked thing to take away Man's hope." Whether you agree or disagree with Montague Browne, his statement suggests that his words referred to something metaphysical, beyond the Victorian virtues of courage, pluck and fortitude. Unable to reach a consensus, we asked a scholar who knows as much about the metaphysical Churchill as anyone. 
If man is spirit, then his understanding of spirit is not confined to his age and circumstances. Spirit is not a material thing, if it is anything at all. To be that immaterial thing, it does not have to be the God of Revelation. On his disappointment after the 1935 election, which later worked out to his advantage, he wrote, "Above me beat the invisible wings": Providence. Providence is related to chance. It is chance when serving a grand purpose, a fulfillment of something ultimate and necessary in nature.
Metaphysics does not mean indefinite or vague. It means what comes after the physics—after physical nature (phusis is the Greek word for nature). We observe phenomena in nature, and in their nature they raise questions. How do we observe things? What in us makes us capable of so observing? And what of these phenomena we observe? They seem to be arranged in a hierarchy, one in service of another, one more perfect (complete, self-sufficient, final) than another.
In the beginning of chapter 2, book 1, of his ethical work (the work about our lives and how we should live them), Aristotle says there must be some ultimate good or else all would be regression. It makes no sense to assume that all is regression, because no use of our apparent capacities to effect can follow from that. In his most immediately practical work, Aristotle starts us on our way toward his Metaphysics.
The first line of the Metaphysics is: "The human being stretches itself out to know." We are the knowing beings. Having the capacity, we have the right. The argument of the Metaphysics culminates in the perfect being, God, not the Christian God true enough, but rather a being motionless, abiding, immaterial, an intellect thinking about itself.
Churchill and the Classical Method
Thomas Aquinas, in chapters 47-55 of book 1 of the Summa Contra Gentiles, set out to reconcile Aristotle's rational God with the Christian God. It is interesting reading. All of this writing, from the first line of the Ethics to the last line of the Summa Contra Gentiles, is a defense of the human ability to know, and therefore to be free. Thomas Aquinas is the patron saint of all who think that to believe a thing, it must make sense.
I do not know that Churchill knows all this, but I think I know that he followed the same method. The classics begin with things we know and think and then attempt to refine them into truth. It makes no sense to believe that the things we know and think are senseless. It makes no sense to think that we believe them simply because of our circumstances and our time. Also, it makes no sense to think that the things we know and think are sufficient.
Churchill demonstrates his belief in these things all over the place. He is interested in truth with the same earnestness and skepticism of the first philosophers. One of his early condemnations of Hitler is that he persecuted philosophers and scientists—who are ever persecuted by tyrants. Therefore Churchill is interested in freedom. Human freedom is our freedom to know, to act and to make. Our actions and makings are summarized in the term "art."
But much is subject to chance. Churchill systematically compares and relates chance and art, which seem to be opposite, but in fact occupy the same space outside the iron commands of nature and therefore make room for human freedom.* Providence is found there too. Churchill thematically discusses the relationship between free will and predestination, which both appear to be true. He holds them both in his mind, and seeks to preserve the good in each.
"Man is Spirit"
I bet I can find 100 places where Churchill says nations and peoples other than Britain are protected by Providence. Churchill's frequent references to Christianity maintain everywhere (except one place of which I know) that it is good. And good is to be supported.
In exploring these things, Churchill is interested then in the ultimate ground of human freedom. He is the guardian of that freedom, of the right of the human to be fully human. Man is spirit.
*Churchill on the relation of art and chance
"Human choice and sublime responsibility"
Although this account pretends to deal only with a partial aspect of the immense theme, it will follow throughout, as I conceive, the pathway on which footsteps were decisive. In the vast tangle of arguments, here will be found the unravelling thread. In the clash, overbalancing or equipoise of gigantic forces, here were the determining factors. Amid increasing chaos, here lay the potential dominants.
Much action and the play of forces even on a huge scale and with enormous material effects is often irrelevant, and counts for little or nothing in the final result: but along the chain of commanding causation even the smallest events are vital. It is these which should be studied and pondered over. For in them is revealed the profound significance of human choice and the sublime responsibility of men. No one can tell that he may not some day set a stone rolling or take or neglect some ordinary step which in its consequences will alter the history of the world. —Churchill, The World Crisis, Vol. 2, 1915 (1923)
 "The decisive part accident and chance play"
Is the march of events ordered and guided by eminent men; or do our leaders merely fall into their places at the heads of the moving columns? Is human progress the result of the resolves and deeds of individuals, or are these resolves and deeds only the outcome of time and circumstance? Is history the chronicle of famous men and women, or only of their responses to the tides, tendencies and opportunities of their age? Do we owe the ideals and wisdom that make our world to the glorious few, or to the patient anonymous innumerable many? The question has only to be posed to be answered. We have but to let the mind's eye skim back over the story of nations, indeed to review the experience of our own small lives, to observe the decisive part which accident and chance play at every moment.
If this or that had been otherwise, if this instruction had not been given, if that blow had not been struck, if that horse had not stumbled, if we had not met that woman, or missed or caught that train, the whole course of our lives would have been changed; and with our lives the lives of others, until gradually, in ever-widening circles, the movement of the world itself would have been affected.
And if this be true of the daily experience of ordinary average people, how much more potent must be the deflection which the Master Teachers—Thinkers, Discoverers, Commanders—have imparted at every stage. True, they required their background, their atmosphere, their opportunity; but these were also the leverages which magnified their power. I have no hesitation in ranging myself with those who view the past history of the world mainly as the tale of exceptional human beings, whose thoughts, actions, qualities, virtues, triumphs, weaknesses and crimes have dominated the fortunes of the race. —Churchill, Thoughts and Adventures (1932)
"We are spirits, not animals" 
The destiny of mankind is not decided by material computation. When great causes are on the move in the world, stirring all men's souls, drawing them from their firesides, casting aside comfort, wealth, and the pursuit of happiness in response to impulses at once awe-striking and irresistible, we learn that we are spirits, not animals, and that something is going on in space and time, and beyond space and time, which, whether we like it or not, spells duty." —Churchill, "Birth Throes of a Sublime Resolve,"  broadcast 16 June 1941.
Churchill Project Articles
Stay In Touch With Us
Subscribe now and receive weekly newsletters with educational materials, new courses, interesting posts, popular books, and much more!