Articles

Leeds, 1942: "We See the Ridge Ahead"
Attached are some pictures of my great-grandfather, the Lord Mayor of Leeds Hyman Morris, with Winston Churchill on the prime minister's visit in 1942. Do you have any record of what the PM said on this occasion? —Jane Brechner, England
---
We do, and thank-you for the photos. Churchill toured the city with your great-grandfather and Dr. H.V. Evatt, Australia's Minister for External Affairs. He spoke from Leeds Town Hall. His remarks, entitled, "We See the Ridge Ahead," were full of his usual fire and defiance of the enemy.
With the addition of references to Australia, Churchill was repeating themes from his rousing speech to Canadians in Ottawa at the end of 1941. In Leeds he said we had not "topped the ridge, but now we see the ridge ahead." Six months later, after victory at El Alamein, hosted by another Lord Mayor, in London, he declared we had reached "the end of the beginning."
The Prime Minister:
"In the height of the second great war, it is a great pleasure to come to Leeds and bring to the citizens a word of thanks and encouragement in all the work they are doing to promote the common cause of many nations and in many lands. That cause appeals to the hearts of all those in the human race who are not already gripped by tyranny or who have not already been seduced to its insidious voice.
"That cause is shared by all the millions of our cousins across the Atlantic who are preparing night and day to have their will and rights respected. It appeals to the patient millions of China, who have suffered long from cruel aggression and still fight with faithful stubbornness. It appeals to the noble manhood of Russia, now at full grips with the murderous enemy, striking blow for blow and repaying better ones for blows struck at them. It appeals to all the people of Britain, without discrimination of class or party. It appeals to all the peoples of the British Empire throughout the world, and I have here at my side Dr. Evatt from Australia.  I voice on behalf of this vast gathering of men and women of Leeds our warmest message of good will and comradeship to our kith and kin in Australia, who, like ourselves, lie under the menace of imminent enemy attack, and who, like ourselves, are going to strike a heavy and successful blow on all who spring upon us.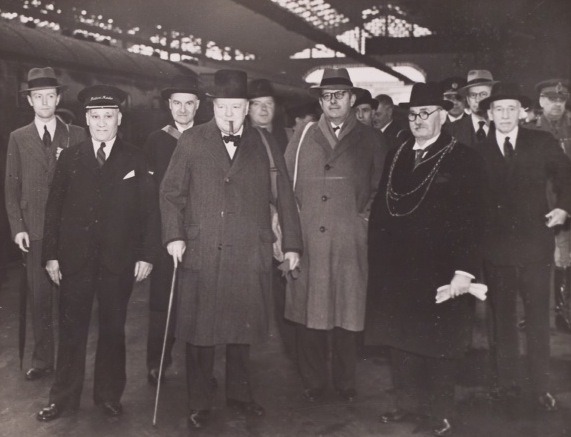 "You have had your test in battle, but lately the enemy has not been so ready to come to this island: first, because a large portion of his air force is engaged against our Russian allies, and secondly because he knows that our arrangements for meeting him, thanks to the assistance of hundreds and thousands of active, willing minds and hands, are improving in power and efficiency every day. I have seen some of your factories this morning, though not as many as I should have liked to have seen, and I know well the great contribution which Leeds is making to the whole forward and upward thrust of the War.
"We have reached a period in the War when it would be premature to say that we have topped the ridge, but now we see the ridge ahead. We see that perseverance, unflinching, dogged, inexhaustible, tireless, valiant, will surely carry us and our Allies, the great nations of the world, and the unfortunate nations who have been subjugated and enslaved, on to one of the most deep-founded movements of humanity which have ever taken place in our history. We see that they will come to the top of the ridge, and then they will have a chance not only of beating down and subduing those evil forces which have withstood us so long, which have twice let ruin and havoc loose on the world, but they will have that further and grander prospect that beyond the smoke of battle and the confusion of the fight we shall have the chance to settle our countries and the whole world together, moving forward together on the high road. That is the prospect that lies before us if we do not fail. And we shall not fail.
"Here in the thirty-third month of the war none of us is weary of the struggle. None of us is calling for any favours from the enemy. If he plays rough we can play rough too. Whatever we have got to take we will take, and we will give it back in even greater measure.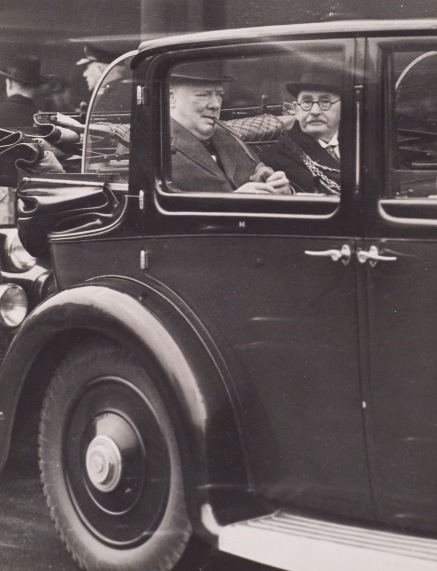 "When we began this war we were a peaceful and unarmed people. We had striven hard for peace. We had even gone into folly over our desire for peace, and the enemy started all primed-up and ready to strike. But now, as the months go by and the great machine keeps turning and the labour becomes skilled and habituated to its task, we are going to be the ones who have the modern scientific tackle. It is not now going to be a fight of brave men against men armed. It is going to be a fight on our side of people who have not only the resolve and the cause, but who also have the weapons.
"We shall go forward together. The road upwards is stony. There are upon our journey dark and dangerous valleys through which we have to make and fight our way. But it is sure and certain that if we persevere – and we shall persevere – we shall come through these dark and dangerous valleys into a sunlight broader and more genial and more lasting than mankind has ever known."
---
Featured Image: Churchill and Lord Mayor of Leeds Hyman Morris.
Text of speech published in The Churchill Documents, volume 17, Testing Times: 1942, (Hillsdale College Press, 2014), pages 676-78.
Churchill Project Articles
Stay In Touch With Us
Subscribe now and receive weekly newsletters with educational materials, new courses, interesting posts, popular books, and much more!