Articles

Khaki Jack: The Royal Naval Division in the First World War — by E.C. Coleman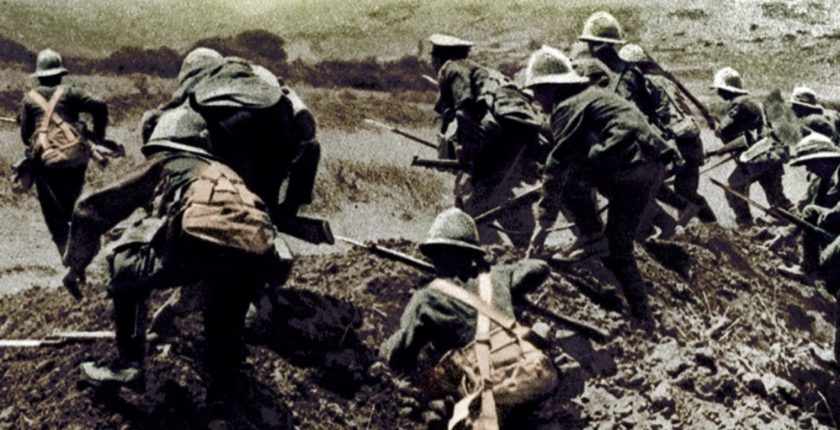 E.C. Coleman, Khaki Jack: The Royal Naval Division in the First World War. Stroud, Glos.: Amberley, 2014, $26.99, e-book $12.99 (approximate prices on Amazon UK; Amazon USA current listings are more expensive).
---
Here is an examination of that brainchild in the fertile mind of Winston Churchill: the Royal Naval Division. Unique in military history, the RND was a hybrid unit of seamen serving as infantry alongside soldiers of the British Army. The title of this well written and lavishly illustrated book is taken from the nickname applied to its personnel early in the war, after one of their officers, Bernard Freyberg, appeared in public with a khaki version of a Royal Navy officer's uniform (14).
Churchill as First Lord of the Admiralty (civilian head of the Navy) created the RND after the outbreak of war in 1914 from a surplus of over 20,000 naval personnel (mostly reservists) formed in two naval brigades and combined with a Royal Marine brigade for land operations to assist the beleaguered British Army.
The naval battalions took their names and inspiration from famous British admirals—Benbow, Collingwood, Hawke, Drake, Howe, Hood, Anson, and Nelson—while the Royal Marines were regulars whose respective battalions were named for their former bases of Chatham, Deal, Plymouth, and Portsmouth.
After its beginning at London's Crystal Palace (built for the Great Exhibition of 1851), the RND training center for most of the war was at Blandford, Dorset. The Division became an innovative force, sometimes mounting men on bicycles or in armored cars. Critics called it "Churchill's private army," but nevertheless it had an exemplary record of war service.
The RND's early battles included the brave but ultimately futile defense of Antwerp in 1914 and the disastrous campaign on the Gallipoli Peninsula against the Turks in 1915, part of the Turkish operations that temporarily obliterated Churchill's political career. Churchill has been heavily criticized both then and now for both operations.
Coleman takes an objective but brief line on these controversies, which he holds less important than the service, bravery, and experience of the men. He says the Antwerp action caused a "furor," with "most of the rage" directed at Churchill, citing criticism from The Times, Morning Post, and Daily Mail while balancing this with support from theDaily News, Star, and Observer. (31). He quotes Prime Minister Asquith's diary remark that the Marines were "splendid," but that Churchill should not have sent raw brigades (32).
The author concludes that the Official History was "more charitable" and that "Churchill, true to character, remained unshaken in his conviction that he was right." This is not quite reflective of WSC's character, since he often admitted he was wrong, notably over his attempt to influence the Dardanelles campaign without plenary powers.
Reconstituted as the 63rd (RN) Division (125) in 1916 more under army control (though the Royal Navy still controlled payroll and promotions), the Division served successfully on the western front against the Germans in several grueling campaigns including later phases of the Somme in 1916, Passchendaele in 1917, and Cambrai in 1918. Demobilized in 1919, it was among the most decorated divisions of the war, suffering over 10,000 killed and 30,000 wounded, commemorated with memorials on the battlefields of France and on Horse Guards Parade in London. The latter was unveiled in 1925 by the Division's founder, Winston Churchill, by then restored to political power.
Though well written, there are many problems with this book, especially the lack of an index, footnotes or endnotes, and its brief bibliography of secondary sources. This makes fact-checking difficult, especially lengthy extracts of contemporary World War I documents (238-39 for example). There is also no real conclusion beyond accounts of the later lives of unit survivors (245-50). And there are errors: dating the first day of the Somme as June rather than July 1916 (121), referring to Turkish officer Mustafa Kemal as "Kemmal" (64), and several typos (56, 71, 231).  While the eighty-seven black and white photographs have good captions, no sources are given, and they are oddly placed, with a mix of group and individual photographs interspersed throughout the text.
Churchill Project Articles
Stay In Touch With Us
Subscribe now and receive weekly newsletters with educational materials, new courses, interesting posts, popular books, and much more!