Articles

Liberty and Taxation: Churchill, George and The People's Rights, Part 2
By

RICHARD M. LANGWORTH

|

March 21, 2019

Category:

Books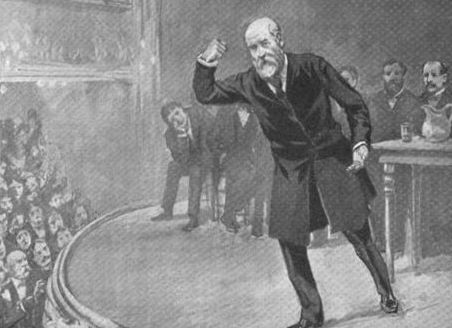 ---
Henry George campaigning for Mayor of New York City, which brought about his final and fatal stroke. 100,000 people visited his bier at Grand Central Palace. (The Illustrated American, November 1897)
---
Continued from Part 1…
Part 2: Why Churchill Abandoned the Theories of Henry George
In "Henry George and The People's Rights" Andrew MacLaren intelligently considered the tax on land, proposed by the American economist Henry George. Winston Churchill as a crusading reformer in the early 1900s endorsed George's proposal. There are still "Georgists," and the great economist Milton Friedman was once taken with George's ideas. Ultimately, though, Friedman decided to abandon them.
Henry George argued that, while people have the right to possess what they produce, or receive in exchange for work, there is no right to private ownership of elements: air, water, sunshine and—the most contentious element—land. It became "a major point of Liberal Party policy," MacLaren wrote, "to shift taxation from production and to raise taxation upon the value of land…The justice and practicality of this proposition can rarely if ever have enjoyed a more brilliant advocate than Winston Churchill." Georgists admire Churchill for a speech in Edinburgh on 17 June 1909. "It is quite true," he said, " that land monopoly is not the only monopoly which exists. But it is by far the greatest of monopolies; it is a perpetual monopoly, and it is the mother of all other forms of monopoly."
Pros and Cons
Such assertions caused outrage in certain circles. Britain in 1909 was master of the largest empire in history, "thrice the size of the Roman Empire at full flush," wrote William Manchester. "One percent of the country's population, some 33,000 people, owned two-thirds of its wealth. And that wealth, before two world wars devoured it, was breathtaking." Advocating Henry George's tax on land caused the wealthy to call Churchill a traitor to his class.
Many progressives celebrated George over the years. William Jennings Bryan wrote that his genius had a "global reading public." Franklin Roosevelt called George "one of the really great thinkers produced by our country." Martin Luther King, Jr. referred to George in support of a guaranteed minimum income. Such praise tends to obscure the fact, as MacLaren wrote, that George hoped to preserve individual liberty by fairer taxation. In the 1880s Karl Marx had condemned George's ideas as leading away from communism. George had retorted that Marx's ideas would lead to dictatorship.
George Reconsidered
As early as the 1890s, the Austrian school economist Eugen von Böhm-Bawerk and British biologist T.H. Huxley had criticized George's conclusions as soon to be irrelevant as industrial activity grew. Churchill also grew doubtful. Over a decade after he advocated George's "single tax," Churchill was Chancellor of the Exchequer, charged with financing increasing State activity. He concluded that the Georgist theory was increasingly obsolete. On 5 June 1928 Churchill explained his views in a speech on trade and rating (taxation) relief. He was advocating a tax on a fairly recent new commodity: gasoline (petrol). From Robert Rhodes James, ed., Winston S. Churchill: His Complete Speeches 1897-1963, 8 vols., V: 4420-21:
* * *
The idea that we could use the rating of site values as a substitute for this powerful, fruitful fiscal engine of the petrol tax is one of the greatest delusions. If we had to enter into a long discussion at present upon site values, that would be the surest way of obstructing all practical creative reform in the direction of the relief of rates [taxes] on industry, and the rest of this Parliament would be spent in very exciting but utterly sterile arguments on the subject of land values, and on the principles which you should apply to their rating or taxation, and we should not make the slightest progress towards the very solid, serious task we have set ourselves to accomplish.
Therefore I do not intend to make more than one general observation upon the question of site values, except to say that it is the best method of stopping the rating relief of industry….
Henry George failed…because he had been studying the world as it had been for generations and centuries, and arrived at certain conclusions on that basis, and the conclusion he arrived at was that land was practically the sole source of all wealth. But almost before the ink was dry on the book he had written, it was apparent that there were hundreds of different ways of creating and possessing and gaining wealth which had either no relation to the ownership of land or an utterly disproportionate or indirect relation.
Defenders and Dissenters
Pro-George Members of Parliament, like Josiah Wedgwood, called Churchill a turncoat. Hadn't he advocated George's ideas in 1909? "I do not in any way belittle the logic or the argument," Churchill replied, but circumstances had changed. In 1909 British income tax and Super-tax were as high as 17 shillings in the pound ($103 out of $124 in today's money). This supported George's claim that income was not the fairest basis of taxation.
But how high after all could it be raised? By 1928, under Churchill, the top income tax rate had been cut in half. Meanwhile the government had not failed to tax land. Since 1909, death duties on the largest estates had risen from 15% to 40%. How much more could they be reasonably be raised? "Very vast changes have taken place," Churchill claimed. It was a "completely changed situation." Among other changes, land and home ownership was more widely distributed than at the turn of the century.
Georgists also disputed Churchill's argument that there were now "hundreds of different ways of creating and possessing and gaining wealth which had either no relation to the ownership of land or an utterly disproportionate or indirect relation." Every activity takes place on land. It is "a freely-provided gift of nature," like water, minerals or solar power, on rural and urban sites. Taxing land for public revenue would, they argued, eliminate the need for taxing production.
Churchill's Conclusion
Churchill in 1928 was urging "rating relief" (tax reduction) to benefit heavily taxed industries. He was searching for fresh sources of revenue which would better spread the mounting tax burden. One of these was a tax on petrol—no doubt one of the new "taxation cases" since George's time. After all, automobiles hadn't existed in 1879, when George published Progress and Poverty. "Where there were 100 [similar] cases twenty years ago there are 10,000 cases now, and that is why radical democracy…has turned unhesitatingly towards the graduated taxation of the profits of wealth rather than to this discrimination in the sources from which it is derived…."
Andrew MacLaren and Churchill admired Henry George for his free thinking. Churchill commendably took the trouble to study and apply George's theories at a time when he thought they would do good. But by the 1920s, as MacLaren explained, George's tax on land values was quite inadequate as the basis of revenue: "Under the cruel heel of war and unemployment, Britons came to value security more and independence less. The emphasis in social advance shifted to the massive provision of public benefits, and the increasing intervention of the State in almost every area of human activity." To say this has continued since 1928 would be an understatement.
In the 1980s, President Reagan shocked some by suggesting that industry really doesn't pay taxes. It just passes them along in the form of higher prices. Another perhaps simplistic observation: General Motors' return on investment is around 5%, Facebook's over 20%, but GM owns far more land than Facebook, and pays far more in land taxes. Churchill's quest for fairer taxation is a good model today.
Further Reading
For more on Churchill's attraction to Henry George and his quest for fairer taxation, see the author's review of Malcolm Hill, Churchill's Radical Decade.
For Churchill's challenge to the threat of socialism, and abiding dedication to constitutionalism, see Larry P. Arnn, Churchill's Trial: Winston Churchill and the Salvation of Free Government.
Churchill Project Articles
Stay In Touch With Us
Subscribe now and receive weekly newsletters with educational materials, new courses, interesting posts, popular books, and much more!