Articles

Great Contemporaries: Eamon de Valera and a Long, Fraught Relationship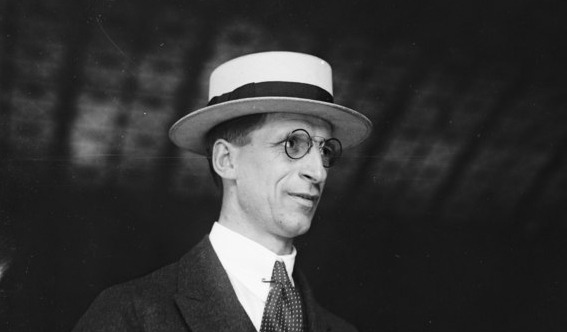 ---
Eamon de Valera was born in New York in 1882, the child of an Irish mother who was in domestic service there. She registered him as the son of a Cuban of Spanish descent called Vivion de Valera whom she said she had married and who had died shortly afterwards. The child was sent back, aged 3, to Ireland to be reared in a farm labourer's cottage by his mother's family. He won a scholarship to a private boarding school called Blackrock College and subsequently took a degree in mathematics before becoming a secondary school teacher.
He opposed the decision of the mainline nationalist party to support Britain in the Great War declared in 1914 and took part in the Easter rebellion of 1916.  In the aftermath of its suppression, he was its most senior officer not to be executed. This led to his becoming leader of the Sinn Fein party, which won most Irish seats in the 1918 General Election and repeated the declaration of an Irish Republic made in 1916.  A guerrilla war broke out between the supporters of the Republic and the Crown forces.
As President of the Irish Republic, de Valera spent eighteen months during 1919 and 1920 in the United States soliciting support.  On arrival, he repudiated reports that he was a Portuguese Jew relying upon his mother, who was still living there, to confirm her account of his background.
He returned to Ireland late in 1920 and negotiated a truce that brought hostilities to a close in July 1921. However, he was not on the delegation that negotiated a Treaty with British ministers, including Churchill, which gave the Irish Free State independence within the Empire. De Valera opposed this settlement and supported the republicans who fought to prevent its implementation.
Ten years later, in 1932, he led his Fianna Fail party to victory in a General Election and, as head of government, set about dismantling the links with the Crown imposed by the Treaty settlement. He had a Constitution enacted by referendum in 1937 that claimed jurisdiction over the part of Ireland that remained in the United Kingdom under the Treaty. He had been active in the League of Nations and served a term as its president  Disillusioned that the League of Nations system of collective security had broken down, he kept Eire (as the Irish Free State was now described) neutral in the Second World War.
He remained Taoiseach, as the Head of Government was now known, until 1948 and for two terms in the 1950s before being elected President of Ireland in 1959. He retired in 1973, and died two years later, aged 92.
"Frolic with the Germans"
On 13 May 1945, Winston Churchill broadcast to the world in the wake of Nazi Germany's surrender. Recounting proudly the heroic tale of Britain's triumph after near defeat, he then turned to Ireland, which had remained neutral. Here he saw fit to stigmatise the conduct of the de Valera government.
Churchill recalled how in 1941 Britain, dependent for food and materiel on convoys from America, was threatened with strangulation. Referencing the refusal de Valera's to make available Irish ports as bases to protect the convoys from attack by hostile aircraft and U-boats he intoned:
This was indeed a deadly moment in our life, and if it had not been for the loyalty and friendship of Northern Ireland we should have been forced to come to close quarters with Mr. de Valera or perish for ever from the earth. However with a restraint and poise with which history will find few parallels His Majesty's government never laid a violent hand upon them though at times it would have been quite easy and quite natural, and we left the de Valera government to frolic with the Germans and later with the Japanese representatives to their heart's content.
* * * 
Churchill then drew back, making it clear that he was not indicting the whole Irish nation. He spoke of the "thousands of Southern Irishmen who hastened to the battlefront to prove their ancient valour." Thinking of them, some who won the Victoria Cross, "bitterness by Britain against the Irish race dies in my heart."
"I can only pray", he concluded, "that in years I shall not see, the shame will be forgotten and the glories will endure and the people of the British Isles and of the British Commonwealth will walk together in mutual comprehension and forgiveness."
Despite these eloquent conciliatory words, the speech struck a raw nerve in Ireland. Even the then pro-British Irish Times opined that Churchill had gone too far.
De Valera responds
Eamon de Valera was then on the back foot, having made a foolhardy call on the German ambassador . to sympathise on the death of Hitler. Now, he seized the opportunity to redeem himself. On Irish neutrality, he knew the vast majority of Irish were on his side.
"He would not fuel the flames of hatred and passion", de Valera began, professing loftily to make allowance for Churchill's statements being made in the first flush of victory. He seized upon Churchill's incautious admission that he would have seized the Irish ports if it had been necessary for Britain's survival. That, de Valera remarked, turned Britain's necessity into a moral code; the rights of others did not count. De Valera then patronised Churchill by commending him for resisting the temptation to violate Irish neutrality, so avoiding "adding another horrid chapter to the blood-stained record of relations between Britain and this country."
Mentioning Churchill's boast that Britain had stood alone early in the war, the Irish leader wondered why he "could not find it in his heart to acknowledge that this small nation had stood alone, not for one year or two, but against aggression for several centuries and not surrendered her soul."
Finally, de Valera justified Irish neutrality by reference to Britain's ongoing occupation of Northern Ireland. This was somewhat disingenuous; while the British had never made a firm offer of Irish unity without the consent of Northern Ireland if de Valera abandoned neutrality, de Valera had refused to promise that a united Ireland would enter the war.
For an Irish audience de Valera's speech was a brilliant piece of rhetoric and was long remembered there as his finest hour, the time he spoke for the whole nation.  It made little impact elsewhere, even in the United States where Irish neutrality was widely resented. The Irish ambassador in Washington reported back that "not one of our old friends in Congress offered to put your speech in the record."
Churchill's long history with Ireland
This spat was the last episode in a long, complex relationship Churchill had with Ireland.. It dated to his early childhood in Dublin, when his father Lord Randolph was secretary to Winston's grandfather, the Duke of Marlborough, then Lord Lieutenant. After Lord Randolph's death, his American widow's friend, the Irish- American William Bourke Cockran was an important influence on the young Winston. Cockran, an Irish nationalist prominent in New York politics, taught Churchill the art of oratory.
Having defected from the Tories to become a Liberal in 1904, Churchill espoused the cause of Irish Home Rule. Ever the optimist, he hoped it would make the nationalist Irish loyal to the Empire. He was part of the government which in 1914 put Home Rule on the statute book— albeit with a proviso that it would not come into effect until the end of the war with Germany, that had just begun.
By the war's end, the Easter rebellion of 1916 in Dublin and the subsequent execution of the leaders had transformed nationalist opinion. Home Rule was no longer enough. In the 1918 General Election Sinn Féin ousted the Home Rule nationalists to win most Irish seats in Parliament. They then re-iterated the declaration of an independent Irish republic made in Easter 1916 and assembled their own parliament. The British government would not countenance this.
From war to peace
As Minister of War, Churchill was among the ministers responsible for the Crown forces putting down the guerrilla war launched from civilian cover by supporters of the republic. He defended reprisals by the Crown forces, including killing and destruction of property which were condemned worldwide, even in Britain. Then, responding to entreaties from his wife Clementine, Churchill reversed course. Now he led the way persuading his cabinet colleagues to negotiate with the Sinn Féin leaders. The result was the Anglo-Irish Treaty, signed on 6 December 1921 that kept an independent Irish Free State within the Empire. It also allowed Northern Ireland to opt to remain part of the United Kingdom.
De Valera, who was President of the Republic, opposed the Treaty settlement, which had been concluded without his approval by the guerrilla leader Michael Collins. Republicans who backed de Valera's opposition threatened armed resistance and occupied military barracks and public buildings. When, in June 1922, those in favour of the Treaty won a majority in a general election, Churchill insisted that Collins and his government should put down the republicans. This precipitated a bitter civil war in which the republicans were defeated. Ever after it was part of their credo to blame Churchill for causing the Civil War.
By contrast, the Free State government developed a warm relationship with Churchill. The assistance he provided enabled them to win the Civil War. They were grateful when in 1925, as Chancellor of the Exchequer, Churchill gave them generous financial assistance to prop up a war-ravaged country.
Churchill and de Valera
Fianna Fáil and de Valera and his followers in the Fianna Fail party he formed in 1927 felt no such gratitude. In government from 1932, they resented Churchill's opposition to their loosening of the links with Crown and Empire, imposed in the 1921 Treaty. Worst of all in their eyes was Churchill's lone opposition in 1938 to Prime Minister Chamberlain's ceding the so-called Treaty Ports retained by Britain in 1921. This agreement made Irish neutrality in the Second World War more possible. While Churchill in government refrained from infringing on neutrality, he disputed its legitimacy and never ceased to resent it. His 1945 remarks were the outpouring of that pent-up resentment.
There are reports that Churchill had regrets about his speech. In The Dream, an account he wrote subsequently of an imaginary conversation with the ghost of his father, he struck a conciliatory note. Of the Irish he said:
No one knows what they are. They are neither in nor out of the Empire. But they are much more friendly to us than they used to be. They have built up a cultured Roman Catholic system in the South. There has been no anarchy or confusion. They are getting more happy and prosperous. The bitter past is fading.
In public, Churchill in 1948 paid tribute to Ireland's "orderly Christian society with a grace and culture of its own, and a flash of sport thrown in, built up in Southern Ireland in spite of many gloomy predictions." He added: "I shall always hope that some day there will be a united Ireland."
Although Churchill still insisted that the consent of Northern Ireland must be obtained for such unity, this sentiment cannot have been music to the ears of Unionists there, whose loyalty and friendship in wartime Churchill had lauded in his victory speech.
Last words
Not a man to bear grudges, Churchill was strangely oblivious to the widespread, albeit not universal, hostility still felt towards him in nationalist Ireland. In 1953 he was threatened with a libel action in Ireland arising out of his memoirs. It was to be brought by Eric Dorman-Smith, an Irish-born general whom he had dismissed during the Desert War. He expressed doubt that "an Irish jury would necessarily be unfair or that they would be prejudiced against me." His legal advisers knew better. They made sure the case was settled before it got to be heard before a jury in Dublin.
When Churchill died in 1965, de Valera, now President of Ireland, lauded him as a great Englishman. He could not omit to add the rider that Churchill had been a "dangerous enemy" of the Irish people.
The two had met only once. At a genial lunch at 10 Downing Street in 1953, reminiscence not recrimination was the order of the day. The next day Churchill told his physician Lord Moran how much he enjoyed it, adding: "I like the man."
Sadly, as with his affection for nationalist Ireland itself, his feelings were not quite reciprocated.
The author
Charles Lysaght is an Irish lawyer, columnist, and a prominent writer of obituaries for British and Irish newspapers. His book, Brendan Bracken, published in 1979, remains the definitive biography of the man who was Churchill's closest and most loyal friend in politics and minister of information during the Second World War.. The book is now out of print and expensive to buy. It should be reprinted.
Churchill Project Articles
Stay In Touch With Us
Subscribe now and receive weekly newsletters with educational materials, new courses, interesting posts, popular books, and much more!