Articles

Great Contemporaries: Sir Ernest Cassel: "A Few More Years of Sunshine"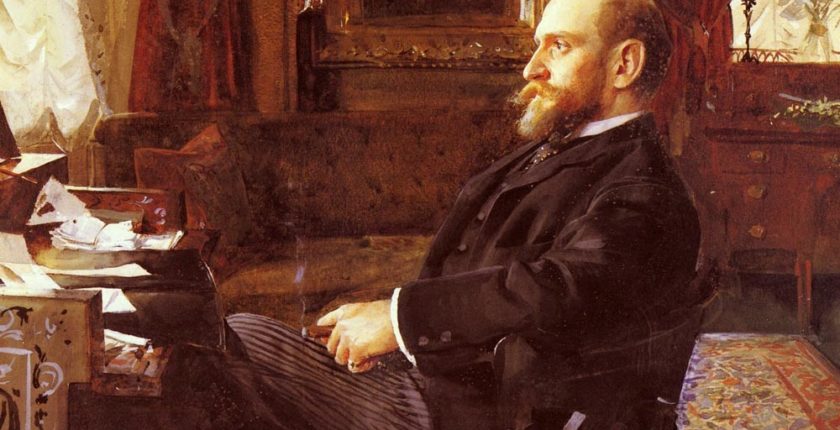 Sir Ernest Cassel GCB GCMG GCVO, PC, 3 March 1852-21 September 1921. (Painting by Anders Zorn, Wikimedia Commons, public domain)
---
"Your Jewish friends"
When it came to defying contemporary prejudices, Winston Churchill took the same approach as his father. Lord Randolph Churchill was frequently jibed for his association with Jews. Once in an English country house a leading aristocrat greeted him: "What, Lord Randolph, you've not brought your Jewish friends?" "No," said Randolph, "I did not think they would be very amused by the company."1
The Churchills, father and son, had close friendships with prominent, talented Jews. One was Nathaniel Mayer "Natty" Rothschild, First Baron Rothschild, head of the British branch of the famous banking family. He was the first Jewish  member of the House of Lords. Another was Sir Ernest Joseph Cassel, also of Jewish origin, though he became a Catholic in 1880. A renowned merchant banker and financier, Sir Ernest was young Winston's mentor, financial consultant and lifelong friend.
Empire Building
Ernest Joseph Cassel was born on 3 March 1852 in Cologne, Prussia. He was the son of Amalia (née Rosenheim) and Jacob Cassel, who owned a small bank. The Cassels were an Ashkenazi Jewish family. Ernest began to work at age 16 as a clerk in the Elspacher banking firm. A year later he left Germany and arrived penniless in Liverpool, England. After starting with a firm of grain merchants he then joined the London merchant banking firm Bischoffsheim and Goldschmidt. He achieved distinction managing the firm's affairs in Sweden, Turkey and Latin America.
In 1878, Cassel married Annette Mary Maud Maxwell at Westminster and became a naturalized British citizen. She persuaded him to become a Catholic, though he never lived down anti-Semitic prejudices. In 1884, he started his own business, becoming an international banking figure and financier. Through astute investments in railways, mining, and government loans he was soon one of the world's richest men.
"The Windsor-Cassels"
Baron Maurice de Hirsch, the Prince of Wales's financial adviser, introduced Cassel to the future King Edward VII in the 1890s. The King was a witness at the wedding of Cassel's daughter Maud to Wilfrid Ashley in 1901. Sadly, Maud died of tuberculosis, aged only 30 in 1911, leaving Cassel two adored granddaughters, Mary and Edwina. The King was godfather to Edwina, who became the last Vicereine of India as wife of the Earl Mountbatten.
Cassel bore a close resemblance to the King, David Stafford wrote, "with his portly figure, heavy beard, and penchant for double-breasted suits." The two of them "were sometimes mocked as the 'Windsor-Cassels.'" 2 In 1899, after helping establish the National Bank of Egypt, Cassel was appointed a Knight Commander of the Order of St. Michael and St George (KCMG). In 1901, he became a Knight Commander of the Royal Victorian Order (KCVO). A year later Cassel was sworn a member of the Privy Council. Although he was long naturalized, anti-German sentiments led to an unsuccessful attempt to remove him.
"Feed my sheep" 
In September 1892, Lord Randolph wrote his mother Frances, Duchess of Marlborough about Winston's difficulty entering the Army. "I don't think Winston did particularly well in the army examination…. His next try is on Nov 24th. If he fails again I shall think about putting him in business. I could get him something very good either through Natty [Lord Rothschild] or Horace [Sir Horace Farquhar] or Cassell [sic]." 3
After Lord Randolph died in 1895, wrote Martin Gilbert, "his father's Jewish friends continued their friendship with the son. Lord Rothschild, Sir Ernest Cassel and Baron de Hirsch frequently invited him to their houses." 4 Cassel generously offered to look after young Winston's finances. He also took on Winston's brother Jack as a personal assistant. Jack accompanied Cassel on extensive business trips including Egypt. Later, Jack entered the world of finance as a stockbroker.
In 1899, Winston prepared to go to South Africa as a war correspondent. Always short of money, he needed funds for his kit and provisions. Lord Rothschild gave him £150, Cassel £100. In today's money, the sum was equal to the annual income of a typical middle-class family.
Returning from South Africa, Churchill conducted lectures about the war, in England and North America. With his eye on Parliament, he was hoping to earn adequate money. The lectures were successful and Churchill earned £10,000. This he turned over to Cassel, saying, "feed my sheep." In 1902, during Churchill's second year in Parliament Cassel secured him a £10,000 stake in a Japanese government loan. Churchill wrote his brother Jack, "I hope to make a small profit." 5
A Growing Association
In 1905, Cassel furnished a library for Winston's first bachelor flat, 105 Mount Street, near the eastern edge of Hyde Park. Then Churchill moved to 12 Bolton Street, later to be his first married home. Cassel furnished the sitting room. During Churchill's summer holiday in 1906, Cassel hosted Churchill at his palatial Villa Cassel in the Swiss Alps.
"Cassel's help to Churchill was continuous," Gilbert wrote. 6 In 1907, Cassel bought him bonds in the Atchison, Topeka and Santa Fe Railroad. It provided Churchill with the salary for his typist twice over. The following year, when Churchill married Clementine Hozier, Cassel gave them a wedding present of £500. This would be £25,000 today's money.
Cassel's overseas interests were broad. He financed such foreign governments as China, Morocco, and Latin American countries. He consolidated Vickers-Armstrong, Britain's leading arms manufacturer. His interests extended to railroad construction and, with his Egyptian involvement, construction of the first Aswan Dam. He was made a Baronet for his services to Egypt. The Aswan Low Dam, or Old Aswan Dam, was built of masonry and held in place by gravity. The first dam across the Nile, it was built by the British between 1899 and 1902. Capital and financing were furnished by Cassel, who invited Churchill to the Dam's opening.
Sir Ernest Cassel retired from business in 1910. His philanthropic gifts included £500,000 for education, £225,000 for a hospital for nervous diseases, and £50,000 to King Edward's Hospital Fund in memory of his daughter Maud. In memory of his friend Edward VII, he also built and endowed an Anglo-German Institute. During the First World War he made large donations to the British Red Cross.
A friend indeed
In 1914, before the outbreak of World War I, Churchill, now the First Lord of the Admiralty, tried to slow the naval arms race with Germany. Cassel, authorized by Churchill and Lloyd George, visited the Kaiser on a secret mission to pursue the arrangement. Unfortunately the proposal was rejected, and a chance for peace thwarted.
In July 1919, while looking for a London home, Churchill rashly made an offer on an early Victorian house overlooking Hyde Park. Alas he failed to commission a survey. Learning that the house required wide-ranging and expensive repairs, he attempted to withdraw from the contract. A nasty legal quarrel ensured. Churchill was saved by Cassel, who purchased the lease, claiming that Churchill had acquired the property on his behalf.
"I feel poorer becos' he is gone"
Nineteen twenty-one proved a sad year for the Churchills. In the space of a few months, they lost Clementine's brother, Winston's mother, and their youngest daughter Marigold, not yet three years old. Then on 21 September 1921, Sir Ernest Cassel died of a heart attack at his home, Brook House, Park Lane. Churchill was in Scotland when he received the news, from Clementine, who wrote to him the next day:
I was startled this morning to hear about Sir Ernest. His Secretary rang me up early this morning & told me, and asked me to let you know. I have been through so much lately that I thought I had little feeling left, but I wept for our dear old friend; he was a feature in our lives and he cared deeply for you…. I went around to Brook House this afternoon & took some flowers from us both. They took me up to his great empty bed-room – There he lay, already in his coffin – he looked serene & as tho' only lightly asleep – I feel the poorer becos' he is gone – He was a true & loyal friend & a good man. 7
Clementine could not help but reflect again on their greatest loss: "I took the children on Sunday to Marigold's grave and as we knelt around it…. a little white butterfly…fluttered down & settled on the flowers which we are now growing on it – We took some little bunches. The children were very silent all the way home." 8
"He hoped [to] see me at the head of affairs"
In researching the official biography, Martin Gilbert contacted Lord Mountbatten, whose wife Edwina was Cassel's granddaughter. Gilbert asked to see any of her grandfather's papers involving Churchill. Mountbatten sent him a thick file. "In it was another of those exciting discoveries," Gilbert wrote, "a letter of which Churchill kept no copy, written to Edwina after her grandfather's death in 1921." 9 "This year has been very grievous to me," Churchill wrote the 21-year-old Edwina:
I had the knowledge that [your grandfather] was very fond of me & believed in me at all times – especially in bad times. I had a real & deep affection for him….saw with sadness that he was approaching the end of his mortal span. The last talk we had – about six weeks ago – he told me that he hoped he would live to see me at the head of affairs. I could see how great his interest was in my doings and fortunes. I did hope he would live to see a few more years of sunshine." 10
Post-mortem eruption
In 1924 Churchill filed a libel suit against Lord Alfred Douglas, the brilliant lecturer and poet. Lord Alfred was the son of the Marquess of Queensberry, known for his celebrated rules of boxing. A converted Catholic, Douglas was still notorious for his scandalous 1890s affair with Oscar Wilde. Beginning in 1920, Martin Gilbert wrote, he began denouncing Churchill all over England:
Douglas claimed that Churchill had been in the pay and pocket of Sir Ernest Cassel. After the Battle of Jutland in 1916, Churchill had concocted an incredible plot. The Government would announce a naval defeat (which indeed it did). British stocks would collapse on the New York stock market (which indeed they did). And Winston Churchill, centrepiece of this swindle, would then issue a statement (as indeed he did) saying, in effect: Well, you know, it wasn't such a defeat; our fleet is still on the seas and has a good chance of beating the German navy next time. (His statement was issued at request of the Government for the sake of public morale.)
[Immediately] stocks went up in New York and several hundreds of millions were made by speculators. Lord Alfred Douglas claimed it was Churchill who had mastered this whole financial episode, which he portrayed as a deliberate swindle. He pointed to Bolton Street [where] Cassel had provided furniture. So there, it was surely clear for all to see, these two were obviously fellow-conspirators. 11
Churchill testified that Cassel furnished his Bolton Street living room ten years before Jutland. Contrary to Douglas's accusations, he did not spend the weekend before Jutland plotting with Cassel. He naturally referred Cassel to the accusations when they appeared. Cassel was already ill, Churchill said, but he "immediately offered to come forward and join in any prosecution." Lord Alfred was found guilty and sentenced to six months in prison.
"Time Ends All Things"
There is a happy sequel to this story. By 1941, Prime Minister Churchill had led his country through its most perilous year in its history. Lord Alfred's nephew Francis, the new Marquess of Queensberry, convinced him to write a poem in Churchill's honor:
Not that of old I loved you over-much
Or followed your quick changes with great glee
While through rough paths or harsh hostility
You fought your way, using a sword and crutch
To serve occasion. Yours it was to clutch
And lose again. Lacking the charity
Which looks behind the mask, I did not see
The immanent shadow of the "Winston Touch."
Axe for embedded evil's cancerous roots,
When all the world was one vast funeral pyre,
Like genie smoke you rose, a giant form
Clothed with the Addisonian attributes
Of God-directed angel. Like your sire
You that rode the whirlwind and out-stormed the storm.12
Queensberry sent a copy to Churchill, whose reply reflected his characteristic magnanimity.
"Thank you very much for the sonnet you sent me which I shall keep and value. Tell him [Lord Alfred] from me that 'Time Ends All things."' 13
"A good and just man"
Of course Churchill's libel action also cleared Cassel, his alleged co-conspirator. When Sir Ernest died Churchill had written his granddaughter Edwina (later Lady Mountbatten): "Your grandfather was a great man & he made a mark on his generation & on the world that will last long. He was also a good & just man who was trusted[,] respected [and] honoured by all who knew him."
For Churchill, Ernest Cassel was more than just a mentor and advisor, but a trusted friend. Their relationship was also a bond to what Churchill called "the heyday and the old brilliant world." Whatever the young man's ups and downs, Ernest Cassel had always been there. Churchill never forgot him. 
Endnotes
1 Randolph S. Churchill to Martin Gilbert, in Martin Gilbert, Churchill and the Jews: A Lifelong Friendship (New York: Henry Holt, 2007), 1.
2 David Stafford, Oblivion or Glory: 1921 and the Making of Winston Churchill (New Haven: Yale University Press, 2019), 4.
3 Randolph S. Churchill, The Churchill Documents, Volume 2, Youth 1874-1896 (Hillsdale, Mich.: Hillsdale College Press, 2006), 338.
4 Gilbert, Churchill and the Jews, 4, 14.
5 Ibid, 5.
6 Ibid.
7 Mary Soames, ed., Winston and Clementine: The Personal Letters of the Churchills (Boston: Houghton Mifflin Company, 1999), 242.
8 Ibid.
9 Martin Gilbert, In Search of Churchill: A Historian's Journey (New York: John Wiley & Sons., 1994) 291.
10 Ibid.
11 Martin Gilbert, Churchill's London: Spinning Top of Memories," speech to the First Churchill Tour, London, 1985, Richard M. Langworth, ed. (Hopkinton, N.H.: Churchill Literary Foundation, 1987), passim.
12 Daily Mail, London, 4 July 1941.
13 Michael C. McMenamin, "Winston Churchill and the Litigious Lord," Litigation, November 1994 (American Bar Association).
The author
Mr. Glueckstein, of Kings Park, New York, travels widely in search of Churchill.
Churchill Project Articles
Stay In Touch With Us
Subscribe now and receive weekly newsletters with educational materials, new courses, interesting posts, popular books, and much more!