Articles

Great Contemporaries: Bring Back Jacky Fisher! Part 3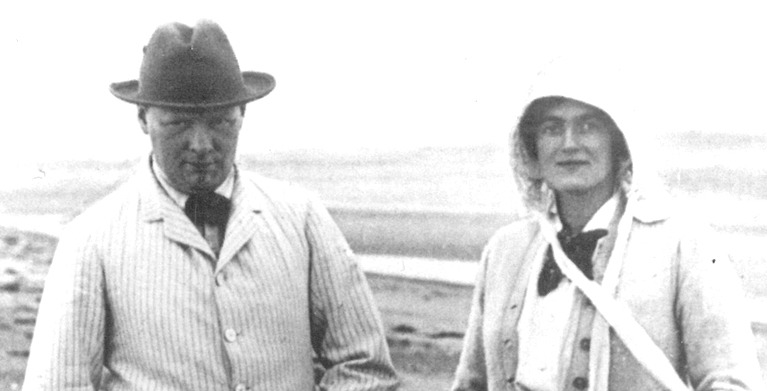 ---
Featured Image: Often when he made mistakes, Churchill found that he had ignored his wife's advice.
WSC with Clementine at Overstrand, Norfolk, 1914. (Mary Soames)
Continued from Part 2
The Aftermath
Fisher had prepared a written statement for the 8 March 1916 War Council, fearing his views might be misrepresented. Although Balfour had the better of him there, he typically thought well of his performance: "I had a splendid time at the War Council (and lost temper!) and they were quite glad to see me leave the room!"
Maurice Hankey said Fisher had merely repeated what Churchill said in the Commons and impressed no one. An exception was General Sir William Robertson, Chief of the Imperial General Staff who wanted to consult Fisher further. Robertson believed the present Admiralty would never accomplish anything. Asquith told newspaperman C.P. Scott that Fisher was "a constructor, very fertile and ingenious," but "not a strategist." Fisher had "what the Americans call 'hustle'," but so did other officers. Nonetheless, Fisher was clearly the most remarkable and volatile admiral of his time.
While the War Council deliberated, a strange tableau played out in Whitehall. On 9 March The Times reported: "[The street] was lined with sandwich men, who bore appeals for the return of 'Jack.' About a score of men walked to and fro between Trafalgar Square and the Houses of Parliament. Quotations from both Conservative and Liberal organs calling for the return of Fisher formed the main object of the display. However, no indication disclosed the source from which the placards emanated. For a few moments the procession halted in front of Admiralty House."
Fisher at large
Like Churchill, Fisher yearned for a return to influence. To Scott he wrote: "McKenna [Chancellor of the Exchequer, Churchill's predecessor as First Lord of the Admiralty] told me … (THIS IS MOST SECRET!) that if Winston remained he would turn out the Government. Dead. Sure. SO HE WILL!!!" Fisher also played to Churchill's vanity. He begged Churchill to resign his army commission and stay in London, to extend the fight over army estimates:
I've slept over it! I've thought of nothing else! If any specious twaddle about honour or Asquithian jugglery persuades you not to rise from the corner of the Front Opposition Bench next Tuesday to brand the Government with the massacre of our troops and the utter ineptitude of the conduct of the war then I say that YOU become the 'Murderer' because you are the one and only man who it is absolutely certain can prevent it and can voice the removal of [Secretary of State for War] Kitchener … VIA THE ARMY ESTIMATES YOU CAN DO IT!
Hoping to get Fisher onside, Prime Minister Asquith  invited him to a meeting of the Committee of Imperial Defence on 15 March. Fisher criticized Admiralty policy, arguing that the Grand Fleet was perilously short of destroyers. The light battle-cruisers Glorious and Courageous were taking too long to complete. He had been fed information by Admiral Jellicoe, who complained about the slowness of construction and his shortage of smaller vessels. Fisher also sent Asquith and Balfour letters charging the naval administration with incompetence. His efforts proved ineffective. By the end of March, fed up with the political situation, he went into seclusion at the Duchess of Hamilton's country estate in Sussex. He compared himself to Elijah "when he went that day's journey into the wilderness and came and sat down under a juniper tree and said, 'It is enough! Take away my life!'"
Locked in a curious destiny
But Jacky Fisher was not finished. He was restless, an agitator. His dismay over the conduct of the naval war brought him closer to Churchill, and soon the two were on favourable terms, locked in a curious destiny. The press baron George Riddell wrote: "Fisher, the Duchess, and Winston are now bosom friends."
Churchill returned to France and the trenches, but warned Asquith he would resign his army commission. His failure to influence the naval affairs only strengthened his resolve. Again his wife Clementine counselled against a premature return to England. He should bide his time for the right moment, she wrote, lest he blemish his reputation further: "'Wait wait have patience, don't pluck the fruit before it is ripe. Everything will come to you if you don't snatch at it.' To be great one's actions must be able to be understood by simple people. Your motive for going to the Front was easy to understand. Your motive for coming back requires explanation."
Again Churchill would ignore her advice. A strange turn of events provided opportunity. When his battalion was amalgamated with the 7th Battalion Royal Scots Fusiliers, Churchill found himself made redundant. On 7 May, after six months on the Western Front, he was back in London to stay. Upon return in one of his first speeches, on 17 May, Churchill defended his conduct of the Admiralty with respect to aerial defence and aeroplane production. He also said the newly formed Air Board, under Lord Curzon, was unable to cope with the problems of the new air service. Instead, he recommended the formation of an Air Ministry with powers equivalent to the other Services. Here was the kernel of what would become the Royal Air Force.
Churchill's turnabout on Admiral Fisher, and his defense of his own actions, were undermined by his lack of parliamentary support. In early 1916 the Asquith government could easily afford contemptuously to dismiss him. Only Lloyd George received his criticisms in a friendly manner, and this would prove propitious. In the political crisis of December 1916, Lloyd George would replace Asquith as head of the Coalition government. Scarcely three years later, the "escaped scapegoat" would find himself Secretary of State for Air.
For the moment, however, Churchill was still in the political wilderness. The shadow of the Dardanelles still hung over him, and would influence his actions in another world war, still to come.
About the Author
Dr. Gough is Archives Fellow, Churchill College, Cambridge, and winner of the Mountbatten Literary Award for Pax Britannica, his study of British sea power and empire. He lives in Victoria, BC, Canada. This article is based on his new book, Churchill and Fisher: Titans at the Admiralty Fighting the First World War.
Churchill Project Articles
Stay In Touch With Us
Subscribe now and receive weekly newsletters with educational materials, new courses, interesting posts, popular books, and much more!