Articles

Great Contemporaries: Bernard Baruch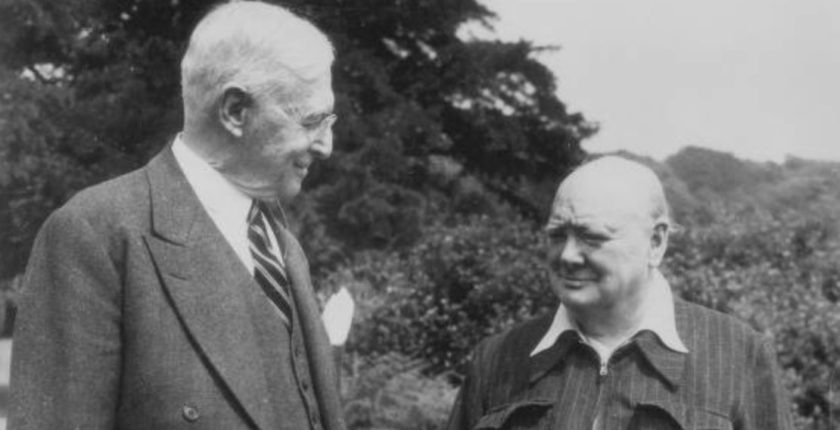 Bernard Mannes Baruch was born in South Carolina on 19 August 1870, the son of a former Confederate Army surgeon. He embarked on his Wall Street career in 1891 when he joined the stock brokerage firm of A.A. Housman. Here he pulled off his "first financial coup," gambling on the stock of American Sugar Refining, earning $60,000 (over $1.5 million in today's money). In 1903, Baruch, who stood six feet five with thick white hair, bought a seat on the New York Stock Exchange and opened his own office at 111 Broadway. Heavy investment in the Texas sulphur industry proved one of his most profitable ventures. Although he occasionally took heavy losses, Baruch made a fortune speculating—and made it, as was said, "with awesome ease." Baruch himself admitted that he used certain practices which became illegal after 1934.
In 1912 Baruch became a supporter and financial backer of Woodrow Wilson, the Governor of New Jersey who would be elected president later that year. Under Wilson, Baruch began his long career of public service. In April 1917, after the United States had entered the First World War, Wilson appointed Baruch to the War Industries Board, charged with directing the allocation of civilian and military war supplies. The next year he was appointed chairman of the board and dubbed by the public the "czar of American industry."
At the War Industries Board, Baruch corresponded with Churchill, then serving as Minister of Munitions in the government of Prime Minister David Lloyd George. Much later Churchill noted that he and Baruch had "made friends over a long period of official cables, and have preserved these relations through the lengthening years of peace." They did not meet for the first time until after the Armistice in 1918.
First Meetings – Baruch and Churchill
Having been appointed to the U.S. delegation, Baruch attended the Paris Peace Conference as an economic advisor to the president. During the conference Lloyd George introduced Baruch and Churchill, who quickly became friends. Comfortable and compatible in each other's company, they exchanged more than 750 letters and met often over the next nearly half-century.
Churchill always called his friend "Barney." On one of Baruch's early visits to Chartwell, they were entering the dining room when precocious young Randolph Churchill switched on the gramophone. On it was a recording of the popular 1923 hit march, Barney Google, with the Goo-goo-googely Eyes. Randolph's cousin Johnny recalled: "My uncle was so angry at this cheeky allusion to his honoured guest's name that he snatched the record from the turntable and dashed it to the floor. We were severely reprimanded." Thus Baruch was introduced to the boisterous Churchill clan.
In the 1920s Baruch was both an official and unofficial economic advisor to American presidents, Republican and Democrat. A "political kingmaker," he contributed to presidential and senatorial election campaigns. Traveling to Europe every summer, he usually spent a few days in England with Churchill. His friend found no occasion to visit the United States until 1929, when, out of office, Churchill and his brother planned a visit to North America with their sons—Winston's first in nearly thirty years.
In making arrangements, Churchill sought the help of Baruch, writing: "I shall greatly like to travel under your aegis and with your companionship." The enthusiastic Barney arranged for local hosts in Los Angeles and other cities, found an expert to escort Winston over the Civil War battlefields of Virginia, provided an introduction to the newspaper magnate William Randolph Hearst, and contacted leading Republican and Democrat politicians about Churchill's visit to Washington, D.C. As Churchill and his party headed east from California, Baruch met them in Chicago and escorted them to New York aboard the financier's private railroad car.
On the train, Baruch told his guests how he had made his first fortune at the age of 26, a story Churchill always enjoyed retelling. He never traded on the Jewish high holy days, Baruch said. He had been speculating on a certain copper company, but just as the effort reached a critical moment, Yom Kippur loomed, and Baruch received a message from his mother: "I hope you will observe the Day of Atonement." He complied, avoiding his office the following day and instructing his staff not to contact him.
"But Jehovah did not betray his servant!" Churchill exclaimed, anticipating the rest of Barney's story.
"No sir," smiled Baruch. "The stock broke forty points. Of course if I'd been there we'd have taken our profits after ten points. As it was, all I had to do the following morning was to get down there and take the shirts off their backs. I found myself at the age of twenty-six, having made $700,000 in a day."
Black Tuesday
Upon reaching New York in October 1929, Churchill and his party stayed at the Savoy Plaza Hotel, where Baruch picked up the tab, and used an office in the Equitable Building that Baruch made available. Churchill continued his ill-fated speculating in the stock market. Encouraged by Baruch's example, as well as by his confidence, Churchill invested freely, only to lose a small fortune when the market crashed on Tuesday 29 October. Churchill's losses of more than $75,000 (about $1 million today) would have been greater were it not for his friend. As the scholar David Lough explained, Baruch felt some blame for Churchill's misfortune and paid his friend $7200 to compensate for losses incurred using Baruch's brokers. (Baruch himself was still able to report an income of almost $2 million for 1929.)
Despite the beating he had taken, Churchill continued to play the stock market and sought Baruch's advice on investments. The advice was generally good—as when in 1932 the American told him to sell out when stock prices were "just below top." The following year Baruch told Churchill to get into the currency market, where he made a nice profit. Later Baruch suggested investing in the stock of Brooklyn Manhattan Transit, which also paid a nice return.
In 1930 Churchill returned Baruch's hospitality by hosting him at Chartwell. Together they viewed Royal Navy battleships at Plymouth and visited Blenheim Palace, Salisbury Plain and Oxford. Churchill also introduced Baruch to all of his "pals." The following year, on a lecture tour, Churchill was struck down and nearly killed by a car while trying to find Baruch's house on Fifth Avenue in New York City. His lectures were postponed as he recovered from the accident. After Churchill had recommenced his arduous schedule, Baruch made available Hobcaw Barony, his 23,000-acre plantation, for a weekend of relaxation in South Carolina.
"Inspiration and Pleasure"
Churchill respected Baruch's financial acumen and once told him he wished "they would let you run the economics and me the politics." However, he did not always accept the American's counsel on other matters. John Colville, Churchill's private secretary, recalled that during the Second World War, Baruch would write the prime minister "long and rambling letters" that Churchill had no time to read. They would sit unread for weeks until a busy Churchill would dictate a hasty "appreciative" reply. Nevertheless, Baruch was sent to England in 1945 by President Harry Truman, who told the financier that "the only man who can talk to [Churchill] is you." Baruch received "a rapturous welcome" from his English friend.
After the war Baruch became Churchill's regular host on most of his visits to the United States, often at Baruch's home on 4 East 66th Street; while Baruch paid calls on Churchill when he was in England. Their last meeting was in April 1961, when Sir Winston arrived in New York aboard the Onassis yacht Christina after a Caribbean cruise. They dined together, and Barney accompanied his friend to the airport for his flight to London. Baruch died six months after Churchill, on 20 June 1965. Their long friendship, Baruch remarked, was "a source of inspiration and pleasure" which had "grown more rewarding with each passing year."
Featured Image: A widely publicized 1949 photo of Baruch and Churchill at Chartwell. The photo is inscribed to Baruch's daughter: "To Belle, from Chick, B.M. Baruch, 1949." (Belle Baruch Collection, Georgetown County Digital Library).
---
Bradley Tolppanen is a professor at Booth Library, Eastern Illinois University and is the author of Churchill in North America, 1929: A Three Month Tour of Canada and the United States. He maintains a blog on Winston Churchill at: winstonchurchillblog.wordpress.com.
Further reading:
Jordan Schwarz, The Speculator, Bernard M. Baruch in Washington, 1917-1965 (1981).
James Grant, Bernard M. Baruch: The Adventures of a Wall Street Legend (1983, 2012).
David Lough, No More Champagne: Churchill and His Money (2015).
Churchill Project Articles
Stay In Touch With Us
Subscribe now and receive weekly newsletters with educational materials, new courses, interesting posts, popular books, and much more!