Articles

The Folly of German Reparations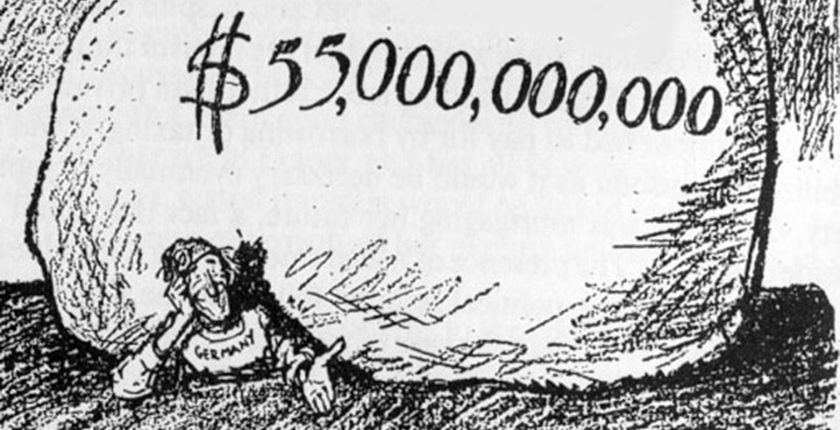 After the allied victory in World War I, many in Britain began to demand that Germany foot the bill for the war. James K. Foggie, a leading Liberal in Churchill's constituency, made a common appeal for German reparations in a November 21, 1918 letter to Churchill: "Germany must pay this country & the other allied Nations all expenses caused by the War. Germany started the War, & has been defeated, therefore it stands to reason she must pay."1
Churchill refused to take this stance. He replied to Foggie that even if Germany could be made to pay the cost, the method of payment was not clear. What would she pay with? Churchill saw only three options: gold and securities, forced labor, and goods. The first "could only be a drop in the bucket." The second was nearly as undesirable to the British as to the Germans. The only real choice, payment in goods, presents many further problems. Would the influx of German goods undermine business and trade in Britain? How much could physically be demanded before the Germans began to starve? To all these considerations, Churchill adds that the full expenses of the war "have been calculated at £40,000,000,000."2
Despite the unpopularity of this moderate advice, Churchill continued to attempt to convince his constituents and friends of its wisdom. Not only would Germany be physically unable to pay, trying to make her would harm all of Europe, including Britain. Not only were there insurmountable problems in the method of payment, there were also significant political difficulties. In a November 18 speech, he had described the political complexities involved in collecting repayment:
What reparation can she make? How can she make it? Whom are we to deal with in Germany? Will those we should deal with this month be in power next month? Will the next Government be bound by any obligations contracted by this one? What will the next Government be? Will it be a Bolshevist anarchy completing the Ruin of the Germany nation, or will it be a military government crouching for a spring at the Rhine?3
Given both sets of considerations, Churchill's conclusion is sound. Germany would be unable to pay, regardless of British demands. He explained his conclusion in a speech to the Dundee Liberal Association. "I cordially sympathise with those who say 'Make them pay the expenses of the war'. If the Allies have not claimed this it is for one reason only. It is not physically possible for them to do so." The state of affairs in Germany was already dire. There was "a population already famishing and a government in revolution." If people wanted Germany punished for her aggression, the natural consequences of war would be her punishment, and it would not be an easy burden to bear. "People call for the punishment of Germany and are afraid that she will get off lightly. They need not alarm themselves. That punishment will be terrible beyond all previous record."4
Demanding that Germany repay all expenses would serve no purpose but "reducing for an indefinite period the mass of the working class population of Germany to a condition of sweated labour and servitude."5 Churchill was not only concerned for the people of Germany, but primarily for Britain. He believed that "a permanently ruined Germany means a permanently impoverished Britain."6
Unfortunately, all these details do not make a catchy political slogan like "Make Germany Pay!" Nor is dealing with the complex problem easy. Britain must know not only the complexities, but also the right goal at which to aim and must possess the wisdom to craft a solution. Britain needed to influence Germany to have a stable government. Then Germany could pay some of its debt but would not be strong enough to start another war. "Such a problem" Churchill said "will tax to the utmost limits all the resources of wisdom, of virtue and of statecraft which the victorious Powers command."7
As is often the case, the soundbite won out over reasonable statesmanship. Germany was forced to repay. Because she was unable to pay, as Churchill had warned, she borrowed money from the United States. Germany then paid this money to Britain and Britain in turn used the money to pay her own war debt to the United States. This, of course, was not a permanent solution as Germany incurred more debt with each loan from the United States. This growing financial obligation not only fostered resentment in Germany, but also contributed to the instability of her currency. Demanding full repayment did not lead to Britain's good, but instead contributed to a "military government crouching for a spring at the Rhine."
---
1 Martin Gilbert, Winston S. Churchill, vol. IV: World in Torment, 1916-1922 (New York: Rosetta Books, 2015), 168.
2 Martin Gilbert, ed., Churchill Documents, vol. 8: War and Aftermath: December 1916 – June 1919 (Hillsdale College Press, 2008), 423-24.
Cost for the war adjusted for inflation would be between 2 and 3 trillion dollars.
3 Gilbert, Winston S. Churchill, vol. IV, 168.
4 Ibid., 171.
5 Gilbert, Documents, vol. 8, 432.
6 Ibid., 418.
7 Ibid., 420.
Churchill Project Articles
Stay In Touch With Us
Subscribe now and receive weekly newsletters with educational materials, new courses, interesting posts, popular books, and much more!