Articles

Where France Stood in Churchill's Geopolitical Landscape (II)
---
Part II: France as an Ally
By the 20th century, European geopolitics had altered substantially. France was no longer Great Britain's enemy. Napoleon III's loss of the Franco-Prussian War of 1870-71 had ruined the reputation of French monarchism for good, and the Third Republic would provide unimpressive but unthreatening government for the next seven decades. Meanwhile, the British regime had liberalized and democratized, with three major Reform Acts extending the franchise to the majority of the male population. The two regimes had become compatible.
Both were militarily worthy allies, as well. The Royal Navy continued to rule the waves. For its part, the French army was far from incapable of defending the Republic; after all, France was the location of the Western Front in the Great War, and that front held against superior German forces. Those who sneer at the supposed loss of French military power and valor in the first half of the new century overlook that. Churchill never did. He knew France provided a nearly indispensable buffer against the ambitions of Germany and, later, Russia.
Association of Interests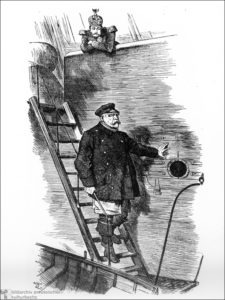 In other ways, European geopolitics also stayed the same. Another potential continental tyrant had arisen: united Germany, substantially outweighing France in population and in military-industrial capacity. The Prussian aristocrat, Otto von Bismarck, a master of diplomacy and the mastermind of German unification, hoped to moderate French rancor at its defeat in the war by taking Alsace but refusing Lorraine. But the calmer head did not prevail. With both provinces in hand, Bismarck "knew the quarrel with France was irreconcilable except at a price which Germany would never consent to pay," and built German alliances around "that central fact." Prudently enough, his policy "always included the principle of good relations with Great Britain." If the German military with its territorial ambitions insisted on making a permanent enemy of the French, at least Bismarck could work to isolate that enemy diplomatically.1
In 1890, a new generation of German rulers pushed the old man out. Supposing his moderation uselessly retrograde, the German military attempted to rival Britain for dominance of the seas. Unlike the republican regimes, the oligarchic German regime could plan for aggressive war without political consequence, and it did.
This pushed Britain and France closer together, as France partnered with its old rival and with Russia, enacting what we now call a "containment" strategy against its menacing neighbor. For their part, the Germans allied with Austria-Hungary—Austria having been the one German state from that federation. The balance of power held as long as Europe retained its moral consensus as a predominantly Christian civilization, animated by peaceful sentiments; but already Christianity's long, melancholy withdrawal had exposed hard nationalist reefs. Added to the formidable new military technologies and the social democratization of modern life—permitting mass mobilization of armies not seen since the Napoleonic era—nationalist passions "enable[d] enterprises of slaughter to be planned and executed upon a scale, with a perseverance never before imagined."2
World War I Allies
By 1912, Great Britain and France had formalized a defensive naval alliance, the British tasked with guarding the Channel and France's Atlantic coast, freeing the French navy to defend the Mediterranean. When war came two years later, the strategy worked; without British control of the sea lanes, Germany would have severed Allied sea communications and exposed France to a two-front war—the ultimately fatal position of Germany itself. An increasingly desperate German naval command resorted to the use of submarines against merchant ships, a move which led to the American intervention and subsequent German defeat.
On land, the grim features of modern warfare on the Western Front (that is to say, France) are well-known. The trenches constructed by both sides immobilized the conflict, preventing the flanking maneuvers seen in most land wars. Artillery barrages and poison gas attacks ensued, with valorous soldiers pinned in place like insects in a museum collection. Although Churchill registers profound esteem for the French wartime leaders—Prime Minister Georges Clemenceau and General Ferdinand Foch represented the democratic and aristocratic traditions of their nation with courage and wisdom—he has sharp criticism for the initial strategic concept of the French military, summed up in the catchphrase, "l'attaque, toujours l'attaque." No notion could have been more futile and ruinous.
French fortitude and devotion "rendered a sublime recovery possible" for the French, but the "frightful butchery" which preceded that sublimity needed not to have been so extensive.3 Fortunately, France's Eastern-front alliance with Russia relieved some of the pressure on France itself. In a pattern to be repeated in the Second World War, initial German advances in France caused an overconfident German military command to transfer forces to the East, where they gradually wore themselves out. The Germans could no more conquer all of Russia than Napoleon could. By the time the Germans returned their main attention to the Western Front, French and British troops had taken the time to dig in, and their lines held for the rest of the war.
The Mistakes of Versailles
No satisfactory settlement followed the Allied victory. "How is a forty million France to be defended against sixty, seventy, eighty million Germany?" Churchill asked.4 Moreover, if it is true that commercial republics don't fight each other, Churchill and the French both understood that Weimar Germany wasn't a real republic at all. "Powerful classes" in Germany entertained the same revanchism toward victorious France as the defeated French had entertained after 1871 against victorious Germany. These classes, including the military classes, could appeal to Germany's "multiplying and abounding youth." To the extent that Germany was democratic, it was not liberal, and to the extent that Germany was not really democratic, it remained more militaristic than commercial; its industrialists had no reason not to build weapons instead of widgets.5
At the Versailles Peace Conference, Marshall Foch argued that France needed control of the Rhineland. The new Bolshevik regime in Russia would no longer serve as a reliable ally of France, he said; the League of Nations would not really guarantee French security; German disarmament would not last; and, given all that, any Anglo-American military guarantees would fail to deter the Germans. The Anglo-Americans pinned their hopes on genuine German regime change and the League; reluctantly concurring, Clemenceau overruled Foch. When the United States Senate refused to ratify the Versailles Treaty, France could only turn to the construction of the Maginot Line system of fortifications, and to alliances with Poland and other central European states wary of Germany. France soon seized the coal-producing Ruhr district of Germany, as well, hoping to cripple German reindustrialization.
These actions prevented the implementation of Churchill's preferred postwar geopolitical strategy, which consisted of "ending the thousand-year strife between France and Germany" by "weav[ing] Gaul and Teuton so closely together economically, socially, and morally as to prevent the occasion of new quarrels, and make old antagonisms die in the realisation of mutual prosperity and interdependence."6 As early as 1923, he wrote, "no one could feel assured that a future generation would not see Europe laid in dust and ashes as it had been in this same quarrel as it had been more than once before."7
The Thread of Legitimacy
The stunning conquest of France by Nazi Germany in May and June 1940 stripped Great Britain of its continental buffer, exposing it nightly aerial raids intended to pulverize its industry and terrify its population into submission. British strategists worried that the German navy might attempt to encircle the island and cut if off from the rest of the empire, parts of which were threatened not only by Germany but potentially by the Soviets, ever alert for spoils of war. Nonetheless, France continued to figure prominently in Churchill's strategic calculations, perforce in an entirely new way, one that severely tested Churchill's judgment and equanimity.
Churchill favored Charles de Gaulle to head the French government in exile, and it is important to see why. Quite apart from his impression that de Gaulle had the strength of character to carry on the fight (sometimes against Churchill himself, as the Prime Minister would soon learn), de Gaulle was the only member of the last Cabinet of the Third Republic who refused to accede to the armistice. The collaborationist regime at Vichy, nominally in control of southern France, put a price on his head. Churchill and de Gaulle understood, however, that this one-man link to the Third Republic—this thread of legitimacy, however slight—would enable de Gaulle to rally resistance to the Nazi occupation via the British Broadcasting Company's microphones. De Gaulle, who turned out to be a fine public speaker, immediately rose to that task.
But realistically, was that all Churchill could do? No mean orator himself, the Prime Minister moved to shore up de Gaulle's reputation. In his celebrated "Finest Hour"speech of 18 June 1940, Churchill blamed "the colossal military disaster" in France on the French High Command—that is to say, the people who now sat at the top of the Vichy regime—which failed to get their northern armies out of Belgium to reinforce their broken lines to the West along the Meuse River and France's Sedan district. Yet, while deflecting any blame for the British retreat from France, Churchill also called recrimination "futile and even harmful."8 Disappointment and resentment don't win wars.
Small but Perfect Storms
Materially, de Gaulle had very little of the stuff that does win wars. Furthermore, the eventual allies who did have that stuff, the United States and the Soviet Union, had no use for de Gaulle and his Free French organization. President Franklin Roosevelt alternated between viewing de Gaulle as Churchill's stooge and as a highly suspect potential dictator. And of course Stalin had his own network in France; the French Communist Party went underground after the armistice but organized itself to stand up a new French regime in the event the war's fortunes turned. Desperately needing his allies, Churchill could scarcely alienate them by promoting de Gaulle as the head of some future French government, even had he been inclined to do so.
In his memoirs—and as revealed in Hillsdale College's new Document Volumes of the Churchill biography for 1943-44, Churchill and the Americans dealt with the French in a spirit of justifiable duplicity, with Churchill sponsoring de Gaulle while the Americans stayed "in close and useful contact with Vichy." By the end of 1941 Churchill urged that this tactic be made part of a policy: If Vichy would cooperate with the Allies in French North Africa, then postwar reconciliation with their regime might be possible: If Vichy continued its collaboration with the Nazis, "the Gaullist movement must be aided and used to the full."9 Churchill trusted de Gaulle no more than de Gaulle trusted Churchill. The Prime Minister suspected that de Gaulle intended to drive a wedge between Great Britain and the United States, upsetting his grand strategy of a permanent Anglo-American alliance.10 Add to this the perennial quarrels over British military encroachments on French colonies, particularly Syria—Churchill was trying to win a war, de Gaulle wanted to make sure he didn't grab any French possessions—and we have the makings of a series of relatively small but perfect storms, lasting until the eve of D-Day itself.
De Gaulle's Ultimate Value
After that great victory, Churchill saw much more clearly what de Gaulle had actually accomplished in his years of exile at the head of a militarily unimpressive government-in-exile. In that time, de Gaulle established an intelligence network on the ground in France, which vetted and readied a network of experienced non-communist administrators, lawyers, teachers, and other personnel who would be ready to stand up a viable government immediately upon liberation.
The re-founding of republicanism in France began in London. De Gaulle's most celebrated ally in this effort was a former departmental prefect named Jean Moulin. Before his murder at the hands of the Gestapo eighteen months into his mission, Moulin out-organized the French communists. Others carried on after his murder, including a courageous lawyer named Michel Debré, future draftsman of the constitution of the Fifth Republic.
By D-Day, seventeen Regional Commissioners of the Republic were charged with insuring the security of Allied armies from behind-the-lines attacks, providing administration, re-establishing "republican legality," and coordinating material supplies to the population. "Thus," in de Gaulle's words, "among the French people, in the face of the Allies as of the defeated invader, the authority of the state would appear: integral, responsible, and independent."11 Churchill attested to de Gaulle's achievement in letters to Roosevelt. "In practice… I think it would be found that de Gaulle and the French National Committee represent most of the elements who want to help us," whereas "Vichy is a foe."12
By November 1944, having visited Paris and walked the Champs-Élysées with de Gaulle to the ovation of the crowds, Churchill could report, "Generally I felt in the presence of an organized government, broadly based and of rapidly-growing strength, and I am certain that he should be most unwise to do anything to weaken it in the eyes of France at this difficult, critical time," in view of "communist threats."13 Although Churchill raged at de Gaulle on several occasions during the war, he never quite got round to getting rid of him, and that turned out to be a very good thing.
France, Russia and NATO
Victory against Nazi Germany left standing still another would-be continental tyrant: Stalin and his newly-expanded empire. The Russians, Churchill told his Chiefs of Staff, were now further west than they had ever been except at the end of the Napoleonic Wars, capable of "march[ing] across the rest of Europe and driv[ing] us back to our island."14 After Stalin interpreted the February 1945 Yalta Conference agreements on Poland strictly in terms of Soviet interests and ideology, Churchill frankly admitted to the very ill Roosevelt, "we British have not the necessary strength to carry the matter further."15 Nor could Great Britain's imperial holdings help; they were lost, and Churchill saw that, too. For real defense, Churchill soon turned to the proposed North Atlantic Treaty Organization; he judged the proposed European Army or European Defence Community a weak reed by comparison. He vigorously supported the Marshall Plan for European economic revival.
As for France, Churchill recurred to his original intention after World War I: peace between Gaul and Teuton. Accordingly, he opposed the Morgenthau Plan, which would have reduced the Germans to agrarianism, and also French proposals (first floated by the new de Gaulle administration in 1946, but more or less universally applauded by all French factions at the time) to keep the western portion of Germany broken up and weak. This was revanchisme in the wrong place, at the wrong time. Germany was indispensable to resisting Soviet power; it was now on the front line, and the French—and indeed his fellow Britons, their family members killed by German bombing—needed to see and accept that brute fact.
"Never before has there been such a clear need for one country to be strong as there is now for France," Churchill told the French. French greatness can return if the French "unite in the task of leading Europe back in peace and freedom….by saving yourselves you will save Europe and by saving Europe you will save yourselves."16 Neither French nationalism alone nor European internationalism alone could suffice. They must be intertwined.17 Seven decades on, France, the United Kingdom, and the rest of the European countries continue to debate the right terms of that balance.
At this time, Charles de Gaulle could not agree to the resuscitation of Germany: French public opinion remained even more powerfully anti-German than British public opinion. But de Gaulle would later concur with Churchill's wise judgment. When he returned to power in 1958, founding the Fifth Republic, de Gaulle reached out to his West German counterpart, that great and good Rhinelander Konrad Adenauer, to form exactly the sort of entente cordiale Churchill had advocated thirty years earlier.
Throughout his long and eminent career, Churchill had hoped to preserve the greatness of Britain by maintaining the Empire and Commonwealth, by a strong Anglo-American partnership, and by increased European cooperation on a republican basis. Except for the "special relationship" with the Americans, he could not achieve these things; the tyrannies he helped to kill had injured Great Britain too much, before dying. That notwithstanding, his actions and words endure as a legacy of statecraft, a testimony to the geopolitics of liberty.
---
The Author
Will Morrisey holds the William and Patricia LaMothe Chair in the American Constitution at Hillsdale College. He is the author of several books, including Churchill and De Gaulle: The Geopolitics of Liberty. He has written for The New York Times, The Jerusalem Post, The American Political Science Review, and the Washington Times.
Further Reading
Where France Stood in Churchill's Geopolitical Landscape
---
Endnotes
1 Winston S. Churchill, The World Crisis, 1 vol. edition (New York: Scribners, 1942), 7-8.
2 Winston S. Churchill, The Aftermath (London: Thornton Butterworth, 1929), 452.
3 Winston S. Churchill, The World Crisis, vol. 3, 1916-1918, Part 1 (London: Thornton Butterworth, 1927), 37.
4 The Aftermath, 216.
5 Winston S. Churchill, The Gathering Storm (Boston: Houghton-Mifflin, 1948), 26.
6 The Gathering Storm, 28.
7 Churchill, The Aftermath, 457.
8 Winston S. Churchill, Blood, Sweat, and Tears (New York: Putnams, 1941), 348.
9 Winston S. Churchill, The Grand Alliance (Boston: Houghton Mifflin, 1950), 631, 651.
10 Ibid., 801.
11 Charles de Gaulle, War Memoirs, 2 vols., Richard Howard translation (New York: Simon & Schuster, 1959), II, 199-200.
12 Churchill to Roosevelt, 20 June 1944, in Warren F. Kimball, ed.: Churchill & Roosevelt: The Complete Correspondence (Princeton: Princeton University Press, 1984), 195.
13 Churchill to Roosevelt, 16 November 1944, ibid., 391-92.
14 Martin Gilbert, Winston S. Churchill, vol. 8, Never Despair 1945-1965 (Hillsdale College Press, 2013), 38.
15 Martin Gilbert, Winston S. Churchill, vol. 7, Road to Victory 1941-1945 (Hillsdale College Press, 2013), 1250.
16 Winston S. Churchill, "France and Europe," speech at Metz, 14 July 1946, in Robert Rhodes James, ed., Winston S. Churchill: His Complete Speeches 1897-1963, 8 vols. (New York: Bowker, 1974), VII, 7359
17 See Churchill to Duncan Sandys, November 1946, in Gilbert, Never Despair, 286-87.
Churchill Project Articles
Stay In Touch With Us
Subscribe now and receive weekly newsletters with educational materials, new courses, interesting posts, popular books, and much more!