Articles

How many times did Churchill say, "Let us go forward together"?
At Bradford, Yorkshire on 14 March 1912, Churchill made a contentious speech defending Irish Home Rule. Defying his Unionist opponents, he concluded: "If the Government and the Parliament of this great country and greater Empire is to be exposed to menace and brutality [for any] sinister and revolutionary purpose—then, gentlemen, I can only say to you let us go forward together and put these grave matters to the proof."
We are asked if this was his first use of "go forward together." And how many times did he deploy the famous words? The answers come from the Churchill Project scanning program, whose goal is a digital reference to Churchill's canon. His published works total fifteen million words, and at least forty million have been written about him.
"Go forward together" is redolent of Churchill's lifetime impulses—coalition rather than division, alliance against tyranny, the English-speaking peoples. A favorite oratorical tactic was to suggest that the goals he enunciated were shared by all. He used this combination as frequently as any over more than a half century of public life.
Origins
The first appearance was in a powerful speech at the Manchester Free Trade Hall on 19 March 1910. Churchill's Liberals were determined to prevent the House of Lords from amending or rejecting a Commons bill. (They succeeded with the Parliament Act of 1911.)  Churchill brought the Liberal audience to its feet with his peroration: "One step more, one effort more, and all the prizes you have fought for from dawn to dusk may be gained. In peace or in war victory consists in the last hour and in the last inch. Let us, then, in true comradeship go forward together. Advance with courage, and the cause of the people shall prevail." His audiences would hear that phrase many times.
World War I
Churchill's political philosophy, Sir Martin Gilbert wrote, "was based on the preservation and protection of individual freedom and a decent way of life…on the protection of small States against the aggression of more powerful States; and on the linking together of all democratic States to protect themselves from the curse and calamity of war." Thus he greeted the end of World War I, on 26 November 1918:
"Today we can have the greatest failures or the greatest triumph as we choose. There is enough for all. The earth is a generous mother.* Never, never, did science offer such fairy gifts to man. Never did their knowledge and organisation stand so high. Repair the waste. Rebuild the ruins. Heal the wounds. Crown the victors. Comfort the broken and broken-hearted. There is the battle we have now to fight. There is the victory we have now to win. Let us go forward together."
The end of the war also brought a general election. Churchill was re-elected (for the last time) as Member for Dundee. On the eve of the poll he wrote the electors: "Let a message go forth from Dundee which will resound throughout the land, which will inspire the friends of Britain all over the world with the conviction of her stable and broadly-founded power. Let that message sweep from the minds of our crouching enemies their lingering hopes that we are not united. Then let us go forward together against the foes of Scotland and of Britain… That the nation as a whole shall enter united upon its hard-won inheritance of peace, and power, and plenty."
* Another favorite line, from his mentor the U.S. Congressman Bourke Cockran, "generous mother" resurfaced memorably in his "Sinews of Peace" speech at Fulton, Missouri, in 1946.
Between the Wars
Less portentiously, but proof he hadn't forgotten a goodly phrase, were five utterances between the wars. "Let us then go forward together, hand in hand with our loyal Conservative allies," he exclaimed of the Lloyd George coalition in 1922. It fell, but in 1924 he was back: "Let us gather round in closer unity and go forward together to solve the problems of the future." He retained the Essex seat he won that year until his retirement from Parliament in 1964.
To his surprise as much as anyone's, Churchill was appointed Chancellor of the Exchequer by the new Prime Minister, Stanley Baldwin, in 1924. In a his 1928 budget broadcast Churchill declared:  "Let us go forward together, let us not be afraid of taking trouble or risks." In a cabinet memorandum later that year he wrote, "…we must go forward together with a clear knowledge of what lay in our path." In 1934 he wrote of his joint occupations, writing and politics: "…my tasks can go forward together."
World War II
After World War I Churchill had urged his countrymen to "rebuild the ruins" and "heal the wounds." Alas war came again, and in January 1940, the Free Trade Hall in Manchester heard words it had heard before:
"Come then: let us to the task, to the battle, to the toil—each to our part, each to our station. Fill the armies, rule the air, pour out the munitions, strangle the U-boats, sweep the mines, plough the land, build the ships, guard the streets, succour the wounded, uplift the downcast, and honour the brave. Let us go forward together in all parts of the Empire, in all parts of the Island. There is not a week, nor a day, nor an hour to lose." It was the tenth appearance of the famous phrase.
In 1941, Churchill addressed Parliament, and America, four days after Pearl Harbor: "It is as Allies that from now on we shall go forward together." But early 1942 saw many reverses. In Leeds in May he admitted, "the road upwards is stony," but "we shall go forward together." In Bradford in December, thirty years since his speech there had caused uproar—he used exactly the same words: "I say to you all here in Bradford what I said when I was here nearly thirty years ago: Let us go forward together and put the great principles we support to the proof."
On 31 August 1943, Churchill broadcast encouragement to Greece and Yugoslavia: "Let us then all go forward together, making the best of ourselves and the best of each other; resolved to apply the maximum forces at our command…" He reviewed the war in the Commons on 16 August 1945: "I hope we may go forward together, not only abroad but also at home."
Postwar Years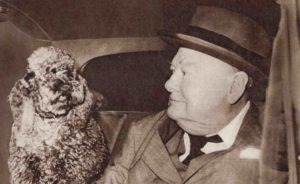 "You cannot imagine what his speeches did for us," said an old RAF flier who had fought in the war. "After one of those speeches, we wanted the Germans to come." The man's name was Ronald Golding. After the war he briefly served as one of Churchill's Scotland Yard bodyguards. He told me how Churchill applied his famous phrase, of all things, to his reddish-orange poodle, Rufus. The dog, whom Churchill nicknamed for its color, was frisking at his feet, anxious for a walk. The great man boomed: "Come, Paprika, let us go forward together."
On to the end. In Strasbourg, 1950, Churchill spoke of European unity. "We can thus go forward together, sure at least that we have done our duty." Two years later he urged the Commonwealth Economic Conference to "enable the free nations to go forward together." At Margate in 1953, he told his Party Conference: "Let us then go forward together with courage and composure." 
Churchill remained in Parliament eleven more years. "Let us therefore go forward together with courage and patience," he told the Primrose League in 1957. In his last campaign for office, 1959, he spoke at Woodford. "By all means let us go forward to disarmament, but let us all go forward together."
The man who would never surrender also never forget.
---
Featured Image: Conservative Party Conference, Margate, 10 October 1953. "Let us then go forward together with courage and composure." Behind the microphone, Sir Winston's Parliamentary Private Secretary Christopher Soames worried through the speech. After his July stroke, the PM set Margate as the test of whether he could continue in office, but he came through admirably. It was a miraculous recovery, and perhaps his last great speech. (Getty Images)
Churchill Project Articles
Stay In Touch With Us
Subscribe now and receive weekly newsletters with educational materials, new courses, interesting posts, popular books, and much more!