Articles

The Bumptious Politician's Guide to Churchill Myths and their Making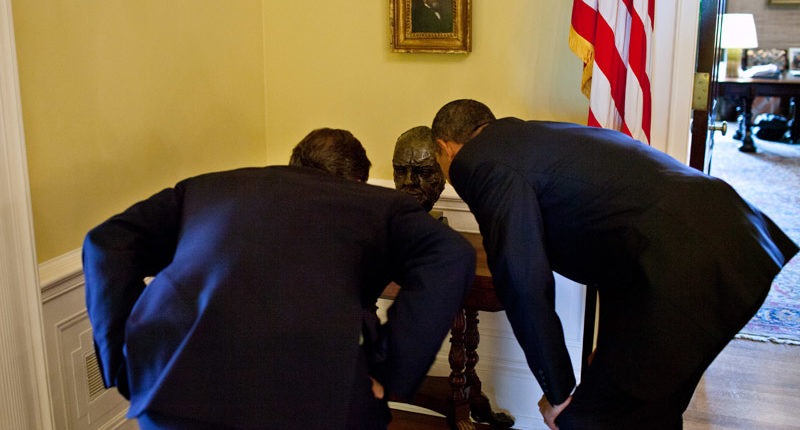 ---
Fielding, Schwarz and Toye
Steven Fielding, Bill Schwarz & Richard Toye, The Churchill Myths. Oxford University Press, 2020, 216 pages, $25.95, Amazon $21.95, Kindle $17.99
In reviewing Richard Toye's Winston Churchill: A Life in the News I cited an online reviewer who may have been a trifle harsh. He thought it served to pad a resume while adding "little to the average reader's sum of knowledge." That opinion, however, is spot on concerning The Churchill Myths by Professors Fielding, Schwarz and Toye. Except that here, not one but three academics pad their resumes.
To their credit, they give you fair warning: "This is not a book about Winston Churchill. It is not a book about the historical figure of Churchill…. It is not about his politics, nor his rhetorical imagination, nor about the man himself. What the book does explore, however, is how memories of Churchill have been variously deployed, especially since his death."
In fact, one could say about The Churchill Myths what Fielding et. al. say about works by the current British Prime Minister: "Some of Johnson's books defy readers making headway beyond the earliest pages." Fortunately, there is an overpriced Kindle edition from which Amazon will send you a free sample. Read the free sample and I guarantee you won't be tempted to go any further. Meanwhile, I read the whole thing, so you won't have to.
Churchill as political prop
If the book is not about Churchill, why is its title The Churchill Myths? Well, an accurate subtitle would be "How Politicians We Don't Like Have Exploited Churchill Over the Years for Their Benefit." With that kind of transparency, you wouldn't have to read the first page to know the book would be useful only as a cure for insomnia. Do we really need a catalogue of the misuse of Churchill's image by politicians?
Who are the politicians these authors don't like? We know Churchill is among those at least one of them doesn't like. A partial list of the others (alphabetically) is: Tony Blair, George Bush pere et fils, David Cameron, Dick Cheney, Boris Johnson, Lyndon Johnson, Richard Nixon, Ronald Reagan, Margaret Thatcher, Donald Trump. It follows that Brexit is another thing the three professors don't like. They also don't like Churchill's latest biographer, Andrew Roberts. Doubtless Roberts will lose no sleep over this and, if you try to read this book, you won't either.
"Annoyingly bumptious"
Let me give an example involving Thatcher, Johnson and Roberts. It's about Brexit, where both Remainers and Leavers alike quoted Churchill in support of their position. (The Remainers had a more difficult time making their case.)
The Churchill Myths states: "In her book Statecraft, Margaret Thatcher, citing various Churchill statements that Andrew Roberts had helped her track down, argued that…Churchill does not seem to have envisaged Britain being part of a United States of Europe…."
What is the point of mentioning Roberts, except to imply that Lady Thatcher needed help to find Churchill quotes? ("It's called Google, My Lady. Just type in this space 'Churchill United Europe,' press 'enter,' and…Bob's your uncle!")
The authors also cite Boris Johnson's The Churchill Factor as making the same argument, but don't credit Roberts' research assistance. (Hilariously, Roberts never helped Lady Thatcher with Churchill quotes, but he did supply Johnson.) The authors grudgingly admit that the two prime ministers were correct: "Thatcher and Roberts made their claims on the basis of fairly detailed textual analysis; and there was an element of logos even in Johnson's annoyingly bumptious book."
Annoyingly bumptious? Not really. I reviewed The Churchill Factor, noting a few factual errors on Churchill's principles and his mother's affairs. (Boris needed Roberts' help more than Lady Thatcher.) But Johnson was neither annoying nor bumptious. For a good example of both, see Toye's Churchill: A Life in the News.
Unordinary British sentences
One last observation. Readers may wonder how three academics went about writing a book together. They helpfully explain the process. "The various drafts changed hands many times. Having said that, we each took responsibility for the initial drafting of the separate chapters." Evidently, then, all three must be credited with crafting this example of English prose:
[R]ecognizing this diversity, we place in a single analytical frame both the many, contrary manifestations of the various Churchill legends and the  common, invariant properties which make the range of individual stories recognizably installments in a common process of codification, resulting in Churchill as myth. We endeavor to attend to both the structure of the mythic dimension on the one hand, and on the other, to the contingency and plurality of the swirl of competing manifestations in their particular historical moments.
In My Early Life, Churchill wrote that as a boy "I got into my bones the essential structure of the ordinary British sentence—which is a noble thing." He added: "Naturally I am biased in favour of boys learning English…. the only thing I would whip them for is not knowing English. I would whip them hard for that."
Clearly, Professors Fielding, Schwarz and Toye were not whipped hard enough in school.
The author
Michael McMenamin is the co-author of Becoming Winston Churchill: The Untold Story of Churchill and His American Mentor; and a contributing editor to Finest Hour and Reason magazine. He has also collaborated with his son and daughter on a series of historical novels about Churchill's hitherto unknown adventures during his Wilderness Years in the 1930s. For a full list, please visit his Amazon author's page.
Churchill Project Articles
Stay In Touch With Us
Subscribe now and receive weekly newsletters with educational materials, new courses, interesting posts, popular books, and much more!