Articles

Fake News from the Huffington Post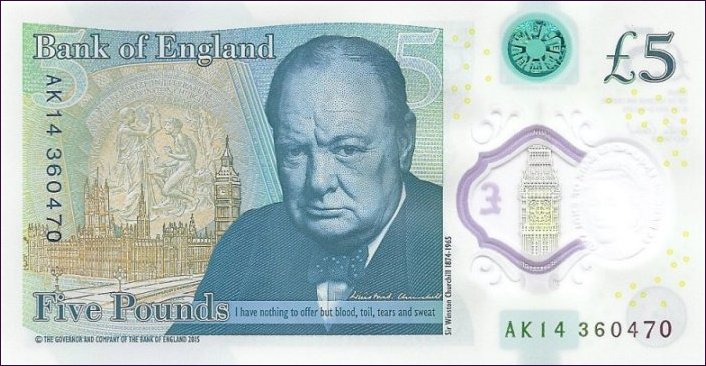 We are asked by an eminent figure to respond to five reasons why Winston Churchill should not be honored on Britain's five pound note. Advanced in November 2016 by the Huffington Post, were familiar to us. A fifth was intriguing: we hadn't heard that one before! But, while we gave Huffington full marks for innovation, it did not take very long to demolish that complaint, too. Taking their arguments in the order published
1. "Churchill was in favour of genocide…."
The charge stems from a sentence by Churchill regarding uprisings in Mesopotamia (later Iraq). There in 1919, Britain was the occupying power, following the defeat of Mesopotamia's former rulers, the Ottoman Turks, in World War I. Churchill was writing to the War Office, which he then headed. Typically the Huffington Post quotes just one sentence: "I am strongly in favour of using poisoned gas against uncivilized tribes." Let us now provide the full context:
It is sheer affectation to lacerate a man with the poisonous fragment of a bursting shell and to boggle at making his eyes water by means of lachrymatory gas. I am strongly in favour of using poisoned gas against uncivilised tribes. The moral effect should be so good that the loss of life should be reduced to a minimum. It is not necessary to use only the most deadly gasses: gasses can be used which cause great inconvenience and would spread a lively terror and yet would leave no serious permanent effects on most of those affected.1
In his first words above, Churchill is recalling the use of chlorine and phosgene—first by the Germans but also in retaliation by the French and to some extent the British—in World War I. But in regard to Mesopotamia, contrary to Huffington, he refers to "lachrymatory gas," i.e. tear gas. While tear gas is certainly unpleasant, but it is not death-dealing. The image of a Churchill bent on gassing whole populations to death is therefore nonsense.
Nor is this the only evidence of Churchill's relatively benign intent. Ten days after that minute, Churchill addressed the India Office's reluctance to use non-lethal gas against rebellious tribesmen:
Gas is a more merciful weapon than high explosive shell, and compels an enemy to accept a decision with less loss of life than any other agency of war. The moral effect is also very great. There can be no conceivable reason why it should not be resorted to. We have definitely taken the position of maintaining gas as a weapon in future warfare, and it is only ignorance on the part of the Indian military authorities which interposes any obstacle."2
Churchill went on to cite what he saw as the greater good, which in his view made tear gas acceptable: the welfare of soldiers. In all the charges of his supposed enthusiasm for "poisoned gas," I have never seen this portion of his minute cited with the rest. They testify that Churchill was thinking more broadly, and more humanely, than most of his contemporaries: He was thinking of sparing serving soldiers, most of them not volunteers, from ugly deaths by barbarous methods.
Having regard to the fact that [the India Office] are retaining all our men, even those who are most entitled to demobilisation, we cannot in any circumstances acquiesce in the non-utilisation of any weapons which are available to procure a speedy termination of the disorder which prevails on the frontier. If it is fair war for an Afghan to shoot down a British soldier behind a rock and cut him in pieces as he lies wounded on the ground, why is it not fair for a British artilleryman to fire a shell which makes the said native sneeze? It is really too silly.3
Invariably, many times throughout his career,  when faced with the option of poison gas like phosgene, Churchill chose against it. Truly, he thought on higher moral planes than we have seen recently in Syria.
….and seemed a little bit racist."
We should give the Huffington Post credit for suggesting that Churchill was only "a little bit racist," since countless others insist he was nothing short of a Bull Connor. But there are many examples of Churchill, even as a young Victorian defender of the Empire, demanding fair treatment for black and brown people in British possessions. As a captured correspondent in the Boer War, he argued with his Boer jailer over fairness toward native blacks. As Colonial Undersecretary in 1906, he demanded equal rights for the Indian minority in South Africa, earning the approval of Mohandas Gandhi, who never forgot this.
We often forget these early evidences of Churchill's enlightened mind, in a society not noted for enlightenment. We often praise him, but when, as he certainly did, use terms and expressions we disdain today, we try to excuse him. "Every Briton had that attitude," we say; "everyone was a racist then." This, says Hillsdale President and Churchill scholar Larry Arnn, is "too easy to be good":
You can quote Abraham Lincoln in precisely the same sense—and also most of America's founders (who abolished slavery in 60% of the union during their lifetimes). The remarkable thing is that Lincoln, for the slaves, and Churchill, for the Empire, believed that people of all colors should enjoy the same rights, and that it was the mission of their country to protect those rights. Therefore to say that Winston Churchill was "a man of his time," or that "everyone back then was a racist," is to miss the singular feature. I do not think Churchill was typical of the age on this question, if the age was racist.4
Occasionally Churchill said "race" when he meant "nation" (e.g. "the British race"). On one key occasion in 1919 he said "poisoned gas" when he meant tear gas. Even he would not have expected such slips to haunt his memory a century later.5
2. "He let at least three million people in India die of starvation to stockpile food for Europeans to eat when the war was over."
Again the Huffington Post is not original, but relies on a broadly believed accusation while ignoring substantial published contrary evidence. In Churchill's words, "I have never heard the opposite of the truth stated with greater precision."
Here is the truth: Churchill and his cabinet, in the midst of a desperate battle, did everything within their power to save lives and alleviate suffering from the 1943 famine in Bengal. Churchill personally lobbied for supplies, taking his quest all the way up to President Roosevelt. He and his colleagues found and shipped thousands of tons of grain to India, where local supplies were being hoarded by speculators. Without Churchill, the Bengal Famine would have been worse. All these facts have already been elaborately discussed here and need no repetition. Please refer to "Did Churchill Cause the Bengal Famine?"
Neither is there evidence that Churchill favored or authorized the stockpiling of "food for Europeans to eat when the war was over" at the expense of India. The Churchill Documents, volume 19, Fateful Questions, September 1943 – April 1944, just published by Hillsdale College Press, provides massive evidence of Churchill's attempts to assuage the Bengal famine, while remaining mindful of food supplies of European countries fighting the war.
3. "According to Martin Gilbert's biography of him, Churchill accepted £5,000 from two oil companies to represent them when they applied to the government about a merger in 1923."
This is the Huffington Post's one original charge. To level it, they refer to something that happened in the one full year between 1901 and 1964 when Churchill was neither in office nor in Parliament.6 Throughout 1923 he was a private citizen—as ethically entitled to represent a private corporation as any K Street lobbyist.
In August 1923, immediately after the two oil companies made this offer, Churchill asked Prime Minister Stanley Baldwin, whether it was appropriate for him to accept. Baldwin endorsed it. He thought the merger might help get the country divest itself of its oil interests, which he believed should be in private hands. In autumn 1923, with Baldwin's approval, WSC consulted with the Board of Trade and the Admiralty. But on 13 November Baldwin called an election, and Churchill, anxious to run again for Parliament, "formally withdrew from all work on the oil merger." So he behaved with total honor and probity throughout—and, needless to say, in his country's national interest.7
New it may be, but here is another baseless indictment of Churchill's perfidy. (And in no period when he was in Parliament is there any instance of him taking payments for favoring private interests.)
4. "He openly called for the sterilization of people with mental illnesses."
Huffington's complaint is true in the abstract, but their article ignores mitigating facts and the brevity of Churchill's fling with Eugenics. Like many educated people  in the early 1900s, Churchill was briefly taken in by this non-science. As Home Secretary (February 1910-October 1911) he considered adopting an Indiana law mandating sterilization and refusing the right of marriage to "mentally unfit" individuals. Benignly, he thought sterilization might be preferable to confinement, which was then widely advocated. But the Home Office medical adviser, Dr. Horatio Donkin, said the Indiana law was "a monument of ignorance and hopeless mental confusion."8
No such law was passed while Churchill was at the Home Office, but in 1913 Parliament passed the Mental Deficiency Bill, authorizing confinement of  "mental deficients" in institutions. The Bill was not repealed until 1959, but Churchill's interest in Eugenics vanished after 1913. "It is rare to discover in the archives the reflections of a politician on the nature of man," wrote the historian Paul Addison: "In his view, sterilisation was a libertarian measure intended to free the unfortunate from incarceration. Churchill's optimism was tempered, it seems, by a fear of national decline….Churchill's intentions were benign, but he was blundering into sensitive areas of civil liberty."9
For the Huffington Post to brand Churchill as an unrepentant Eugenicist is therefore wide of the mark. True, he was briefly attracted to the theory when it was popular in industrial societies. But advances in medical science and ethics, and early diagnosis, medication, therapy, community care and family support systems made Eugenics obsolete. Churchill was one of the first British politicians to abandon it.
5. "He *might* have committed some war crimes. According to historian Richard Overy, Churchill was the one who pioneered the idea of strategically bombing cities when previously it had been ethically off limits."
"Ethically off limits?" Not apparently for Hitler, who began the process by bombing Warsaw in 1939, and Rotterdam in 1940.
Churchill was the only member of the Big Three to express moral qualms about what he called "the hideous process of bombing open cities from the air." At times his reluctance to indulge in such destruction was criticized by colleagues and the public as a sign of weakness. For a long time, it was the only way Britain could strike back at the enemy—and powerfully demanded by his Russian allies. The firebombing of Dresden was done at the request of Moscow, and authorized in Churchill's absence by Deputy Prime Minister Attlee. Churchill at the time was en route to Yalta. Stalin's first question when they met was, "Why haven't you bombed Dresden?"10
In the midst of a gruesome account of devastating raids over Germany, Churchill suddenly sat bolt upright and exclaimed, "Are we beasts? Are we taking this too far?"11 The destruction of Dresden, he wrote, "remains a serious query against the conduct of Allied bombing. I am of the opinion that military objectives must henceforward be more strictly studied." Priority, he added, should go "upon military objectives, such as oil and communications," rather than "mere acts of terror and wanton destruction, however impressive."12
The Defense Rests (For Now)
Years ago in a memorable review of Sir Martin Gilbert's biography, the scholar Simon Schama points to certain Churchillian which Gilbert illustrates. One of them applies here, and should stand as a warning to those who would invent outrageous charges and "prove" them with non-facts and out of context quotations. It was, Schama wrote, Churchill's "unswerving moral decency: He savoured power and authority [and] was not wartless – but his warts were just that, imperfections on the face of virtue."
Sir Martin Gilbert said of the thousands of documents and transcripts he had examined: "I never felt that he [Churchill] was going to spring an unpleasant surprise on me. I might find that he was adopting views with which I disagreed. But I always knew that there would be nothing to cause me to think: 'How shocking, how appalling.'"13
Endnotes
1 Winston S. Churchill, departmental minute to the War Office, 12 May 1919, in Martin Gilbert, ed., The Churchill Documents, Volume 8, War and Aftermath, December 1916 – June 1919 (Hillsdale College Press, 2008), 649.
2 Ibid., 661-62.
3 Ibid., 662.
4 Dr. Larry P. Arnn to the author, 28 February 2017.
5 See also the author's "Churchill as Racist: A Hard Sell."
6 Churchill was rejected by the voters of Dundee, which he had represented since 1908, in the election of November 1922. He did not return to Parliament, as the Member for Epping, until October 1924.
7 Martin Gilbert, Winston S. Churchill, volume 5, The Prophet of Truth 1922-1939 (Hillsdale College Press, 2009), 10-16.
8 British National Archives, Home Office papers, 144/1098/197900
9 Paul Addison, Churchill on the Home Front 1900-1955 (London: Jonathan Cape, 1992), 126.
10 Martin Gilbert to the author, 18 October 2005. This was confirmed to Sir Martin in 1985 by Aleksei Antonov (1896-1962), deputy chief, Soviet General Staff, 1942-45, chief spokesman at Yalta and Potsdam conferences.
11 Lord Casey, Personal Experience 1939-1946 (London: Constable, 1962), 166.
12 Prime Minister's Personal Minute, D.83/5, in Martin Gilbert, Winston S. Churchill, volume 7, Road to Victory 1942-1945 (Hillsdale College Press, 2013), 1257.
13 Simon Schama, "The Churchillian" (review of Martin Gilbert, Winston S. Churchill, vol. 6 Finest Hour 1939-1941), in Finest Hour 42, Winter 1984–85, 14.
---
About the author: Mr. Langworth is Senior Fellow for the Hillsdale Colleg​e Churchill Project. His next book, Winston Churchill, Myth and Reality: What Churchill Actually Did and Said (July), may be pre-ordered at a $15 discount from Hillsdale College Bookstore.
Churchill Project Articles
Stay In Touch With Us
Subscribe now and receive weekly newsletters with educational materials, new courses, interesting posts, popular books, and much more!