Articles

Private Secretary G.C.B. Dodds Remembers Churchill in Wartime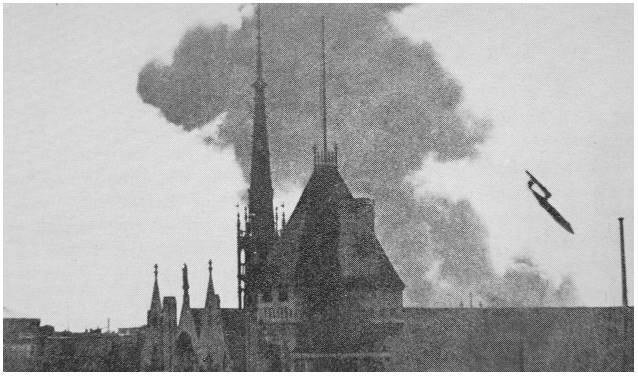 ---
A V1 flying bomb coming down on London, 1944. (www.strijdbewijs.nl)
---
Rugby School Who's Who, 1986
DODDS, George Christopher Buchanan, CMG 1977. Assistant Under-Secretary of State, Ministry of Defence 1964-76, b. 8 Oct 1916, o.s. of George Hepple Dodds and Gladys Marion (née Ferguson), Newcastle-upon-Tyne, m. 1944 Olive Florence Wilmot Ling, no children. Educ: Rugby; Gonville & Caius Coll. Cambridge (BA). Entered Secretary's Dept., Admiralty  1939. Royal Marines 1940-41. Private Sec to Sec of the Admiralty 1941-43. Asst. Private Sec to Prime Minister May-Aug 1944. Asst Sec 1951. Imperial Defence College 1959. Recreations: bird-watching, walking, golf, bridge. Address: London. Club: Royal Mid-Surrey Golf.
Meeting with History
In 1991 I joined my school golfing society. Shortly after, I received a note to say I was to play in the summer meeting with G.C.B. Dodds. The Rugby School Who's Who identified my partner. I learned that he had joined the Admiralty in 1939, then the Royal Marines, and had returned to the Admiralty in 1941-43. The next entry read: "Asst. Private Sec to the Prime Minister…."
Excited by this, I asked the society secretary for G.C.B. Dodds's telephone number and called him. Having seen from Who's Who that he was now 74, I suggested he might appreciate a lift to the golf course, Piltdown, near Uckfield, Sussex. He said he would be delighted.
On the day of the meeting, I collected him from his home in Central London at 7 a.m., helped him and his clubs into my rather undersized sports car, strapped him into the passenger seat and started off. Dodds soon invited me to call him "Kit."
After a few minutes I asked him about his entry in the Who's Who. I learned that he had served the Prime Minister on a temporary assignment for three months. "How on earth did you get that wonderful job?" I asked him. I can't vouch for the words we exchanged, but the gist of our conversation follows. In all his recollections, I should like to emphasize, Dodds was invariably modest and unassuming. —Robert Lyons
Kit Dodds Remembers
Late one night early in 1944, one of Mr. Churchill's private secretaries, Jock Colville, asked for permission to re-join his RAF squadron for the Normandy landings, and the PM agreed. Shortly before D-Day, Colville reminded Mr. Churchill of his promise. "Don't remember it, but if I did, I did. You may go for three months, on one condition. You're not to cross the front line. You know too much."
So, at the end of May, off Colville went. The normal procedure for replacing a private secretary was through the Treasury (I think that was the office). But the PM often ignored protocol and went directly to the Admiralty, with which he had an earlier connection from the First World War. The powers-that-be saw that I wasn't busy and could easily be spared. They sent me over to Downing Street so the PM could look me over.
I was told to sit outside the Cabinet Room, wait for the light to go green, and then go in. I waited for about ten minutes, the light went green, and in I went. The PM was reading some papers, so I stood there waiting until he finally looked up.
"You're Dodds," he began. "I see you were at Dakar." [Churchill was referring to the abortive raid on the strategic port in French West Africa, now Senegal, which was repulsed by Vichy Forces.]
For a brief moment I wondered whether I was about to be court-martialled, but I decided to brave it out. "Yes, sir," I replied, "I'm afraid I was."
"Not your fault. Go and stand in front of the window." I did so. "A bit to the left." He looked me up and down for a couple of seconds. "You'll do," he said. That was my job interview.1
John Martin, the Principal Private Secretary, was on duty during the day. I was responsible for the night shift. My main job was to get the old man to bed. He was used to working at night, but he had been very ill earlier in the year and his doctor, Lord Moran, instructed me to get him into bed by midnight.
Of course, I never managed it. He would dictate memos and letters until two or three in the morning. It was my responsibility to make sure there were always enough girls in the Cabinet Office to take them down in shorthand.
The Trouble with de Gaulle
One night, following my usual routine, I managed to get him to bed by about three o'clock. I thought I had him asleep. He had taken his sleeping draught and was snoring loudly. I went back to the Cabinet Office, sent the girls home and started to tidy up. Suddenly the door opened, and in he came in his dressing-gown
"Where are the girls?" he demanded.
"I'm afraid I sent them home, sir."
"No matter; you take shorthand, don't you?"
Not wanting to admit that I didn't, I replied, "I can do my best, sir." I picked up a pad of foolscap and a pen, and he began to dictate.
"Letter to Eden, subject de Gaulle." Then began a tirade about the difficulties he was facing with le Géneral. He rattled on so fast I found it practically impossible to keep up. I used any abbreviation I could think of, "cd" for could, "shd" for should. On and on he went, until I thought my hand was going to drop off. It seemed he had been going for half an hour, when suddenly he came to a halt.
"Let's have a look at it," he said. He must have noticed that I wasn't using shorthand. I handed him over four sheets of closely written paper. He looked them through while I stood nervously in front of him.
"Good," he said, when he reached the end. "Give me your pen." I handed it to him and looked on in disbelief as he signed it at the bottom. "Send it off right away," he ordered. Not wanting to argue, I did as I was told. He went back to bed.
When John Martin handed over to me the following evening, he told me what had transpired later that day. Eden had come into the Cabinet Office. "You won't believe what the PM has been up to," he said, showing Martin letter. "He must have stayed up all night. He wrote me this letter about de Gaulle in his own hand!"
So somewhere in the National Archives there must be four sheets of foolscap paper in my handwriting with Winston Churchill's signature at the bottom.
The Flying Bombs
In June I witnessed an example of his renowned disregard for personal danger. We had heard that the Germans had a new weapon, the V1 flying bomb. Intelligence advised that they were about to launch this weapon. The Prime Minister issued a notice to all Downing Street staff that as soon as they heard the sirens they were immediately to go down to the basement. Since nobody knew how powerful the bombs would be, there were to be no exceptions.
A few nights later the sirens went off and everyone headed for the stairs. Another private secretary, John Peck, and I had conspired that we would go straight to the toilets and wait there until everyone else had disappeared. Then we would go out on to Horse Guards Parade and see what we could see. That way we would be better able to advise the PM on the flying bombs.2
We waited for ten minutes in silence, and then crept out of the toilets and along the corridor towards the front door of Number Ten. As reached the door, Peck took hold of the handle, turning it as quietly as he could.
Suddenly the door opened and in walked Mr. Churchill. He stared at us both, seemingly half in anger that we had disobeyed his order, half in shame that he had disobeyed it himself. Then, without a word, he stalked straight past us and into the Cabinet Room to carry on working. He later admitted that he had been curious to see and hear the flying bombs for himself. The potential danger was never a consideration.3
Afterword by the Churchill Project
Robert Lyons, in conveying Mr. Dodds's recollections, asked: "According to Kit, he sent the handwritten version to Eden, who brought it with him to Number Ten that afternoon to show Martin. Is that plausible?"
We asked Allen Packwood, Director, Churchill Archives, Cambridge, who replied that it was quite plausible: "Churchill would have dictated to Dodds, who would then presumably have had a secretary type it up for delivery to Eden. But Churchill often signed or initialled hand-written drafts. So the Dodds original may survive in the relevant PREM file at the National Archives. A lot of the original minutes are incorporated into those files."
We searched for the letter to Eden which Mr. Dodds remembered. Although there were several letters at the time from Churchill about de Gaulle, the most likely candidate, which would have filled Dobbs's several sheets of foolscap paper, is the following.
Winston S. Churchill to Anthony Eden
Prime Minister's Personal Minute M.714/4
(Churchill papers, 20/152)
13 June 1944
Action this Day
Although I could adduce many reasons against any compliments being paid to a man who has shown himself so entirely free from any sympathy with us or the Americans or the efforts we are making to liberate his own country, yet I feel, like you, somewhat compromised by the references to his visiting France which I made to him before his new misbehaviour began. General Montgomery said he would be willing to receive him at lunch, but all this must be subject to the exigencies of battle and business. It would be well if de Gaulle were perhaps received by General Montgomery at his Headquarters at 1 p.m. He could then arrange his further programme with General Montgomery.
I do not know what the situation is in Bayeux. It may easily be under long-range shell-fire, and it is certainly subject to air attack. This is the only town of importance we yet hold. It would not be possible for de Gaulle to hold a public meeting there, or gather crowds in the streets. He would no doubt like to have a demonstration to show that he is the future President of the French Republic. I suggest that he should drive slowly through the town, shake hands with a few people, and then return, leaving any subsequent statement to be made here. On the other hand, everything in the way of courtesy should be done to him. As his visit must necessarily be to the British sector owing to the hours of daylight, it will be better that the arrangements should be made by Admiral Ramsay under the authority of the Supreme Commander.
Remember that there is not a scrap of generosity about this man, who only wishes to pose as the saviour of France in this operation without a single French soldier at his back. You know the reasons why we brought him over here, and that they arose out of pure chivalry towards his unhappy country, to tell them about the battle before it was engaged; and that he thought we had only got him over here to get him to make a broadcast supporting it.
He must go tomorrow, unless weather or emergency prevents him, as someone else of great consequence, accompanied by a very important Minister, is going on Friday.
With the above injunction I commend him to your care.4
Endnotes
1 See also Martin Gilbert, Winston S. Churchill, vol. 7, Road to Victory 1941-1945 (Hillsdale, Mich.: Hillsdale College Press, 2013), 775. Mr. Dodds did not escape the fine net of official biographer Martin Gilbert, who interviewed him in 1985. Sir Martin recorded Dodds's identical description of the interview, along with his recollection of "Churchill's 'incredible energy," and "capacity to argue the military case."
2 See also Martin Gilbert, Churchill: A Life (London: Heinemann, 1991), 779. Gilbert dates this incident 15 June 1944, when fifty flying bombs exploded in the London area. In their 1985 conversation, Dodds told Sir Martin of "the PM's energy and (hair-raising!) disregard for personal danger." Churchill's comment, in a telegram to Stalin, was, "We had a noisy night."
3 The Churchill Documents, vol. 20, Normandy and Beyond, May-December 1944 (Hillsdale, Mich.: Hillsdale College Press, 2018), 561-62, John Martin letter to his wife, 22 June 1944: "The flying bomb has been a nuisance here. But I personally have escaped the worst nuisance, the noise at night, through sleeping in my burrow at the office, where we hear nothing. The counter-measures have taken effect and there are many fewer visitations than at first. Had another tête-à-tête lunch with Mrs C[hurchill] the other day and showed her the photographs of David, [the Martins' son] which she much admired. I go to Chequers this weekend. It should have been Dodds, the new PS, but the PM, who is always very difficult with new faces, has not yet quite taken to him."
4 The Churchill Documents, vol. 20, Normandy and Beyond, May-December 1944 (Hillsdale, Mich.: Hillsdale College Press, 2018), 481-82. Churchill is replying to Eden's minute of the same date, about a proposed visit to France by General de Gaulle.
5 Commenting on Churchill's minute, Hillsdale Professor William Morrisey writes: "De Gaulle always understood himself to be the sole member of the last Cabinet of the Third Republic to repudiate the terms of surrender. As such, he understood his organization to be a government in exile, and not just a propaganda tool. An interesting sidelight is that Churchill talked similarly to the London Poles, but the difference was that the Soviets conquered and "liberated" Poland, so the Poles had nowhere to turn. De Gaulle mastered the art of playing off the various personalities in the British and U.S. governments against one another, always with the aim of restoring the French Republic (although not in its 1940 form) and dishing the French Communists."
The Author
Mr. Lyons was 48 when he met Kit Dodds en route to their golf match. "I was lucky enough to win the scratch prize at this first meeting, probably because I had such a charming partner with whom to play; as a result, I enjoyed a twenty-seven-year career playing for the Old Rugbeian scratch golf teams. During his remaining years Kit was hugely supportive of my endeavours." Robert Lyons graduated from Oxford and was the director of a major retail group. He tells us he is "in the process of becoming possibly the oldest first-time published novelist in the world."
Acknowledgements
Our thanks to Paul H. Courtenay and Allen Packwood, Director, Churchill Archives Centre, Cambridge, for kind assistance in research.
Churchill Project Articles
Stay In Touch With Us
Subscribe now and receive weekly newsletters with educational materials, new courses, interesting posts, popular books, and much more!