Articles

"Never Flinch"…the last of The Churchill Documents brings the saga full circle
Last meeting: Friends in the end, Churchill and Charles de Gaulle meet at Churchill's London Home, 28 Hyde Park Gate, 5 April 1960. With them is WSC's bodyguard Edmund Murray. Later Sir Winston attented a banquet for de Gaulle at Buckingham Palace. (Official Biography VIII, 1311, Hillsdale College Press. Don and Lorraine Cline Collection at Hillsdale College)
Never Flinch…
The Churchill Documents, Volume 23, Never Flinch, Never Weary November 1951 to February 1965, edited by Martin Gilbert and Larry P. Arnn. Hillsdale, Mich.: Hillsdale College Press, 2019, 2488 pages, $60. Large discounts for purchases of all Document Volumes, and with the eight narrative volumes. Click here.
Throughout his long and eventful life Winston Churchill conducted most of his political and indeed private affairs in writing. He wrote all of his voluminous correspondence. He was the author of his multiple newspaper articles, speeches, memoranda and books. From an early age, however, Churchill did not sit down and put pen to paper. For the sake of efficiency and speed, he dictated his writings to hard-pressed secretaries. He then meticulously revised and edited the drafts, often multiple times. He carefully collected all of his written material in well-organized folders, housed in heavy, fireproof steel cabinets. Thus they were preserved for future generations.
In 1960 Churchill entrusted his son Randolph with this archive for the writing of his official biography. Randolph soon hired a team of "young gentlemen" assistants, including Martin Gilbert. Randolph edited the first two biographic volumes and five volumes of The Churchill Documents (initially called Companion Volumes). Six more biographic volumes, and Documents 6 to 16 (and most of 17) were meticulously assembled by Martin Gilbert. The remaining six Documents were edited and overseen by Larry Arnn, Churchill scholar and President of Hillsdale College.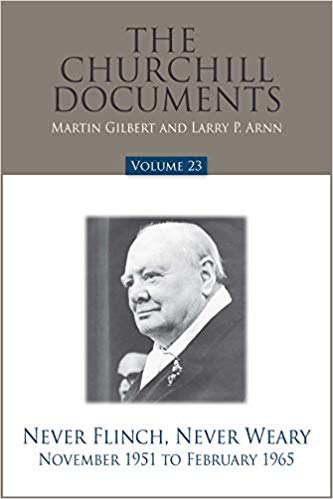 Almost sixty years since Randolph Churchill began work, Never Flinch, Never Weary, completes the biography. These 2500 pages span November 1951 to Sir Winston's death and its immediate aftermath in early 1965. Included are many detailed and helpful footnotes.
"Poised between world catastrophe and a golden age"
The value of this carefully annotated final volume of documents cannot be overestimated. It is an immense research tool for both scholars and students alike. Not least, it also provides the general public with testimony of Churchill's own original thinking and its development over time. Never Flinch, Never Weary covers, after all, a crucial period: The advent of the Cold War, Britain's relations with the United States and Europe, the maintenance and dissolution of Empire.
Naturally a large number of documents deal with domestic issues and Britain's economic predicament. But also the coronation of the new Queen in June 1953 deeply moved Churchill. In a statement that resonates in today's uncertain times, he expressed his belief that Elizabeth II was coming to the throne "when a tormented mankind stands uncertainly poised between world catastrophe and a golden age."
The issues of state he dealt with as prime minister frequently intersected with Churchill's huge social network and private life. Unique among his contemporaries, his politics, economics, social and private life greatly overlapped. They are not easily separated. Never Flinch, Never Weary bears testimony to Churchill's fertile mind, social inclinations and action-driven personality.
The home front
Foreign policy dominated much of Churchill's career, and this also applied to his peacetime government. Largely, he delegated domestic and economic affairs to cabinet ministers, Rab Butler and Harold Macmillan. Churchill also increasingly felt his age and more fragile health condition. Thus, he focused on the issues that were of particular interest to him.
He could hardly escape dealing at least to some extent with Britain's disastrous economic situation and significant foreign exchange deficit. Rationing was extended; it was only abolished for meat and bacon in July 1954. Churchill realized that "not being broke" was his government's major domestic preoccupation. On grounds of principle and practicality, however, he did not roll back the preceding Labour government's large-scale nationalization. Instead his government focused on a hugely successful and highly popular housing program. Churchill put Harold Macmillan in charge of this effort which helped pave Macmillan's road to Downing Street.
Challenges abroad
Never Flinch, Never Weary shows how foreign policy nevertheless preoccupied Churchill during his peacetime premiership. As leader of the opposition in 1945-51, he had greatly supported the fledging European integration process. As Prime Minister he shoved this issue aside. He was uninterested reversing the Labour government's non-participation in the European Coal and Steel Community (the Schuman Plan), forerunner of the European Economic Community (EEC). The matter was not even discussed in Cabinet. Instead Churchill focused on two foreign policy issues that were of particular interest to him: relations with Egypt and defusing the Cold War by reconstructing relations with the Soviet Union.
Churchill reluctantly agreed to the 1954 treaty with Egypt, largely negotiated by Anthony Nutting in the Foreign Office. The treaty foresaw Britain leaving the huge Suez Canal base, though it was entitled to return in an emergency. Churchill was aware that rising Egyptian nationalism left London few options. Still it was Britain, with the U.S., that instigated the 1952 military coup replaced King Farouk with Gamal Abdel Nasser. The loss of India and Palestine, however, made passage through the Suez Canal to Britain's imperial possessions much less necessary.
Vietnam and Malaya
At Chequers in April 1954 Admiral Radford, chairman of the U.S. Joint Chiefs, offered to support Britain in Egypt. His quid-pro-quo was Britain supporting France at Dien Bien Phu, France's last bastion in Indochina. Churchill politely declined. French Indochina was a lost cause, he explained. U.S. and British forces were "almost certain to be ineffective."
Churchill was conscious that Britain was itself similarly committed in Malaya, where the UK had been dragged in for its own colonial reasons. Involvement in another war on behalf of someone else seemed unwise. The defense budget was already stretched, and public opinion was against it. Churchill wished to increase the Conservative majority (his was slim)—not give voters another reason to vote Labour. Life at home was austere enough as it was.
Again during Churchill's summer 1954 visit to Washington, President Eisenhower personally pressed him to send British troops with Americans in support of the French. Churchill did not budge. Despite his fervent belief in the Anglo-American "special relationship," extending Britain's efforts in Southeast Asian jungles made no sense to him. As Never Flinch, Never Weary outlines, Churchill knew British voters would not welcome such ventures. Ultimately, British efforts forestalled communism in Malaya, which received its independence in 1957. The United States would face no such easy exit from Vietnam.
The search for "easement" with Russia
After Stalin's death in March 1953, Churchill launched a new policy of engagement with the Kremlin. In 1953-54 he spent time and energy attempting to bring about a "parley at the summit" with the new Soviet leaders. Neither his Foreign Office nor the U.S. administration wished to know about it. In fact, they were horrified. To Eisenhower and his Secretary of State, John Foster Dulles, the time was not ripe for a Potsdam-style summit conference.
Moreover, Churchill's endeavors in 1953 were undermined by his own health problems (he suffered a severe stroke in early June 1953). The Kremlin's June 1953 suppression of an East Berlin workers' uprising didn't help. Not without justification, Eisenhower wondered how they could negotiate with a Soviet government that had just used tanks to kill protesters. Churchill recovered from his stroke and regained his strength within a few months. At his last international conference, Bermuda in December 1953, he proposed a four-power meeting including the French. Again Eisenhower rejected the idea in no uncertain words.
Never Flinch, Never Weary! Churchill gave the summit proposal another try in Washington in 1954. After Eisenhower and Dulles turned it down, he wrote to Soviet Foreign Minister Molotov, asking to be invited to Moscow on a "solitary pilgrimage." This was a highly unusual and unilateral move, but Churchill felt that age would not give him many more chances.
Both the British and American governments were flabbergasted. This episode almost led to the break-up of Churchill's cabinet and increased pressure on him to retire. It was assumed that he would retire before the next election, allowing his heir-in-waiting, Anthony Eden, to settle in. Now, his cabinet was almost demanding this.
The end of the affair
Churchill and his government were saved by the Soviet Union. Moscow never replied to his overture. Never Flinch, Never Weary shows that Kremlin distrusted him too much. They didn't accept that this "cold warrior" was serious about détente and engagement. Instead Moscow proposed publicly an all-European security conference, excluding the U.S. This was seen as a propaganda move, which Churchill like all other western leaders could not accept. He withdrew his request to visit Moscow.
Never Flinch, Never Weary contains all the essential documents to understand Churchill's complex reasoning for his important peace initiatives to overcome East-West tension. It is left to readers to draw their own judgments as to their practicality. The volume also shows clearly the many forces arrayed against Churchill from within his own government and Eisenhower's.
Eventually, after Soviet Prime Minister Georgy Malenkov was forced to resign, Churchill announced his own long-delayed retirement. He stepped down as Prime Minister in April 1955. The documents dealing with his time in retirement—during which he largely declined to comment on the politics of his successors—are much sparser than before. But they still shed most interesting light on the remaining ten years of Churchill's life.
Never Flinch, Never Weary, is a suitable finale to the longest biography in history. This final volume of documents on a rich public and personal life, is essential for any aspiring scholar. The book is also a fine and vast compilation of documents that inspires the general reader, which Hillsdale College offers at a remarkably low price, given its size. It should be an essential component of any library on the life and politics of Winston Churchill.
The author
Klaus Larres, author of Churchill's Cold War, is the Richard M. Krasno Distinguished Professor of History and International Affairs at the University of North Carolina at Chapel Hill. He is the former holder of the Henry Kissinger Chair in Foreign Policy and International Relations at the Library of Congress in Washington, DC. Dr. Larres is a Distinguished Visiting Professor at the Indian Institute of Technology (IIT) in Mumbai, India. He has just completed a new book entitled Uncertain Allies: Nixon, Kissinger, and the Threat of a United Europe. For further information consult his website.
Churchill Project Articles
Stay In Touch With Us
Subscribe now and receive weekly newsletters with educational materials, new courses, interesting posts, popular books, and much more!