Articles

David Low: The Cartoonist Churchill Loved—Despite Everything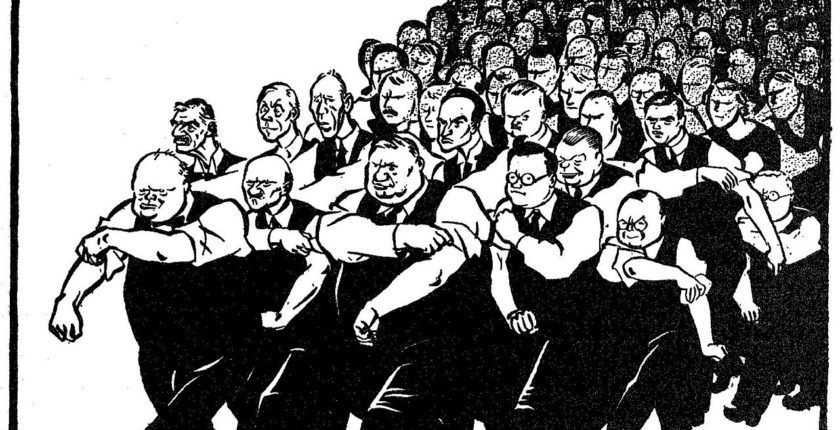 "All behind you, Winston." David Low in the Evening Standard, 14 May 1940. Front row: WSC, Clement Attlee, Ernest Bevin, Herbert Morrison, Leopold Amery. Recognizable behind them are Neville Chamberlain, Clement Davies, Lord Halifax, Arthur Greenwood, Alfred Duff Cooper, A.V. Alexander and Anthony Eden. (Wikimedia)

---
Churchill on Low
"Low is the greatest of our modern cartoonists," wrote Winston Churchill in his delightful essay "Cartoons and Cartoonists." He praised "the vividness of his political conceptions," and declared Low a singular artist: "He possesses what few cartoonists have—a grand technique of draughtsmanship. Low is a master of black and white. He is the Charlie Chaplin of caricature, and tragedy and comedy are the same to him."
New Zealander David Low worked mostly for left-wing periodicals like the Star and the New Statesman. Such praise for someone who consistently poked fun at him is a fine example of Churchill's collegiality. He was never a hater; he appreciated talent, however directed. Of course, Churchill didn't hesitate to say what he thought of Low's politics:
Low is at once made and hampered by his upbringing….When he was growing to years of discretion, the best way of getting a laugh was to gibe at the established order of things, and especially at the British Empire. Here was the British Empire emerging into conscious existence fanned by the quiet loyalty of hundreds of millions of faithful people under every sky and climate. To jeer at its fatted soul was the delight of the green-eyed young Antipodean radical. And as the Empire, etc., seemed strong enough to stand anything, the process was not only amusing and profitable; it was safe.
A Low cartoon, Churchill went on, was a masterpiece of invective. "There is not a figure in it that is not instinct with maliciously-perceived truth…. There he is, with his little tyke and his Joan Bull and her baby, deriding regularly everything that is of importance to our self-preservation."
Low on Churchill
Low gave as good as he got. "An upholder of Democracy," he described Churchill—"yes, when he was leading it." Impatient with it when he was not…
His definition of democracy, I felt, would be something like "government of the people, for the people, by benevolent and paternal ruling-class chaps like me." Remembering him as one of the most energetic mis-educators of public opinion in the early 1920s, when his dislike of political onrushes took him within hail of fascism, when the rabbits of the Trades Union Council were held up as Russian bears and the idea of a Labour Government was alleged to mean the enthronement of Bolshevism at Westminster, I could never accept him as a democrat in the Lincolnian sense."
"Maliciously perceived truth"
In Labour circles the myth long pervades (and still does), that Churchill's first reaction against striking Welsh miners in 1911 was to send troops against them. This potent theme returned in the 1926 General Strike. But before that, during the 1924 election, Low came out swinging. His portrayal of the die-hard Tories was so funny that Churchill offered to buy it!
Now look at his cartoon…. There is not a figure in it that is not instinct with maliciously perceived truth. Really it is a masterpiece. When it appeared in the Star I was so tickled with it that I wrote and offered to purchase it. So they sent it me as a handsome gift. I showed it to Lord Birkenhead. He had not seen it before. I said cheerfully: "What a wonderful caricaturist! He gets you to a nicety. It's astonishing how like you are to your cartoons." F.E. took up the picture, all beautifully framed, and gazed at it pensively, rather a solemn look coming over the grave and charming lines of his face, and handed it back to me with the remark: "You seem to be the only one who's flattered." I thought this very good.
War and Reversal
Thus it went on until the Second World War. Suddenly, in May 1940, Churchill plunged in as Prime Minister. Just as suddenly Low's cartoon critiques were replaced by rampant boosterism. Here was the opportunity for all the characteristics Low admired in Churchill to come to the fore.
"Winston's characteristics," he wrote later, "were confidence in himself and love of his country. At the time of our first meeting I wrote, 'Churchill is one of the few men I have met who …. give me the impression of genius. Shaw is another. It is amusing to know that each thinks the other is much overrated!"
"From his old castigator"
David Low's greatest Churchill cartoon was created for the pictorial magazine Illustrated in 1954 to mark Sir Winston's 80th Birthday. It speaks for itself. It is simply marvelous. Working for once in color, Low gathered all the "Winston's" of the great man's life, toasting the old man. Here was the red-haired Harrow schoolboy upstart. The subaltern in India. The First Lord of the Admiralty and Chancellor of the Exchequer, the painter, the siren-suited Prime Minister. Even the portraits—Marlborough and his Duchess—are raising a glass.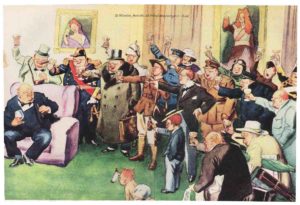 In this cartoon one sees all the mutual respect and affection of two skillful practitioners of political art. Entirely different métiers, of course—but there it is. More important, however, David Low was expressing what the nation knew as a certitude.
Certainly they knew it in 1954—but perhaps some need reminding today. For all the storms that rocked a troubled century, they knew he had saved the nation.
Churchill Project Articles
Stay In Touch With Us
Subscribe now and receive weekly newsletters with educational materials, new courses, interesting posts, popular books, and much more!