Articles

The End is Nigh: British Politics, Power, and the Road to the Second World War, by Robert Crowcroft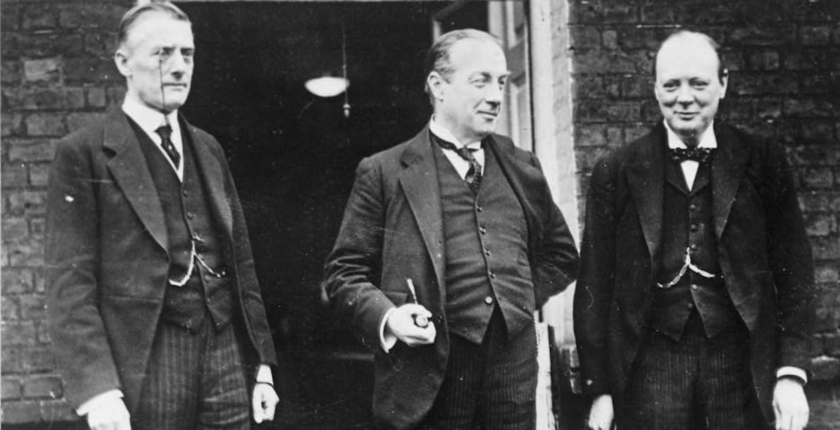 In happier times: Prime Minister Stanley Baldwin, the unlikely hero of Crowcroft's book, with Churchill, his Chancellor of the Exchequer, 1925-29. At left is Baldwin's Foreign Secretary, Austen Chamberlain, half-brother of Neville, who was rather closer to the grasping politician Crowcroft sees in Churchill. (Library of Congress)
---
Robert Crowcroft, The End is Nigh: British Politics, Power and the Road to the Second World War. Oxford University Press, 2019, 304 pages, $34.99, Amazon $31.92, Kindle $23.99.
Portrait of a Benign Baldwin and a Bogus Churchill
The history of appeasement culminated in a struggle for power between two mighty personalities: Neville Chamberlain and Winston Churchill. In 1940 Churchill was victorious, establishing his reputation as the prophet who had been right all along about Nazi Germany. Chamberlain, like almost everyone else, had been wrong. Today the picture is more complex. Churchill still has robust defenders, but his record is constantly under attack. Some historians go all or part of the way to justifying Chamberlain's actions. Robert Crowcroft brings a new and unusual kind of revisionism to bear on the debate.
In seeking to demolish Chamberlain and Churchill alike, Crowcroft argues firstly that both were self-serving politicians, and secondly that neither had the vision to save the British Empire in its hour of need.
There is no irony in Crowcroft's description of himself as a cynic. He is cynical about the history of democracy, which, he maintains, has always been a system steeped in humbug and manipulated by politicians selling bogus promises and wishful thinking. At the level of high politics, where the struggle for power was at its most intense, politicians were compulsive opportunists. They sought power for its own sake, and exploited—or fabricated—public issues in the service of personal rivalries.
Baldwin?
In spite of this, Crowcroft's tale has a hero, albeit unlikely. Stanley Baldwin, in the author's view, was the most benign operator of the system and the architect of a tranquillising era of Conservative ascendancy. Baldwin created a reassuring ethos of moderate conservatism, conciliatory to the working class but appealing to the high-minded followers of Liberalism. Thus he tamed the forces of democracy and prevented them from degenerating into class and ideological conflict.
Alas Baldwin lost control of events. When Italy attacked Abyssinia in 1935, he courted liberal sentiment by staging a general election on a platform of upholding the principles of the League of Nations. His more serious objective was to win popular support for rearmament. But his pledge to support the League was rapidly exposed as hollow by the Hoare-Laval Pact.
Baldwin was all but swept away in the storm of outrage that followed. Although he clung to office and subsequently redeemed his reputation by skilfully handling the Abdication crisis, the age of Baldwin was over. Foreign policy was now central to the competition for power at home, enabling the government's opponents to turn popular sentiment against the dictators into a formidable political weapon.
Cowlingite History
Crowcroft's revisionism owes much to the work of the late Maurice Cowling, the cantankerous historian whose reactionary imagination enlivened a trilogy of works on the history of British democracy, of which The Impact of Hitler was the most controversial. Cowling spoke for a dissident strand of Tory opinion in which the Second World War featured as a disaster that put an end to the social and imperial order of the interwar years, and the "Churchill myth" as a romantic fiction concealing the reality of a major British defeat.
In Cowlingite history, Churchill was an irresponsible adventurer whose gambles at the roulette wheel finally paid off when he staked a last despairing bet on Hitler. Chamberlain, meanwhile, was a sound enough conservative whose diplomacy was sabotaged by his Foreign Secretary, Lord Halifax, who sacrificed appeasement in the interests of saving the Conservatives from Labour. Unlike Cowling, whose literary style was dry and intractable, Crowcroft is a fluent narrator who conducts us along the road to war in buoyant and spirited fashion. I fear he also leads us astray.
* * *
Inside every statesman is a politician with a politician's bag of tricks. So it was with Chamberlain and Churchill. Crowcroft, however, diminishes them both by reducing their ambitions and policies to self-serving power plays. Churchill, he argues, deliberately stoked up a quarrel with Baldwin over India in order to seize control of the Conservative party. Perhaps he was trying to seize control, but he was also passionate about the issues at stake and carrying the torch handed on to him by his close friend and ally Lord Birkenhead, the Secretary for India from 1925 to 1929.
Birkenhead feared that a future Labour government would surrender the "Jewel in the Crown" to Gandhi and the Congress Party. In order to pre-empt the decision, he set up a commission under Sir John Simon with a mandate to propose a strictly limited programme of constitutional change. Churchill was happy to endorse the Simon Report but horrified when Baldwin abandoned it in favour of a declaration by the Viceroy Lord Irwin (later Lord Halifax), in favour of ultimate Dominion status for India. The bitterness of the personal quarrel between Churchill and Baldwin ought not to distract attention from the very real substance of the differences between them. Anyone who doubts the passion lurking in Churchill's breast should examine his record on India between 1940 and 1945.
The Truth of the Matter
Churchill was no more in favour of appeasing nationalism in Germany than nationalism in India. Crowcroft treats his demands for rearmament and collective security as transparent bids for office by a politician who was out and wanted to be in. In fact, Churchill sought office in order to make history. Who can doubt that had he been Prime Minister in September 1938, Britain would have gone to war to stop Hitler? His actions when at last he won the premiership were entirely consistent with the messages he had been delivering since 1933.
As for Chamberlain, Crowcroft claims that his initial realism was overwhelmed by an overweening vanity that led him to adopt a course of diplomatic activism when he should have had the wisdom to leave well enough alone. Britain, he asserts, had no vital interests at stake in central and eastern Europe. The UK should have allowed Hitler to pursue his quest for Lebensraum undisturbed. In this respect, he argues, both Churchill and Chamberlain were deficient in realpolitik.
It is a paradox of the 1930s that the British began to prepare for war against Germany in 1934, while the Nazis only began to prepare for war against Britain after Munich in September 1938.
* * *
Until quite late in the day. Hitler cherished the illusion that, provided he posed no threat to the Empire, the British would raise no objection to Germany's expansion in the east.
Crowcroft likewise assumes that the core national interest of Britain lay in the preservation of the Empire. The overriding national interest, however, lay elsewhere, in the preservation of the security and independence of the British as an island people a few miles off the coast of Europe. Britain was primarily a European state, a truth brutally reinforced by the rise of air power. The British military and political elite understood that the country could never be secure if an expansionist, militarising Germany dominated the Continent. A peaceful German economic hegemony, accompanied by a general reduction in armaments, would have been a very different matter and was indeed Chamberlain's ultimate objective.
Both Churchill and Chamberlain understood that Nazi Germany was a time bomb. But whereas Chamberlain imagined that it could be defused by diplomacy, Churchill believed that it could only be defused by force, or the threat of force. When the diplomacy of appeasement failed Chamberlain was compelled to accept—albeit with the profound reluctance of a man who loathed war—that no other response was possible. In the final analysis the British Empire, which was already in decline, had to be sacrificed so that Britain itself could live.
The Author
Professor Addison, University of Edinburgh, is the author Churchill on the Home Front and Churchill: The Unexpected Hero, both of which we recommend as singular reading.
Churchill Project Articles
Stay In Touch With Us
Subscribe now and receive weekly newsletters with educational materials, new courses, interesting posts, popular books, and much more!