Articles

Criticizing Your Country Abroad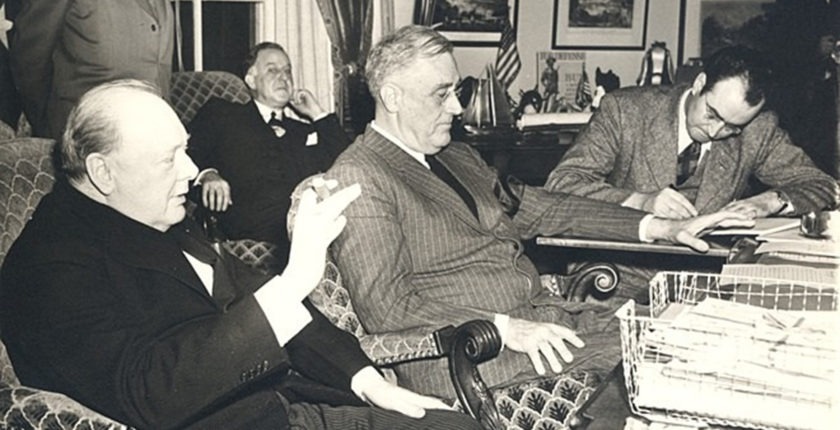 Q: In 2015, controversy arose over whether President Obama would criticize or apologize for American use of the atomic bomb on a visit to Hiroshima. (In the event he did not.) I have no problem with visiting the memorial there, but question whether it is appropriate to be criticizing what happened there in 1945. Did Churchill offer any advice on this question? —R.K, Kansas City
---
A. Yes. We found two passages in the canon which bear on the subject, both from Churchill's speeches in the House of Commons.
"…when I am abroad I always make it a rule never to criticise or attack the Government of my own country. I make up for lost time when I come home. But when I am abroad and speaking to foreigners I have even defended our present Socialist rulers, and always I have spoken with confidence of the future destiny of our country. Here at home we must do our duty, point out the dangers, and endeavour so to guide the nation as to avoid an overwhelming collapse. But I have no patience with Englishmen who use the hospitality of a friendly nation to decry their own. I think this is a very good principle, and one which deserves general attention." (18 April 1947)
Of course, the question at Hiroshima was whether to criticize an act of war seventy years old; but in the abstract, Churchill's advice not to venture into such areas at any time seems to us to have merit. To put a finer point on it, he said earlier: "​It is also a great error if​ ​you ever give the impression abroad that you are​ ​using language which is more concerned with​ ​your domestic politics than with the actual​ ​fortunes and merits of the various great countries​…to whom you offer advice." (14 March 1934)
As far as we can tell, there are no examples of Churchill criticizing British politics in speeches abroad or to international bodies; and endless examples of Churchill criticizing British policies when in Britain. It is sometimes argued that criticizing one's country is a sign of strength. Refraining from doing so, even if criticism is warranted, is a sign of greater strength. Of course, Churchill offered many apologies for British actions privately, when warranted, including overseas, in the course of World War II—but not in public forums.
---
Featured Image: Press conference with President Roosevelt, Washington, December 1941.
Churchill Project Articles