Articles

Contasino Meets Churchill, 1931: "A World Aglare"
Mario Contasino was driving up New York's Fifth Avenue when he struck and almost killed a man we would need badly a few years later: Winston Churchill.
Among the many millions unemployed in the Great Depression, Contasino, a truck driver and mechanic, had been driving without incident for eight years. To his horror, a figure suddenly darted into his path and was struck down. Shaking, Contasino pulled over to summon help. It was Sunday, December 13, 1931. A Right Honorable Member of Parliament lay on the street.1
At the age of fifty-seven Churchill, with his wife Clementine and daughter Diana, had arrived in New York City on the North German Lloyd liner Europa two days before. The purpose was a forty-lecture tour of North America, through which Churchill hoped to recover his own finances, demolished in the 1929 Wall Street crash. He anticipated earning at least £10,000 (£335,000, about $1.7 million in today's money). He had also been offered £8000 by Esmond Harmsworth, proprietor of London's Daily Mail, for a series of articles on "America's situation, prospects and mood."
Churchill's theme was the "Pathway of the English-Speaking People." He delivered his first lecture on December 12th, in Worcester, outside Boston. On Sunday he was back on Park Avenue at the Waldorf-Astoria. After dinner with Clementine, he left to visit his friend the financier Bernard Baruch at Baruch's Fifth Avenue apartment, about a mile or so farther uptown.2
With temperatures in the mid-forties, Churchill bundled up and took a taxi, but he did not remember the exact address. Optimistically, he thought the cabbie would know the home of so distinguished a New Yorker. Biographer Roy Jenkins quipped that the driver would have been lucky "to have got to the Plaza Hotel, let alone a private residence."3
The sympathetic driver poked along Fifth Avenue while Churchill tried to recognize Baruch's apartment building, which he had seen two years before. Nothing looked right. Frustrated, Churchill thought he saw a familiar façade between 76th and 77th streets, paid off the driver, and started to walk north. After a few paces, shortly after 10:30 pm, he apparently changed his mind and decided to take advantage of a momentary break in the traffic (which was two-way in those days).
In the middle of the street and between traffic lights, Churchill looked left, as one would in London, saw no downtown traffic, and proceeded. He failed to look right, where cars were heading uptown. Thus his fateful meeting with poor Contasino. Later Churchill recalled "a world aglare…a man aghast…I do not understand why I was not broken like an eggshell, or squashed like a gooseberry."4
Injuries Sustained
The area was residential and quiet, but a cluster of people appeared and passing motorists stopped to assist. Churchill was helped up. "He was gravely injured, bleeding heavily from his head and both thighs," William Manchester wrote. "…Though in shock and great pain, Winston wiped the streaming blood from his face and assured [Contasino] that he had been blameless."5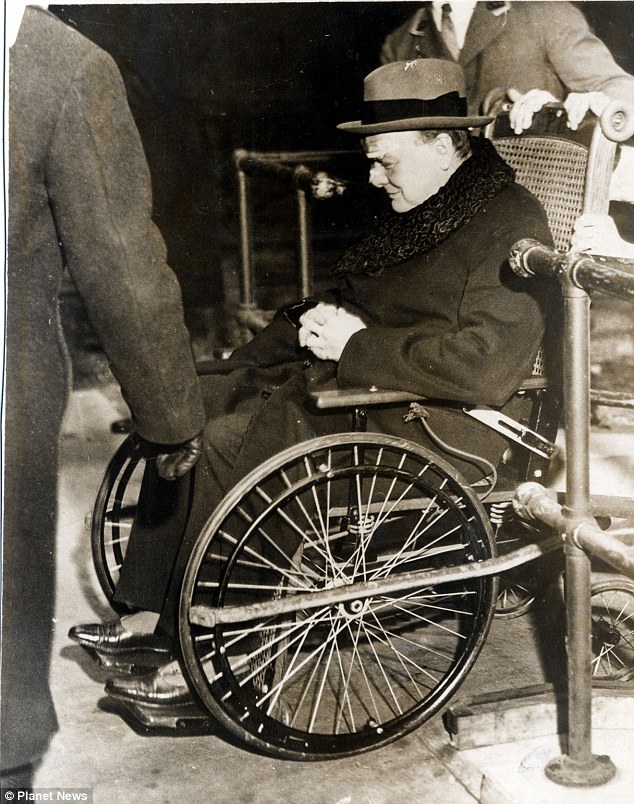 The distraught young driver, who did not yet know the victim's identity, lifted Churchill into his car and drove to Lenox Hill Hospital on 76th Street between Park and Lexington Avenues. There Churchill was placed in a wheelchair and asked to identify himself. "I am Winston Churchill, a British statesman," he said. "I do not wish to be hurt anymore. Give me chloroform or something."
Some things never change: the hospital, a private institution, wished to know how he would pay. With only a few dollars in his pocket, he asked them to telephone the Waldorf. After what seemed an eternity to him, Clementine and his bodyguard Walter Thompson arrived. "They almost got me that time, Thompson," said Churchill. Clementine paid in cash and chloroform was administered.
Churchill was placed in a private room, where Dr. Bloom of the hospital staff cleaned his cuts and treated his sprained shoulder. A consulting surgeon, Dr. Otto Pickhardt, was summoned, and Churchill was taken to the operating room for an examination to see that there were no internal injuries.
Shortly after 1 a.m. Pickhardt emerged, confirming that Churchill's injuries were not serious, but that the sprain was causing him "slight annoyance." Relieved, Clementine expressed the wish that his condition be accurately conveyed to their friends in England. As a precautionary measure, the hospital said Churchill should remain several days for observation. A detective was stationed at the door of his room and Mrs. Churchill stayed there overnight.6
Image: Churchill discharged from Lenox Hill Hospital, in a wheelchair with a bandaged nose, 21 December 1931. (Planet News)
Churchill Takes Responsibility
While Churchill was being treated, Mario Contasino was questioned by the police. Based on Churchill's testimony that he had attempted to cross the avenue against traffic lights and in the middle of the block, Contasino was released and cleared of charges.
Churchill later wrote that his intended destination was 1055 Fifth Avenue—which is, in fact, between 86th and 87th Streets, so he'd been ten blocks off. "He took the accident good-humoredly and freely admitted, the police said, that he was entirely to blame," reported The New York Times. "His greatest concern, hospital official attendants said, was lest the seriousness of his injuries be exaggerated when word of the accident was conveyed to England."7 His next lecture, scheduled for Brooklyn that evening, was rescheduled, along with other lectures originally intended to run through February 14.
On the following evening, Drs. Otto Pickhardt and Foster Kennedy played down the injuries, announcing that Churchill was suffering from an uncomplicated pleurisy in the right chest, but was expecting a good night.8 His wife's cable to their son Randolph was more accurate: "Head scalp wound severe. Two cracked ribs. Simple slight pleural irritation…Generally much bruised." But, she added, "Progress satisfactory."9
Aside from his wife, daughter, Baruch and another friend, George Cororan, no visitors were admitted to Churchill's room. But the hospital received hundreds of enquiries and messages, and several radiophone calls from England, including one from King George V. Ever the calculating author, Churchill arranged to write an article on his experience for the Daily Mail. Cabling his scientific adviser, Frederick Lindemann, he asked for calculations of the shock to his body. Lindemann replied that the accident was equal to falling thirty feet onto hard pavement, adding humorously: "Congratulations on preparing suitable cushion and skill in taking bump."10
The media was intrusive—aren't they always? After Churchill's article was published he received a letter of congratulations from the North American Newspaper Alliance, who called his story "a well done job," and asked for "a photograph of the damage done." Churchill's reaction to this impertinent notion is unrecorded.
Churchill Meets Contasino
Mario Contasino felt so bad about the accident that he phoned the hospital almost daily to inquire about Churchill's condition, and several times called at Lenox Hill wishing to apologize. Hearing of this, Churchill asked to see him, since he was deeply concerned that the accident might prevent him from finding work. Poor Contasino had been months without employment, living frugally with his Italian immigrant father in a Yonkers flat.11
Contasino finally visited on December 20th, a week after the collision. He spent more than half an hour chatting with Winston, Clementine and Diana, who were all impressed by him. Mrs. Churchill offered to help him financially, but he politely declined. Before he left, Churchill presented him with a copy of his book, The Unknown War, which had recently been published in New York by Scribners.12
On the 21st, a day after Contasino's visit, Churchill was discharged, transferred by wheelchair and automobile to the Waldorf Astoria, wearing a large dressing across the bridge of his nose. He was accompanied by Clementine, Diana and Dr. Pickhardt, who said he'd have to remain in bed and recuperate for two weeks.
Five days later Pickardt issued his now-famous prescription, essential to his British patient in Prohibition America: "…the post-accident convalescence of the Hon. Winston S. Churchill necessitates the use of alcoholic spirits especially at meal times. The quantity is naturally indefinite but the minimum requirements would be 250 cubic centimeters."13
Accustomed to dictating from bed, Churchill telegraphed his account, "My New York Misadventure," to the Daily Mail on December 28th. Three days later he, Clementine and Diana sailed for Nassau, where he ultimately remained until 22 January. He then returned to resume his lectures. At the first of these, in Brooklyn, Mario Constasino was in the audience.14
Image: Dr. Otto Pickhardt's famous prescription, amusing in retrospect, was essential to his patient in those days of Prohibition. (Churchill Archives Centre)
The Search for Mario Contasino
Mario died aged 83 in 1989, but interest in him revived some seventy-seven years after the incident. In January 2008 Codemasters, a British video game producer, launched a game, "Turning Point: Fall of Liberty," with a counterfactual scenario in which Churchill's accident proves fatal. Inspired by the actual facts, Codemasters set out to honor Contasino through his descendants.
In the process, Codemasters claimed to have found evidence that Mario was really one Edward F. Cantasano—who, jibing with the 1931 newspaper articles, had lived with his father in Yonkers and had sisters in Brooklyn. Based on data from census records, a recent Yonkers newspaper article, school records, and the Riverside Library, Yonkers, a follower of their quest added an entry to Wikipedia, which is still there:
Edward F. Cantasano (November 25, 1905 – January 17, 1989) also known as Mario Contasino, was an unemployed mechanic from Yonkers who, on December 13, 1931, accidentally hit the future Prime Minister of the United Kingdom, Winston Churchill, while driving a car.
A review by this writer of the Codemasters website suggests they did not unequivocally establish that Contasino and Cantasano were one and the same. In fact, two separate local Yonkers newspapers in 1931 showed the name Contasino in use. The Yonkers Herald had "called at the Contasino home" on 21 December 1931.15 On the same date the Yonkers Statesman noted that "Nikola Contasino," when told Churchill was formerly the equivalent to the U.S. Secretary of the Treasury, exclaimed: "The same as Mr. Mellon? My, my!"16
Mario Contasino will forever be connected with the story of an event that almost altered history. Arthur M. Schlesinger, Jr. once asked: "Would the next two decades have been the same had the automobile killed Winston Churchill in 1931 and the bullet killed Franklin Roosevelt in 1933?… Suppose in addition that Lenin had died of typhus in Siberia in 1895 and Hitler had been killed on the western front in 1916. Would the 20th century have looked the same? Individuals do make a difference in history."17
 One can only imagine what Contasino thought when the man he had nearly killed became prime minister of Britain in a fateful hour nine years later. But what did Churchill learn from the experience? In the Daily Mail, he wrote words that are good advice for all of us:
"I certainly suffered every pang, physical and mental, that a street accident or, I suppose, a shell wound can produce. None is unendurable. There is neither the time nor the strength for self-pity. There is no room for remorse or fears. If at any moment in the long series of sensations a grey veil deepening into blackness had descended upon the sanctum I should have felt or feared nothing additional. Nature is merciful and does not try her children, man or beast, beyond their compass. It is only where the cruelty of man intervenes that hellish torments appear. For the rest—live dangerously; take things as they come, dread naught; all will be well."18
Featured Image: The original illustration from The Daily News portrayed Contasino's car as a taxi, giving rise to a long-running inaccuracy; it was in fact a private car.
---
1 Martin Gilbert, Winston S. Churchill, vol. 5, The Prophet of Truth 1922-1939 (Hillsdale, Mich.: Hillsdale College Press, 2009), 421.
2 William Manchester, The Last Lion, Winston Spencer Churchill, vol. 1, Visions of Glory 1874-1932 (Boston: Little, Brown and Company, 1983), 877.
3 Roy Jenkins, Churchill: A Biography (New York: Plume, 2002), 443.
4 Winston S. Churchill, "My New York Misadventure," in the Daily Mail, 4-5 January 1931, republished in The Collected Essays of Sir Winston Churchill, 4 vols. (London: Library of Imperial History, 1975), IV 90–91.
5 Manchester, Visions of Glory, 877.
6 Details of the Lenox Hill reception are from "Churchill Injured by Auto in 5th Av.: British Statesman's Shoulder Sprained and Face Cut as He is Struck at 76th Street," in The New York Times, 14 December 1931, 1.
7 Ibid.
8 Ibid.
9 Ibid.
10 "Winston Churchill Develops Pleurisy Following Injury by Auto in 5th Avenue," The New York Times, 15 December 1931, 1.
11 Manchester, Visions of Glory, 879.
12 "Churchill Greets Driver Who Hit Him," The New York Times, 21 December 1931, 23.
13 Ibid.
14 Gilbert, Prophet of Truth, 421, n. 1.
15 Yonkers Herald, 21 December 1931, 5: "…the Contasino home [was] a second floor flat in a house all but hidden from the street by billboards…the youth was too reticent to talk with the reporter [and] refused, through his father, to pose for a photograph. His father, Nikola, at work in his rags factory adjoining the home, told how deeply concerned Mario was over the accident, and a note of pride crept into his voice as he said the statesman might have been more seriously injured if any other driver had been at the wheel. The Contasinos have been residents of Yonkers for the past seven years, having come here from New York. Mario, his father said, had been employed as a driver at the Saso stone quarries here until the end of last summer. Since that time he has been looking for another position, unsuccessful until now."
16 Yonkers Statesman, 21 December 1931, 7.
17 Arthur M. Schlesinger, Jr., "History's Impresario," speech to the International Churchill Society, Boston, 28 October 1995, in Churchill Proceedings 1994-1995 (Hopkinton, N.H.: Churchill Center, 1998), 90-91.
18 Churchill, "My New York Misadventure," in The Collected Essays of Sir Winston Churchill, IV 94.
Churchill Project Articles
Stay In Touch With Us
Subscribe now and receive weekly newsletters with educational materials, new courses, interesting posts, popular books, and much more!