Articles

Two Views of Churchill's Relationship with Clement Attlee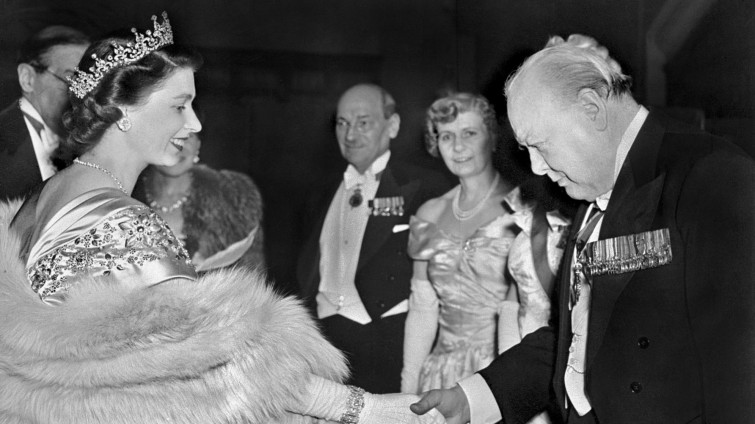 ---
Sir Winston greets HM the Queen while Clement and Violet Attlee look on, mid-1950s.
---
Clement Attlee: The Man Who Made Modern Britain by John Bew (New York, Oxford University Press, 2017), 670 pages, $39.95, Amazon $32.32, Kindle $14.57. David Cohen, Churchill & Attlee: The Unlikely Allies Who Won the War (London, Biteback, 2019), 362 pages, $32.95, Amazon $22.98, Kindle $9.99.
Clement Attlee…
…was Winston Churchill's friend, rival and coalition partner during World War II. As Prime Minister, he was both Churchill's successor and predecessor. They were opposing party leaders in three elections, and, in retirement, fellow grandees of British politics. Over the four-decades of association, they admired, frustrated, appreciated, and annoyed each other, often all at the same time. Despite the accomplishments of his Labour government in 1945-51, Attlee was always underrated, both by his contemporaries and later by historians. He has long remained in the shadow of Winston Churchill's outsized life and personality.
Attlee was from a prosperous family, attended Oxford, and began a career at the bar before moving into Socialist politics as he pursued social work in London's East End. The young Clement was first a Conservative, then a Liberal. (The Ronald Cohen collection being acquired by the Hillsdale College Churchill Project includes a prized copy of Churchill's Liberalism and the Social Problem bearing Attlee's bookplate.)
Clement Attlee amassed an impressive record in the Great War. He later would praise the Dardanelles operation Churchill had championed as the most imaginative idea of the war. After the Armistice he was active in London politics for the Labour Party, and was elected to Parliament in 1922. He held cabinet office under Ramsay MacDonald, the first Labour prime minister, and won the party leadership in 1935.
Wartime Coalition
In the dramatic days of May 1940, Attlee brought Labour into the wartime coalition under Churchill. He went on to serve as a member of the War Cabinet until the defeat of Germany. Becoming prime minister himself in the 1945 election, Attlee was returned to office in 1950 before being defeated by Churchill and the Conservatives in 1951.
Despite his accomplishments, Attlee was repeatedly criticized by both supporters and opponents for being bland, lacking charisma and appearing weak, indecisive and uninspiring. Even at the moment of his resounding victory in 1945, there was a brief bid by Herbert Morrison to "snatch the leadership from Attlee's hands." Attlee knew of the criticism. I retirement allowed himself to characteristically to gloat in a poem he wrote for his brother:
Few thought he was even a starter
There were those who thought themselves smarter
But he ended P.M.
C.H. and O.M.
An Earl and a Knight of the Garter
Shunning Saul's Armour
Undoubtedly the most important factor in Attlee's success as a politician in the 1940s and 1950s was that he never tried—or more importantly even felt the need—to be more Churchillian than Churchill. Ignoring his detractors, who said he never rose to the occasion, Attlee did not try to match or outdo Churchill's huge personality or commanding presence. Winston was a showman who delivered memorably dramatic speeches, adopted the cigar and V-sign as trademarks, and occasionally donned military uniforms. Clement remained the good plain cook. Habitually shy, the mustached Attlee rarely dressed up and spoke in a clipped voice. In retirement wrote a quite boring memoir, especially compared Churchill's epic masterpieces. But Attlee recognized the senselessness of trying to match his rival. In 1943, standing in for the Prime Minister at Cabinet, he wrote: "It is not easy to sub for [Churchill]. It is obviously futile to put on Saul's armour, but I seek in a more pedestrian style to preserve a mean between dignity of language and dullness."
Attlee's speeches likewise remained ordinary. Even at the moment of his electoral vindication in 1945, as James Chuter-Ede, MP observed, Attlee's victory speech was "typical. Without a trace of emotion, he alluded to the tremendous nature of our victory." While Churchill was a dominating presence in any setting, especially in politics, Attlee did not chafe at being thought a secondary figure. In his own Labour government he was regularly eclipsed, in a manner that would have been intolerable for Churchill, by the cabinet heavyweights Bevin, Bevan, Cripps, Morrison and Dalton. But he was not at all disturbed, remarking about Bevin, "If you've got a good dog, you don't bark yourself."
Clement was always content to be Clement. His reward was six years as prime minister during which time his government remade Britain, taking a strong role in the Cold War, granting independence for India, developing the British Atomic Bomb, creating the welfare state, nationalizing industry, and establishing the National Health Service. A private secretary who served them both remembered that under Churchill, life at Ten Downing Street was hectic, exciting and unpredictable; but under Attlee, things got done quietly, methodically and always according to plan.
Bew's Biography
The Churchill and Attlee relationship is now examined in two books, John Bew's Clement Attlee and David Cohen's Churchill & Attlee. Bew's is the superior work. A professor at King's College London, Bew provides an excellent critical study of the Labour prime minister that stands to be a standard biography of its subject. As Bew notes "we continue to live in a world of Attlee's creation." He provides an understanding of Attlee's personality and belief system, and accurately portrays his personal modesty.
Bew is particularly good in describing the Churchill-Attlee relationship and comparing the two prime ministers. During the wartime coalition, Bew writes, there was not "perfect harmony between the two men" but they maintained a strong partnership. Even after the war and the return to the rough and tumble of party politics, the two maintained a friendship and respect for each other. Attlee said of Churchill: "What a career! What a man! We shall not see his like again." While Churchill would make occasional cutting remarks about his colleague Clemen, he would not allow others do so in his presence. Rebuking one critic he said: "Mr. Attlee is a great patriot. Don't dare call him 'silly old Attlee' at Chartwell or you won't be invited again." Clement Attlee: The Man Who Made Modern Britain is indeed a brilliant study and is a biography worthy of its subject.
Cohen's Comparison
Churchill & Attlee: The Unlikely Allies Who Won the War by David Cohen gets off to a rough start when the author writes in the first sentence of the prologue (xi) that Churchill's only short story was written two years after the end of the Second World War. In fact, he wrote his first short story, "Man Overboard," in 1898. It was published in Harmsworth Magazine in 1899.
Cohen (author of Diana: Death of a Goddess, The Escape of Sigmund Freud, and Freud on Coke) claims his book is not a dual biography. But largely he presents a narrative interspersing the careers of the two prime ministers. He eschews references, and does not list the Churchill Papers in his bibliography. Despite the sub-title "Unlikely Allies," their wartime relationship receives only eighty-one pages out of 362. The author rather overstates the case when he compares the Churchill-Attlee partnership with Mandela-de Klerk in South Africa and Paisley-McGuinness in Ulster. Whatever party political differences Attlee and Churchill had to set aside in facing Nazi Germany, they were insignificant compared to what had to be overcome between the pairs of rivals South Africa and Northern Ireland. There is also much on the psychology of Winston Churchill with references to Freud. Clement Attlee is, however, largely spared such "posthumous diagnosis."
In his first chapter, Cohen claims that as prime minister, Churchill was "eager to be seen as successful, perhaps a hang-up from his childhood." This, he adds, "may have been the motivation behind why, in 1942, he called for two votes of confidence in his administration" (10). Resorting to a vote of confidence has hardly been an indication of strength or success in British parliamentary history. Prime Ministers and governments have been brought down by votes of no confidence, the last being James Callaghan in 1979. Although Churchill in wartime retained the approval of a large majority of the British public, the votes of confidence reflected the political turmoil he was facing and the frustrations of Parliament. After the Far East disasters of 1941-42, Churchill had to remake his cabinet, including bringing in Stafford Cripps. After the humiliating surrender of Tobruk to Rommel in June 1942, Churchill again had to face down parliamentary opposition. The votes of confidence reflected political discontent rather than a childhood "hang-up."
Typos and errors also slip into Cohen's text, including placing Churchill's near-drowning in 1897 not 1893 (51), sending Attlee to Persia not Mesopotamia in 1916 (94); and having Churchill in Moscow not Egypt when Gott was killed in 1942 (245). In summary, readers seeking an understanding of Attlee and the Attlee-Churchill relationship are best directed to Bew's biography.
The Author
Bradley Tolppanen is Professor of Library Services at the Booth Library, Eastern Illinois University, Charleston Illinois. He is the author of a definitive study, Churchill in North America, 1929. These reviews expand on his reviews of the two books originally posted on his Churchill blog.
Further Reading
"Great Contemporaries: The Churchill I Knew," by Clement Attlee, a two-part article beginning here.
Churchill Project Articles
Stay In Touch With Us
Subscribe now and receive weekly newsletters with educational materials, new courses, interesting posts, popular books, and much more!