Articles

Clare Sheridan: "The nearest thing to a sister that Winston ever had."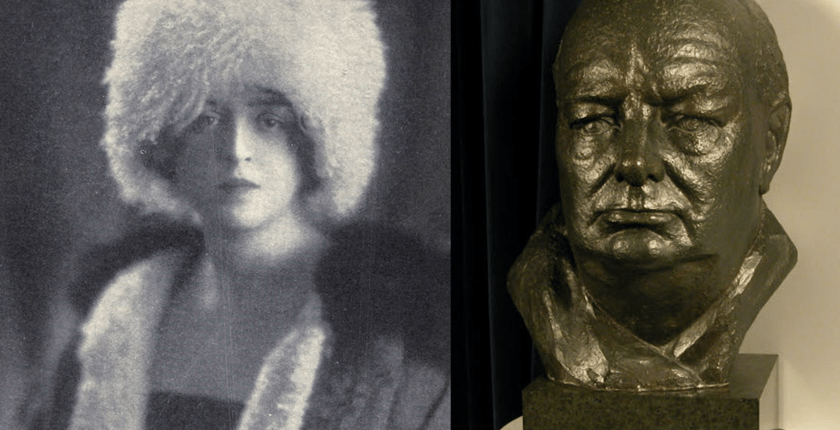 Clare Sheridan circa 1917 (Wikimedia Commons) and her bust of Winston Churchill in the hallway at Chartwell (National Trust, by kind courtesy of Katherine Carter).
---
"Obstreperous Anarchist"
On 30 November 1942, Churchill was exuberant. Britain was victorious at el-Alamein and the Allies had landed in North Africa (Operation "Torch"). On this day he also celebrated his sixty-eighth birthday. His family, as usual, showered him with congratulations. "May Providence continue watching over you," wrote his Aunt Leonie from Ireland. Another relative captured the national mood of relief over the turning in the tide of war. "You have pulled us through the dark tunnel into the light of dawn!" Clare Sheridan told him.1
Clare was Winston's only female cousin. A sculptor, she'd been trying to capture his likeness since the start of the war. Only now, with victories in hand, did he feel he could afford her the time. The next morning, equipped with a huge block of clay, she duly arrived at the underground War Rooms where he occasionally slept. He was in bed stroking his black cat "Nelson" and reading a newspaper. "When he lowered it," she recalled, "I saw a Hogarthian figure with cigar and spectacles."
The sittings continued over the next ten mornings. When she was finished, he declared it a fine piece of work. "I want it to be a success," he beamed. Then he added, with a twinkle in his eye: "We'll call it 'Prime Minister by Obstreperous Anarchist.'"2
It was a joke, but behind it lay a barbed truth. Clare had held youthful left-wing opinions that were anathema to Winston. Two decades earlier, their differences had almost led to a total rupture in relations. They also involved a cloak and dagger story complete with Bolshevik spies and M.I.5, Britain's security service.
Cousin Clare
 Born in 1885, Clare was the only daughter of Winston's mother's elder sister Clara, and her English husband Moreton Frewen. Her father was dubbed "Mortal Ruin" for his often ruinous speculative ventures and lifelong flirtations with bankruptcy. Winston certainly thought that of him after his ruinous editing of the first edition of WSC's Malakand Field Force. Clare was a bridesmaid at Winston's wedding in 1908; her own followed two years later. She married Wilfred Sheridan, a descendant of the famous Irish playwright Richard Brinsley Sheridan. Tragically, Wilfred was killed at the Battle of Loos, making Clare a widow with two small children.
She needed a life and a profession, and she found it in art. Her family rallied round. Thanks to friends in high places, she received tuition from leading English sculptors. By her mid-thirties she had blossomed into a vibrant and self-confident artist. Calling herself a pacifist and anarchist, she enthusiastically broke Edwardian taboos. Candle-lit dinner parties in her St. John's Wood studio became a magnet for an upper-class Bohemian set thrilling to Jazz Age London.
Events brought her into Winston's orbit in 1920. Freddie Guest, an influential cousin on his father's side, decided to collect sculptured heads of his celebrity friends. Clare eagerly seized on Winston as an obvious subject. They spent hours together on Sundays in Freddie's Roehampton home while Clare sculpted, and Winston happily painted. "Sometimes," he told her, "I could almost give up everything for it."3
Consorting with Crocodiles 
One day in August she invited Winston to lunch at her studio in London. It came at the climax of his crusade against the Bolsheviks, with the Red Army at the gates of Warsaw. Churchill was Secretary of State for War in Lloyd George's Liberal-Conservative Coalition government. He knew from secret intercepts that the Bolshevik trade representatives in London were also carrying out Bolshevik propaganda. To his fury, his demand they be expelled was denied by the Cabinet. He hated the Bolsheviks, he exploded to Clare over lunch. They were "like crocodiles." He would like to shoot every one he saw.4
Luckily, he had no idea what Clare was up to. While he raged, she kept quiet about the sitter who'd come to her studio just that morning. He was none other than one of the "crocodiles" himself. Lev Kamenev, a loyal disciple of Lenin, was brother-in-law to Leon Trotsky, head of the Red Army. Seduced by the forbidden lure of Bolshevism, she'd persuaded Kamenev to sit for her.
While she sculpted, he talked almost non-stop about the wonders of the new society in Russia. Over the next few weeks she was his constant companion. Infatuated with her romance, she was thrilled by the prospect of sculpting the heads of Lenin and Trotsky. When Lloyd George finally decided to expel Kamenev for propagandizing against his promises, she left with him for Moscow. Churchill erupted with rage. "Clare's in Russia with those filthy communists. She's mad, I tell you. Mad! It's absolutely typical of Clare, but this time she's really gone too far. I'll not forgive her."5
Scandal and retaliation
Clare Sheridan's stay in Moscow was a triumph. In the freezing cold of a makeshift Kremlin studio, she sculpted all the top Bolsheviks: Trotsky, Zinoviev, Dzerzhinsky and Lenin himself.6 But at home the episode was a society scandal, and when she returned to England, she was socially ostracized.
For Winston the timing of the whole affair could hardly have been worse, and he refused to meet her. Encouraged by the family, she quickly left for a speaking tour in America. She was seen off by Winston's sympathetic mother Jennie. "If you are not happy," she said, "come straight back. You have a powerful family who love you and we are all here to open our arms to you." But she added an admonition. "Remember that you are the nearest thing to a sister that Winston ever had, and—apart from the embarrassment you can cause him when your unusual doings are associated with his name—he can be deeply wounded. So don't do that again."7
"You did not want to know…"
Clare was thankful for her loyalty, but wounded and felt badly let down by Winston's refusal to see her. On board the Aquitania, she wrote him a bitter letter about her feeling of betrayal. "You never waited to hear what I thought," she remonstrated. "You did not want to know what I had seen. What I could tell no-one else, but would have told you, did not interest you. You just turned your back on me." She would never forget his unkindness, she continued. He should know that if she now had Bolshevik tendencies, these were the result of her treatment in England, not in Moscow. "I will only think of you as in the past," she concluded, "with affection, Your Cousin Clare."8
To Winston, family was always important, and he had an essentially forgiving nature. Despite her outburst, he sent her a gracious reply explaining that having nothing pleasant to say to her on her return from Moscow he had thought it better simply to remain silent until a better time arrived. But he still regarded her with affection and admired her gifts. He hoped she would come back "with a healthy gap between you and an episode which may have faded and to which we need neither of us ever refer."
"This wild cousin of mine"
Privately, he also felt deeply protective towards his wayward cousin. Without telling her, he found her a guardian angel in New York in the form of Bernard Baruch. "Bernie" had been his opposite number in the United States dealing with munitions production. "Keep an eye on this wild cousin of mine," he asked. "She's brave but has no judgment and might get into trouble." Baruch generously agreed. But he was not the only one keeping a watchful eye.
In America Clare threw her energies into journalism and returned to Europe as a roving correspondent of the New York World. Travelling widely over the next few years, she obtained several headline-making scoops. One was a vivid account of the burning of Smyrna and an interview with the Turkish leader, Kemal Ataturk. She also linked up with two British journalists. William Norman Ewer was foreign editor of the Labour Party newspaper the Daily Herald. George Slocombe was the Herald's Paris-based chief foreign correspondent. Both were Soviet agents, using the London office of the Federated Press Bureau of America (FPA) as a cover. And both were under surveillance by M.I.5.9
Under steady gaze
Clare had attracted M.I.5's interest in her Moscow visit, and its file on her now rests in the public domain. A cover note records her as being "an anti-British propagandist" serving Russia. She was "in close touch" with Ewer and Slocombe and suspected of involvement with their espionage activities. One of M.I.5's informants was a close acquaintance of Clare's. Sidney Russell Cooke, a wartime M.I.5 officer, was a stockbroker who'd socialized with her and Kamenev in London. In 1925 he told the agency that he was "strongly of the opinion that she was in the pay of the Russians. [She was] free of debt for the first time in ten years, despite making no money from journalism or sculpture." The implication was that she was accepting "Moscow Gold."
Because of the sensitivity of Clare's connections with Churchill, M.I.5 handled the file at the highest level. It was soon decided that her activities warranted gaining a Home Office Warrant (HOW) to intercept her mail. M.I.5's head Sir Vernon Kell went personally to talk with Churchill, who was then Chancellor of the Exchequer. The M.I.5 records contain the following minute of the conversation: "Winston informed him… that he was not prepared to go bail for her, that in fact he was prepared to believe anything C.S.I [Kell] told him about her and also that he was prepared to take any action if and when C.S.I wished him to do so."10
If there were plenty of suspicions about Clare, there was no actual proof of espionage. The Home Office Warrant was cancelled the next year. Nor is there any evidence of any action taken by Churchill.
Clare's ardour lost
Besides, by then Clare's enthusiasm for Bolshevism was already cooling. On a 1923 visit to Moscow, she was both officially snubbed and suffered discomfort. "Even at the best hotel in Moscow her bedroom was invaded by small animals."11 Significantly, the file contains no entries on her at all for the decade following 1926. Even after that it contains little more than insubstantial gossip and warnings about her general indiscretion—certainly nothing sinister. Indeed, just two months before sculpting her cousin in Downing Street she wrote to a friend: "Before the war for many years I lived as an anarchist and brought up my children to spit on tradition. Now, I'm just the contrary."12
Once the war was over she converted to Roman Catholicism, retreated to the country, and turned her artistic talents to sculpting in wood. "In earlier days," she wrote in a 1945 memoir, "I was bellicose, intolerant, unyielding." But now, she confessed, "I have developed an inner life [and] above all serenity."13
Political differences between her and Winston remained. She was now a member of the radical Independent Labour Party. Shortly after his "Iron Curtain" speech at Fulton he taunted her over her previous loyalties. He referred to Soviet policies in Eastern Europe as those of "your former Russian friends." When she complained to him about the hardships of postwar austerity he responded tartly: "[D]o not try to be a Bolshevik and complain of Bolshevism at the same time."14
"Remember our relationship is eternal."
But the rancour had gone. They kept in friendly touch through letters and visits and he helped her when he could. In America for his Fulton speech, he went out of his way to obtain specialized sculpting tools for her. He also warmly invited her to lunch at Chartwell.15 In 1948, at the height of the Berlin Blockade, she spent a pleasant day there. She found her now out-of-office cousin dressed in his familiar boiler suit, lamenting "the inefficient crowd now in power, who are what he calls 'throwing the British Empire away.'"
They explored his studio, talked about art, admired the golden carp in his fishpond, and enjoyed tea together. When she finally left, he called to her from the top of the stairs. "Write whenever you want me to do something for you—remember our relationship is eternal." 16 The following year she and her brother Oswald joined the rest of the family at Chartwell for the seasonal Christmas festivities.17
"Stop thinking of the Dardanelles" … "Can't."
The last time they met was in London shortly after he resigned as prime minister in 1955. She found him depressed and despairing that his life had been for nothing. It was now her turn to reprove him. "How can you!" she remonstrated. "You beat the Nazis—even I have come around to seeing that had to be done. I am a pacifist but you are the great war leader that won…. I'm not a Communist any more. Horrible Stalin murdered my friends."
But nothing she could say lifted his spirits. Around this time he went to St. Paul's for unveiling the memorial to his lifelong friend, Sir Ian Hamilton. Sir Ian had commanded the land forces at Gallipoli in 1915. Memories of the disaster that had almost ended his political career clearly still haunted Winston. "If the Dardanelles had come off it might have been a very different story for the whole world," he said to Clare. "So many brave men have died since through stupidity. We could have ended the whole thing back in 1915.
"Yes, my dear," he went on, "we had to fight those Nazis—it would have been too terrible had we failed. But in the end, you have your art. The Empire I believed in has gone." When she finally kissed him good-bye, she murmured "Stop thinking of the Dardanelles." "Can't," he said. This was the last word she heard from him.18
He died in 1965 and Clare followed him five years later. Their relationship has been side-lined or ignored by many biographers more interested in politics than in Churchill's private life. But the bust made by the "Obstreperous Anarchist" forever stands in the hallway of Chartwell. It is mute testimony to a family friendship that endured through tempestuous times.
Endnotes
1 Martin Gilbert, Road to Victory: Winston S. Churchill 1941-1945 (Hillsdale Mich.: Hillsdale College Press, 2013), 250.
2 David Stafford, Oblivion or Glory: 1921 and the Making of Winston Churchill (New Haven: Yale University Press, 2019, 262. The only extant biography of Clare is Anita Leslie, Cousin Clare: The Tempestuous Career of Clare Sheridan (London: Hutchinson, 1976). See also Leslie's entry on Clare in the Oxford Dictionary of National Biography, online edition 2002-15. Clare's autobiography appeared in 1957, entitled To The Four Winds (London, Andre Deutsch, 1957).
3 Leslie, Cousin Clare, 99.
4 Oswald Frewen Diary 17 August 1920, quoted in Leslie, Cousin Clare, 103.
5 Ibid., 114-15.
6 For Clare's own account of her time in Moscow, see her Mayfair to Moscow: Clare Sheridan's Diary (New York: Boni and Liveright, 1921), passim.
7 Leslie, Cousin Clare, 134-35.
8 Churchill Archives Centre, Churchill College Cambridge, CHAR 1/138/5-6, quoted in Stafford, Oblivion or Glory, 98.
9 For the general background, see Christopher Andrew's official history of M.I.5, Defend the Realm (Toronto, Penguin, 2010), 113-86. For Ewer and Slocombe's espionage activities, see Victor Madeira, "Moscow's Interwar Infiltration of British Intelligence 1919-1929," The Historical Journal, 46, December 2003, 915933.
* * *
10 See minutes by "B.2." [almost certainly Jasper Harker], 24 November and 4 December 1925, in Clare's personal file, 'Sheridan Clare Consuelo,' PF 38453/VI, in KV 2/1033 (The National Archives, London).
11 "B.2" note, 14 November 1923, in KV 2/1033.
12 Intercepted letter from Dr. Henry Winterstein-Gillespie to his wife, 1 September 1942, in KV2/1033. After the war, Clare converted to Roman Catholicism.
13 Clare Sheridan, My Crowded Sanctuary (London: Methuen, 1945), 240-41.
14 Winston S. Churchill to Clare, 19 April 1946, Churchill Papers 1/42, cited in Martin Gilbert, Winston S. Churchill, vol. 8, Never Despair 1945-1965 (Hillsdale, Mich.: Hillsdale College Press, 2013), 224. WSC to Clare, 7 May 1946, Churchill Papers 1/42, cited in Martin Gilbert & Larry P. Arnn, eds., The Churchill Documents, vol. 22, Leader of the Opposition, August 1945-September 1951 (Hillsdale College Press, 2019).
15 Bernard Baruch helped and paid for them all. Unfortunately, they were of the wrong kind. See correspondence between WSC and Clare and Winston, April-May 1946, Churchill Papers 1/42, in Leader of the Opposition, ibid.
16 Clare Sheridan to her daughter, June 1948, quoted in Leslie, Cousin Clare, 257-58.
17 Gilbert, Never Despair, page 498.
18 For Hamilton's memorial, see Gilbert, Never Despair, 1254-55. For this last meeting of the two cousins, see Leslie, Cousin Clare, 263.
The Author
Adapted from David Stafford's latest book Oblivion or Glory: The Making of Winston Churchill 1921, New Haven and London, Yale University Press, 2019. Professor Stafford is a historian and former diplomat who has written extensively on espionage, intelligence, Churchill, and the Second World War. The former Project Director at the Centre for The Study of the Two World Wars at the University of Edinburgh, he is now an Honorary Fellow of the University and an Adjunct Professor at the University of Victoria in British Columbia, where he and his wife now live.
Churchill Project Articles
Stay In Touch With Us
Subscribe now and receive weekly newsletters with educational materials, new courses, interesting posts, popular books, and much more!