Articles

What was Churchill's best seller?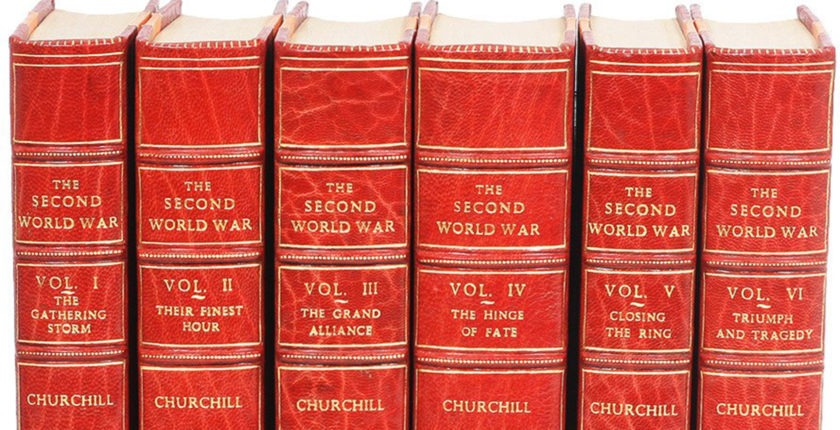 Q: We are asked if My Early Life, Churchill's classic (and regrettably sole) autobiography, first published in 1930 and in print over most of the near-ninety years since, is his best selling work. An interesting question, which we referred to Churchill bibliographer Ronald Cohen.
---
A: While I don't retain anything like a running total of copies sold, I do have pretty comprehensive records of the translations, which are a reasonable reflection of the breadth and size of the reader audience. Even without precise sales figures to hand, I feel comfortable in concluding that the runaway Churchill best seller of all time is The Second World War (six volumes, 1948-54). In second place I would place A History of the English-Speaking Peoples (four volumes, 1956-58). The quantitative strength of sales of these titles is enhanced by their Book-of-the-Month Club issues in North America. Both were of course also serialised in North America (in Life Magazine) and the UK (in Everybody's), which adds to the readership, if not the sales, of the books themselves. They were also followed by abridgments, which do add to the numbers.
They also had strong translation records, which of course increases the sales figures, although The Second World War, his best seller, had more than twice as many translations as the English-Speaking Peoples.  Interestingly, and this does reflect on the best-selling records of these multi-volume works, I record 34 separate editions and issues of SWW and a surprisingly large number (31) of editions and issues of HESP.
Among single-volume works, I would be (intuitively) inclined to rank My Early Life first, and thus the third best seller if we include the multi-volume works, in terms of the number of languages into which it was translated and the continuity of new editions and issues, which have been produced as recently as 2007. A new edition with fresh footnotes, edited by James W. Muller, along the lines of Muller's editions of Thoughts and Adventures and Great Contemporaries, may soon be published.
In its time, Churchill's greatest war speeches, compiled as Into Battle (Blood, Sweat and Tears in North America, had a huge reception and for a while led his best-sellers). In Britain there were five printings alone in February 1941, and twelve overall. But its popularity was not enduring; no new editions have appeared in the past fifty years, and even the last one (in 1966 under a very different title, manifesting no relationship to the original work) was a compilation likely motivated by Sir Winston's death. Otherwise, there had been no new edition or printing in the last seventy years.
Herewith a small table of translations of these books. I can of course provide the equivalent for any of Churchill's works, although I do not retain such an overall table currently. (Your question makes me think that I should.)
Translations
The Second World War: 22 languages, including the more recent and uncommon in terms of translations of Churchillian works, Arabic and Catalan versions of the abridged edition.
My Early Life: 18 languages
History of the English-Speaking Peoples: 10 languages
Into Battle = Blood Sweat and Tears: 10 languages
Churchill Project Articles
Stay In Touch With Us
Subscribe now and receive weekly newsletters with educational materials, new courses, interesting posts, popular books, and much more!