Articles

Churchill Solitaire: Victory at All Costs
Winston Churchill loved a good card game. Later in life, he even traveled with a green, velvet table cover to facilitate the pastime. Donald Rumsfeld, former U.S. Secretary of Defense and friend of Hillsdale College, also enjoys playing cards, especially when the game requires strategic decision making. While serving as U.S. Ambassador to NATO in 1973, he learned a version of solitaire from Belgian Ambassador André de Staercke, who claimed that none other than Prime Minister Churchill taught him the game during World War II. Now forty years later, Rumsfeld has made it possible for Churchillians and card game enthusiasts alike to try their hand at this challenging game, which Rumsfeld has fittingly named "Churchill Solitaire." The game is available as a free, downloadable app for iPhone and iPad; a GooglePlay version is coming soon.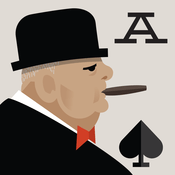 Those familiar with the classic version will find Churchill Solitaire easy to pick up but difficult to master. The game is played with two 52-card decks, with six of the one hundred and four cards set apart as the "devil's row," which players must eliminate in order to win. This challenging game has been given an impressive platform in the Churchill Solitaire app. Rumsfeld's team has embellished the app with cinematic World War II footage, Churchill quotations, beautiful animation, a Campaign mode, and a martial soundtrack. Should players despair before the challenges of Churchill Solitaire, the app will remind them of their aim with the Prime Minister's own inspiring words: "Victory—victory at all costs."
We at The Churchill Project looked into Churchill's relationship with André de Staercke. Although we could not find in their personal correspondence any reference to solitaire, we confirmed that de Staercke, during his time with the Belgian government-in-exile in London, became well-acquainted with the Churchill family, having luncheon with them (mentioned in a letter from Churchill, November 27, 1947), sending and receiving gifts on the Belgian Prince's behalf (letters spanning 1946–1947), and sending birthday and Christmas cards to the Churchill's home (noted in letters from 1949–1951).1 While the amount of time de Staercke spent with Churchill is unknown, the correspondence between the two men is heartfelt. On Churchill's birthday in 1957, de Staercke wrote, "Today more than ever you are the symbol of our hopes. I send you my warmest wishes."2 The claim, then, is entirely plausible, that Churchill taught de Staercke his own version of solitaire.
As friends of Donald Rumsfeld and admirers of Winston Churchill, we at Hillsdale College encourage you to relax, hone your strategic thinking, and enjoy a nice tribute to Winston Churchill by downloading and playing Churchill Solitaire. 

---
1 Personal letters. The Churchill Archive, CHUR 2/249, 2/384, 4/54, 4/52A-B, 2/463, 2/464, 2/465, 2/162, 4/67 A-B, 2/483A-G, 2/490 A-G, 2/491 A-F, 2/492 A-G.
2 Personal Telegram. The Churchill Archive, CHUR 2/484A-C.
Churchill Project Articles
Stay In Touch With Us
Subscribe now and receive weekly newsletters with educational materials, new courses, interesting posts, popular books, and much more!