Articles

"Mirrored in the Pool of England": Churchill, Shakespeare, and Henry V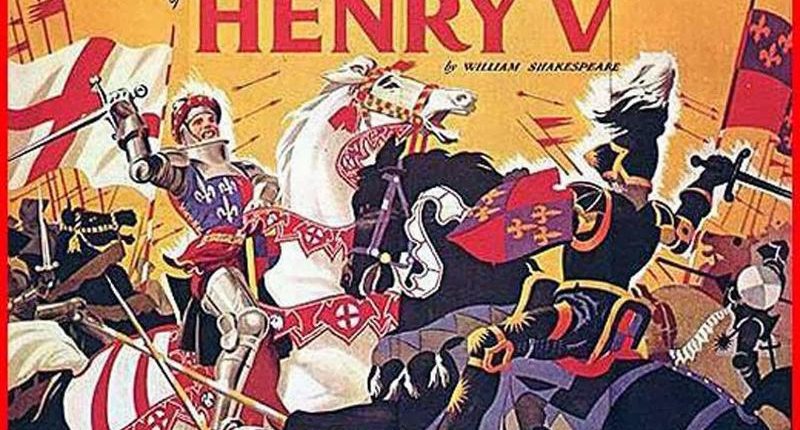 Richard Langworth, Senior Fellow with the Hillsdale College Churchill Project, speaks at the fourth event of the of Center for Constructive Alternatives in the 2018-2019 school year: "Churchill and the Movies."
---
[Edited transcript] Thanks Tess, and I thank you all for attending. I hope you've all seen the film this afternoon. I have five points to make about it.
The first is why Henry V is important in understanding Churchill. I differ in this from some of my colleagues. The second is Churchill's familiarity with Shakespeare—he quotes no English author more. The third is his friendship with Sir Laurence Olivier. Fourth, what did Churchill most admire in the film? And finally, I'll offer some parallels between the story Shakespeare told and Churchill's story three centuries, over three centuries later.
Why is Henry V important?
The television producer Marlo Lewis said, "The play introduces us to urgent problems of statesmanship, and through them, to questions of political philosophy: the delicate matters of legitimacy and the founding of regimes." I think that is an aspect but not the most important aspect. Above that and first, the importance of Henry V is what it teaches us about leadership.
"True leadership," writes Andrew Roberts, "stirs us in a way that is deeply embedded in our genes and psyche. If the underlying factors of leadership have remained the same for centuries, cannot these lessons be learned and applied in situations far removed from ancient times? Leadership like courage and even sincerity can be completely divorced from the concepts of good and evil," Roberts says. "Hitler was both brave and sincere in his beliefs despite the fact that they were loathsome. The greatest criminal of our own times, Osama Bin Laden, is a leader nonetheless deserving of our investigation into how he could persuade so many people to wreak so much devastation."
Only to study the leadership of people whose actions one approves would be to deny oneself the examples of some of the world's most influential leaders. Fortunately, Henry V was a leader for the good, at least insofar as Olivier taking certain liberties with the script portrays him.
Churchill and Shakespeare
How well did Churchill know the Bard? Well enough I think to ace a Hillsdale course on Shakespeare. Both by formal quotations and by well-known phrases almost hidden in his texts, Churchill draws allusions and understanding from sixteen Shakespeare plays, from Macbeth to A Midsummer Night's Dream, though not surprisingly, the sonnets. But he memorized at least five plays verbatim. In his book Churchill's Literary Allusions, Darrell Holley devotes a chapter to fifty Churchill Shakespeare references. In his speech to the General Assembly at Richmond, Virginia, in March 1946, Churchill explained why the Bard was relevant: "The light of the Elizabethan age, which Shakespeare, Raleigh, and Grenville adorned, casts its unfading lustre upon our scene here, and in Williamsburg nearby." Unfading lustre is certainly something both Shakespeare and Churchill may claim.
Churchill applies Shakespeare to ornament and punctuate his thought. Often, he doesn't even bother with quote marks. He assumed, in an age when even grammar school children would read the Bard, that listeners would recognize the words. Ignorantly, I once credited Churchill with: "For God's sake let us sit upon the ground and tell sad stories of the death of kings." I was quickly admonished. It is of course from Richard II.
Churchill's understanding of Western Civilization was strongly grounded in Shakespeare and in other classics. Speaking at Harvard in 1943, he defined what Americans and Britons shared: law, language, literature, common conceptions of what is right and decent, a marked regard for fair play—especially to the weak and the poor—a stern sentiment of impartial justice, and above all, the love of personal freedom. These themes are rife in the work of Shakespeare.
Churchill and Olivier
Sir Laurence, along Sir Ralph Richardson, Dame Peggy Ashcroft, and Sir John Gielgud, dominated the British stage in the mid-20th century. Olivier played in more than fifty films and later had great success in television. As far as we can tell, he came to Churchill's attention in 1929, when the actor was only 22. In R.C. Sherriff's blockbuster play, "Journey's End", he played Captain Stanhope, a depressive alcoholic commanding British troops in World War I. Hillsdale's The Churchill Documents contain Sherriff's letter thanking Churchill for his praise. The play in subsequent film must have reminded Churchill of his own time in the trenches, although he was neither an alcoholic nor depressive. Despite what you may have heard.
In 1939, Churchill met Merle Oberon, who had married Alexander Korda, whom we heard about earlier. She had played Catherine opposite Olivier's Heathcliff in Wuthering Heights. It was a long friendship. Ten years later, as Beaverbrook's guests on the Riviera, Churchill gave Oberon painting lessons. Every once in a while, he would look at her painting, and add a few brush strokes of his own, a friend said. The picture when completed was excellent for a beginner and about 80% Churchill. Nevertheless, he signed the inscription, "Merle from Winston S. Churchill, August 21, 1949." The next evening, he suffered his first stroke.
* * *
In 1940, after starring together in Lady Hamilton, Olivier and Vivien Leigh married. They often invited the Churchills to Laurence's performances. Watching Richard III, Churchill almost threw the actor off by reciting the words from his seat. Later, he admitted he knew the play by heart, and then recited twenty speeches from his favorite Shakespeare tragedies, one after the other, without a mistake. When Olivier consulted him about the delivery of a certain speech, Churchill gave a rendering which he thought better than his own, and subsequently adopted it.
From the mid-40's, the Oliviers and Churchills were very close. Bodyguard Edmund Murray, seconded to Chartwell in 1950, remembered an after lunch excursion to the fish pond, a special privilege. "I can remember Mr. Churchill telling them that each of the maggots he fed his goldfish had a pedigree, and they should really consider feeding them themselves from the tin lid that he offered them." In 1955, Churchill paid Sir Laurence the ultimate accolade, inducting him into The Other Club. Olivier thanked him for "sharing the joy of your company."
In 1958, the producer Harry Tower signed Olivier to narrate a movie version of Churchill's History of the English-Speaking Peoples. He never found a backer, possibly being, as John Fleet said yesterday, because you're talking about 2000 years' worth of movie script. The film remains unproduced to this day. But Olivier was there at Sir Winston's funeral, reading excerpts from his speeches on the BBC. "It had enormous impact," one historian observed. "Some saw it as the funeral of the British empire, some as a requiem for the heroism of the war, and others as the burial of a mighty subject and the nation's final hero. What is certain is that it could have happened for no one else."
Churchill and Henry V
In April 1941, Churchill's government promoted a patriotic short film, "Words for Battle." It featured poetry by Kipling, Milton, and Blake, and excerpts from speeches by Lincoln and the Prime Ministers. All were read by Olivier against footage of the blitz. As it ran in London, a bomb shattered the House of Commons one year to the day since Churchill had become Prime Minister.
In 1944, Olivier joined Filippo Del Giudice to produce Henry V in technicolor. Churchill enthusiastically endorsed the project. How could he not? He loved Shakespeare, loved Olivier, and loved color films. Filming began just before another great invasion of France, Operation Overlord. In the event, the film was not released until November 22, a week or so after Churchill had marched in liberated Paris on Armistice Day. The PM saw the film with his wife and daughter Sarah on the 25th. His reaction, his private secretary recorded, was ecstatic.
Churchill in his History describes King Henry as "a gleam of splendour in the dark, troubled story of medieval England. He came to the throne in a moment when England was wearied of feuds of brawl and yearned for unity and fame." Churchill could be thinking of himself when he adds that "Henry led the nation away from internal discord to foreign conquest. He had the dream and perhaps the prospect of leading all Western Europe into the high championship of a crusade." The film was shot in Ireland and hailed for its colorful sets and costumes, for Olivier's masterful direction and acting. Pauline Kael called it "a triumph of color, music, spectacle, and soaring heroic poetry." It earned nominations for Best Picture, Best Actor, Best Score, Best Interior Decoration and Color. Olivier received a special award for outstanding achievement as actor, producer, and director.
Vivid Scenes
As we saw, the movie opens with a panorama of 1600 London and the globe theater, where the audience is seated. The king enters and receive a gift from a French Dauphin–tennis balls–a snide jab at his youth and inexperience. Churchill recalled this scene in 1956 during a post-Stalin thaw with the Russians. Crew ships sent him cases of liqueur from different parts of the Soviet Union. "They tasted," said Private Secretary Anthony Montague Browne, "like alcoholic hair oil." Sir Winston compared the gift of tennis balls from the Dauphin to Henry V. The film gradually moves from the Globe Theater to stylized sets that look like scenes from Fun House. These contrast with lifelike battle scenes, very bright and somewhat larger than life.
At Agincourt, the nimble English archers, whose bowfingers the French had vowed to cut off, let fly a volley of arrows that devastates the clumsy, unwieldy French knights. According to legend, the victorious English held up their still-intact bowfingers to the humiliated French, giving rise to the famous "V" sign. Palm out, that is. Palm in, it's a rude gesture. In this country we render it with one finger.
After the battle, Henry courts the French princess Catherine, Renee Asherson. King Charles adopts Henry as a successor and France falls under the sway of England. Olivier and Del Giudice intentionally left out Henry's harsher traits as Shakespeare described them: beheading traitors, threatening to pillage Harfleur, cutting the throats of prisoners. Shakespeare's melancholy epilogue on how England under Henry the Sixth lost France is gracefully omitted.
Reviews
Reviewers were admiring then but if you Google modern reviews you'll find they still are. The blogger TaoYue sees a World War II analogy. "Scots, Welshmen, and Englishmen join in the common cause," he writes. "Turn those archers into spitfire pilots and the French knights into German bombers and it all comes together." The French come across as friendly toward England but corrupted by poor leadership." Sounds familiar. "Take the Dauphin, replace him with Hitler. Same thing.
The camera work is dynamic with lots of tracking and panning. There's a particularly breathtaking tracking shot from the side of a first French charge, the horses slowly gathering speed from a plot to a full gallop. It looks majestic." "Olivier," says another reviewer, "seems the current cultural epitome of classical Shakespeare. The camera movement reminds one of Scorsese. It makes the space feel so intimate. The bridge between Elizabeth and England and our own doesn't seem that long. If you watch Henry V with the right set of eyes, it's an absolute delight."
Performers
There are many fine performances, no bad ones. These are not Hollywood stars sloppily mouthing Shakespearean titles to justify their star power. These are experienced Shakespearean actors. The archbishop is a windbag, the King of France is an absent-minded old man, the Dauphin is an arrogant, cold-hearted rascal, the Duke of Burgundy a schemer, Princess Catherine is mischievous and naive, shocked by how gross and vile English sounds. The only jarring thing is the staunchly British pronunciations of all the French words: "Calais," "Dauphin," "Agincourt."
Olivier injects lots of humor, perhaps trying to find some lightness in so dark a time as 1944. PlayShakespeare.com writes, "Pistol (Robert Newton) is a joyful rogue. You may recognize him as Long John Silver in Disney's 'Treasure Island' a few years later. He briefly impresses the Welsh officer Fluellen as a knight but when he insults the Welsh, Fluellen beats him and forces him to eat a leek: the Welsh national symbol. Fluellen, a know-it-all, is not shy about offering his opinions on how war should be conducted."
Do we see here perhaps a know-it-all from elsewhere named Alan Brooke? Fluellen admires but is conflicted about his boss. Thus also Alan Brooke, who wrote of Churchill: "Without him, England was lost for its certainty. With him, England has been on the verge of disaster time and time again." After he published those words in his diary, Alan Brooke sent Churchill his apologies.
Parallels and inspirations.
There are lots of these. Churchill's war speeches are, what shall we say, inspired by, remindful of, analogous to Shakespeare's? Example: the enemies' over-confidence before any firing fighting takes place. As the French prepared to rout the English, an officer muses with some trepidation, "That island in England breeds very valiant creatures. Their mastiffs are of unmatchable courage." But the Duke of Orleans jeers, "Foolish curs that run winking into the mouth of the Russian bear, and have their heads crushed like rotten apples. You may as well say that it's a valiant flea that dare eat his breakfast on the lip of a lion. It is now two o'clock but let me see by ten, we shall have each a hundred Englishmen."
Animal analogies are things Churchill also deployed, but that's not the best connection here. That passage smacks of his speech to the Canadian parliament about the French generals in 1940. Remember how he quoted them? "'In three weeks England will have her neck wrung like a chicken.'" And as a response, "Some chicken, some neck."
Harfleur.
Of the siege of Harfleur before Agincourt, Churchill writes in his history that the British were badly outnumbered, yet foremost in prowess. And Shakespeare quotes the king:
"Once more into the breach, dear friends, once more;
Or close the wall up with our English dead…
I see you stand like greyhounds in the slips…
Follow your spirit and upon this charge
Cry 'God for Harry, England, and St. George.'"
This is echoed in Churchill's war memoirs, where he writes, "Once again, we must fight for life and honor against all the might and fury of the valiant, disciplined, and ruthless German race. Once again, so be it." And in his peroration to his outer cabinet on 28 May 1940, a speech that ensured Britain would not seek an armistice with Hitler. "We shall fight on, and if this long island story of ours is to end at last, let it end only when each of us lies choking in his own blood upon the ground." Hugh Dalton, a Socialist member of the cabinet, remembered how ministers stood shouting, slapping him on the back while tears poured down his cheeks and theirs.
A.P. Herbert wrote, "Mr. Chamberlain, after all, was tough enough, and since the war began he'd been heart and soul with Mr. Churchill. But when he said a fine, true thing, it was like a faint air played on a pipe that lost on the wind at once. When Mr. Churchill said it, it was like an organ filling the church, and we all went out refreshed and resolute to do or die."
"A Little Touch of Harry in the Night"
On the night before Agincourt, King Henry tours the English camp incognito, to gauge morale. The scene recalls Churchill's 1899 account of the night before the Battle of Omdurman. Or Churchill's visits with the troops in North Africa, before D-Day, and in France. But the closest analogy, I think, is in 1941. That was when President Roosevelt sent his confidant, Harry Hopkins, to Britain, to tell him if the country was still worth backing.
Hopkins traveled up and down the land, devastated by the bomb damage he saw. Everywhere he went, he observed grit and determination, and faith in final victory. Hopkins had no doubts. In Glasgow, introduced by Churchill, he famously quoted the Book of Ruth: "Whither thou goest, I will go," and he added, "even to the end." Churchill wept.
* * *
Back in London, Lord Beaverbrook hosted Hopkins and the press at Claridge's. "We wondered," a Beaverbrook reporter said, "as our cars advanced cautiously through the blackout toward Claridge's, what Hopkins would have to say. [He went round] the table, pulling up a chair alongside the editors and managers…and talking to them individually. He astonished us all, Right, Left and Centre, by his grasp of our own separate policies and problems. We went away content. And we were happy men all." We few, we happy few…
To many who heard or read his words—FDR, Beaverbrook, Robert Sherwood, even J. Edgar Hoover, who had FBI agents present, Hopkins reminded them of Henry V, touring the camp before Agincourt:
With cheerful semblance and sweet majesty,
That every wretch, pining and pale before,
Beholding him, plucks comfort from his looks…
Thawing cold fear, that mean and gentle all
Behold, as may unworthiness define,
A little touch of Harry in the night.
1415 and 1940
William F. Buckley Jr. said, "It was not the significance of victory, mighty and glorious though it was, that causes the name of Churchill to make the blood run a little faster. It is the roar that we hear when we pronounce his name…. The Battle Agincourt was long forgotten as a geopolitical event, but the words of Henry V, with Shakespeare to recall them, are imperishable in the mind, even as which side won the Battle of Gettysburg will dim from the memory of men and women who will never forget the words spoken about that battle by Abraham Lincoln."
I think that might be true. It is the words, not the battles, that make the blood run faster in times to come. On the eve of Overlord in June 1944, General Ismay was reminded of Henry's words at Agincourt:
He which hath no stomach to this fight,
Let him depart; his passport shall be made, 
And crowns for convoy put into his purse.
Ismay heard one parachute commander say as he entered his aircraft:
And gentlemen in England now a-bed,
Shall think themselves accurs'd they were not here.
Of course that was a time, as I've said, when almost every Briton knew Shakespeare. And it was also a time, as Churchill added, "when it was equally good to live or die."
Old Men Forget
In the same act, Henry tells his soldiers:
Old men forget: yet all shall be forgot,
But he'll remember with advantages,
What feats he did that day….
In early 1943, writes Lewis Lehrman, "Churchill paraphrased those words to soldiers of the Eighth Army, who had defeated Rommel: 'After the war, when a man is asked what he did, it will be quite sufficient for him to say, 'I marched and fought with the Desert Army.'"
Churchill wrote in his History of the English-Speaking Peoples: When one of Henry's officers "deplored the fact that they had 'but one ten thousand of those men in England that do no work to-day,' the King rebuked him and revived his spirits in a speech to which Shakespeare has given an immortal form:
If we are marked to die, we are enough
To do our country loss; and if to live,
The fewer men, the greater share of honour.
Compare that to May 28th again, or to Churchill's greatest speech, 18 June 1940: "if the British Empire and its Commonwealth last for a thousand years, men will still say, 'This was their finest hour.'"
"Collective Consciousness"
It was no coincidence, Jon Meacham writes, that "he tied the trials of the present to the collective consciousness of the world to come. Men will still say was a call to arms reminiscent of Henry V with the image of how the tale would be told from generation to generation. This story shall the good man teach his son [became] 'Be brave now, and the future will cherish your memory and praise your name'—an impressive, if risky, means of leadership, for under stress not all of us are like Bedford and Exeter."
Churchill's history records the King's actual quoted words: "'Wot you not,' he said, 'that the Lord with these few can overthrow the pride of the French?' He and the few lay for the night." On 20 August 1940, Churchill spoke of another small, outnumbered band, the RAF fighter pilots: "Never in the field of human conflict has so much been owed, by so many, to so few."
St. Crispin's Day
Remarkably, Churchill in his speeches or History never quoted from Henry V's grand climacteric, the Crispin's Day speech. In fact, writes Geoffrey Best, "he made far fewer historical and literary references than a more commonplace performer might have done. But the effect was to reproduce the congratulations addressed by Shakespeare's hero to the Englishmen lucky enough to be with him at Agincourt."
In his History, Churchill offers lines that are not Shakespeare's: "The King himself, dismounted…and shortly after eleven o'clock on St. Crispin's Day, October 25, he gave the order, 'In the name of Almighty God and Avaunt Banner in the best time of the year, and Saint George this day be thine help.' The archers kissed the soil in reconciliation to God, and, crying loudly, 'Hurrah! Hurrah! Saint George and Merrie England!'"
Since he'd written those words already, who can say that Churchill didn't remember them in his 19 May 1940 speech, "Be Ye Men of Valour?" There he said: "Our task is not only to win the battle but to win the War…for all that Britain is, and all that Britain means." More modern language—but the sentiments are the same.
Constables of France
In the 1944 movie the Constable of France (Leo Genn) is not an empathetic figure. He is arrogant, imperturbable, impassive and phlegmatic—and supremely confident of victory. Then with the battle almost lost, he insists on returning to the fray and dying in combat.
I think Churchill recalled this character when he wrote about Charles de Gaulle, during the fall of France in June 1940. Churchill tells us how, among the defeatist French, he came across this "impassive, imperturbable…tall, phlegmatic man." On the last of those meetings before France surrendered, prompted I think by a recollection of the strongest French character in Henry V, he said of de Gaulle: "This is the Constable of France." And so he was.
Acts of Union
Toward the end of the play, after wooing Katherine, Henry promises they will sire, out of Saint Denis and Saint George, celestial patrons, one of France and the other of England,
a boy, half French, half English,
who will go to Constantinople
and take the Grand Turk by the beard!
Marthe Bibesco, the Rumanian princess, in a good little 1950s book on Churchill, noticed this comparison: "And here we have," she wrote, "in defiance of chronology, already predicted, the day after Agincourt, the Dardanelles expedition, which, in 1915 during the alliance between France and England will be so near to Churchill's heart."
That's a bit of a stretch—Churchill did make that offer, the Act of Union. But he little expected that it would be accepted, or have much effect, and it didn't.
For Them Both, "It was Always England"
As Churchill goes on to write, Henry V's French union was not to last. Churchill in old age likewise lamented that he had accomplished much, only to accomplish nothing in the end. And yet, what a self-description he offers us, writing of the King in 1938, not published until 1956. Henry V, he wrote:
was no feudal sovereign of the old type with a class interest which overrode social and territorial barriers. He was entirely national in his outlook: he was the first king to use the English language in his letters and his messages home from the front; his triumphs were gained by English troops; his policy was sustained by a Parliament that could claim to speak for the English people. For it was the union of the country [that gave Britain her] character and a destiny.
Is that not a description of Churchill himself? I think, if only subconsciously, he meant it to be.
His old friend Desmond Morton surmised that
for Churchill, it was always England…And thus Churchill was its man. He had never moved away from such a world…it had caught up with him from behind, a back slip in time. This was Henry V and all the great music of Shakespeare in the tribal soul….he saw himself mirrored in the pool of England. And England in him.
Questions and Answers
Q: "So, a few of us were discussing at dinner, what Churchill's position would be, do you think, on Brexit?"
Langworth: "Oh dear."
Q: "This is an easy essay question."
Langworth: "I was going to talk about that on Wednesday, actually. But since you asked, I sent myself an email yesterday and maybe I can find it. It's in The Churchill Documents, Volume 23, the last one. There's twenty-three document volumes and eight narrative volumes in the official biography, which wraps up in June of this year, thanks to Larry Arnn and the Churchill Fellows and Hillsdale College.
First he said on 10 September 1948: "We are not seeking in the European movement to usurp the functions of government. I have tried to make this plain again and again to the heads of the governments. We ask for a European assembly without executive power." Now that's quite a far cry from what we have now.
* * *
But the one that really got me was in 1951. He had been one month in office and he wrote to the cabinet:
It might be perhaps useful to all of you if I outline my position on the European Union. At Zurich in 1946 I appealed to France to take the lead in Europe by making friends with the Germans, burying the thousand year quarrel. Britain, and if possible, the United States, should be associated with the United Europe to make an even balance and to promote the United Europe movement.

As year by year, the project advance the federal movement to many European countries who participated became prominent. It has in the last two years lost much of its original force. The American mind jumps much too lightly over its many difficulties. I am not opposed to European federation, including eventually, the countries behind the Iron Curtain, provided that this comes about naturally and gradually. But I never thought that Britain, or the British Commonwealth, should either individually, or collectively become an integral part of a European federation, and have never given the slightest support to the idea.
Great Leaders Do Arise
Q: "Thank you for your insight tonight. What are your thoughts on the fact that great leaders all come together at the right time, and this might have been one of those moments in history, and some have mentioned that perhaps our own Constitution and independence were also the right time?"
Langworth: "Well we seem to manage it, don't we? I don't think this time is anything nearly relevant to what we faced in 1940-41. But we do seem to get those leaders when we need them. I just don't think the time is right for a leader like Churchill to save the day again. I think we have much lesser problems than the Third Reich."
Q: "In 1946, when Churchill came over to Fulton, Missouri and rode the train down with Truman, you talked about a speech he gave in Florida I think after that. Have those speeches in the United States after Fulton been published?"
Langworth: "Yes, they're all in the Complete Speeches, the eight volumes by Robert Rhodes James. I think some are in the Hillsdale document volumes, and in Churchill's speech volume, The Sinews of Peace. He went to Florida to get an honorary degree. He said he was impressed, receiving so many degrees as an old man after failing so many examinations as a young one.
Poker with the President
The ride down to Fulton was marvelous in many ways. Clark Clifford, Truman's aide, told me how they cleaned him out at poker. President Truman loved to play poker and suggested they have a few rounds. Churchill said, "Oh, I'd love to do that. I learned to play poker in the Boer War." Clifford said, "My gosh, that was impressive. None of us knew when the Boer War was." They played a few hands and it became very clear that Churchill's play was not up to the standards of Truman and these sharks who surrounded him.
At one point, Churchill was down several hundred dollars and he excused himself and went to the lavatory. And Truman in his brusque, frank, brisk way, spoke up. "Well boys, it's pretty clear that Mr. Churchill doesn't play American poker. Now he's our guest and I don't think it's right that we clean him out. I think we should treat him more fairly." His press secretary Charlie Ross said, "Well boss, do you want us to play poker or carry this fellow?" Truman replied, "He's our guest. I think we should be nice to him." By the end of the trip Churchill had won $80 and was very proud of himself. Clifford said, "I saw guys starting with three kings, or a full house, and they would throw in their cards."
You know the bourbon story? After the train left Washington, they found there was no Scotch aboard. Truman offered him a glass of whisky. "Well, Winston, what do you think of that?" And Churchill said, "Harry, it's very good but it's not whisky." So they stopped the train in rural West Virginia and someone ran off to an all-night liquor store and bought a bottle of scotch. Sorry to digress."
Henry IV?
Q: "So, in Henry V, we see a connection between this great statesman, Churchill. I was wondering if you could talk about the connection between young Churchill and Henry IV, if there's a connection there from Part 1 and Part 2 of Henry IV that we see in a younger Churchill?"
Langworth: "I'm going to leave that to Jim Muller who knows more about Shakespeare than I do. And that's a sneaky way of saying, I haven't the foggiest idea. Jim, please put that on your list. Sorry, I don't know."
Q: "Could you expand on the immediate aftermath of the Battle of Agincourt? What, so at that time England controlled Normandy, northern part of France, and how long did that union last, and how effective was Henry V at being able to control those two countries?"
Langworth: "  didn't go into depth on my research of what happened in the aftermath. So I don't know anything authoritative about it. But I know it didn't last long because the next king lost it. Burgundy was the last holdout, in Elizabeth I's time. The lilies came off the royal arms. It was a temporary thing."
Foresight
Q: "Was Churchill known for having other visions, other than when he was a young boy at Harrow and saw himself as saving the British? Or was this something common throughout his life?"
Langworth: "You're referring to his statement to Murland Evans, his fellow Harrovian, in 1891 when they were just sixteen. They spoke about their future plans and what they would end up doing. Churchill said, 'I see farther into the future than you do.' He spoke of a great future disaster. 'London shall be in danger, and I shall be the one to save London.' And this was in 1891. Evans reported that to Martin Gilbert years later. He thought it was astonishing, because he lived long enough to find that it really happened.
"Churchill had prescience. He foresaw cell phones, bio-engineering. As Dr. Arnn writes his book Churchill's Trial. He saw artificial intelligence, and worried seriously about it. Because he thought we were eventually going to get to the point where we were out-educating ourselves, and reaching into things where we probably had no business. Little did he know.
WSC on Twitter?
"Can you imagine Churchill on Twitter? I mean he was good at one liners, but he memorized most of them. 'You're drunk … I'll be sober in the morning.' He laid that one away for the proper time and it worked. It's not original, but he actually did say it. It's not one of those he didn't say and everyone thinks he did.
"He brought off a devastating one-liner in Parliament after the war. Lord Mountbatten heard about it asked, the next time he saw him 'Winston, how do you come up with these tremendous ripostes—that just take everyone by surprise?' He said, 'Patience, Dickie. I've been waiting years to get that one off.'
"He wasn't as good off the cuff as his son Randolph, who was a much better extemporaneous speaker. But he did have a phenomenal memory, as his knowledge of Shakespeare shows. He and General Smuts had a contest during the war about who could recite the most Shakespeare and Churchill of course won. But later Smuts realized that Churchill had been making up lines. Now can you imagine off the cuff making up iambic pentameter? That's pretty good, isn't it?"
Churchill Project Articles
Stay In Touch With Us
Subscribe now and receive weekly newsletters with educational materials, new courses, interesting posts, popular books, and much more!