Articles

Churchill Painting at Eze-sur-Mer
Q: Are you aware of Churchill painting at or near Eze in the south of France? The question came up on UK television, where the owner of a painting he thought was Churchill's was trying to establish its provenance. The TV programme declared he had never been there. —C.W., England
---
A: On the contrary, Churchill and his wife visited Eze-sur-Mer frequently, as early as 1922, when he took his first painting holiday in the south of France. Residing at Eze was Consuelo (Vanderbilt) Balsan, the former Duchess of Marlborough. She had separated from Churchill's cousin, the 9th Duke in 1906. They divorced in 1921, when she married a charming Frenchman, Jacques Balsan and lived "happily ever after."
The Churchills remained closely attached to Consuelo. Here is WSC's first letter from Eze:
Last night we dined at Monte Carlo. Tomorrow we picnic at Eze. From my room (you know it) I can see the Cap d'Ail Hotel: so linked in my mind with these last few days I saw my poor Mamma. [His mother Lady Randolph Churchill had died in June 1921.] What changes in a year! What gaps! What a sense of fleeting shadows! But your sweet love and comradeship is a light that burns the stronger as our brief years pass.

Yesterday Monday and today I have painted or am about to paint at Consuelo's villa. I have done a beautiful picture of Eze which I know you will want, but which I cannot give you because Consuelo and Balsan praised it so much I gave it to them. Now I am doing one of the workmen building their house – all in shimmering sunshine and violet shades. I have another lovely theme for today….1
The villa to which Churchill refers is "Lou Seuil," a beautiful cliff top chateau the Balsans were building when he arrived in 1922. From then on, the Churchills were frequent guests. Clementine liked to visit each February. Winston either joined her on came on his own, drawn to the "paintaceous" scenes for his easel.
From one of his painting holidays at Eze on 22 January 1927, he wrote presciently to Prime Minister Stanley Baldwin, whom he was then serving as Chancellor of the Exchequer. Alas Baldwin did not take his advice:
Short of being actually conquered, there is no evil worse than submitting to wrong and violence for fear of war. Once you take the position of not being able in any circumstances to defend your rights against the aggression of some particular set of people, there is no end to the demands that will be made or to the humiliations that must be accepted.2
In the late 1920s the Balsans acquired a 16th century chateau, St. Georges-Motel, near Dreux, north of Paris. In 1932 they built another house at Manalapan, Florida, near Palm Beach. Churchill visited and painted at both. He created his last painting before World War II at St. Georges. Churchill's daughter Lady Soames reprints Consuelo's charming account of a visit there in her book, Winston Churchill: His Life as a Painter:
He used to spend his mornings dictating to his secretary and his afternoons painting either in our garden or in some other site that pleased him. His departure on these expeditions was invariably accompanied by a general upheaval of the household. The painting paraphernalia with its easel, parasol and stool had to be assembled; the brushes, freshly cleaned, to be found; the canvases chosen, the right hat sorted out, the cigar box replenished. At last, driven by our chauffeur, accompanied by a detective the British Government insisted upon providing, he would depart with the genial wave and rubicund smile we have learned to associate with his robust optimism. On his return he would amuse us by repeating the comments of those self-sufficient critics who congregate round easels. An old Frenchman one day told him, 'With a few more lessons you will become quite good!'—a verdict connoisseurs have already endorsed.3
Painting was virtually suspended during World War II, but Churchill took it up immediately after he was dismissed by the electorate in 1945. He made painting visits Lord Beaverbrook's villa, "La Capponcina," and in the mid-Fifties he was actively seeking a place of his own on the Riviera (much to the anxiety of his wife). Eze was still on his list. On 26 November 1955 he wrote Beaverbrook:
You have been so kind to me, and the nine weeks I spent as your guest were so pleasant and peaceful that, as perhaps you have seen, I have been looking about for a dwelling of my own where we could be neighbours…..I am now exploring two retreats. The late French Premier, or was he President, Tardieu, found a place in the mountains behind Mentone about ten miles inland, which they would sell furnished, I believe, for 27 million francs, which is approximately £27,000….Another place which seems suitable is in the Eze curve, called Chateau St Laurent. The proprietor came to see me yesterday. He has already got a villa on the peninsular Saint Jean Cap Ferrat, and is quite willing to rent St Laurent to me for, say, a couple of years, with the option to buy at the end. This would in any case give me the opportunity of looking around.4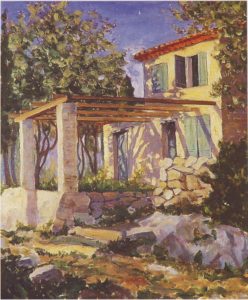 David Coombs and Minnie Churchill, Sir Winston Churchill: His Life Through His Paintings (2003) published his four paintings at Eze. Three of these (Coombs 203, 204, 209) are the different views of the mountaintop. A fourth (Coombs 246) depicts the gardener's cottage at "Lou Seuil"—a beautiful oil displaying Churchill's command of colour, light and shadows.
Minnie Churchill, a historian of Sir Winston's oil painting hobby, will be speaking on "Churchill and His Pastime of Painting" at Hillsdale's Center for Constructive Alternatives on Sunday 4 October 2015 on the Hillsdale campus.
---
Note: Images of Churchill paintings copyright  © Churchill Heritage Ltd., posted by kind permission.
Featured Image: View of the mountaintop at Eze, circa 1930 (Coombs 204).
2nd Image: The Gardener's Cottage at Mme. Balsan's villa, Eze, circa 1930 (Coombs 246).
1 Martin Gilbert, Winston S. Churchill, vol. 4, World in Torment 1916-1922 ( Hillsdale College Press, 2008), 761-62.
2 Martin Gilbert, The Churchill Documents, vol. 11, The Exchequer Years 1922-1929 (Hillsdale College Press: 2009), 917-18.
3 Mary Soames, Winston Churchill, His Life as a Painter (Houghton Mifflin, 1990), 88.
4 Martin Gilbert, Winston S. Churchill, vol. 8, Never Despair 1945-1965 (Hillsdale College Press, 2013), 1169.
Churchill Project Articles
Stay In Touch With Us
Subscribe now and receive weekly newsletters with educational materials, new courses, interesting posts, popular books, and much more!